My Commission Bootcamp says that you can generate profits up to $527/day.  Is this a scam or can you trust this statement?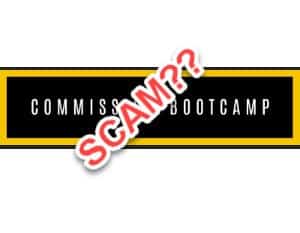 I have heard it so many times before!
Do "this" and become wealthy in a week. "Buy this system and you will be making a boatload of money within a day or so".
However, I have yet to find a system that does all that!
Don't get me wrong!  IT IS POSSIBLE to make money online, I am living proof that it is possible!
BUT (and that is a BIG "but"), you must be realistic.  There is NO magic systems or magic button anywhere on the Internet.
Any system that claims that you can become rich overnight without hardly any work is simply telling a big fat LIE!
But let's not get ahead of ourselves here and hang on, we will dissect this system and see what it's really all about.
---
Tired of going in circles trying to find a method to make money online only to be disappointed every time?
Click here to find out about My No. 1 recommendation
---
Summary
Name: My Commission Bootcamp
Website: https://mycommissionbootcamp.com
Owner:  Chris Brant – This is just a pen name, the real owner is hiding behind it and doesn't want you to know who they are.
Price:  $47 (Plus multiple upsells)
Recommended:  NO
I was invited through an email sent in my inbox to this new digital product a few days ago.  As always, I make it my duty to check out the new digital products that come out and inform you guys what I found out about them, and if they are worth your time and money.
I clicked on the link provided in the email and was sent to this sales video:
A few things I noticed right away before even pressing play.  The counter below the video says "This Site Will Be Taken Down in 24hrs When Countdown Hits 00:00:00".  Well, let me tell you that this is totally false and it's an actual tactic to make you believe that there is a scarcity that exists for this product.  IT'S A LIE!
The same goes for "As Seen On TV".  The video starts with a news clip taken from one of the TV networks (ABC).  It does talk about working from home, but it's not related to this product, it is a segment of the news report about someone working from home.  This again is a weird tactic to "pretend" to the most vulnerable that the news is featuring this product!  ANOTHER LIE!!
Well, that doesn't start well… And I haven't even clicked on the "play" button yet!

If you are fed up (like me) with trying these very low-quality systems that overpromise and underdeliver, let me show you how I make money online and how you could also start your own online business for FREE.
===>Check out My No. 1 recommendation<===
What is My Commission Bootcamp?
OK, so I clicked on the play button and watched the 8-minute video.  It starts out with a "recording" of the ABC Network channel 9 talking about some lady who works from home.  There is NO mention anytime in this "recording" that it's related to My Commission Bootcamp.
I get it!
They (the creator(s) ) want to make a point that it's very convenient to work from home, not having to commute every day through endless traffic jams wasting hours just sitting in a car to get to that job!  I am NOT going to argue that fact, but as I said before, it has nothing to do with My Commission Bootcamp.
It's the general idea of working from home, which is VERY convenient!
The actual sales pitch starts like this:
Would you say that $500 to $1,000 per day would change your life?  Of course!  I am also NOT arguing that fact either.
Imagine the financial freedom…
The "narrator" (Since we don't have a clue who is behind this system, so I will call him the narrator) says that for a "very limited time" he will be handing you his successful work-at-home system.  And he goes on to say that his system has been seen on Fox News, CNN, ABC, and CBS. Another Filthy LIE! 
He then congratulates you to have found this secret page and that you are a very exclusive individual since it's only offered to 100 people because space is limited…and the site will be taken down in 24 hours…Again not true!
Come back next week, or even next month, and the same video and the same sales page will still say the same thing, and they will still be accepting anyone who wants to buy their system!
Then there are a few weird testimonies saying they just use "copy and paste" and are making money…
Then, of course, the bank account:
This image can easily be created with any kind of image manipulating software and monetary figures can be altered…
At least they have a disclaimer at the bottom…Which is required by law anyway!
Here is a video from one of my mentors showing how to fake a Clickbank account…
This method is the same for faking any kind of monetary system.  Scammers use this tactic all the time!
The rest of the sales video is to convince you to enter your name and email to get "instant access".
I did, and guess what?  I was redirected to another sales video!
This one is 20 minutes!
It starts out by saying that the information on this one should not be shared with anyone else…
Another one of those tactics making you believe that you are exclusive to this information.  They (the creators) are not keeping this a secret at all!  They want to make as much money as they can, and they are the only ones who are going to make money with it…
Then the video goes on and on about how it's so easy to make money with it.  There are so many exaggerated claims that I only chose a few to show you what I mean.
It is very typical of a very low-quality system.  Why do I say this?  Because I have seen it hundreds of times before. 
These "done for you" or in this case "copy and paste" systems are all the same.  They lead you to believe that their offer is too good to be true and 99.99% of the time it IS too good to be true
They start by showing luxury cars and big houses, making you believe that this system will provide you the means of procuring these luxuries:
Then they make claims like this:
If making money online was this easy with this system, don't you think that everyone would be using it?
Oh and let's NOT forget the FAKE Testimonies  We see this first guy saying that he made $94,066.16 in the last 6 months thanks to this system by "Chris".
Well, guess what…He's a paid actor and the only money he's making is from this "acting gig"!!!
Here is another man claiming that he made a boatload of money with this system:
As you can see he's a video spokesman just like the other one…The only money he's making is from his "performance" in this sales video.
Now, why would someone hire actors to tell FAKE TESTIMONIES if this system was so good in the first place?
Before I finish, I want to make something clear.
Affiliate marketing is a proven method of earning good money!
It's systems like Myu commission Bootcamp that give it a bad reputation.  They tell lies and use fake everything to promote their own crappy system that in the end, only the vendor of the system makes money.
There is quite a difference between purchasing a "done-for-you-make-money-overnight" system that claims things like this and being taught the right way with the right tools:

You can be certain that My Commission Bootcamp will never live up to its claim.
And if you decide to purchase the front-end product, be prepared to be bombarded by upsells after upsells, telling you that in order to make this system work, you need these upsells, and end up paying a LOT more than the original $47.
Disclaimer:  Obviously, I did NOT purchase this digital product because of my experience, I know a crappy system when I see one.  This review is based on the lies and fakes that I found during the 2 sales video I watched and based my review on!
What I liked about My Commission Bootcamp
I did not find anything positive that would let me recommend this system to anyone!
It's a TOTAL SCAM! If you do decide to go ahead and purchase this system, you will lose your money! Period!
I truly recommend that you STAY AWAY!
What I didn't like about My Commission Bootcamp
Exaggerated money-making claims – You will not make $500, let alone $3,000/day with My Commission Bootcamp!  Never!
Fake bank screenshots – Its really easy to tell that these screenshots are made with an image manipulation program.
Fake Testimonies – Fiver actors reading a "script" and telling a total lie about their experience.
Fake "As seen on TV" – None of those networks have ever featured My Commission Bootcamp on their newscast!
Conclusion
I say it again, STAY AWAY!  That is the best thing you could do for yourself.
There is nothing in the sales video that indicated that this is a legit system – in fact, from experience, you will get nothing that is worth your time and money with My Commission Bootcamp.
You might get some old PDFs and a few videos at the best.  I have seen it so many times before that I know when the product is not worth anything.  Especially when they are promoted the way they do this one!
Is My Commission Bootcamp a scam?  Well if it quacks like a duck and it walks like a duck, it's usually a duck…
I leave this one at your discretion but I give it a BIG FAT 0 out of 10 stars

A Much Better Alternative to My Commission Bootcamp
If you have checked My Commission Bootcamp, it's because you are looking for ways to increase your financial bottom line.
I get that!
The thing is there is so much "noise" out there, so many products that promise you will get rich overnight, it's almost too much to handle and decipher.
If you are like me, it makes you think about quitting this nonsense search, just give up and keep on working your 9-5 job.
I almost did the same, until one day (7 years ago) I found this amazing platform that completely changed my perspective and opinion about having my OWN online business.
I joined a community and started my online business through their training and tools and I haven't looked back!
When starting an online business you will need three important and necessary elements:
Website(s), Education, and Expert Training.
If you are looking for a program that can genuinely help you achieve financial independence through affiliate marketing, then you better try my best work-from-home recommendation!
It's an "All-in-one" digital Affiliate Marketing platform and community of over 2 million members, where the main purpose is to give you all the tools and training you need to build your online business and succeed, in one location and for one low affordable price.
What Wealthy Affiliate is NOT:  
It's NOT a get-rich-quick program or anything that would lead you to believe that it's an overnight success. We (the community) believe in hard work, integrity, and developing your skills if you want to become financially independent and create a successful online business.
The best part is that it's absolutely FREE to test drive!  You don't need a credit card, and there are no obligations!
Just click on the button below, choose a username and enter your email address and you are in.
Once you are a starter member, you will have a full 7 days of the premium version to test-drive the platform.
I also want you to have my Free eBook just to thank you for being here on my website: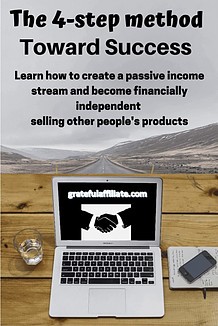 Click on the image or the button below and get your own copy.

And I will see you on the inside!
Peace!
As always, if you have any comments or questions, please do not hesitate to use the comments section below!