Does the "Push Button system" really do what the video claims to do? You push a button and money magically appears in your bank account? I am very skeptical about this one!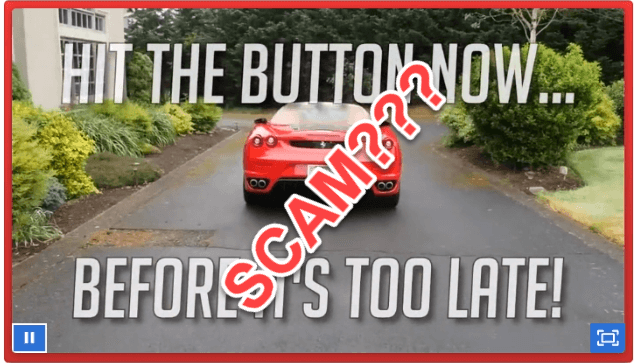 I was invited by email to try out this "new" system (That has been out since 2017) that is supposedly revolutionizing the Internet Marketing Industry.
The "Push Button System" promises that you can push one button and make money!
A LOT of money!
Actually, the promise is to be able to push the button at the end of the video and make $20,000 in just 3 hours!
That would make a nice payday, wouldn't it? In this review, I will explain the basics of these kinds of offers and what to expect from them. Let's see what this one is all about shall we?
---
If you don't want to waste any more time on scams, then Click here to find out about My No. 1 recommendation
---
Summary
Name: Push Button System
Owner: "Jay Brown" – Don't believe it, he's a hired actor
Price: $67
Recommended: HECK NO!!!

Overview

The sales video starts with this guy saying:
"I pushed one button and now I have $23,052 in my bank account. That's 1 year's salary with one click of the mouse! What the hell just happened here?"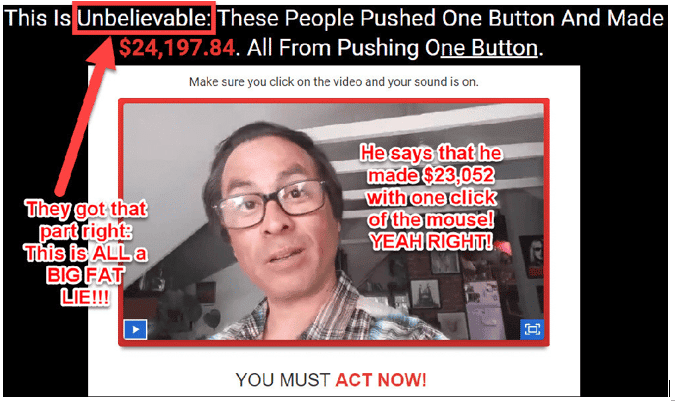 Really? Is this a friggen joke??? This is so completely ridiculous, it should be qualified as a comedy, not a sales pitch!
For crying out loud! In the first few seconds of this video and I already knew that this system would be complete B.S.
And they have a bunch of other people saying basically the same thing within the first minute of the video, and again during the video!
But at the same time, this is not funny at all since some people will believe this nonsense and give them their hard-earned money just to be disappointed (and most probably lose their money) in the end!
---
If you are fed up (like me) with these right-out scams that promise you will become rich overnight without ever delivering what they sell and you want to learn how to make money online the REAL way?
---
What is this Push Button System anyway?
First of all, I have to say it right away:
It's a SCAM!
There, I have said it again!
This "system" has been around since at least 2017, if not longer, and has had a lot of different names (the now defunct pushbuttonsystem.com and financialfreedom-forever.com being two of them), and this time the creator changed the internet address (again) and used some "good" actors and a film crew to create this "story" making you believe that this system will make you a multi-millionaire in no time.
This guy here (He says his name is Jay Brown but we all know that is not his real name) arrives at this big mansion with his Ferrari and says "Never underestimate the power of a button"
Then he shows "bank screenshots" of over 2.7 million dollars in a bank account saying that this "Button" did that.
Do you know how easy it is to fake a bank screenshot? Any decent image manipulation software like Photoshop can do it! There are even apps for this…
Then he says that he has a "jackpot machine lever" that wins every time he pulls on it (Or presses the "Button") and he can pull on it as many times as he wants. He even says, a few minutes in, that nobody believes him and that's why he has this "Button" all to himself, but now, he wants to share it with you and make you a multi-millionaire!
Then there's this guy(another actor) that is taking a "walk" meets Jay, installs the "button" on his cell phone, and five minutes later he's got $7,789.25, he refreshes his bank account, and 30 seconds later he's got $8,489.22. That's almost $700 in 30 seconds!
Come ON!!!
What kind of system could actually send money to your bank account out of thin air in a few minutes??
If this was real, everyone would want a piece of it and they would be doing it!
Do you think they would sell it for $67??
I think not! It would sell for millions that's for sure!
But then again this is just fantasy, as it will NEVER happen!
The rest of the sales video is just a whole lot of bull crap being told by the main actor "Jay" and some other actors' "testimonials".
A BIG waste of time in my opinion!
How does this "Push Button System" really work?
The first thing you will have to do IF you decide to buy in this system is to say goodbye forever to your $67.
They use securecart(https://securescarts.pw) to gather your personal information including your credit card number. I've done some reviews before (like The retired millionaire and The Job Quitter Club) that uses this checkout portal and this is what my Norton Security tell me about them
And it doesn't stop there:
Scamdoc is a web tool that evaluates websites' trust and reliability.
As you can see, securecarts.pw has a horrible trust score! I wouldn't give them any personal information if I were you!
The second thing that's going to happen If you do get the system is that it's NOT going to work as they say it does.
There is NO MAGICAL PUSH BUTTON anywhere on the Internet!
IT DOES NOT EXIST!
The Internet is full of these "crap systems" telling lies after lies like these just to make money off people who don't know better!
It's statements like these that tick me off:
No actors, no fake proofs, just real money generated in real-time.
and
The button is REAL
It's the complete opposite!
This video is just a long 51 minutes LIE!
Why else would they use hired actors? Because no real results would even come close to what they are pretending!
Do you want to know why I say this?
Well in the 51 minutes of watching this endless lie, not once was it mentioned HOW this works because it DOES NOT work!
They pretend that it's a magical button and that when you click on it money appears magically in your bank account!
It is only to make people "dream" that it is possible. And I have to admit that the actors are pretty convincing (unless you already know that they are actors).
They (the creators) have been doing this for years now and they know how to make a quick buck from vulnerable people.
They also change the website's URL once every so often to make believe that it's a brand new system, while in fact, it's a more than 5-year-old SCAM!
One last thing:
NO, I DID NOT PURCHASE THIS SYSTEM.
As soon as I saw the first few seconds of the sales video, I knew what I was in for!
First, I don't want them to have my personal information, and second, why would I waste good money on something I already know is not even worth the time spent watching the sales video?
I have over 7 years of experience in Internet Marketing and have reviewed hundreds of systems like this, so I can spot the bad ones right away! No need to waste any more time or money and make them (the creators of this system) even richer…
The purpose of this review is to expose them as SCAMMERS!
PROS & CONS
PROS
NONE Whatsoever
CONS
This one is a REAL SCAM
False and fake testimonies (and make-believe scenes) by paid actors
Fake Bank account screenshots
Actors telling lies
You are NEVER going to get your money back even if you try, they will not answer your email (if you can find an email address to send your request to) they will not answer your phone call, they will simply keep the money you sent them!
Conclusion
Is the Push Button System a SCAM?
Well, I will say it again: YES IT IS A REAL SCAM – No doubt about this one!!!
Once they get your personal information they will run with your money, and probably sell your information to other scammers, which in turn will spam your inbox with more crappy systems..
Stay AWAY and Beware!
Never trust these kinds of systems. They are the types where you could lose a lot more than $67. These scammers have no limit and no scruples!
Suggestion
What I do suggest is that you follow a proven path to make money online.
If you now realize that there are no magic buttons that will make you rich, you don't want to spend more time or money on useless systems like The Push Button system, you are prepared to put in some time and effort to build an online business with a solid foundation, then let me tell you how I make Passive Income using Affiliate Marketing.
Building an online business can be compared to a brick-and-mortar business.
You can't open a coffee shop in the desert and expect to make money. It's the same thing for an online business. You need to start with a solid foundation, plan what you need to do, and then work on it, and then work some more.
Once you have the foundation completed, and you are giving it all you got, the sky is the limit! It takes time, patience, and persistence. What I am proposing is NOT a get-rich-quick method.
However, the Internet has the potential of reaching a lot more people (5.4 BILLION as of June 2022) than a brick-and-mortar business
And you will need guidance in order to succeed!
When starting an online business you will need three important and necessary elements:
Website(s), Education, and Expert Training.
And you can test drive the platform that I use absolutely free, with no obligations on your part. Just put in your email address and a username.
You will get access to the full platform for 7 days to try it out!
I also want you to have my Free eBook just to thank you for being here on my website: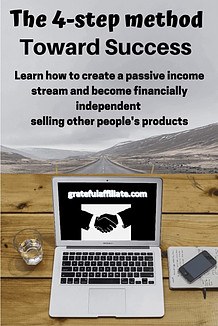 Click on the image or the button below and get your copy.

And I will see you on the inside!
Peace!
As always, if you have any comments or questions, please do not hesitate to use the comments section below!