Welcome to my Video Ranking Academy review! For today's topic, I'll help you determine whether Sean Cannell's course is legit or a scam that you should avoid.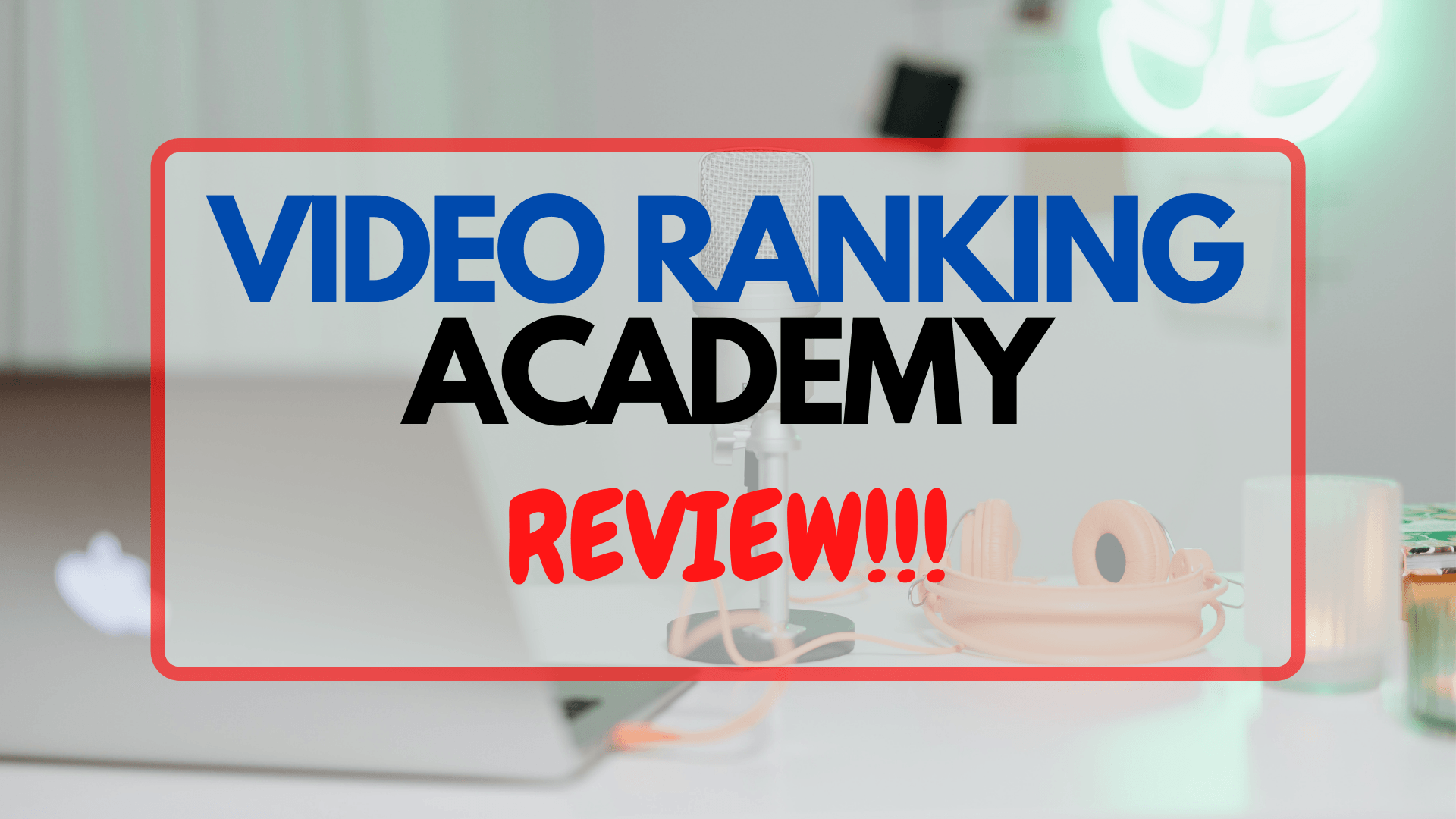 Welcome to my Video Ranking Academy Review!
Creating social media posts is a popular income trend nowadays—not only that you're doing what you love, but you are also earning money at the same time as well.
And if you're a complete newbie to the idea of YouTube monetization, then there's a good chance that you might've stumbled across Sean Cannell's Video Ranking Academy as you're searching for a training program online.
It might have caught your interest, and you want to learn more about the program.
If so, then the topic I have prepared for today is specially written just for you!
But before I start discussing today's topic, let me share with you first that I am NOT a representative or affiliated with Sean Cannell and in NO way promoting any of his programs.
This content is the result of my honest and unbiased take on his training course and whether they're indeed worth your while or not.
So without any further delays, let's get right into it…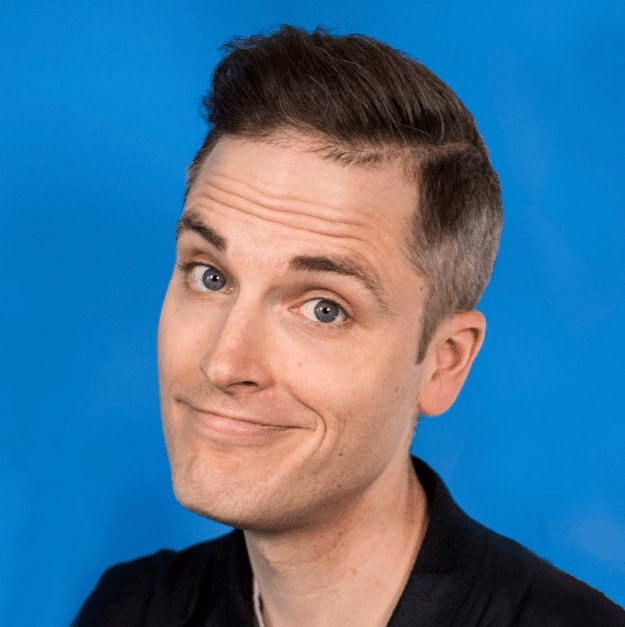 Let's Meet the Founder of Video Ranking Academy
Sean Cannell is a popular YouTube personality, best-selling author, and internet guru.
As far as I know, he currently owns two YouTube channels—Think Media and Sean Cannell that have 1.78M subscribers and 102K subscribers, respectively.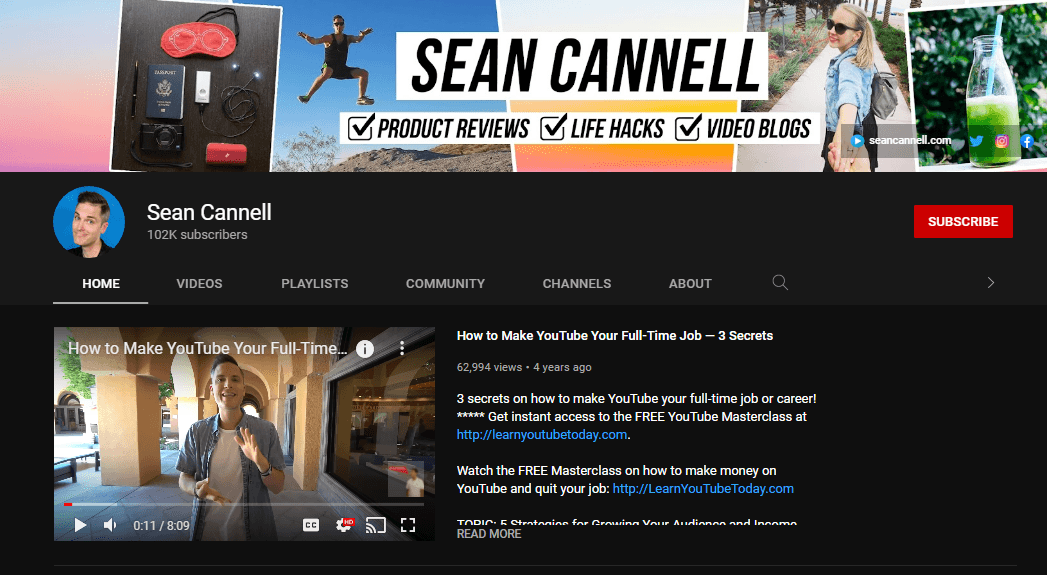 He is also the co-author of a best-selling book that was published back in 2018 titled YouTube Secrets: The Ultimate Guide to Growing Your Following and Making Money as a Video Influencer.
I honestly like the videos he's releasing—it offers lots of value, and you can definitely learn from them.
From the videos themselves, you can immediately surmise that Sean is a legitimate digital entrepreneur.
In the following sections, I will discuss the specifics of the Video Ranking Academy and how the program could help its member achieve their financial goals through monetizing YouTube content.
Let's continue with my Video Ranking Academy review…
What is Video Ranking Academy?
As you might have already guessed, Video Ranking Academy is a program that offers training on YouTube creation and optimization. In addition, you'll also learn how you can monetize your publications.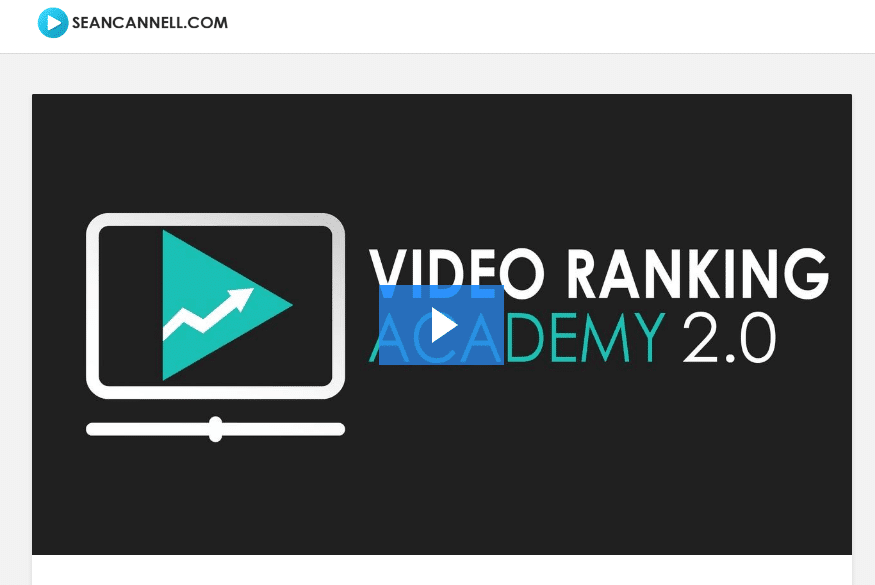 What are the Modules Included in the Program?
Video Ranking Academy is composed of seven topics plus bonuses. I have summarized below the topics covered in the program. Let's take a look at each of them—
Reverse Engineer Your YouTube Success – the first module basically teaches you how to create a strategy that works for you
How to Research the Right Way – as the topic suggests, this part provides you the basics of researching the right keywords and content to create
Record (The Ultimate Video Framework) – in the third module, you'll learn how to shoot videos that creates engagement
How to Release Your Video the Right Way – it basically comprises guides on optimizing your videos to rank better in YT's search results
Rank Your Video – Sean shares his insights on ranking higher on YouTube. In addition, you'll see him in action on how he structures his YouTube videos
Rapid Revenue – this part of the training is all about the basics of YouTube monetization
Repeat and Rocket to Success – the last part of the program basically compose of tips on efficiency and finishing your content as fast as possible
At the end of the program, Video Ranking Academy also offers bonus packages which include the following—
Bonus #1: Social Media Growth Accelerator – the basics of growing your business through other social media platforms like Facebook and Instagram
Bonus #2: Start Video Podcasting – strategies on starting a podcast
Bonus #3: YouTube Hypergrowth Blueprint – the essential of YouTube algorithm and analytics
Bonus #4: Video Ranking Academy Workbook – templates and a supplementary to the main program
I've reviewed similar programs in the past that talk about YouTube monetization. You can check them out if you like—6-Figure YouTube Academy and YouTube for Bosses 3.0.
How Much is the Video Ranking Academy?
If Sean Cannell's Video Ranking Academy interests you, then you have to prepare a budget of $2,997!
Now, that's a lot of money! Evidently, the program is not for you if you don't have the budget or are not willing to spend that much.
I am also not sure if they offer a payment plan for the program, but they do have a 30-day refund policy in case you are not satisfied with how the program is progressing.
Quite honestly, you really don't have to pay this much to take advantage of the earning potentials on the internet.
If you want a more budget-friendly program that can teach how to earn income online, then you have to refer to my best work-from-home recommendation!
Is Video Ranking Academy a Scam?
I am definitely sure that Sean Cannell is not a con artist.
Video Ranking Academy is a legitimate program that provides lessons on YouTube monetization.
If you're looking for an online course that can specifically teach you the essentials of making money from your social media publications, then you can definitely trust Video Ranking Academy.
What I LIKE about Video Ranking Academy
Here are some of the positive characteristics of Video Ranking Academy—
Legitimate!
Sean Cannell is a legitimate digital entrepreneur and YouTuber.
With this being said—you can absolutely trust the programs he authors, like the Video Ranking Academy.
Quality Training
The Video Ranking Academy offers high-quality training on how you can effectively make money from creating YouTube videos.
As mentioned, he is a seasoned expert in this area that has attained success. With this being said—his success in the field can definitely put a lot on the table that could help many aspiring YouTubers as well.
Excellent Refund Policy
Sean offers a 30-day refund policy if you are not happy with how the program is progressing.
I am not sure if they require specific conditions before you can request a refund, though.
What I DON'T LIKE about Video Ranking Academy
Expensive
The very first thing I'd like to mention here is that the program doesn't suit everybody because of its high costs.
I can't also tell if there's a payment plan in place to aid people who really desire to avail of the program.
The program's price of $2,997 may be a little too much out of reach, especially for people who have insufficient money to pay for the full price.
But if you truly want to learn how you can make money online and don't have the budget to accommodate the cost of the program, then don't lose heart because there are more quality programs out there that are less expensive.
And if you're looking for a better alternative that can deliver you equal or far superior results—you have to check out my best work-from-home recommendation!
The Competition is High
YouTube is among the social media titans around the globe alongside Facebook, Instagram, and WhatsApp.
With this being said—you can expect high competition in the rankings if you're planning to join the YouTube community.
However, competition is only the tip of the iceberg. You also have to consider the strategies and time and effort you are going to put into publishing one content.
Also, you have to spend a lot of money to effectively monetize your posts. Expenses such as advertising and other tools you'll need in creating videos.
Yes, it's not going to be easy!
Final Thoughts: Video Ranking Academy Review
I hope my Video Ranking Academy review has provided the information you need to help you decide whether the training program is worth your while or not.
As good as the program may be—it may not suit everybody, especially those individuals with no sufficient budget to accommodate the full price of Video Ranking Academy.
If you want to learn other ways to earn income online, then let's continue to the last section of the article…
How I Become More Financially Independent Online
Affiliate marketing is among the most lucrative source of income online. Also, they're very popular, especially for people who are looking to gain financial stability in the comfort of their homes.
And this is rightfully so for several apparent reasons, such as the following—
100% legitimate
Cost-effective
It suits levels of experiences
You are not involved with inventory management
Your potential profit is unlimited because you can essentially advertise as many brands as you wish
As you might've already guessed, your main task is to market the brand by embedding them into your publications online.
And then, you earn commissions anytime someone uses your affiliate links to purchase the products or services offered on the landing page of the business you're representing.
However, you have to take note that your success in this endeavor relies on the quality of traffic being driven into your posts.
If you're a complete newbie to affiliate marketing and have no idea how to begin the business, then you no longer have to worry any further because I got the perfect solution to your problem!
Do you the highlighted description below?
Consider giving it a light click and discover how you can create quality publications that are generating leads and converting them to sales—
>>HERE'S MY TOP WORK-FROM-HOME RECOMMENDATION!
Well, I believe we've covered sufficient grounds here!
Thank you for the time and your effort in reading my Video Ranking Academy review!
And just for being here on my website, I am offering my eBook for Free. In it, I explain how I earn money while sleeping (and when I am awake too)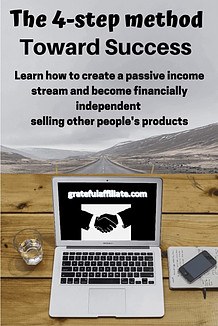 Just click on the button below and get your copy right now!

Peace!