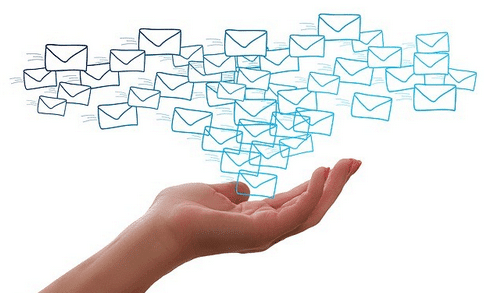 Returning from a short vacation, I was checking my emails this morning and found this one in my inbox kind of interesting…
Here is a copy of the email in question:
SUBJECT: Congratulations Denis! You've WON! 
You've Just Been Selected! (private) Congrats! You're a WINNER! Denis. This is strictly private and confidential.
>>>>>>>>>>>>> YOU have Just Won <<<<<<<<<<<<<<<<
So, I have specially arranged for YOU to have VIP access to this before anyone else. Only a few selected individuals WON and were chosen. (and you're one of them!)
==> Click Here To Claim Your Gift <==
Please let me know if you are not interested and I will share it with someone who is.
Enjoy,
Of course, being the curious type, I had to click on the link to find out what I had won!
Well, to no surprise, I was brought to a "sales page" (sigh) of this product called "Speed Wealth Commission System".
Being very skeptical, I decided to check it out anyway and let you guys know what I think of it before you jump in yourselves and give them any money!
So will find in this article, a  Speed Wealth Commission System honest review! 
---
Just in case you are in a hurry…
I can tell you right away that I don't recommend this program!  It is the same old song and dance from numerous programs I have reviewed before and these "100% Done For You Systems" are simply hyped-up and are of very low quality!
However, if you are looking for an honest and REAL way to make money online, let me show you what method I use.  They have been in business since 2005 and they are as real as it can get!
No hyped-up stories, No untruth, just plain and real methods and training that is unsurpassed anywhere on the Internet!  And the best part is that it is FREE to try, NO Credit Card required!
Click the button below to find out my No. recommendation to make money online
---
The Review
Program Name: Speed Wealth Commission System
Website: https://speedwealth.net
Owner: Matthew Neer
Price: $27 with lots of upsells

This product is also known as the Speed Wealth System.
Matthew Neer is a well-known Internet Marketer for this type of products. He's the main character and proclaimed owner of this program in this sales Video. There he is on the front page of the Sales video stating that he has a "100% Done For You System" that automatically closes sales for you and you get all the commissions!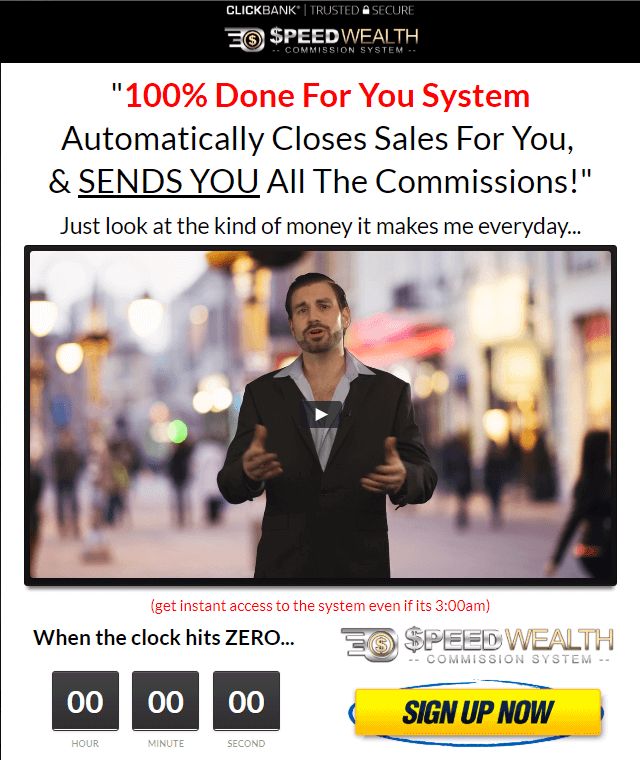 Well!!!  Isn't that tempting!!!
"Automated Income" as he says in his first sentence of the video!
No work and Free Money!! Yay!!!!
Here we go again.  This method, according to Matthew is what got him out of poverty.  He was so poor he couldn't sleep at night because of the fear of not being able to pay his bills. Broken down car, can't get to work so he gets fired, impounded car because he couldn't pay the registration, blah blah blah!!!
You get the idea!  Well, this is the same as pretty much every other program that play with people's emotion really start off with.  They tell a sad story about the pain and price of poverty so that worried people will relate to what he's saying and jump on their offer.
The video itself is very hyped up, showing how he made over $10,000 while taking a nap!
And then showing off his Ferrari and multi-million-dollar mansion.
This program is designed to grab the newcomers and get them to believe that they can make easy money without any work, or hardly any.
It does target people that are somewhat familiar with Affiliate marketing.  The reason I say this is this is the fact that if you join, you will be promoting the same system that you buy.  Nothing else.  He wants you to join his clan and sell his product so that he can make $10,000,000 in sales next year!  At least that is what he's saying in his video.
He explains how he gets (and you will get if you buy in) potential affiliates to buy a low-priced item and then immediately upsells them to a higher priced product.
He describes the method that he uses as ASF – Ascending Sales Funnel.
Here's how it works:

This is NOT a new model of business and many other low-quality programs out there use it.
As you can see, it is not just $27 to get in, the lowest price to get to the member's area is $340!  Or you could pay up to $540 if you click before taking advantage of the down sells!
And, I did not hear anything in the sales video about this but, when you do get to the checkout page, there is a recurring monthly fee of $19.95 that is not mentioned anywhere but on the checkout!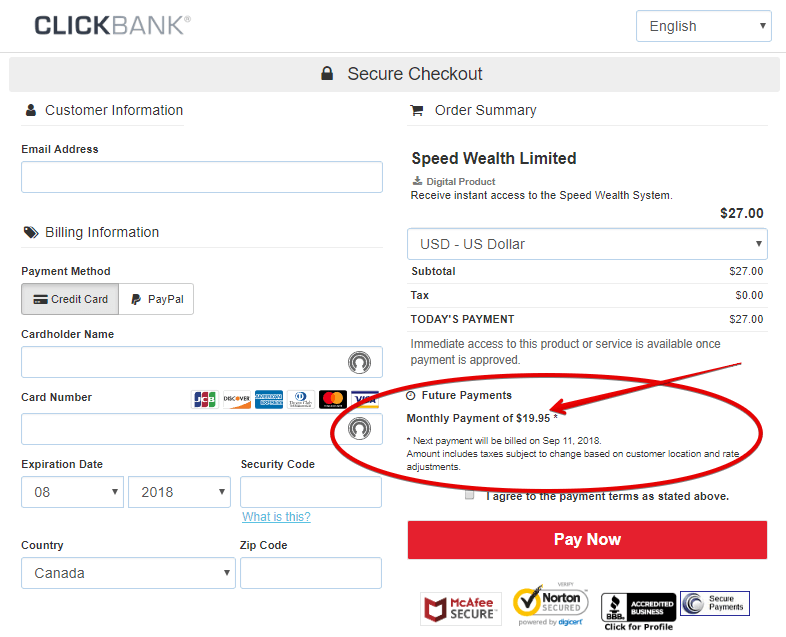 People! Please be careful on what you sign up for!
Read the fine prints and make sure that before you give out your credit card number, that  you are aware of what you are paying for. You really don't want some hidden fees that will come back and haunt you!
Anyways, this really sums up what the sales page/video is all about.
---
BUT, What is Speed Wealth Commission System and how does it work?

First, let me give you my full and honest disclosure.
I did NOT buy the program. I had seen enough with the sales page, the sales video, the affiliate page and the checkout page to know that this program is really not for me!
I am not going to waste any time and money trying it out and requesting a refund thereafter.
So, what I am about to disclose here is my personal opinion based on my experiences with the kind of program that is being sold and promoted here.
Here is a summary of what you should expect from this program.
What you will be paying for is a system to help Matthew sell his own product/program.  So actually, you will be selling the same program you have just purchased (If you decide to do so).
You will be promoting the same way, using the same landing pages and the same emails as everyone else that buys in.
It is run on Matthew's servers, so you will not own any of the websites and will be charged a monthly fee according to the checkout page of $19.95.
He says that you can make up to $10,000 a month with this system and it's supposed to be so easy that it only takes 5 steps to get you to make money!
These steps are revealed in the sales page as:
Step 1 – Login to your account, watch an introduction video and follow the instructions on how to get started
Step 2 – Connect your commission links, get approved and get them connected to your account to start earning.
Step 3 – Select your traffic source, in order to send potential customers to your Sales Funnel.  You will have a choice of free and paid traffic.
Step 4 – Send your traffic to your commission link so that when someone buys in the program, you can start earning money
Step 5 – Everything should be on autopilot by now, so you can sit back and relax and make money!
OK! This is all fine and dandy!  It all looks and feels like he's got all the angles covered and that if you decide to buy in, you should be making money with this in no time. Right?  Not so fast!!!
Any program, it doesn't matter if it's Affiliate Marketing, an MLM (Multi-level Marketing), a downloadable digital product, an Amazon or eBay affiliate or whatever else. If it promises you that everything will be done for you, I would stay away!  In my experience, it simply doesn't make any sense and it simply doesn't exist!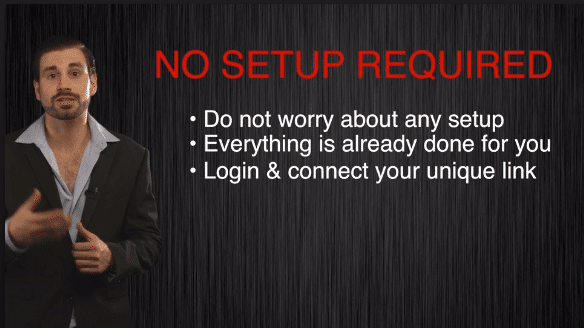 This kind of program that promises that it will do everything for you is not new.  There are tons of them out there.  This particular one uses email marketing and Affiliate Marketing.
It actually uses the same methods I use, BUT I must take action and work for my online business to succeed.  I don't have anything on autopilot.  This is my main concern about this product.
The thing is that Affiliate Marketing is more than just 5 steps! It is a great business model, but it has a lot more "steps", and it does NOT run on autopilot!  Same goes for email marketing.
Another thing that is not mentioned in the video.  Remember the Ascending Sales Funnel?  Well, programs like these don't tell it out front, but in order to make all those commissions, you have to buy in all the different tiers in order to promote them.  That means that the $27 or $47 that you pay to get in will never get you the thousands of dollars promised.
And buying the upsells does NOT mean that you will be making that kind of money either!
And if you buy in, you will have to do the same and hide all the hidden costs to your potential customers.
And what about TRAFFIC?
Unless you already have a successful business and have a huge email list that you don't mind sending them this kind of program, I don't believe that you will be making $10,000 a month with this one. And if you do send them this kind of program you will most certainly lose their trust and their subscription.
Step No. 3 talks about selecting your traffic source as if it was something easy to do.  Let me tell you that if you are a beginner, and you are looking to make money online by buying traffic, you will be disappointed.
Yes, it is possible to buy a ton of traffic for as little as $19 for hundreds and even thousands of "clicks" to your link, but that's all it's going to be "clicks", nothing else.  People that click on your link are getting paid to do so and your bounce rate is going to be extremely high, like probably 100%.  And you will probably not be getting any sales either.
Believe me, I've been there and tried that.  Just wasted my money!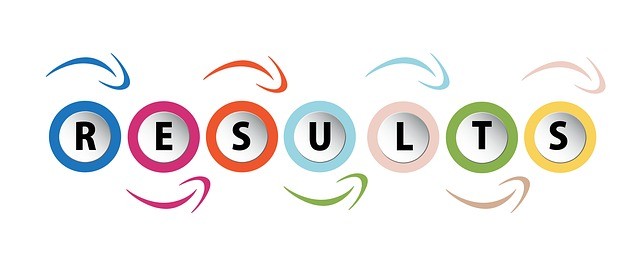 There are tons of ways to buy traffic, but there is nothing like targeted, converting traffic.
In order to achieve this kind of traffic, you have to know how to use SEO (search engine optimization). With this method, you provide a solution to people that are looking for an answer in the search engines (Mainly Google) and when they click on your link, they are actually ready to convert their search into a potential sale for you.
This program will not teach you how to do this.
PROS and CONS
Pros
The product is sold through ClickBank, so it has a 60-day money back guarantee.
The initial price is somewhat low at $27, but don't forget the upsells!
Cons
It is hard to believe that you will make the kind of money promised on the sales video.  Any programs that says it's on autopilot I would just stay away!
So is it a SCAM?
NO, the Speed Wealth Commission System is NOT A SCAM.  However, it is what I call a low-quality program, so I cannot give it the title of "scam".  You do get something for your money…
CONCLUSION
If you do buy in, you will have to pay for all the upsells to be able to promote them, and then, you will have to buy some traffic to get people to your link.  Are they going to buy? Maybe, maybe not.
It may cost you more to get customers to your link than the commission you will get…
Bottom line:  because of all the factors mentioned here I cannot recommend this program to any beginners trying to find a way to make money online or anyone else for that manner.
---
An Alternative
If you are just beginning, or even if you have started your online business and want to take it to the next level, I suggest that you learn the right way to create and sustain a well-built business with a solid foundation, that will profit you for years to come.
I can reveal my own method to you right here.  It is a proven honest method that I use every day to make money online.  I have been on this platform for almost three years now and I can testify that this method really works!
My no.1 recommendation is called:
I also have a dedicated page revealing everything about this platform and what Affiliate Marketing is all about right here:
Once you have joined, you will be provided with 2 FREE websites and FREE training!
NO CREDIT CARD REQUIRED
If you have any comments or questions, please leave me a comment below, I will gladly and promptly reply to all comments.