Welcome to my Blabbermouth Bucks 2022 review! My article aims to help you decide if this platform is worth your while or not.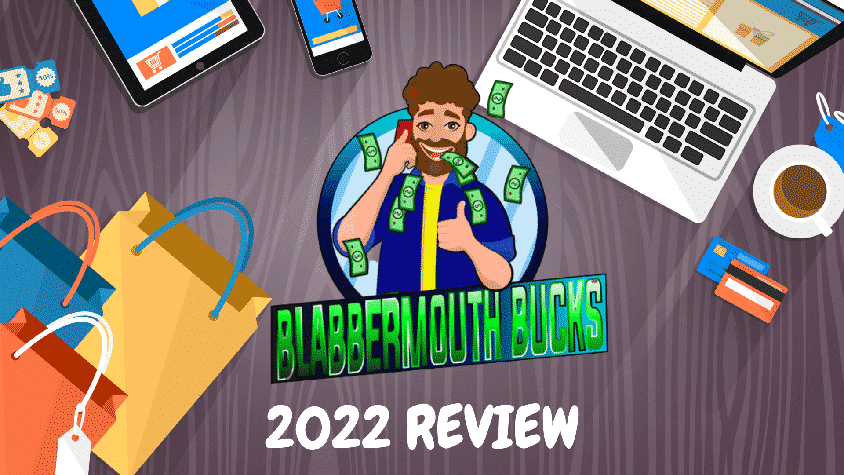 Welcome to my Blabbermouth Bucks 2022 Review!
Becoming financially stable in the comfort of your home without having to break any sweat is indeed a dream come true for the lives of many because it gives you the freedom to do what you love while earning money.
However, such an instance has catapulted many digital marketers to take advantage of the situation by creating training programs. While some are decent enough to provide you with the basics of the business, others are just outright scams.
Blabbermouth Bucks is one of those training programs that promise "$100 to $150 in an hour without having to break a sweat." One valuable I learned in school is that when something is too good to be true, then it's not likely true.
However, it appears to me that Jonny Rose is a legit digital personality.
If you're interested in the program but unsure if they're worth your while or not, then the article I've prepared for today is especially just for you!
But before I begin, allow me to disclose that I'm NOT an affiliate of Jonny Rose in any way, and this is my honest review of the program.
Let's Meet the Creator of Blabbermouth Bucks
Blabbermouth Bucks is the brainchild of a British digital entrepreneur named Jonny Rose. He claimed to be in the industry for over ten years now, but there's still not much information about him when you search his name over the internet.
However, he has developed countless programs and systems over the years, and one of the popular examples is called Commission Ignition. He also has established a B2B lead generation agency called the Win At LinkedIn—as the name suggests, it's a program that mainly provides lead generation services through LinkedIn.
In addition, he publishes content on his YouTube channel called The Lead Generation TV, where he discusses a wide array of topics related to income opportunities online.
Again, with so little information about him, it could be especially challenging to verify his identity and the successes he portrays to the public.
Let's continue with my Blabbermouth Bucks 2022 review and learn more about the program…
What is Blabbermouth Bucks?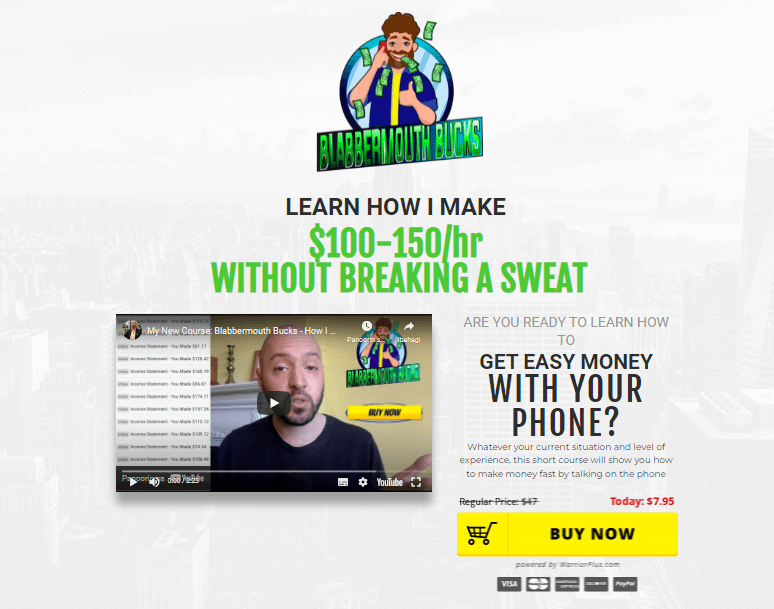 As you might have already guessed, Blabbermouth Bucks is an online training course that centers on online marketing.
They claim to help you earn income just by using your phone. However, this is not new. And many already have an idea of how an individual could earn online—some of the popular examples include paid surveys, product testing, beta testing an application or games, reviews, etc.
The problem I have with Blabbermouth is that they won't directly mention what this income opportunity is. They will just hype you with their promises and claims of "$100-$150/hr without breaking a sweat."
Anyway, the training program comprises 13 modules about ways how you can take advantage of the income potentials available online.
The following is a summary of what you can expect in events you decide to join Jonny Rose's program—
Welcome Notes: Introduction to Blabbermouth Bucks
Like in any training program, you'll receive an introduction to the course and what you can expect as the training progresses.
Watch this First: The Power of Clarity.FM
In this section, you will get a briefing on how Clarity.FM works and its potential.
And yes, the creator goes on blibber-blabbering about Blabbermouth Bucks. He also discusses that you don't need traffic to earn income online. Well, as I mentioned earlier, this is possible through GPT platforms.
But if you're looking to make serious money over the internet, then you will need a huge of traffic and quality engagement to earn a high and reliable income.
You have to try my best work-from-home recommendation, and I'll show you a better alternative than this program that can help you create content that generates leads and convert those leads to sales.
Setting Up Your PayPal
PayPal is the most popular and utilized electronic bank around the world. Although I don't agree with their high service fees, almost anybody has an account because it allows you to conveniently send and receive money no matter where you are.
But I believe this is the first time I have seen an online training program teaching you how to create a PayPal account. It seems to me that this is a waste of time.
$1500/hour Example: Your Potential Earnings with Clarity.FM
Once again, Jonny will present the potential earnings with Blabbermouth through Clarity.FM.
The video presentation involves some of his supposed previous clients that have gained success through the help of the platform. But you have to take note that it only includes success stories, and you won't hear people who have joined the program and have issues with it.
Also, some of you might be confused about how the program really works since they promote Clarity.FM so much.
In the next section of my Blabbermouth Bucks review, I will relay more about the program and give you an idea of what they can really deliver…
How does the Program work?
Blabbermouth Bucks is actually in partnership with Clarity.FM. It is a marketplace that connects business owners and startups with experts and professionals in helping you become successful with your endeavor.
They will give each member an opportunity to talk with an expert. However, there's a limit, and you'll be charged for the extra time of the call.
The program also includes teaching you how to set up your Clarity.FM profile and techniques in making your account attractive to prospects.
The course covers the following topics—
How to choose a profitable niche to engage with
The basics of creating Clarity.FM profile account
Optimizing your Clarity.FM for success
How to choose the call's price-per-minute
Closing a call that earns you income
I've also reviewed several training programs that are related to eCommerce, like affiliate marketing dropshipping and other income opportunities online. You can check them out if you like—the 7-Figure Seller Summit, Project Thunderbolt, Kindle Publishing Income, and Printable Profits, just to name a few of the articles I have written previously.
Or you can refer to the main landing page and check out the full list of reviews by clicking this link.
How Much is the Registration Fee of Blabbermouth Bucks?
If you are interested in registering for Blabbermouth Bucks, then you only have to prepare an initial budget of $7.
Does it sound like a sweet deal?
Well, hold your horses for a minute, would you?
As cheap as the initial asking price is, you have to take note that the program has upsells, which they openly admit.
These upsells are popularly referred to as upgrades because you won't be able to access parts of the training if you are unable to pay for them.
The upsells and their prices are as follows—
First Upsell: Work from Home Productivity Course is $27
Second Upsell: Self-Improvement and Motivation Guide is $17
Third Upsell: An Hour with Jonny Rose, the Creator is a hefty $97
As you see, Blabbermouth Buck may not be worth your while after all, considering the good stuff is more expensive.
If you're looking for a more budget-friendly training program that can provide you with the essentials of how to make money online and won't cause you to spend a lot of money, then you have to check out my best work-from-home recommendation!
Is Blabbermouth Bucks a Scam?
I believe Blabbermouth Bucks is not a scam, although we can't fully verify his background and claims. However, you may have to manage your expectations if you're considering registering for the program.
As mentioned in the previous sections, the upsells are very expensive, and you have to bear that in mind as well.
What are the Things I LIKE about Blabbermouth Bucks
I listed some of the advantages of Blabbermouth Bucks—
Low Initial Cost
The initial asking price of the program is only $7.
30-day Money Back Guarantee
If you're not happy with how the program is progressing, then you may ask for a refund within the 30-day period after purchase. No questions asked.
What are the Things I DON'T LIKE about Blabbermouth Bucks
Now, below are the disadvantages of Blabbermouth Bucks that you have to take note of—
Exaggerated Claims
Although I believe Jonny Rose is legit, I still don't like that he exaggerates his claims which leads to misleading his audience.
No Income Disclosure Statement
Making huge claims needs definite proof of their effectiveness. In the case of Blabbermouth Bucks, no income disclosure statement is presented. And all they did was show you a video presentation. However, that doesn't mean that their operation is legit or a scam.
Expensive Upsells
As you have seen, the $7 initial price is only a front act. And once you have been funneled to their system, you'll find out that the program has several upgrades that would require you over $100 to access their more premium features.
The takeaway from My Blabbermouth Bucks Review and a Better Alternative to Jonny's Program
I hope my review has provided you with the information you need in determining whether the training course offered by Jonny Rose is the right one for you or not.
Although the program provides expert opinions from professionals, it doesn't guarantee anything. In the end, you will still have to build yourself up from scratch.
Also, what I particularly don't like about the program is that the income claims they advertise are highly exaggerated and misleading.
If I were you, I wouldn't engage in the program at all, even though it's only $7 upfront. As cheap as the program is, I believe the number of upsells isn't worth it, considering how expensive these so-called upgrades are.
It would be far better for you to search for better alternatives.
If what you're after is a high-yielding and reliable income source online, then affiliate marketing is probably the one you are looking for.
It is probably the most popular eComm platform around because it's cost-effective and suits all levels of experiences.
Well, I believe that's just about it!
And to show you my gratitude just by being here today, I'm also giving away my book for free to help you gain traction as you begin your digital marketing business—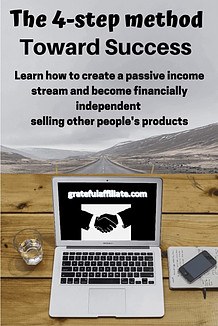 Thank you for the time and for reading my Blabbermouth Bucks review!
I hope to see you next time!
Peace!