Are you considering joining Traffic Authority? With all the talk of "get-rich-quick" schemes and MLM programs, it can be hard to decide if this program is worth your time and money.
In this Traffic Authority Review, we will provide you with an objective and honest overview of the program, so you can decide for yourself whether it is a legitimate opportunity or just another MLM scam. Read on to find out!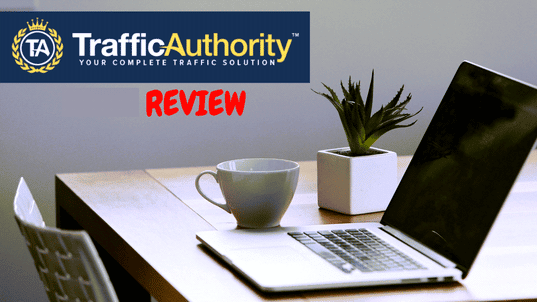 Traffic is the lifeblood of online businesses. Although it may not automatically bring you sales, quality engagement increases your chances of having sales eventually.
However, lead generation is not as easy as it sounds. You have to create engaging content and comply with proper SEO guidelines to improve your online presence and rank in search engines and social media platforms.
With this being said—many people turn to online programs to help them achieve their goals. And among the saturated sea of internet training courses around, one of the programs you might have come across is Traffic Authority.
Unfortunately, not all programs that promise to help you with lead generation and sales conversation can't help you with your goals, and they are only trying to earn profit from you.
In this article, I'll share with you my insights and analysis of the program and whether it's indeed worth your time and money or whether you should search for better alternatives.
But before I begin, allow me to disclose that I'm NOT an affiliate of Traffic Authority, and I'll NOT earn any commissions if you decide to register.
So is this program legit, after all?
Let's continue with my Traffic Authority and learn more about the program…
Let's Meet the Creators of the Traffic Authority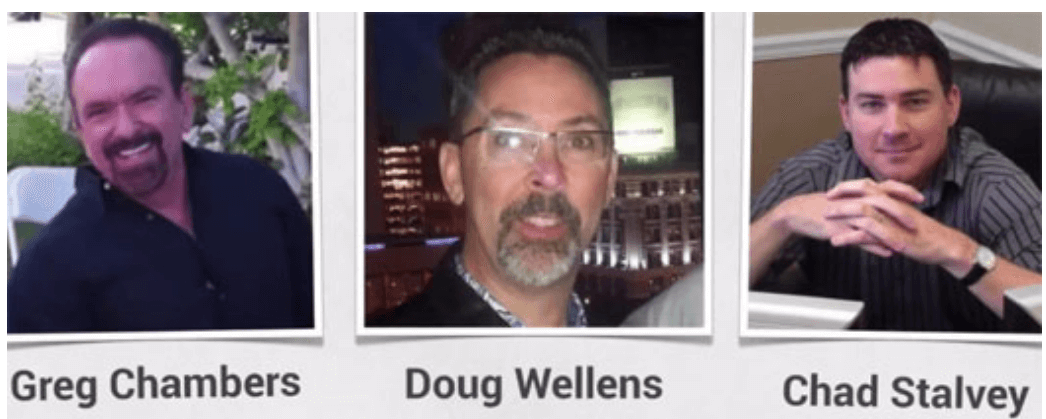 Traffic Authority was founded by partners Greg Chambers, Doug Wellens, and Chad Stalvey.
I also found that the program is under another company called Streamlined Marketing Systems, which is currently headquartered in Florida State, USA.
The company is also responsible for the now-defunct Infinite Leverage System—an MLM company offering the same kind of program as Traffic Authority. And yes, Traffic Authority is an MLM operation which I will explain later.
Anyway, besides these pieces of information, there is no additional background about the founders and company when you search about them over the internet.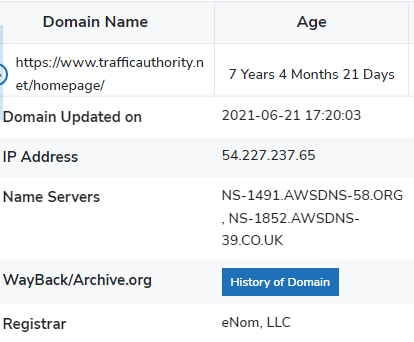 But based on their IP address, the site was established on June 23, 2015. The site is also using a VPN (virtual private network) and places them in Ashburn, Virginia, instead of Florida.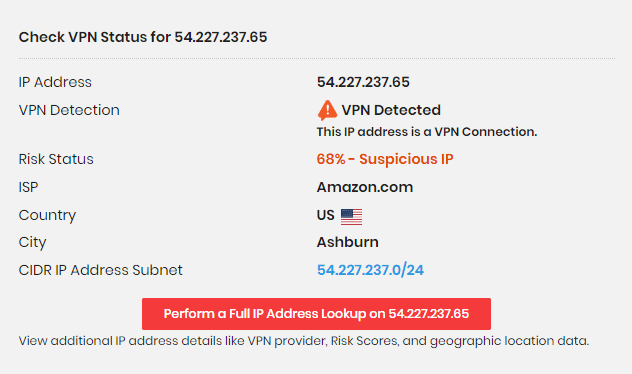 So does this mean that the program and their business compensation make their scam? Or is it legitimate, after all?
Let's continue with my Traffic Authority review to learn more about the program.
What is Traffic Authority?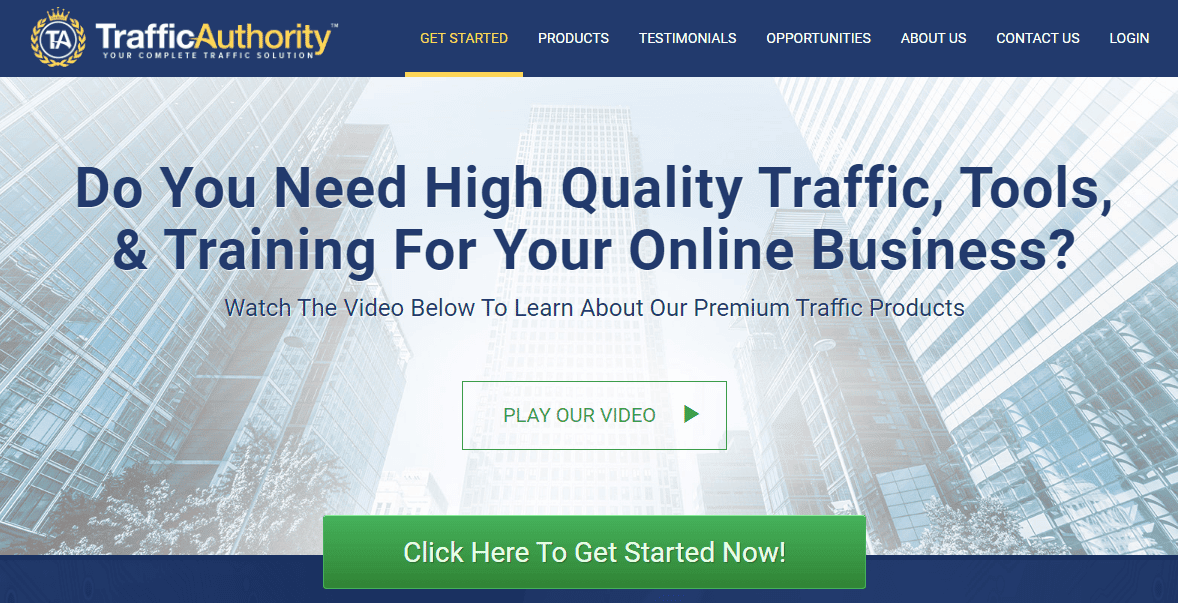 Traffic Authority is a program that sells traffic to digital entrepreneurs that own a website.
However, the company is more concentrated on its MLM operation, which necessitates you to recruit members into their undertaking.
If you are unfamiliar with the selling of traffic, it basically involves the exchange of funnels from one internet marketer to another. They will provide you with their marketing campaigns and personalized links that should redirect your audience to their audience and vice versa.
As you see, this won't be suitable for digital entrepreneurs who are just starting from scratch because it's likely that they do not have funnels as of yet to exchange with another internet marketer.
In addition, the program won't teach you anything about the basics of eCommerce or how to build a sales funnel. We can also say it is a DFY (done-for-you) system because everything is prepared for you.
Although having everything premade has a considerable disadvantage: low-quality traffic.
You have to remember that search engines and social media platforms like Google and Facebook have significant restrictions on repeating content. And this is because their system filters them out and sees them as spam and potentially dangerous to their users.
I have reviewed several other MLM companies that sell digital products, such as Be the Boss Network, Prosperity of Life, and Elite Downline Builder, to name a few of the reviews I have published.
Or you can check the complete list of reviews if you are interested.
However, if you are looking for a legitimate source of income that can give you the financial independence you seek, you should check out my best work-from-home recommendation!

What Does the Program Offer? And How Much Does it Costs?
Traffic Authority does not have anything to offer but paid Traffic Packages. The supposed clicks that they guarantee depend on the packages the member purchases, which include the following—
Basic Traffic Package costs $220 for 170 to 190 clicks
Bronze Traffic Package costs $440 for 340 to 380 clicks
Silver Traffic Package costs $660 for 510 to 570 clicks
Gold Traffic Package costs $1,097 for 850 to 950 clicks
Platinum Traffic Package costs $2,197 for 1,700 to 1,900 clicks
Titanium Traffic Package costs $4,297 for 2,400 to 3,800 clicks
Diamond Traffic Package costs $8,397 for 8,100 to 8,400 clicks.
In addition, they also have membership plans that are presumed to help members how to use their packages—
Traffic Optimizer costs a monthly fee of $27
Traffic Academy costs a monthly fee of $97
It is also to be noted that Traffic Authority is often offered as an upsell for other DFY systems and MLM programs such as List Leverage and Multiple Income Funnel.
The Traffic Authority Business Compensation Plan
As mentioned, the main priority of the Traffic Authority is recruiting new members into the system. And each of them shall earn commissions depending on the membership package that they have purchased.
The summary of the Traffic Authority compensation plan is as follows—
If the new member only purchases the Traffic Optimizer package, then they'll also earn a monthly commission of $20
If the new member only purchases the Traffic Academy package, then they'll also earn a monthly commission of $50
For every Basic Traffic Package sold, they'll earn a $100 commission
For every Bronze Traffic Package sold, they'll earn a $200 commission
For every Silver Traffic Package sold, they'll earn a $300 commission
For every Gold Traffic Package sold, they'll earn a $500 commission
For every Platinum Traffic Package sold, they'll earn a $1,000 commission
For every Titanium Traffic Package sold, they'll earn a $2,000 commission
I did not find the commission rate for Diamond Traffic Package, though.
The commissions of the Traffic Authority may seem enticing, but each member needs to meet certain conditions before earning any of them. The first condition is that the new recruit needs to sell the packages three times before they can receive the commissions.
The first six sales of the member are split 50/50 across the upper lines of the scheme. The sharing is changed to 80/20 after the six sales onwards.
As you see, the program is highly impractical, considering there's no solid guarantee that each member will achieve their goals.
If you are looking for a source of income that won't cause you to break the bank, you should check out my best work-from-home recommendation!

Is Traffic Authority a Scam?
People have been asking if it's a scam. I'm not gonna straight-up call it a scam, but I definitely wouldn't recommend it if you're looking for a way to make a decent income.
You're better off looking for something else because MLM companies like Traffic Authority are often more focused on recruiting new members than actually delivering a good program.
MLMs are not very dependable since they put a high priority on recruitment instead of focusing on the quality of the program they are providing and you might not make the money you were hoping for.
Anyway, the following are what other people are saying about Traffic Authority—
What I LIKE About Traffic Authority
Traffic Authority does have a few pros, but it's far outweighed by the cons.
All-in-all, the program is not a wise investment, and those looking to make money online should steer clear. Don't waste your time and hard-earned money on Traffic Authority; find a better opportunity to create a sustainable income.
What I DON'T LIKE About Traffic Authority
The following is what I particularly don't like about Traffic Authority that you have to take note—
Overpriced
Traffic Authority is overpriced and highly impractical.
Misleading Sales Pitch
The sales pitch of Traffic Authority is misleading and cringe-worthy.
I also reverse-image searched one of the reviews on their testimonial, and I find it odd that one of the testimonies appears to have a different name than the people I found online. Instead of Shaun Smith, he has the name of Bill Pescosolido—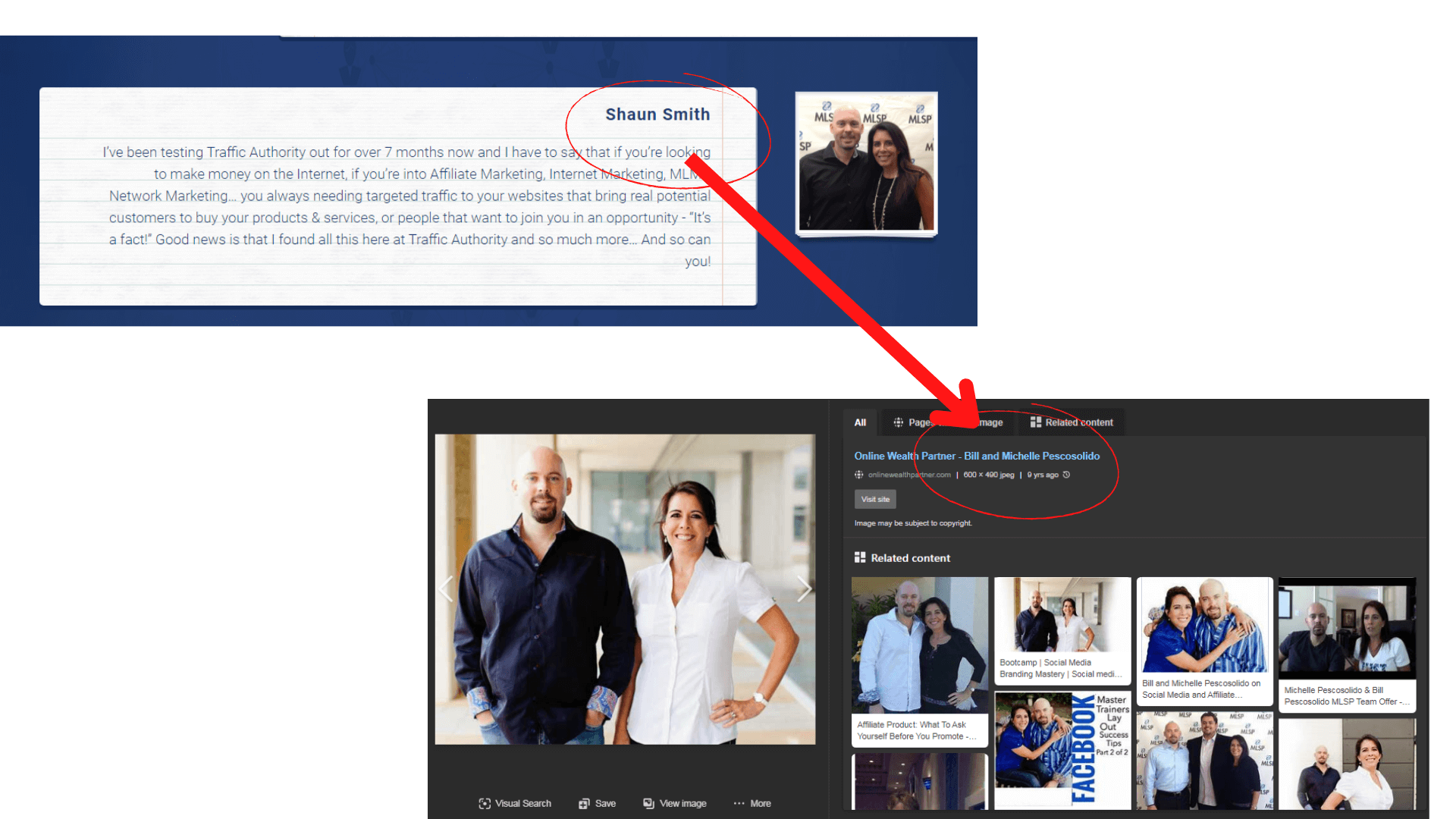 Non-Transparency
The company is non-transparent about its background.
Final Thoughts on My Traffic Authority Review and My Personal Rating
In conclusion, Traffic Authority may be attractive to digital entrepreneurs if they have existing funnels to exchange; however, it doesn't provide you with an education on the basics of eCommerce or sales funnel building. Furthermore, it is a DFY system, and its low-quality traffic may be rejected by Google and other search engines.
Therefore, it is essential to take the time to set up quality campaigns that give value to your customers and search engines in order to avoid any potential traffic losses. As we have seen, Traffic Authority may be a great fit for some, but it is not necessarily the right fit for everyone.
Careful consideration of options and educated decisions should be taken when deciding if this program is right for you.
In fact, a study conducted by Jon Taylor found that only 1% of people who join MLMs experience success, while the other 99% lose money and quit the MLM company altogether.
You have to remember that only people in the upper line earn commission every time the lower line makes sales or recruits a new member. People at the very bottom won't have any income until they have a sufficient line. As a result, they quit the scheme altogether when they are unable to attract new members, which will cause the scheme to collapse eventually.
Now, this is very evident in the predecessor of Traffic Authority which is the Infinite Leverage System.
This study was elaborately discussed in Jon Taylor's book titled, "Multi-Level Marketing Unmasked." You can read more about why MLMs are destined to collapse by reading this online publication, "Should I Join Multi-Level Marketing Company."
With this being said—I am giving Traffic Authority a rating of 5 out of 10—

An Alternative to Traffic Authority
In conclusion, Affiliate marketing provides a great alternative to traffic authority.
It is a low-risk business that can be started with less than $500 in capital, and the potential income is limitless.
Affiliate marketing provides you with the opportunity to promote multiple brands while not having to worry about inventory management and shipment, no matter what your level of experience may be.
It also offers the potential for limitless earnings. If you are looking for an alternative to traffic authority, affiliate marketing provides an excellent opportunity to build a sustainable online business with flexible hours and low risk.
If you are interested in learning more about the potential of affiliate marketing and how you can benefit from it, please click the highlighted text.
With the right strategies, affiliate marketing offers an exciting and rewarding venture. So, take the first step and start your journey to success!
Don't let the fear of the unknown stop you—
"Enthusiasm is the yeast that makes your hopes shine to the stars" – Henry Ford.
So take the plunge, and click on the link below!
>>MY BEST WORK-FROM-HOME RECOMMENDATION!

And to show you deep gratitude for being here with me today, I am also throwing in my eBook for absolutely no cost to you to help you jumpstart your affiliate marketing business—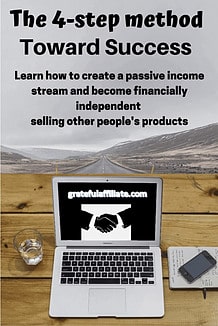 Thank you for your time in reading my article!
Peace!