In my Click Start Digital review, I will provide you with my analysis of the program and help you decide if they're the perfect fit for you or not.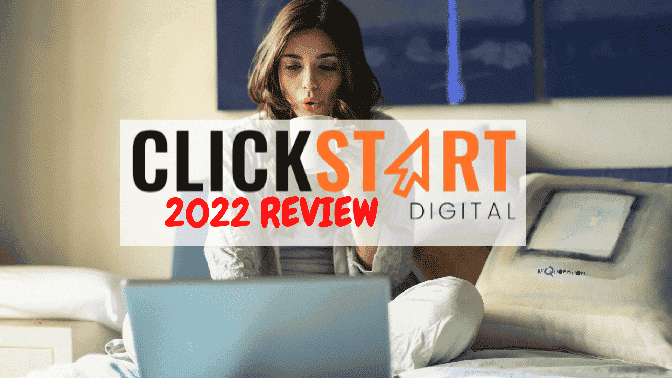 Welcome to my Click Start Digital review!
Starting an online business from scratch can be very challenging and, needless to say, extremely stressful.
Now, this is where DFY systems come into the scene. They provide you with a personal website that's already made, and all you have to do is to promote the products.
And one of the DFYs you might have come across is Click Start Digital through email marketing you have received one day or through your Google searches.
However, can the Click Start Digital program really provide you with the financial independence you seek? Or is it another typical DFY scam you have to refrain from engaging in?
In this article, I will provide you with my thorough analysis of the program and discuss its specific pros and con, and hopefully, it will help you determine if they're the right one for you.
But before I begin, allow me to reiterate that I am NOT an affiliate of the platform, and I will NOT benefit in any way if you decide to purchase the products.
So without any further delays, let's get right into today's discussion…
Who is the Creator of Click Start Digital?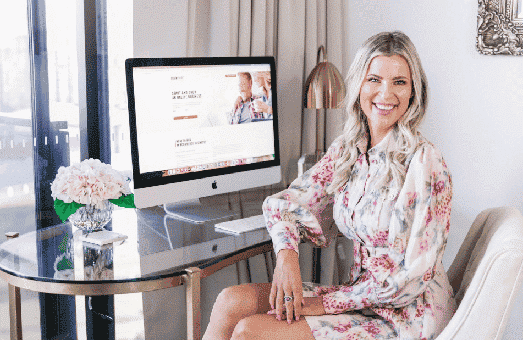 Click Start Digital is the brainchild of Samantha Hurst. She is an Australian digital entrepreneur with over fifteen years of experience in the industry.
Before Samantha started her career in eCommerce, she was a career woman working with sales and marketing companies. Her experience gave her the knowledge and expertise to help people gain traction in their online marketing business.
After her career in the corporate world, she began selling lingerie over the internet as a hobby. It became highly profitable to the point where she was able to sell it in 2010.
I was also able to find a YouTube channel under her name, which was established five years ago. However, it is not doing well in regards to acquiring an audience because it only has over 700 subscribers at the time of this writing.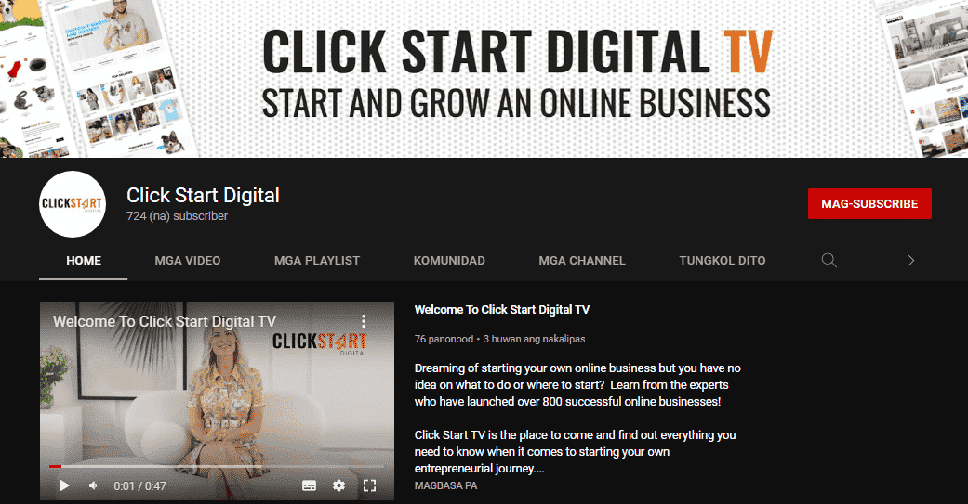 I also did not find any information about whether the channel is generating income or not. However, there were none which indicates that it is either earning too low or not generating any profits at all.
A huge downside of the Click Start Digital is the price which I am going to discuss later in the following sections. It is very expensive, which is pretty much out of reach, especially for those who don't have the budget to pay for the initial and subsequent costs.
If you're looking for a program that can provide you with valuable training on how you can earn income online at a very budget-friendly cost, then you have to check out my best work-from-home recommendation!
So does this mean that we refrain from engaging in the program and search for better and more affordable alternatives?
Let's continue with my Click Start Digital review and learn more about the program…
What is the Click Start Digital Program?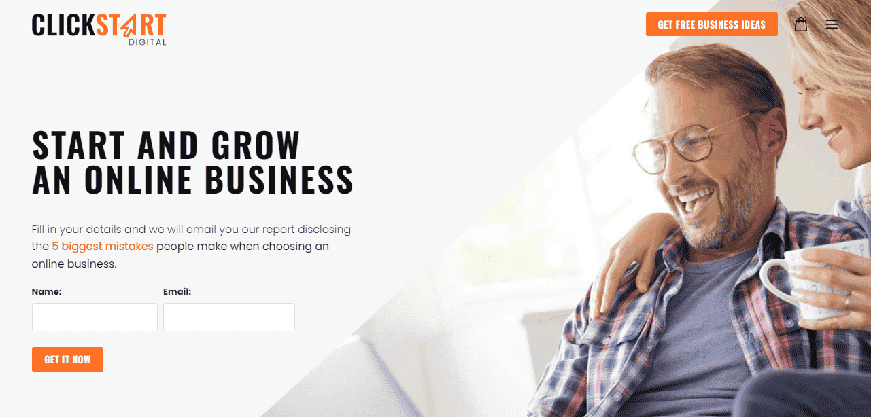 Click Start Digital is a DFY or done-for-you system that offers premade content and tools. It is also comprised of training programs that are supposed to help its members drive traffic to the landing page of the DFY site.
The idea of having everything ready for you might seem like an enticing prospect at first sight. However, you have to take note that the primary problem with them is that the materials are generic, and search engine consoles have strict regulations on duplicating content.
The first thing that you might notice about the marketing pitches of DFY systems is that they're typically cringey and overhyped. Although it's true that they're going to do the heavy lifting (which is the creation of the website and sales funnel), it's still going to be difficult to generate leads.
I've also reviewed several DFY systems in the past, such as Beast Funnels, Affiliate Traffic Bot, Googlix, and VIP Bot Club, just to name a few of them. And I don't recommend them in the slightest because of the low-income potential and upsells that come along with it.
Also, you have to consider how expensive Samantha's DFY system is.
But if you're still curious about what's inside the program, then resume reading my Click Start Digital review, and I'll show you what you can expect upon signing up for the scheme…
How does the Click Start Digital DFY System Works?
The program promises three simple methods of collaborating with them, and it includes the following—
First method – you have to choose first the niche you are comfortable working with. They also give you the opportunity to talk to their team if you are unable to find your niche
Second method – you need to select one of the five packages they offer. Again, I will explain in the following sections
Third method – You have to pay for the membership plan you have opted
What's Inside the Click Start Digital Program?
You will receive the following if you decide to avail the package of Click Start Digital. It includes several training modules aside from the typical DFY content—
Welcome Pack
The introductory phase of the program includes four training modules on what to expect, the basics of DFY, and how to navigate WordPress. Honestly, you can get all of these features for free over the internet, like YouTube.
Suppliers and Products
The second part of the program includes ten video lessons on the topic of finding suppliers and determining the right product for your niche.
Ready to Launch
In the next section of the training section, you will receive lessons on the initial steps necessary before launching your site and then how to optimize your landing pages.
Social Media
As the title of the module suggests, it includes promoting your products or services through social media ads.
Marketing
The fifth module provides you with training on identifying your target market and how you effectively promote them to your prospective market.
Analytics
The last part of the training teaches you how you can keep track of your progress.
Again, let me remind you that the lessons included in the training program of Click Start Digital are pretty basic, which you can freely source online such as YouTube or Google search.
How Much is the Program?
You have to select one of the five membership plans Click Start Digital offers, which include the following—
The Gold Package costs $10,990
The Platinum Package costs $15,490
The Diamond Package costs $17,490
The Elite Package costs $23,490
The Elite Plus Package costs $25,490
They also provide payment plans which you can pay in two to five monthly installments.
Despite the payment plans, the program is still super pricey and impractical, needless to say.
I am not sure, though, if they also have a refund policy. But in my opinion, they must also include the refund policy, considering how expensive the program is.
As I repeatedly emphasized, you can source the training for free online, but if you want advanced lessons, then there are more affordable options. In fact, some are under $50, yet they can deliver equal or even far superior results.
If this is the case, then you can check out my best work-from-home recommendation!
Is Click Start Digital a Scam?
I did not find any reason to conclude that Click Start Digital is a scam. It is a legitimate DFY system and training program, as far as I am aware.
A huge drawback of the program, though, is its high-cost package.
What I LIKE about Click Start Digital
Although Click Start Digital is super pricey, a big con of the system is the high rating and number of positive comments on Trustpilot, as you see below—

However, I will not spend $8K to $25k for something that I can find at a lower price or even for free online.
Also, the program has excellent 24/7 customer service, according to comments by their clients.
What I DON'T LIKE about Click Start Digital
Now, below are the things I don't specifically like about Samantha's Click Start Digital program—
Expensive!
As I repeatedly emphasized, the program is not suitable for people who are under a tight budget.
Low-Income Potential
The income potential for DFY systems is very low.
Final Thoughts on Today's Click Start Digital Review and A Better Alternative
I hope the Click Start Digital review I have prepared for today has provided you with the info you need to help you decide if the program is the right fit for you or should you continue your search for better alternatives.
Yes, the program has obtained a large number of positive comments in Trustpilot. If you have the financial capacity to cash out $8 to $25K, then, by all means, you can check out the program for yourself.
However, you still have to manage your expectations because success is not guaranteed in DFYs, considering how challenging it would be to drive traffic to generic content.
If what you're after is a more reliable source of income online, then you can check out my best work-from-home recommendation!
I believe that's just about it in today's discussion!
And to show you my gratitude for just being with me today, I'm also giving away my book for absolutely no cost to you to help you kickstart your eCommerce endeavors—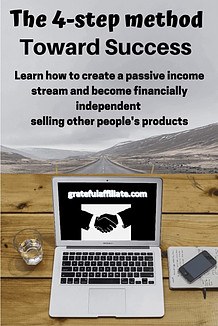 Thank you for the time and effort in reading my Click Start Digital review! I hope to see you in the next topics!
Peace!