Are you looking for a way to build an eCommerce empire but don't know where to start? Are you wondering if the ECommerce Empire Builders is worth it? Look no further! We have done extensive research on the program and are here to give you the honest truth. With the help of our ECommerce Empire Builders review, you can get the information you need to decide whether or not the program is the best option for you. Keep reading to find out!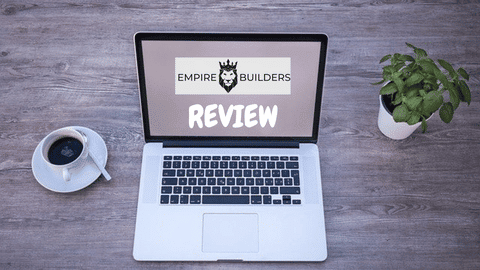 Dropshipping is among the popular form of eComm among people who want to earn reliable money in the comfort of their homes. However, the platform isn't as easy as it sounds.
It is a three-party business model that includes the seller, the customer, and the supplier. In addition, the drop shipper also has to take into account website creation and traffic management.
As you see, it will require you a little bit more work in comparison to affiliate marketing, but it can provide you with a high income if you can set up and manage the business effectively.
With this being said—among the solutions that you might have to turn to for help is online training courses. And one of the programs that you have come across is eCommerce Empire Builder.
The marketing pitch is indeed tantalizing, but if you want to know if it can really help you with dropshipping and good use of your time and money, then the article I've prepared will especially cover your needs.
But before I begin, allow me to disclose that I'm NOT an affiliate of eCommerce, and I will NOT earn commissions if you end up buying the program.
So without further ado, let's begin…
Who is the Creator of eCommerce Empire Builders?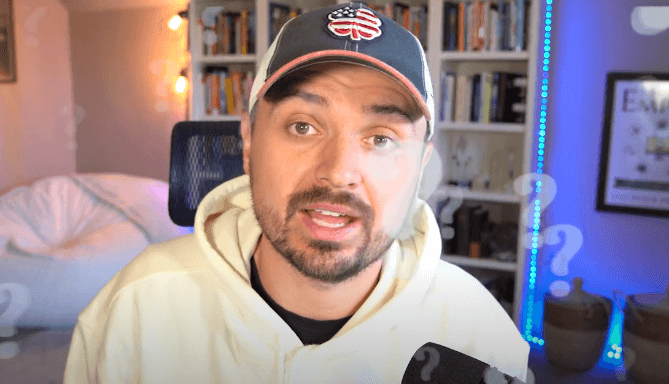 ECommerce Empire Builders is the brainchild of a seasoned digital entrepreneur named Peter Pru. If you are not a Premium member of YouTube, then you might be seeing his ads pop up regularly on the said platform.
As mentioned, Peter Pru is a digital marketer with years of experience, particularly in the field of dropshipping. He also has a YouTube that talks about the same topic.
His channel currently has over 60K subscribers, and he provides quality content about dropshipping and anything about earning money online.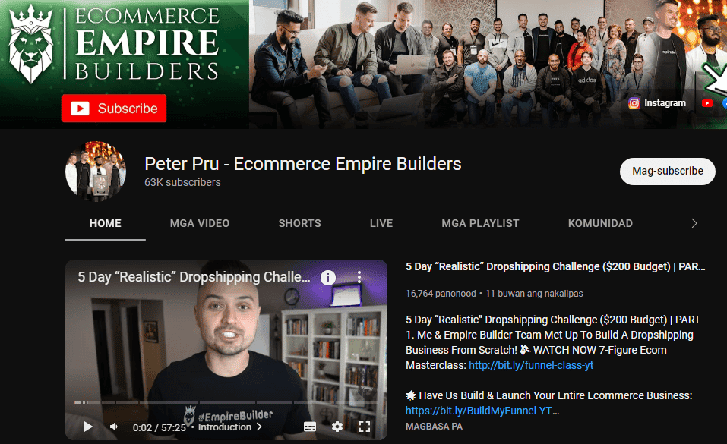 He apparently doesn't give away that much on his channel, but the content of the lessons is quality nonetheless, which could still be beneficial in one way or another. The advanced lessons are reserved and discussed extensively in his programs.
Other than eCommerce Empire Builders, he also established several other training courses. And one of his popular courses that you can check out is called the Six Number Funnels.
Peter Pru is about 28 years old at the time of this writing, and he delved into the business of dropshipping ten years ago at the age of 18 years old. Like many internet gurus, his rise to success wasn't easy—it had ups and downs, but he overcame the challenges in the end.
He is also a multi-awarded internet marketer. Peter Pru is a two-time award winner of ClickFunnels' Comma Club.
So does this mean that the program is automatically legitimate? Or is it not worth your while after all?
Let's continue with my eCommerce Empire Builders review and learn more about Peter's dropshipping training course…
What is eCommerce Empire Builders?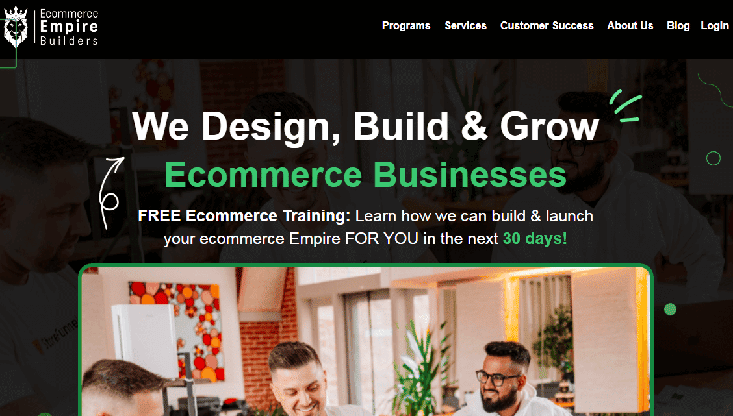 As you might already know by now, eCommerce Empire Builders is an online program that provides training on the fundamentals of marketing your dropshipping business. It is advertised that eCommerce Empire Builders is meant to replicate the success that Peter Pru achieved in dropshipping.
Instead of giving lessons on the basics of dropshipping, it focuses on lead generation through funnels and ads.
The dropshipping platform utilizes a retail fulfillment method. It can be a lucrative source of income but very challenging, which requires time and effort, and sufficient capital to keep the business going and scaling upwards.
It is a business model that involves a seller, customer, and supplier. The seller doesn't keep inventories. All the products will come from a third-party supplier, which possesses several concerns like quality control and shipment.
Aside from selling the products, the seller also bears the burden of marketing them and handling customer complaints.
Peter Pru offers unique techniques on dropshipping that are based on his experience and learnings along the way. In addition to the basic foundation of the business model, he puts a high priority on building traffic to his website through the help of sales funnels, particularly the use of ClickFunnels.
As you see, traffic is the lifeblood of any online content. In addition to lead generation, the business models require engaging content for any internet marketer to convert those leads into sales. And sales funnels are only one of the ways you can achieve this goal.
I also reviewed several dropshipping courses in the past that you can read about, such as Ecom Everywhere, Performance Dropshipping, 7 Figure Seller Summit, and Project Thunderbolt, to name a few of the eComm platforms I covered.
Or you can check the complete list of reviews by clicking here.
What's Inside the eCommerce Empire Builders Training Course?
The eCommerce Empire Builders online course offers seven modules to complete the training, which includes the following—
First Module: The Foundation
Well, it's not a lesson on the basics of dropshipping. It is rather your typical mindset training that is supposed to help you get the right state of mind as you begin the training.
Second Module: Funnels
The second part of the training is all about building your funnels through the use of ClickFunnels. Peter will also provide you with lessons on where to get done-for-you content and how you can optimize them to improve your dropshipping site.
Third Module: Email Marketing
Sales funnels are just one way of promoting your site's offerings through organic traffic. Another way you can market your dropshipping website is by sending your pitch to your email funnels.
In the next section of the courses, you'll learn how you can utilize the advantages of email marketing to boost your site's engagement.
Fourth Module: Influencer Marketing
Probably one of the most effective ways to promote products is through social media. However, this is only possible if you have an ample amount of followers on any social media platform.
And if this is indeed your worry, the fourth module will offer you ways to use social media for marketing your site with sufficient followers or subscribers.
Fifth Module: Facebook Advertisements
In the next module, Peter Pru will provide you with lessons on the foundations of Facebook Advertisements and his insights about how to set them up and manage them effectively.
Sixth Module: Scaling to Seven Figures
The last part of the training will give you lessons on scaling your dropshipping business upwards and generating seven figures regularly.
Monthly Hacks
In addition to the main modules, Peter Pru will also provide you with monthly tips on improving your dropshipping business.
How Much is eCommerce Empire Builders?
If you are interested in becoming a member of Peter Pru's eCommerce Empire Builders, then you have to prepare a beefy budget of $997! It also comes with a 2-installment plan of $597 if you don't have the money at the moment. However, choosing the installment plan will cost you a total amount of about $1,200.
It is said that the program has a refund policy, but it is conditional. And you have to fulfill certain conditions before you get your money back.
This, to me, is impractical considering the number of free resources and more affordable alternatives available that are complete compared to Peter's online training course.
If you are looking for a more budget-friendly program, then you have to check out my best work-from-home recommendation!

Is eCommerce Empire Builders a Scam?
No. I am confident Peter Pru is not a scam. ECommerce Empire Builders is a legitimate training course that provides lessons on how to generate leads for your dropshipping site.
Now, the following are what other people are saying about eCommerce Empire Builders—
What I LIKE About eCommerce Empire Builders
The following are some of the things I like about eCommerce Empire Builders—
Peter Pru is Legitimate
As mentioned in the previous section, Peter Pru is a legitimate internet marketer that you can trust.
High Rating and Positive Reviews
ECommerce Empire Builders has obtained a very positive rating on Trustpilot—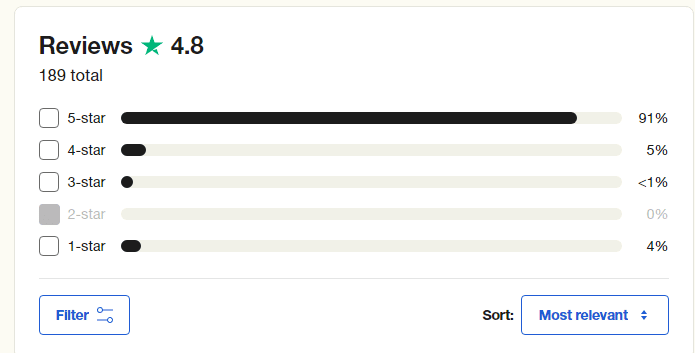 They also received a lot of positive comments, as you see below—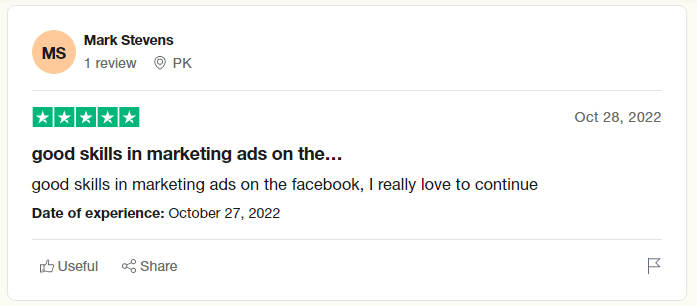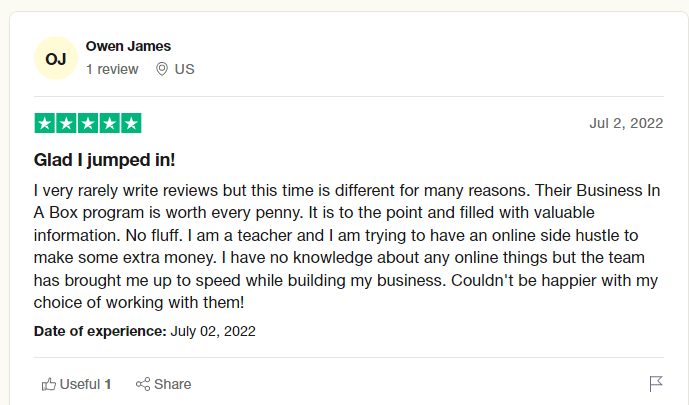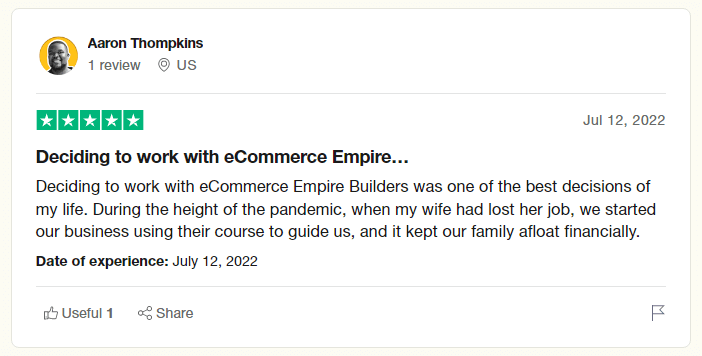 Quality Training on Dropshipping Marketing
The program offers quality training on how you can effectively market your dropshipping site.
What I DON'T LIKE About eCommerce Empire Builders
Now, below are the things I don't particularly admire about the eCommerce Empire Builders training program—
Expensive
First and foremost, the program is expensive.
Conditional Refund Policy
They need a few conditions before you can have your money back.
Not for Beginners
The program lacks the basics of dropshipping. Thus, it is not recommended for beginners.
Final Thoughts on My eCommerce Empire Builders and My Personal Rating
I hope my eCommerce Empire Builders review has provided you with the information you need in deciding whether the program is a good use of your time and money or whether you should search for better alternatives.
If you already have existing dropshipping and are struggling to promote your site, then eCommerce Empire Builders can be a good investment. However, it may not be a good option for beginners because it lacks the essential lessons on starting a dropshipping business.
In addition, it is very expensive and impractical. But if you have the budget and are willing to spend about $1,000, then you can check the program at your own risk.
The good news is that you don't have to be disheartened if you don't have the budget because there are a lot of better alternatives that won't cause you to break the bank.
With this being said—I am giving eCommerce Empire Builders an 8.5 out of 10 rating—

A Better Alternative to eCommerce Empire Builders
The other popular eComm platform is affiliate marketing. It is not as challenging compared to dropshipping but possesses several challenges nonetheless.
But the reasons why many people turn to affiliate marketing are because of the following factors—
It suits all levels of experiences
It possesses a very low risk
You don't need a large capital for affiliate marketing. You can start the business with a capital of less than $500
Your involvement with inventory management and shipment is not necessary
Your potential is limitless because you can advertise as many products or services as you like
And if you want to learn more about affiliate marketing and how it can help you achieve financial stability, then you have to check out the highlighted description below—
>>HERE'S MY BEST WORK-FROM-HOME RECOMMENDATION!

I believe that's just about it in today's eCommerce Empire Builders review!
And to show you my appreciation by being here, I'm also sharing with you my book for absolutely no cost to you and to help you kickstart your affiliate marketing venture—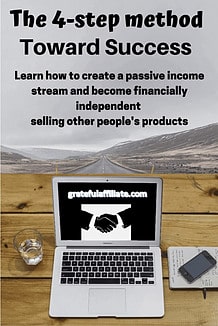 Thank you for the time in reading today's review!
Peace!