Welcome to my Freedom Launchpad review! For today's topic, I'll help you determine whether this platform is legit or a scam that you should avoid.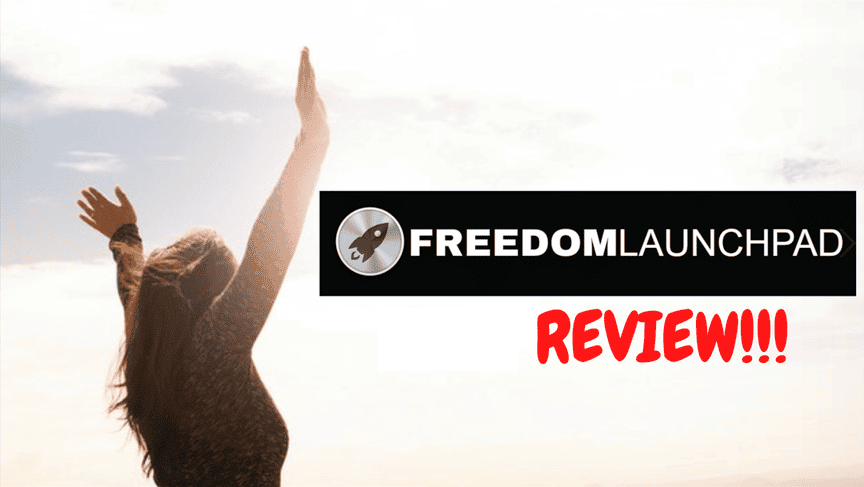 ---
Product Name: Freedom Launchpad
Website: https://freedomlaunchpad.net
Price: $27 (plus many upsells)
---
Affiliate marketing is one of the hottest trends in eCommerce today.
However, a person may easily be misled once they hear affiliate marketing in a sales pitch, especially if they don't have a sufficient idea of how the platform works.
Nick Bramble's Freedom Launchpad might have been one program that has popped up in your Google search results as you're searching for legitimate online courses.
The appeal of the creator and how he presented the program might have got your attention. And If you want to know more about the program and how it works, you have come to the right place!
For today's topic, I will provide a thorough analysis of the program and help you determine whether they're worth your time and money or should you search for another program.
But before I continue, allow me to disclose that I am NOT an affiliate in any of Nick Bramble's programs and in NO way promoting them. The content in this article is my personal opinion based on my research.
With that out of the way, let's begin my Freedom Launchpad review…
Who is Nick Bramble?
Before I begin discussing today's topic, allow me to introduce the system's creator.
Nick Bramble is an online entrepreneur and social media influencer that made his fortune through affiliate marketing and sales funnel. 
His supposed rags-to-riches is a cliché in the world of the so-called gurus—
He was broke
He was in debt
He lost his job
Does it sound familiar?
Anyway, his story goes that such circumstances have put him under so much stress and pressure, and he was desperate to find ways to improve his way of living.
Eventually, he found his ticket to success through eCommerce. He saw it as a great opportunity to earn huge profits, which is why Bramble placed a high capital in his online ventures.
Bramble claims that he is earning six figures as a result, and now he wants to share what he has learned with his audience.
The story is a common pattern you'll hear from self-proclaimed gurus. Also, if they're indeed earning significant income, why even bother creating a program and focus on their business?
Why create a system that is not guaranteed to work on everybody and potentially waste some of your clients' money?
Also, he was involved with a pyramid scheme called Empower Network. They offered high-ticket programs to memberships (They went bankrupt). The company also promoted recruitment as its primary source of commissions to its members.
Another founding member of the Empower Network (Dave Sharp), is now running a product called Legendary Marketer. From what I have found in my research, it seems to be a more "legit" venture, with actual training, but you need thousands of dollars for his high ticket program.
So does this mean that Nick Brambles' program a scam? Let's continue with my Freedom Launchpad review and find out more…
Also, I have reviewed another program called Multiple Income Funnel, whose founder was also involved with Empower Network. You can check out this link if you're interested.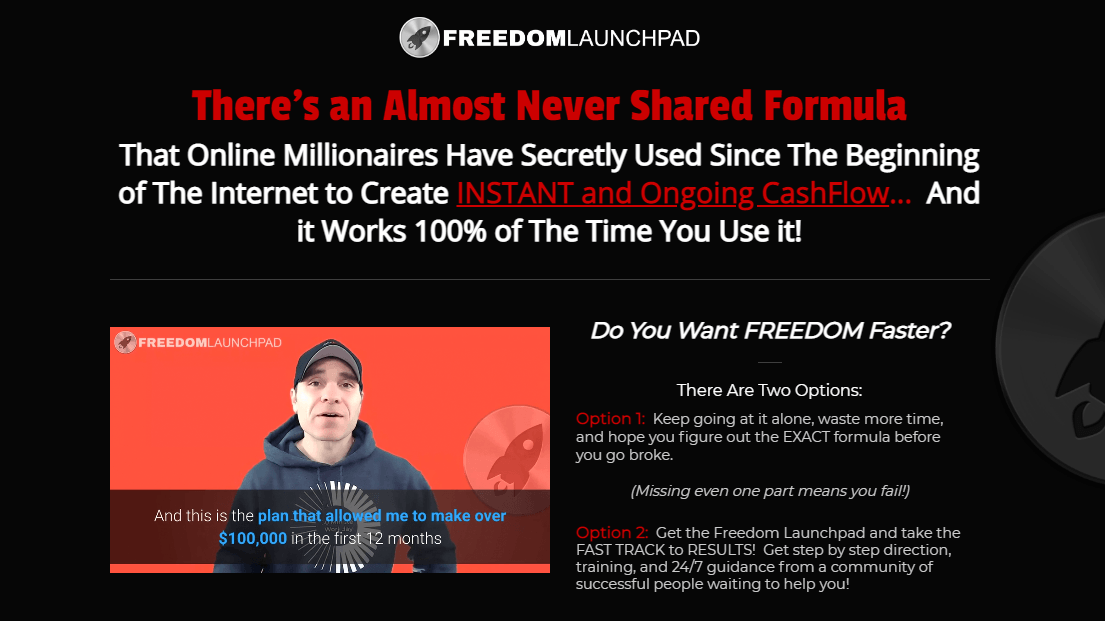 What is Freedom Launchpad?
Freedom Launchpad is an upsell offered after you got Nick Bramble's Escape Plan book. Most of his offerings are actually sales funnels where you will be brought to his other sales pages once you engage in one of his products.The program's purpose is to teach you the basics of affiliate marketing and how you can profit from it.
Bramble claims that his system provides a proven three simple step-by-step that can generate cash flow every 30 minutes per day. He added that this is also the case even if you don't have any products to sell.
Well, that is basically how affiliate marketing works! It's not a secret or even a magic formula that this person discovered!
Also, he said that you wouldn't even have to build a sales funnel, and there's no need to create copywriting content because everything you'll ever need is pre-made, and all you have to do is pitch them online, and hopefully someone avails the products.
Take note that the pre-written content is also a funnel promoting Freedom Launchpad and other online programs in which Bramble is involved like HBA and the 30 minutes per day program.
What this means is that you won't learn affiliate marketing!
You have to promote and convince people into buying the products, so you'll have commissions.
Another thing here is that a specific amount of income is not guaranteed in a genuine affiliate marketing system. There are some days when you'll earn significant income, while there are days when it would drop suddenly, and make nothing at all.
If you want to know how affiliate marketing truly works, then you have to check out my top work-from-home recommendation!

How does Freedom Launchpad work?
As mentioned, Freedom Launchpad is supposed to help you earn passive income through affiliate marketing.
However, you won't be getting any sufficient relevant materials with the program because you will be funneled to another affiliate marketing course called Home Business Academy. They possess the actual materials and tools needed to help individuals learn the basics of earning money online.
This program claims that earning money is as simple as 1, 2, and 3. But you have to bear in mind that there's nothing that easy with affiliate marketing.
It may sound simple, but the process still requires your attention for the business to grow.
Anyway, let's breakdown at what he claims to be his three "simple" steps to success—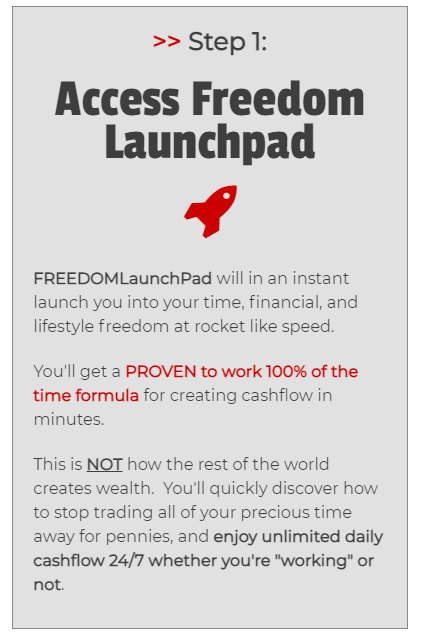 Step One—Access the Freedom Launchpad
His explanation here is pretty extensive, considering that the mechanics are pretty much self-explanatory and that all he wants you to do is signup for his program.
Afterward, Nick Bramble will share his "so-called" formula to success through affiliate marketing. Again, let me remind you that he won't exactly teach you affiliate marketing, it more like referral marketing.
Plus, the registration fee of $27 doesn't end after you accepted his invitation. There are lots of upsells after your first registration, and their main purpose is to convince you that you need these upsells in order to have a "better" chance of getting this unlimited cash flow.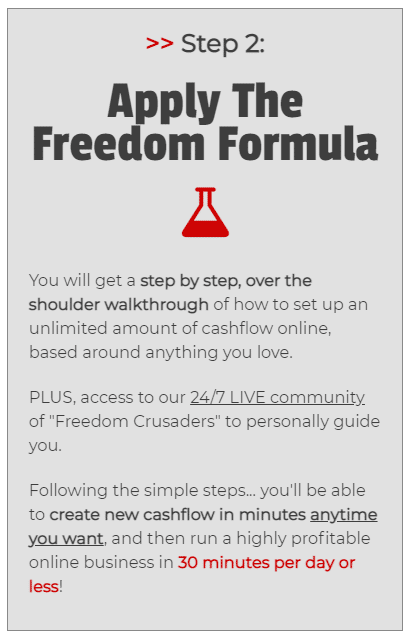 Step Two—Apply the Freedom Formula
For this step, he'll guide you on how to apply his formula.
The way Nick Bramble explained his system is very similar to the gurus I've heard in the past. Most of them tell you that their program is unique to the point of appearing that they've discovered something new.
They present their system as mysterious, which may induce hype in their audience. However, that is just what it is—hype!
People are earning money online through affiliate marketing since the 90s. There's nothing new here!
The difference in success rates can be explained through different strategies the marketer employs. My point here is that one marketing strategy may produce a different outcome from one person to the other.
Therefore, Nick Bramble's strategy may not work for everybody. Also, he doesn't impart any relevant teachings on affiliate marketing since his system is already "done for you".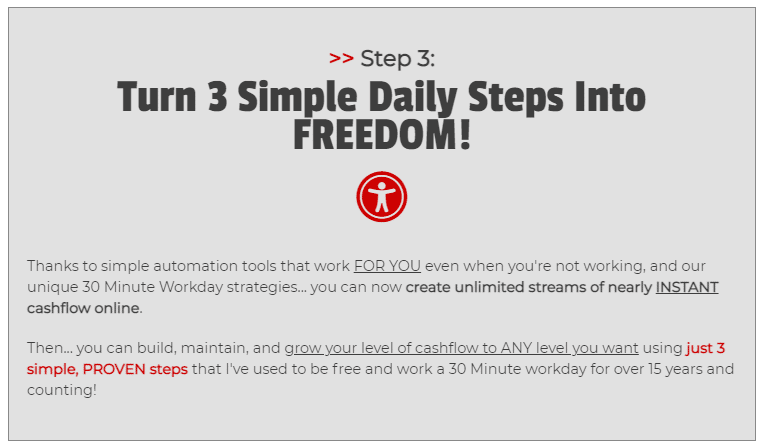 Step Three—Turn Three Simple Daily Steps into Freedom
A big part of the success of affiliate marketing is the quality of traffic. And this is what Bramble claims to teach in the section.
Again, there are no relevant strategies here in connection to affiliate marketing.
He won't even teach you how to improve organic traffic through SEO methods. What you get instead are tips and tricks on funneling the products you are promoting. This includes purchasing solo ads to get traffic.
As explained, the sales funnels are intended to promote other products he is involved with. This includes programs like the 30-minute Workday and Home Business Academy.
Is Freedom Launchpad a reliable source of income?
The short answer is NO.
The pre-made nature of the program is not a stable source of income, and such business models won't last long.
For one thing, many individuals might have already seen and used the product one way or the other. Such an instance indicates that the program can become hard to sell and generate new leads once it becomes saturated.
You are also entirely relying on the system, which may collapse anytime you run out of people who are willing to buy the product.
First of all, you can't control consumer behavior! You can only influence them through effective marketing strategies!
Affiliate marketing is a proven source of income that helped millions of people achieve financial independence. But there are no quick ways to reach your goals.
Lastly, despite the fact that the product is only $27, remember that there are many upsells, and you also have to prepare your budget for the solo ads.
To top it all off, the main idea of Freedom Launchpad is to funnel you to another system called Home Business academy, where, in fact, you can get the mechanics and training for earning money online.
If you truly want to learn how affiliate marketing works and benefit from it, then you better check out my top work-from-home recommendation!

Is Freedom Launchpad a scam?
I would NOT go as far as calling this system a scam. No, it's not a scam!
However here are some red flags that I want to point out:
Insufficient information about affiliate marketing
Despite posing as an affiliate marketing system, there's no sufficient value here regarding learning affiliate marketing. As I repeatedly emphasized, you will be funneled to his other programs once you availed of one of his programs.
And the products need to be sold first before you can earn any income through commissions. In other words, you're relying entirely on the system.
Paid Ads
The program won't teach you how to obtain organic traffic, which is one of the essentials in affiliate marketing. Instead, you will be required to pay for the paid ads to get the traffic needed. I know some people may argue that paid ads are reliable and a great way to get targeted traffic, and I do agree. However, for someone who is just starting up and is trying to earn money online, paid ads can quickly get VERY expensive if you don't know what you are doing!
He was involved with Empower Network
As mentioned in the beginning, Nick Bramble was also involved with Empower Network—an online program that is now bankrupt and alleged to be an MLM business pyramid and got shut down by the FTC!
Upsells
You will be funneled to other programs he is involved with, like Home Business Academy, The Escape Plan Book, and the 30-Minute Workday.
Pros
I don't really recommend Freedom Launchpad because of the cons listed below…
However, it does have a 3 (three) days money-back guarantee, it is an affordable system, and it is a legitimate and workable system.
Also, I should add that Nick Bramble has a lot of experience as a marketer.
Cons
Claims are all hyped and misleading.
The system is structured to upsell his other products.
The system focuses on paid ads.
You won't learn the essentials of affiliate marketing.
It gets saturated easily once you run out of prospects to sell the products.
Freedom Launchpad Review: Final thoughts
I hope my Freedom Launchpad review has provided sufficient information about the system and why I don't really it. With the red flags I mentioned above, I find it hard to recommend it even if it is not a scam.
There are much better ways to earn income online.
Let's continue to the last section, and I will show you how you can truly learn affiliate marketing…
How do I earn income online?
When income opportunities are brought into the discussion, two of the first eCommerce methods that come to mind are dropshipping and affiliate marketing.
However, affiliate marketing is a more popular option because they suit all levels of experience. It doesn't matter if you're a beginner or a struggling entrepreneur; you can succeed in this type of business as long as you have the proper tools, structure, and mindset.
Also, they're favored over other income opportunities online for many reasons—
It generates a higher and more reliable income
It is free, to begin with
No risks
No upsells
It is an unlimited source of income because you can essentially market as many businesses as you like.
How cool is that?
Your main task as an affiliate marketer is to basically promote the products or services of a brand through a personalized affiliate link that's provided by the eCommerce page you are going to represent.
And then, the affiliate link will be attached to your online site or social media account. You'll earn commissions every time someone engages the link and uses it to avail of the online shop's products.
Of course, your success in this business landscape relies on the quality of traffic being driven to your site. And if this is your concern, worry no further; I have the perfect solution to your problem.
Slightly tickle the description below, and I will teach you how you can create a stunning website or social media page that's attracting a lot of traffic.
>> CHECK OUT MY BEST WORK-AT-HOME RECOMMENDATION HERE!
Thank you for taking the time in reading my Freedom Launchpad review!
And to help you get started, I am offering my FREE e-book just because you are here, on my website: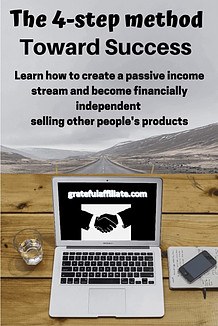 Peace!