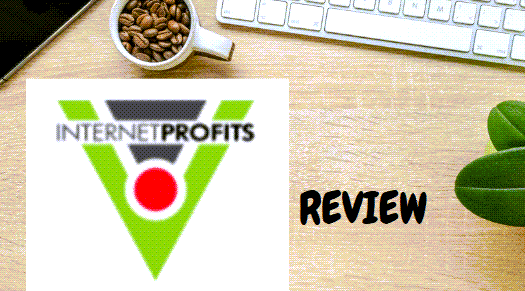 The "Dream" of Easy Money
We've all daydreamed about it: making a pile of money without even stepping out of the house.
Imagine a life where your daily commute is from your bedroom to your home office, just a few feet away. No boss, no set hours, just you and a computer. For many, that's not just a dream; it's a goal they're actively working towards.
The internet has opened up numerous opportunities for this, from dropshipping and Amazon FBA to email marketing. But the star player in this digital age is Affiliate Marketing. It's a fan favorite because it's easy to get into and doesn't require a fortune to start.
But hold on, it's not all rainbows and unicorns. While it's beginner-friendly, mastering affiliate marketing is no cakewalk. That's where educational programs like Dean Holland's Internet Profits come into the picture. Is this program your golden ticket to online riches? Let's dive deep and find out.
What is Internet Profits? Behind the Curtain: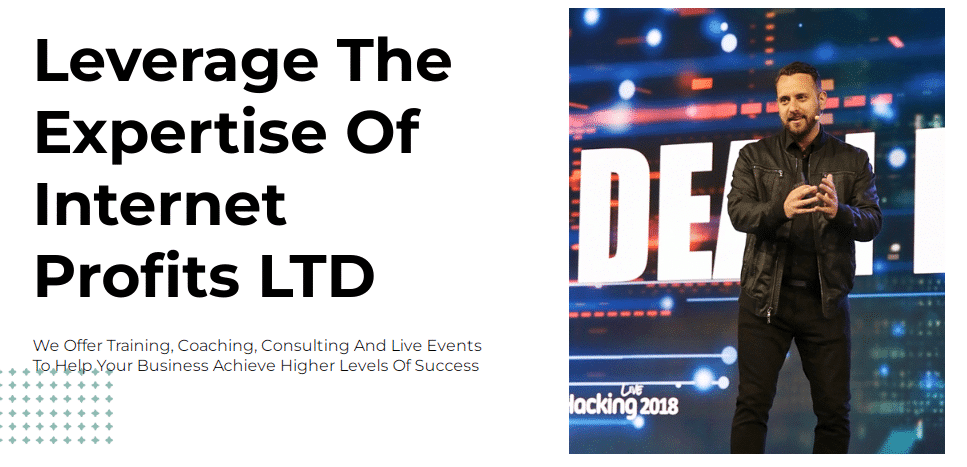 Dean Holland, a UK native, is nothing short of a celebrity in the digital marketing world. He's been grinding in the online marketing trenches since 2004, which means he's seen it all—both the good and the bad.
Internet Profits is his brainchild, a program that encapsulates his years of experience and expertise
He has sold over half a million digital products and training courses where he combines the fundamentals of digital marketing and then shares his unique insights and techniques in marketing specific products and services.
Internet Profits is the culmination of his years of experience in the digital marketing business. He intends to extend his knowledge to his students to achieve a level of success as he did.
While the program claims to be an affiliate marketing course, it leans heavily on the concept of sales funnels—a strategy to guide potential customers to make a purchase. One interesting point is that they promise you can make a whopping $3,000 commission by selling this program to someone else.
This prospect is a little off to me because some people might have the negative impression that they are a pyramid scheme. In fact, becoming a member of Dean Holland's Internet Profit is exclusively through invitations from affiliate links. When you try to register, you will immediately be hindered by the statement "Strictly via Invitation Only."
Joining Internet Profits isn't as simple as clicking a 'Sign Up' button. It's an exclusive club that you can enter only through an invitation. On top of that, it's not what you'd call 'cheap.'
Recommended: If your pockets aren't deep, but you still want to break into the online money-making game, I've got a budget-friendly alternative you won't want to miss. Check out my best work-from-home recommendation!
How Does Internet Profits Work?
A Step by Step guide
When you visit the Internet Profits landing page, you'll notice that it doesn't give away much. It's filled with glowing testimonials and highlights of Dean's career, but the actual course details are somewhat under wraps. However, our research shows that the program consists of two main phases:
1. The Foundation: Building from the Ground Up
The first part of the course is like a Digital Marketing 101 class. It focuses on setting up a functional website that's designed to make the most of sales funnels. You'll go through each stage meticulously, ensuring you understand the core principles that turn a regular site into a money-making machine.
2. The Next Level: Scaling Your Business
After your site is up and running, what's next? Growth. This phase is about taking your fledgling business and turning it into an empire. You'll learn how to attract more visitors and more importantly, how to convert those visitors into paying customers.
Once your business is up and running, the next step is to make it bigger and better. Dean shares his "secret sauce" on how to attract more people to your site and turn them into paying customers.
The Perks: More Than Just a Course
Your membership with Internet Profits isn't just about the core curriculum. You'll get a bunch of additional resources:
Monthly coaching sessions that are led by industry experts, allowing you to ask questions and get personalized advice.
Invitations to live events allows you to network with other members and get hands-on experience.
Access to an exclusive online community, a platform to share experiences and tips and find collaboration opportunities.
Daily Q&A sessions to tackle any immediate queries or challenges you face.
A toolbox filled with essential software and templates to help you build and optimize your sales funnels.
The Reality Check: Is It Worth The Investment?
Dean Holland is a very respected name in the online marketing community.
He has a stellar reputation, particularly when it comes to the use of sales funnels to drive business.
His name is recognized alongside gurus like Russel Brunson and John "The Benjamins" Crestani when you search online for legitimate affiliate marketing instructors.
But top-tier expertise comes with a top-tier price tag.
If you look into Dean's background, he is a strong advocate of the potential of sales funnels. This is because they are a great way to generate organic traffic because it progressively builds trust and connection between you and your audience.
This is unlike paid traffic, where the ads are "forced" on consumers until they are persuaded to click them and buy whatever they are trying to sell.
If you are not familiar with sales funnels, you can literally imagine the concept as similar to a "funnel." The hierarchical structure is in descending order, where the bottom part represents the event when you finally persuade them to be a part of your funnel.
Refer to the image below for a better understanding of how sales funnels work: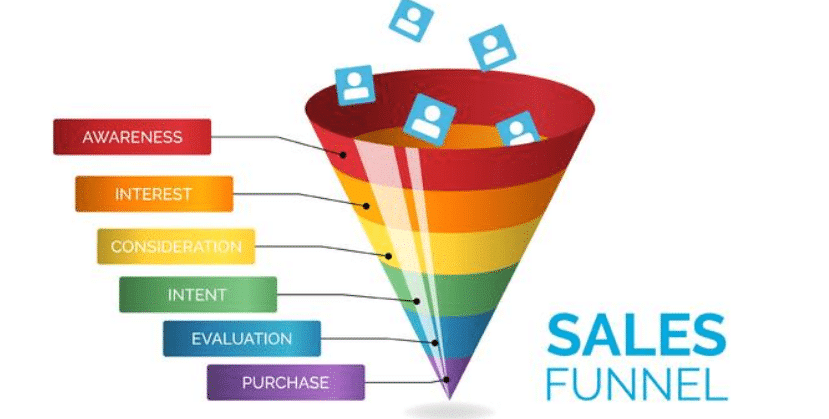 The Cost: How Much Are We Talking?
Although Internet Profits could potentially provide you with quality training, it is not the most budget-friendly.
Initial membership fee: A whopping $1,997
Monthly membership fee: An additional $67
Optional add-ons: These can range from $1,000 to $7,000
And let's not forget the hidden costs. You will need to spend on email marketing services, advertising, and other tools, which are not included in the package.
The only saving grace of the program in relation to its cost is that it comes with a 30-day refund policy after payment.
However, you also have to take note that only the front-end cost of $1,997 is refundable. You cannot ask for refunds on the monthly fees and upsells after you have provided them with the payment.
Recommended: If these numbers are making you dizzy, don't worry. I have a more affordable, yet highly effective alternative for you. Just check out my best work-from-home recommendation!
The Pros and Cons: Breaking It Down
Here is a list of the good and bad points about Dean Holland's Internet Profits. This should help you figure out if it's worth your money or if you should look for cheaper options.
The Good
Comprehensive training modules.
Opportunity for high commissions from selling the Internet Profits program to others
A 30-day money-back guarantee provides a safety net.
Last but not least, Dean Holland is a verified expert with years of experience in the field.
The Not-So-Good
The initial investment is hefty.
Additional costs can stack up quickly.
Some of the essential tools you'll need are not part of the package.
Final Words: Is It a Yay or Nay?
Dean Holland is a trustworthy guy in the online marketing game, especially when it comes to sales funnels. So if you're looking to get more people to your website and keep them interested, Internet Profits is definitely worth thinking about.
The big drawback? It's pricey.
If you're on a tight budget, this program might not be for you. Even though it has some cool features, there's no guarantee that you'll see great results since everyone's experience can be different depending on a lot of factors.
All in all, I'm giving Dean Holland's Internet Profits a solid 9 out of 10, with a deduction to get a 10 out of 10 for the hefty price of the program.

My Personal Recommendation for Aspiring Affiliate Marketers
My journey in affiliate marketing has been transformative and incredibly rewarding.
Since 2016, it's become my bread and butter, providing me with reliable passive income month after month.
I remember starting out, feeling hesitant and unsure because I didn't have any experience or skill in the field. But let me tell you, if there's one thing I've learned, it's that you don't need to be an expert to start.
All you really need is the will to begin and a budget. Believe it or not, $500 is enough to get the ball rolling. And that is not even all at once, I would say more within the first 6 months or so.
The beauty of affiliate marketing is that it simplifies the business process. You're not bogged down by inventory management, shipping headaches, or complex logistics like you would be in dropshipping or Amazon FBA. Your main job? Promote the brand/product of your choice with your website content. That's it!
Sure, I won't say it was a walk in the park from day one. But I found a program that taught me how to build my affiliate marketing business from the ground up. They helped me set up and optimize my website, and they gave me all the tools I needed to generate leads and convert those into sales.
And the best part is that you can check things out without spending a dime because they have a starter membership that allows you to go through the first steps of creating you own online business for free.
So, if you're interested in diving into the world of affiliate marketing, now is the time.
Trust me, if I can do it, so can you!
Ready to take the first step? Click the red button or the highlighted description below to begin your journey to financial freedom.

>>HERE'S MY BEST WORK-FROM-HOME RECOMMENDATION!
As a thank you for sticking around, grab my free eBook filled with valuable insights to kickstart your affiliate marketing journey.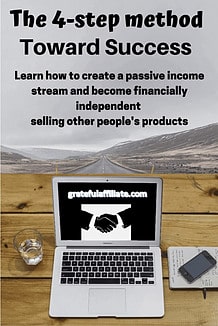 Peace!