In today's Blog Growth Engine review, I'll provide you an analysis of Enfroy's course whether it's worth every penny or should search for alternatives.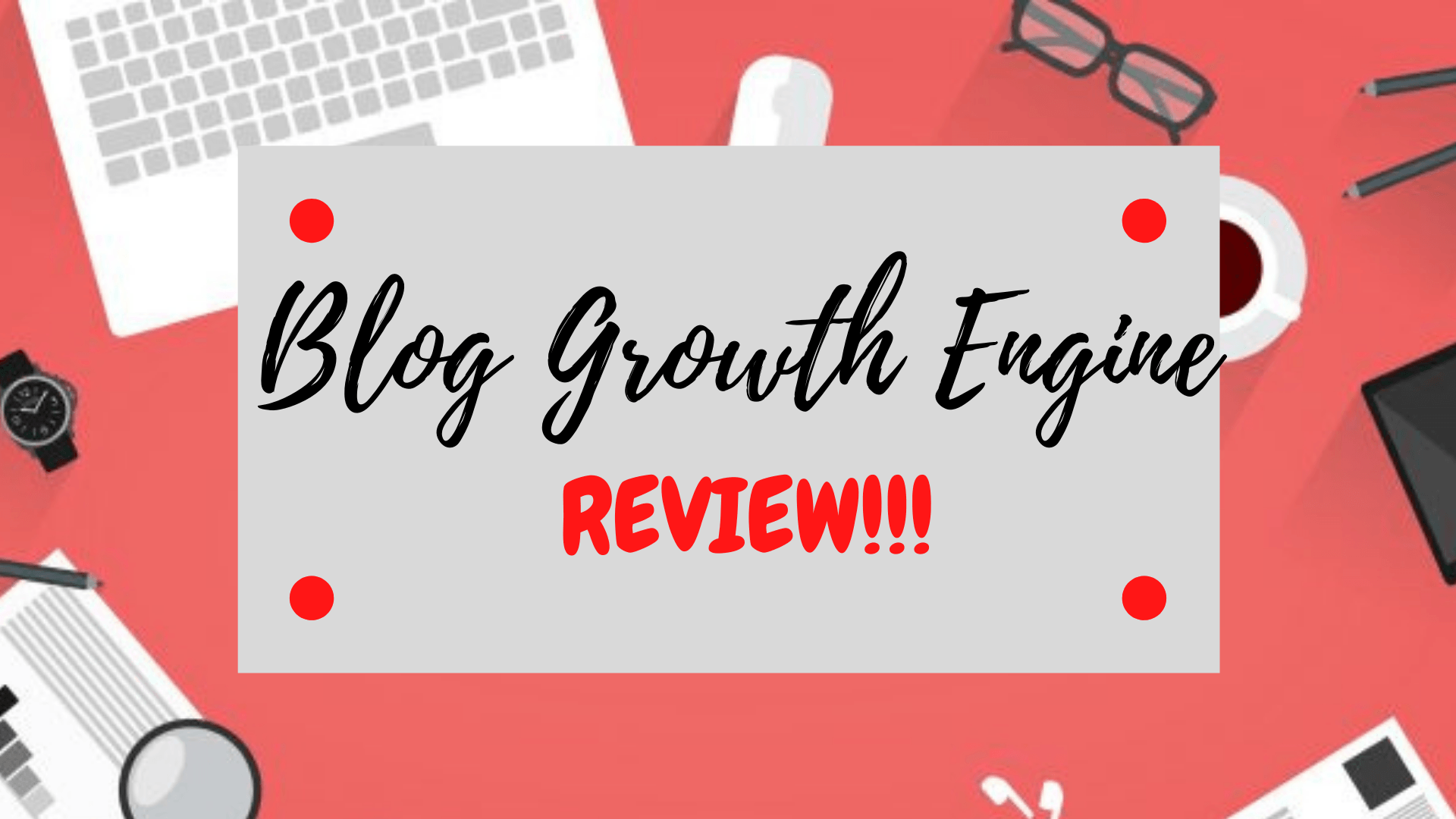 The idea of monetizing your blog posts or website articles is a popular trend in eCommerce nowadays. It can be a good and stable source of income if done correctly. Also, it gives you the freedom to work in the comfort of your home.
However, the process of optimizing your content to generate leads is easier said than done. It may take some time and patience before it begins earning any reliable income. This is especially true if you're a beginner and have no idea where to start.
Fortunately, there are lots of courses online that can help you achieve your dreams of becoming a full-time blogger.
One of the programs that you might have found online is Adam Enfroy's Blog Growth Engine. And if you want to know whether the training course is legitimate or just another scam, then you have come to the right place!
But before I begin discussing today's topic, allow me to disclose that I am NOT an affiliate of Adam Enfroy and in NO way promoting any of his programs. This review is my honest and unbiased review of his training course.
So with that out of the way, let's begin my Blog Growth Engine review…
Who is Adam Enfroy?
Adam Enfroy is a digital marketer and internet guru primarily known for his blog monetization and affiliate marketing expertise.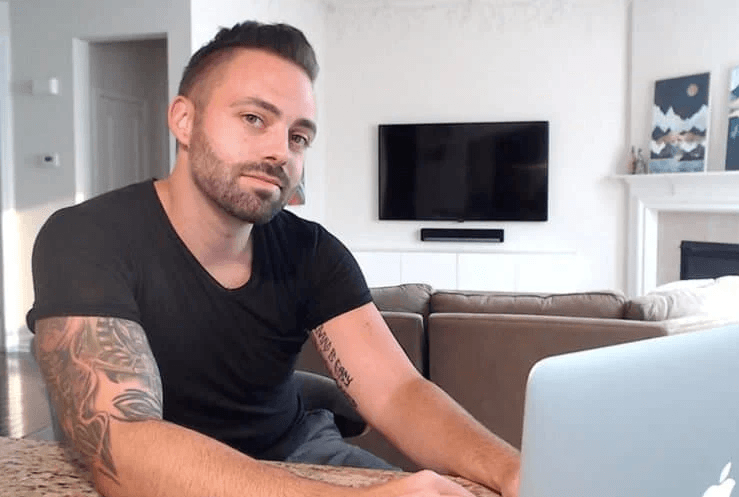 He is relatively new in the industry. Adam started making blogs as a side hustle in 2019, but he was able to transform his website into a 6-figure per month business in just two years.
But what's truly amazing is he managed to do such a feat all from organic traffic!
The reason behind his success didn't come by chance or luck. He was an SEO expert before starting his blog site, so his ability to generate leads is a skill he already possesses.
However, attaining such a level of success in website monetization is still a remarkable accomplishment. And you can definitely learn from his example in case you sign up for one of his programs.
What is Blog Growth Engine? And how much would it cost you?
Blog Growth Engine is an online program that provides training on blog creation and monetizing it through affiliate marketing.
The course is perfect for all levels of experiences in the blogging niche. If you're a complete beginner, then you'll learn the essentials of launching a blog and methods on how you can earn income through your sites.
They would also be helpful to individuals who already own sites but struggling to generate leads.
Blog Growth Engine comprises ten modules to complete, and it is based on three foundational pillars, which includes—
How to start your blog
How to optimize and start monetizing your blog
How to grow your blog like a CEO
If you want to avail yourself of the program, it will cost you $797.
In the next section, I will briefly discuss each module and how it could potentially help you grow your business.
Let's continue with my Blog Growth Engine review…
How does Blog Growth Engine work?
Below is a summary of the ten modules included in the Blog Growth Engine training course—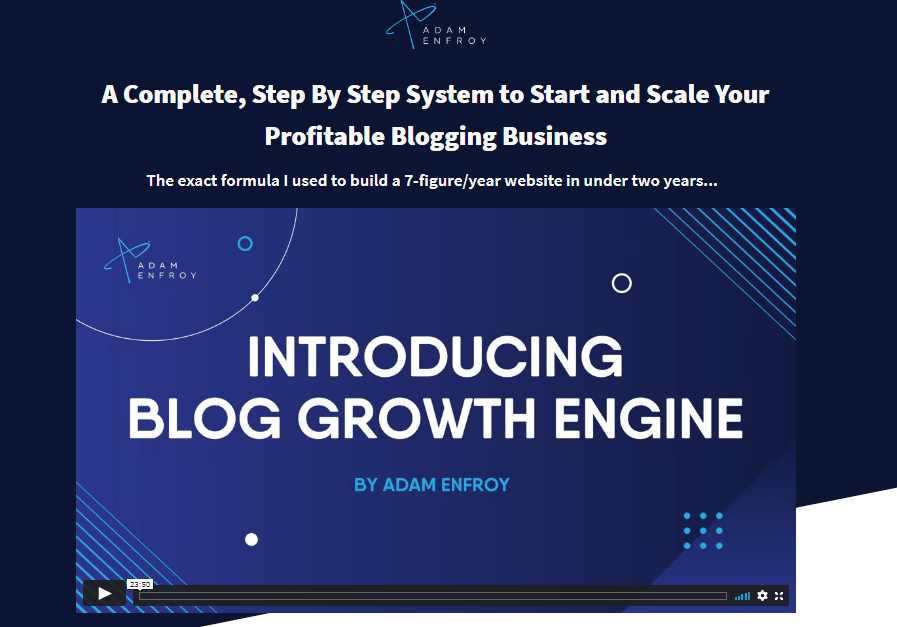 First module: Niche selection and the brand of you
For the first part of the program, you will receive advice and techniques on selecting the best niche and brand to represent.
Second module: Mindset
Unlike other training courses I've reviewed in the past, Adam has put mindset training in the second part of the course.
This section discusses the necessary mindset and expectations before you delve into the business of monetizing your blogs.
Third module: Blogging like a startup
Adam is a legitimate authority in the blogging industry. You can definitely learn from him in regards to blog monetization and lead generation.
For the third part of the training, Adam shares his experiences and personal strategies for creating a successful blog.
Fourth module: Decoding search intent
In order for your blog sites to rank in search engines, you need to find the right focus keywords first.
In this module, you learn how to search for target keywords that rank and generate traffic.
Fifth module: Your minimum viable website
The fifth module is the continuation of the third module, which covers the actual process of creating a website.
Sixth module: Keyword monetization
Again, this section is another continuation of the second and fifth modules. In this section, you will receive more in-depth training on target keyword research and how you can optimize it to drive traffic and convert sales.
Seventh module: Blog content creation
Now, we go to the fun part of the training, and that is content or blog post creation.
In the seventh module, Adam teaches you how to write blogs according to proper SEO standards.
In addition, you also receive templates on product reviews, top list articles, comparison, etc., if you are still confused or unsure where to start.
Eighth module: The link building machine
Adam teaches you his insights and personal strategies on link building.
Ninth module: Affiliate marketing and blog monetization
The next module covers the basics of affiliate marketing and its role in monetizing your blog posts.
Yes, I do believe Adam Enfroy can help you achieve your goals in becoming an online entrepreneur, but the only issue with his program is the price.
The cost of Blog Growth Engine isn't exactly budget-friendly, and not everyone may have the capacity to afford it.
If you're looking for a more affordable training course on affiliate marketing that can deliver the same or even better results, then you have to check out my top work-from-home recommendation!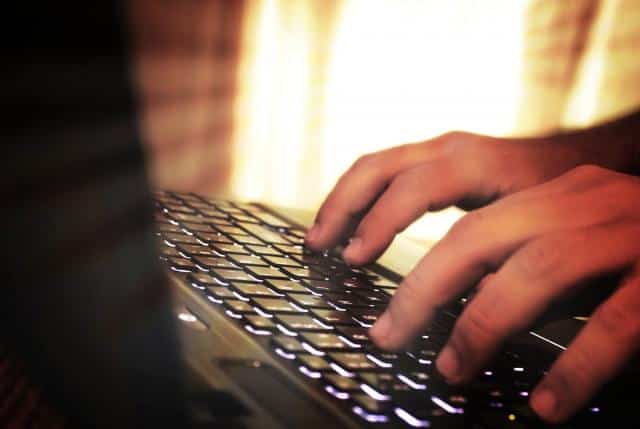 Tenth module: Scaling and outsourcing your blog
The last part of the training talks about scaling your business.
Also, Adam walks you through the process of hiring staff as soon as your business gets bigger.
I also reviewed several affiliate marketing programs in the past. You may check them out if you like—Affiliate Dojo, Super Affiliate System Pro 2.0, and Elite Traffic Pro 2.0, just to name a few of them.
Is Blog Growth Engine a scam?
No. Blog Growth Engine is definitely not a scam! It is a legitimate training program on blog monetization and affiliate marketing.
Adam Enfroy is a digital marketer with an outstanding background on the said topics, and I believe that anybody who registers for his course can learn a thing or two from his experiences and knowledge in the industry.
Again, I still recommend that you manage your expectations because, as good as it may be, your experience may vary from person to person.
What I do LIKE about Blog Growth Engine?
Legitimate program
Adam Enfroy is a legitimate and prominent figure in the website monetization and affiliate marketing industry.
High-quality training
The Blog Growth Engine offers high-quality and straightforward training.
Updated courses
Training courses are updated regularly in response to the ever-changing landscape in eCommerce.
What I DON'T LIKE about Blog Growth Engine?
Expensive
Although Blog Growth Engine offers valuable insights on website monetization, it may not suit everybody, especially for people who are under a tight budget.
Yes, price is the only downside of the program. If you don't have the budget for the program, then don't worry. There are many cheaper alternatives out there that can help you learn affiliate marketing, and one of them is my top work-from-home recommendation!
Blog Growth Engine review—final thoughts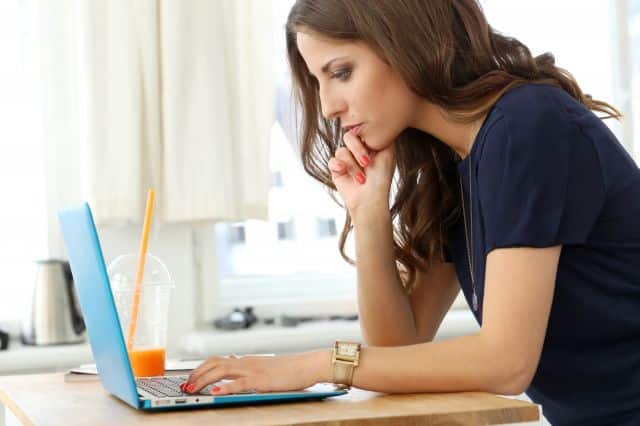 I hope my Blog Growth Engine review has helped you in determining whether the program is worth investing time and money or should you search for others else.
As stated earlier, the training courses' registration fee is expensive and impractical for people who don't have sufficient budget to accommodate its cost.
If you have enough money to spend or are willing to pay for the price, you may try the program at your own risk.
Let's move forward to the last section if you're looking for a more affordable affiliate marketing course that can provide you the same or even better results…
How I earn income online
When we talk about online income or eCommerce, two of the most popular platform that comes to mind is dropshipping and affiliate marketing.
They are a popular option for many digital marketers because they can yield higher and stable income if done properly.
However, affiliate marketing is the best source of income online compared to dropshipping and other money-making schemes online for several apparent reasons, and some of them include the following—
You don't necessarily have to directly deal with inventory management, quality assurance, and deliveries
It is a legitimate income opportunity online
Risk-free
It is suits all levels of experiences—from beginner to advanced affiliate marketers
Potential income is unlimited. This is because you can promote as many brands as you like
Yes, your main responsibility is to represent a company and promote its products through your website or social media content.
The company will provide a personalized affiliate link that you're going to attach to your content. And then, you'll earn commissions anytime someone uses your link to buy the products.
As simple as it may sound, it possesses several challenges that an affiliate marketer may encounter, and the most common one is the quality of leads being generated to the site.
If you're a newbie and have no idea where to start, then you no longer have to worry any further!
I got your back!
Slightly tickle the highlighted text below and discover how you can create a quality site from scratch that's driving a lot of traffic—
>> HERE IS MY TOP WORK-FROM-HOME RECOMMENDATION!
Well, I believe we have covered sufficient grounds here!
Thank you for rendering your time and effort in reading my Blog Growth Engine review!
And since you are on my website, how about checking out my FREE eBook: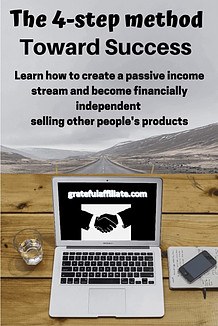 The 4 step method where I show you how I earn money online and how I created a successful online business without breaking the bank.
Just click on the button below and get your copy now!