In today's Write App Reviews review, I'll discuss why it would be best if you avoid this website and search for other legitimate programs instead.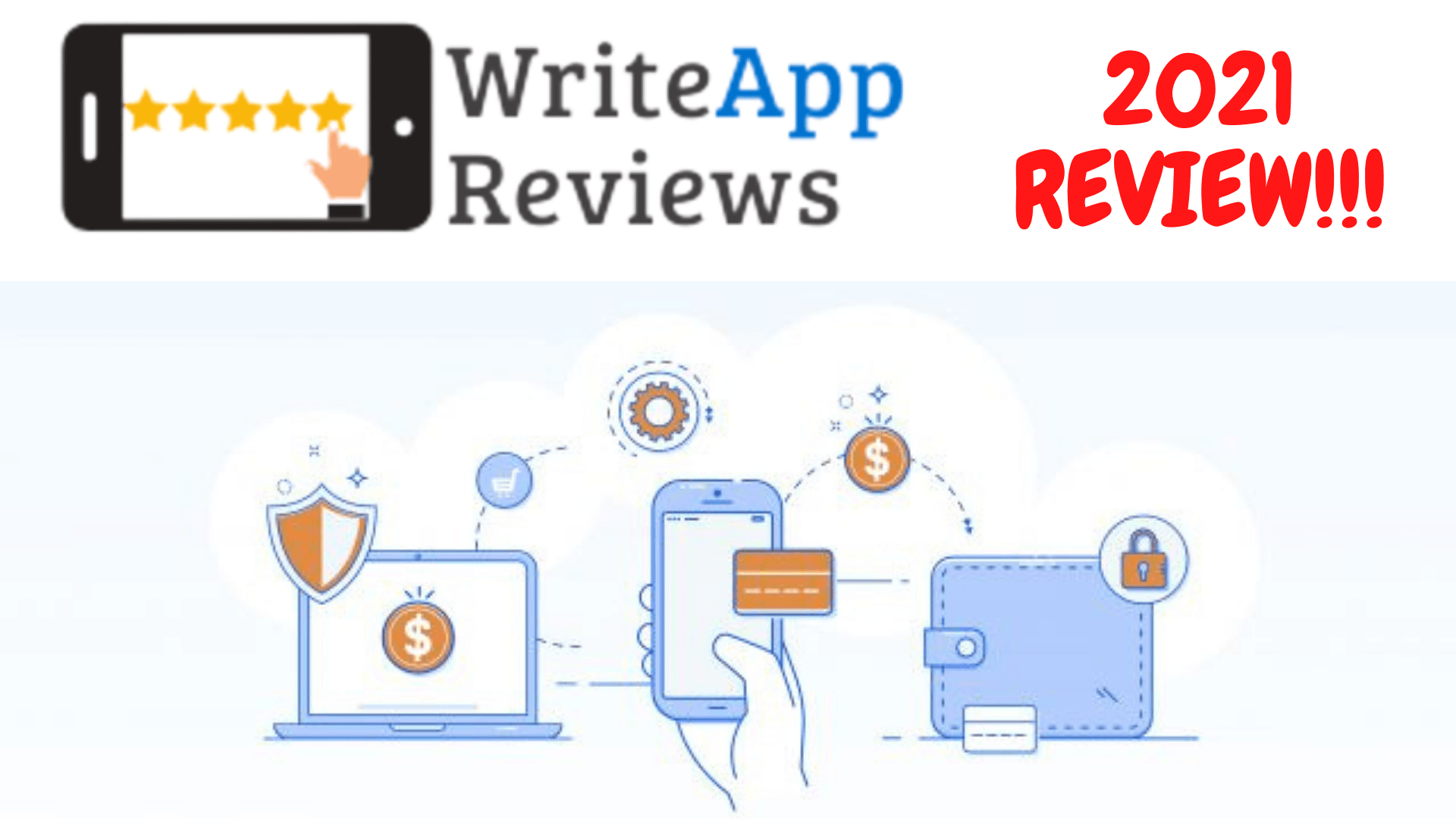 You might have come across Write App Reviews as you're searching for a legitimate side hustle or stable income online.
It might have caught your attention for some reason, and you want to know more about the program and how it works. If so, then this article is what you're looking for!
In today's topic, I will provide my unbiased and thorough analysis of the product and help you determine whether it's a legitimate system or not.
But before I begin, allow me to disclose that I am NOT an affiliate of Write App Reviews and in NO way promoting the program.
So with that out of the way, let's begin my Write App Reviews review…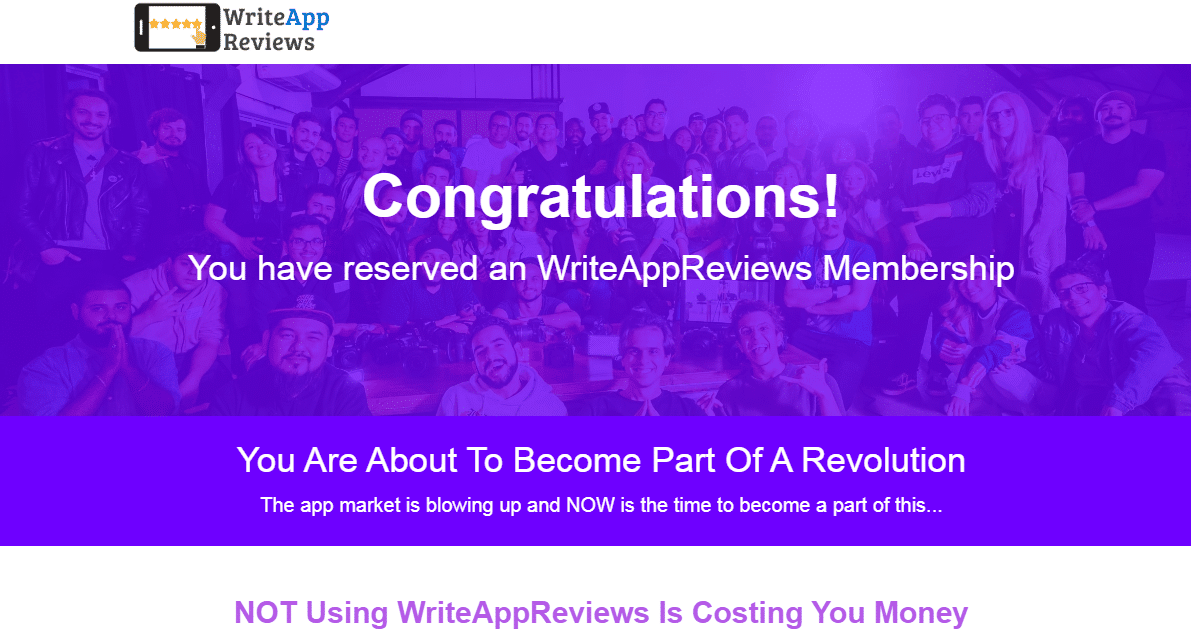 What is Write App Reviews?
As the name suggests, Write App Reviews is a Clickbank product that claims to provide income opportunities by sharing user experience on specific mobile applications.
So basically, your main tasks involve installing mobile applications to your smartphone and then giving your feedback and recommendations after using them.
After registration, the member will gain access to their personal dashboard. In it, they'll find a list of the available mobile applications for review, your personal information, payment method, etc.
Additionally, each member earns commissions through referrals—
When someone engages your personalized ad banners attached on your sites
Email opt-ins or when someone has provided their email address
Lastly, when someone engages the link and registers to Write App Reviews
If you're looking for a higher and stable source of income online, then Write App Reviews isn't the one for you. The payout is extremely low, and I doubt that it would even help you cover your monthly expenses.
What's worst is that you may not earn anything at all! Just read their earning disclosure statement—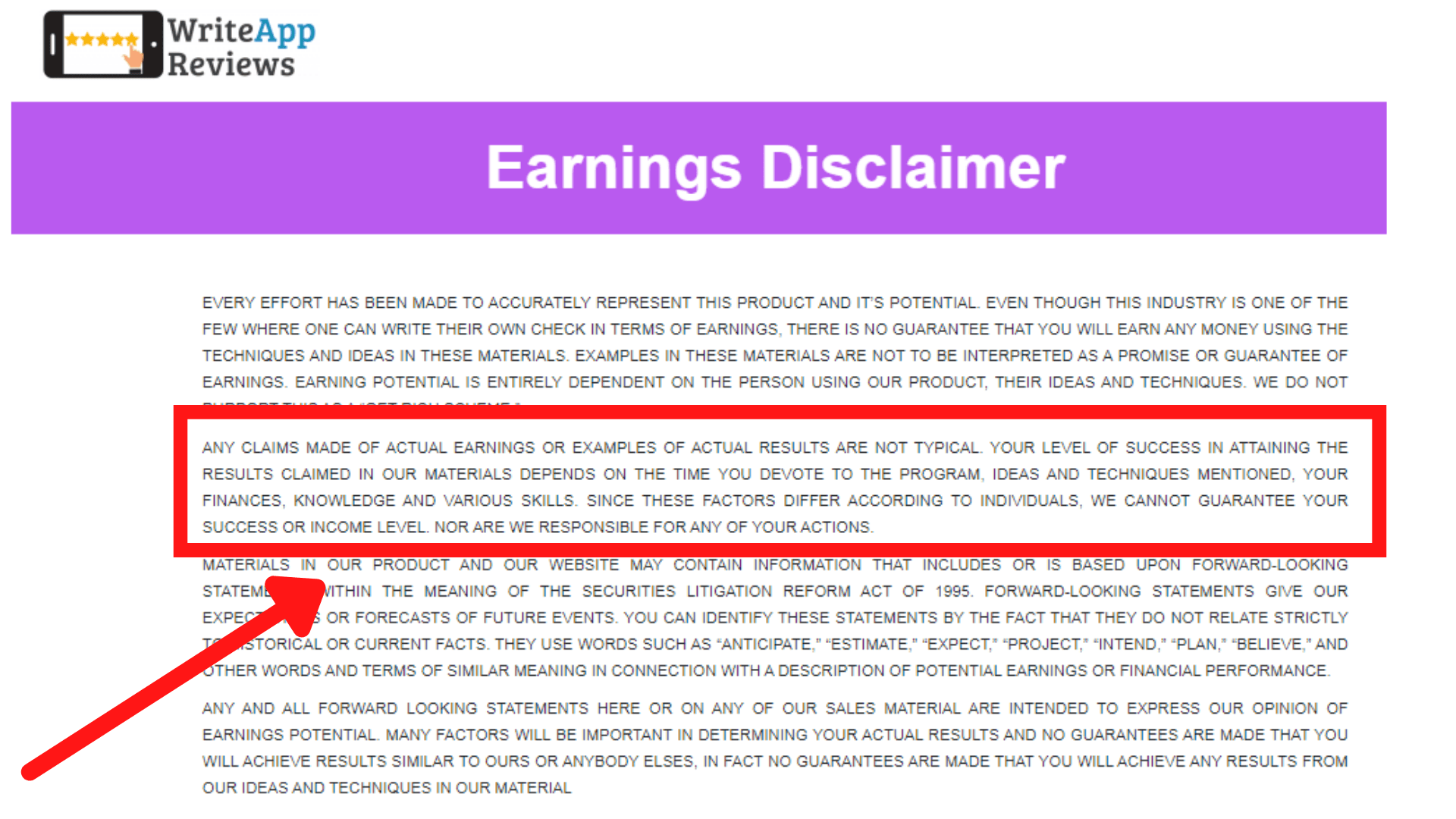 Check out my best work-from-home recommendation if you desire a more reliable income…
How Write App Reviews work?
When you've heard reviewing apps, the first thing that might have come to your mind is those similar to Google Apps. However, the service offered by Write App Reviews is different and a little more complicated than that.
They're actually more of a "done-for-you system".
What it means is that the member is going to publish their reviews aside from sharing their experiences with the mobile application.
I've reviewed similar systems in the past. You can check them out if you like—Infinity Processing System, Mega Marketing System, and 98 Unlimited, just to name a few of them.
Upon registration, you will also receive pre-made templates to help you publish your reviews.
Since it's going to be published online, there are also specific guidelines that you have to follow in writing them. The review contents must be at least 500 words and in accordance with proper SEO, format to optimize them and somehow rank in search engines.
If you're familiar with WordPress, you may find that parts of its content creation section have similarities with Write App Reviews.
After publishing your content, your potential earnings will heavily rely on leads and conversions. As mentioned, these factors are based on how well you have optimized your reviews.
You need to create Clickbank and JVZoo accounts to collect your commissions once your contents were able to convert leads into sales.
Also, the member earns commissions if an audience downloads the mobile application that was reviewed.
How much is the registration fee?
As explained earlier, Write App Reviews is a Clickbank product, which means that they are not free, and you have to buy them through the affiliate marketing platform.
If you want to avail of Write App Reviews, it will costs you $27 plus upsells.
One of its upsells includes a program I reviewed several days ago called Payingsocialmediajobs.com. In the review, I have concluded that the system is a scam because of misleading claims, fake business owners, and fake testimonials. 
Who owns Write App Reviews?
The lack of transparency is a huge red flag.
No matter how small or large the registration cost is, the fact that they are asking you money for their program and trust them in helping you earn money merits some level of honesty and transparency.
Also, how could a potential client trust them if they are unwilling to share even the most basic information such as founders, headquarters, current owners, etc.?
This may be the case—I was still able to gather some information about them. According to their IP address, the domain is only over one year old—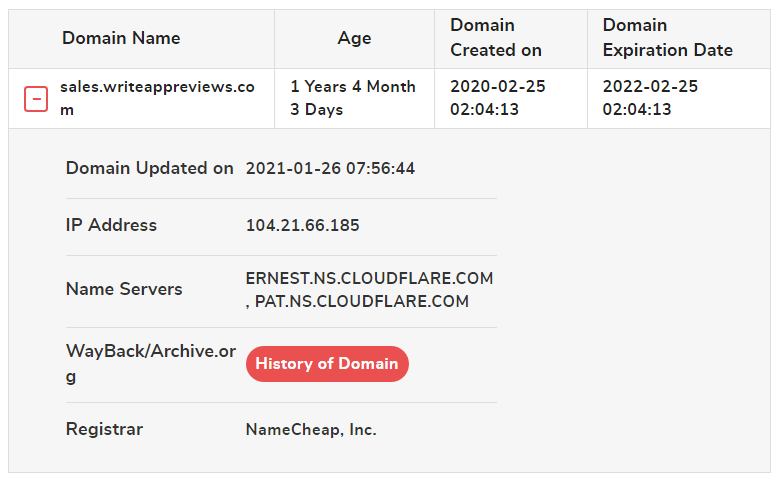 Also, their place of business is at—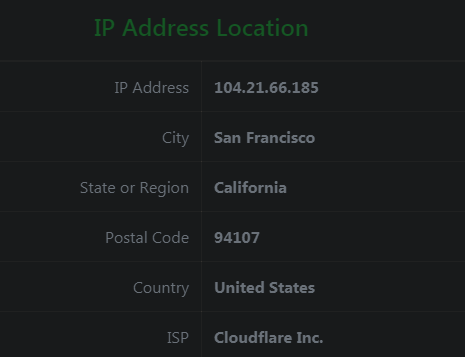 However, I bet that this isn't authentic because the domain is apparently using a VPN as shown below—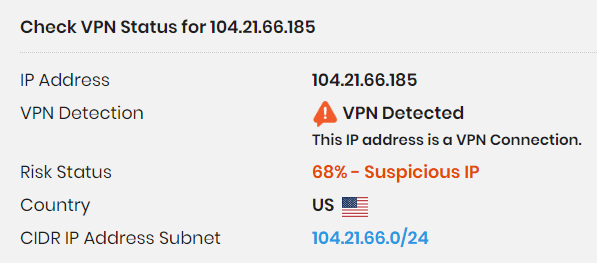 A VPN (Virtual Private Network) is perfectly rational if you're a private individual. This type of digital tool is used to protect the person's identity as they browse the internet.
But I believe that it doesn't make sense if you're an eComm site selling products to the public. Of course, you may need to conceal some sections of business operation to protect the corporate interest, but it doesn't make sense that they didn't even disclose basic details about the company.
How can potential clients trust you if you are not even willing to share your business identity?
Let's continue with my Write App Reviews review and find out additional red flags and why you should avoid this platform…
Is Write App Reviews a Scam?
As mentioned, Write App Reviews is a product under Clickbank. Although the affiliate marketing platform is legitimate, it doesn't mean that every product listed in Clickbank is legitimate.
Technically, I didn't find a reason to definitively conclude that the program is a scam as of yet. However, I didn't find any reason to recommend them as well.
Although the base price is only $27, there are better alternatives that can deliver far better results.
And if you're looking for a more legitimate source of income online, then you have to check out my best work-from-home recommendation!
What I DON'T LIKE about Write App Review
Necessary information was not disclosed
As emphasized earlier, the platform did not disclose important details about their eComm site.
What if the mobile apps have malware?
The mobile applications are from various sources. It means is that some of the sources may potentially contain malware and viruses.
Upsells
$27 for a part-time income may seem a sweet deal. However, there are upsells involved after you have created an account with them. Some of these upsells are even highly suspicious, like Payingsocialmediajobs.com and Paid Online Writing Jobs. 
No training on lead generation
Write App Reviews provides done-for-you templates that you will have to use to promote their products and upsells.
Here's the problem—you won't earn anything if you are unable to optimize your content and generate traffic.
There are many legitimate systems out there that can provide quality training on lead generation and affiliate marketing. You can check one of them here.
What I LIKE about Write App Review
I didn't find any positive traits about the program, and I believe that it would be best to avoid them and search for more worthwhile systems. The only positive thing about it is that ClickBank has a 60-day money-back guarantee.
Write App Reviews Review—Final Thoughts
I hope my Write App Reviews review has provided you enough information about the program and helped you in deciding whether it's worth your time and money or not.
No matter what the case may be, I don't recommend them either way.
First of all, they are not a good source of income if reliability is what you're looking for.
Second, if the program they offer is legitimate, there should be no reason not to share basic details about the business.
Lastly, upsells aren't disclose, and you'd only find them out after you've signed up. Also, they're promoting programs that are likely a scam.
Let's continue to the last section of today's content, and I will show you a much better and legitimate alternative…
How I earn income online
Affiliate marketing is the best eComm platform around compared to other income opportunities online for many reasons, and it includes the following—
100% legitimate
It generates a higher and more stable source of income
You are not directly with inventories and delivery of the parcels
It possesses no risk
It is free, to begin with
Potential income is unlimited because you can market as many products or services as you like
Your main responsibility is to advertise the eComm page's products through your online site or social media content. The business provides you personalized affiliate links, which you're going to attach to your content.
And then, you'll earn commissions every time someone clicks your links and uses them to avail the products.
Of course, the process of affiliate marketing is easier said than done. It requires patience and your ability to drive quality into your webpage.
If you're entirely new to the idea of affiliate marketing and have no idea where to start, or have already been doing it for quite some time now but struggling at the moment, then I have the perfect solution for you!
Tickle the description below and discover how you can create a stunning website from scratch that's generating leads and converting sales.
>> HERE IS MY BEST WORK-FROM-HOME RECOMMENDATION!
So yes, I believe that is just about it!
Thank you for your time and effort in reading my Write App Reviews review!
If you want to learn how to earn money online and are interested in learning my method, please feel free to download my eBook. In it, I explain how I do it and how you could do it too!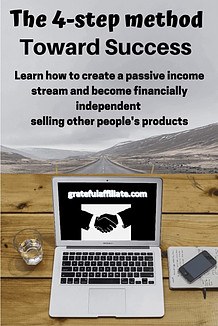 Just click on the link below and get your own copy right away!