Is Bossless Forever a scam? Or is it legitimate? I'll thoroughly analyze whether the training course is a bang for your buck in this article.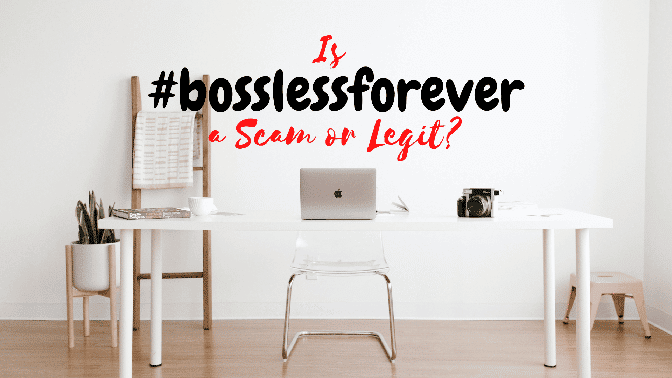 If you have these concerns in mind, you'd be glad to know that the article I have prepared for today will take on this matter and give you a definitive conclusion about whether they're a good program to engage with.
In this review, I will share my insights about the program's specifications and if they can help you improve your lifestyle.
But before I begin, allow me to disclose with you, first and foremost, that I am NOT an affiliate of Amiee Ball, and I am NOT marketing any products associated with her as well.
This is my honest review of the program to give you a good idea of the effectiveness of the training course they offer.
So without further ado, let's begin…
Let's Meet the Woman Behind the Bossless Forever Program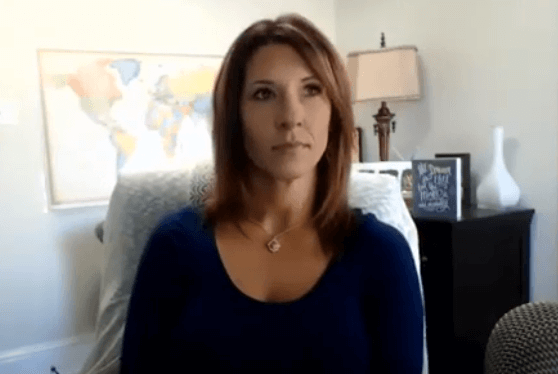 Amiee Ball is the brains behind the Bossless Forever program. She also presents herself as the CEO of Calibr8 and Technology Leverage, the parent company of Bossless Forever.
Now, the parent company is doing web consulting services to help small businesses formulate marketing strategies to gain some traction in the industry.
Anyway, she also has a YouTube channel that you can check out for reference to her teaching style. She is not active in her publishing content on YouTube, but I can say that the few videos she posted are quality and insightful in one way or another.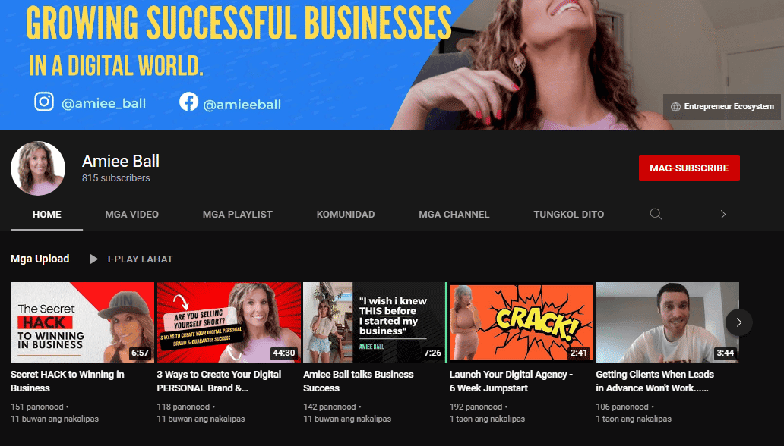 I believe the company she is managing is legitimate. And with the quality of her content on social media, does this mean that Ball's program is legit and a good investment of your time and money? Or is Bossless Forever a scam after all?
Let's continue with my review and learn more about the program she is offering…
What is Bossless Forever?
Bossless Forever's program is not your typical training course and is only suitable for a particular type of digital entrepreneur. And this is because Amiee Ball's Bossless Forever teaches you how to gain local lead generation.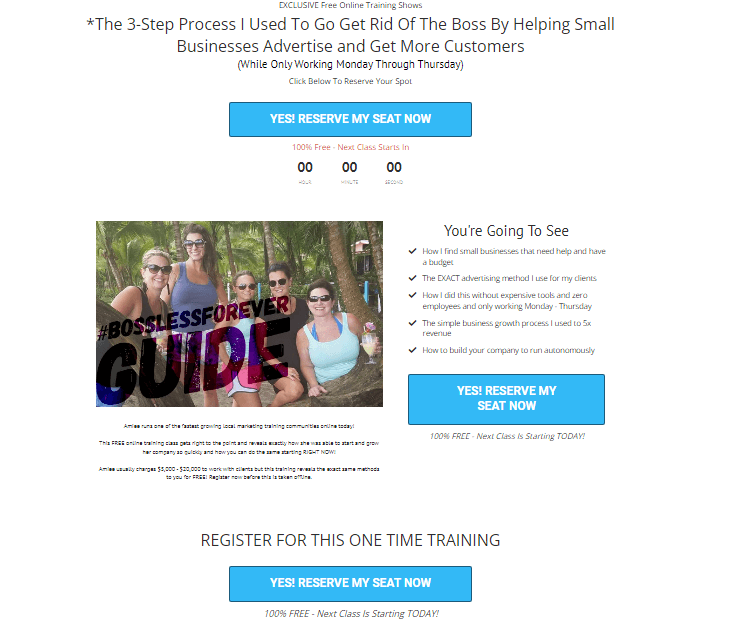 As you see, the program is more focused on acquiring traffic from a particular area. And if this is indeed the type of program you are searching for, then Bossless Forever is very likely what you are looking for.
Local SEO works similarly if you are familiar with traffic acquisition in a more general way. The only difference is that this platform targets a small and specific area.
This is the first time I am reviewing a local SEO training course. But I published several articles in the past that covered general traffic acquisition and sales conversion training programs. And if you're interested, you can check them out if you like—Click Home Income, Affiliate Escape Plan 2.0, SEO for Bloggers, and Elite Blog Academy, to name a few.
Or you can check the complete list of reviews to learn more about the other training courses available.
Or if you are looking for a program that will help you optimize your content in a broader range of audience and not just in your local area, then you have to check out my best work-from-home recommendation!

What's Included in the Program?
Suppose you are particularly interested in optimizing your content for localized areas. In that case, the initial step in joining the Bossless Forever program is to book a call to their panel of experts to help you structure your financial goals and how the program can help with such plans.
After you have agreed to their terms, you will now gain access to Bossless Forever's training courses which include a five-step blueprint. But before you can begin the training, Amiee Ball will present a 20-minute introductory video in which she explains what to expect as you progress with the program.
The following is a summary of the 5-step blueprint of Bossless Forever—
First Step: Niche Selection
The very step you must consider is selecting the niche that you believe would benefit the local area.
Second Step: Proper Due Diligence
The proper due diligence she is talking about in this lesson is researching your target market and competition. In addition, you also have to be conscious of the leads you are sending your prospective market—the way she teaches the subject is that it should be written professionally, politely, and engaging.
Third Step: Traffic and Lead Generation
In this part of the program, Amiee Balls share her insights on how she generates traffic to her content, and that is by using Weebly. It is a website builder tool that includes content optimization.
Fourth Step: Prospect Clients
In her fourth method, Amiee will also share her techniques for prospecting new clients and how you can attract them to your site or content. The advantage of this lesson is that it is not limited to content optimization but also other ways to generate leads by cold calling.
If you are uncomfortable talking to people, you may find this part of the business extra challenging.
Fifth Step: Monetize Business Owners
Once you have funnelled your prospective clients to your site, you will learn how to close the transaction.
At the end of the program, she will pitch her other programs and invite you to try her coaching and mentorship program.
How Much is the Program?
Here's what you have to know about Bossless Forever—they are not upfront with the initial cost of Bossless Forever until you have fully committed to the program.
They won't give you a straight answer if you reach out to them. But according to people who have taken the program, it will cost you a hefty amount of $4,000! It is that expensive, which is probably why they are unwilling to disclose the program's upfront cost. You can either pay in whole or in monthly installments of $299.
I also did not find any stipulation for a refund policy, which is a big con considering the program's cost.
If you are after a more budget-friendly training program that can help you with content optimization and lead generation, then you should check out my best work-from-home recommendation!

Is Bossless Forever a Scam?
Although they have business practices that I disagree with, such as the non-disclosure of the upfront cost, Bossless Forever is NOT a scam.
It is a legitimate program that can help you with localized content optimization and lead generation.
The following is a reference to what other people are saying about Bossless Forever—
What I LIKE About Bossless Forever
Bossless Forever can be a good option if you want content optimization through localized SEO.
What I DON'T LIKE About Bossless Forever
Now, the following are things I don't particularly like about Bossless Forever—
Not Transparent About the Initial Cost
As discussed earlier, Bossless Forever is not upfront about the initial cost of Bossless Forever.
Expensive
The cost of the Bossless Forever is expensive considering the many options around that are more affordable, while others you can obtain for free.
Final Thoughts on My Bossless Forever Review and My Personal Rating
I hope my product review has provided you with the information you need to answer the question—is Bossless Forever a scam? Or is it legitimate, after all?
Amiee Ball's program can be a good option if you only focus on a small target market group. But you may have to search for better opportunities to optimize your content for a larger audience.
With this being said—I am giving the program a 7.5 rating out of 10—

An Alternative to Bossless Forever
Affiliate marketing is among the popular sources of income online because it can give you high and reliable income once you have set up and managed the business effectively.
In addition, many people turn to affiliate marketing because of many apparent reasons, such as the following—
It suits all levels of experience—it doesn't matter if you're a beginner or a seasoned digital marketer—you can succeed in this business model.
Affiliate marketing is highly cost-effective.
You are not directly involved with inventory management and handling of parcel deliveries.
It possesses minimum risk.
It has the potential to give you unlimited profits since you can promote as many businesses as you like
And if you are interested in knowing more about affiliate marketing and how it can help you become more financially independent, then you have to check out the highlighted description below—
>>HERE'S MY BEST WORK-FROM-HOME RECOMMENDATION!

And to show you my appreciation just by being here today, I'm also giving away my book to help you gain traction in the business—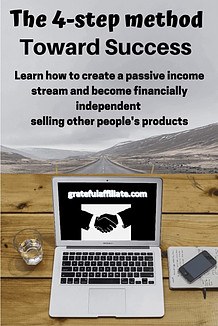 Peace!