In today's Elite Blog Academy 4.0 review, I help you determine if Ruth Soukup's could indeed help you earn money from blogging and affiliate marketing.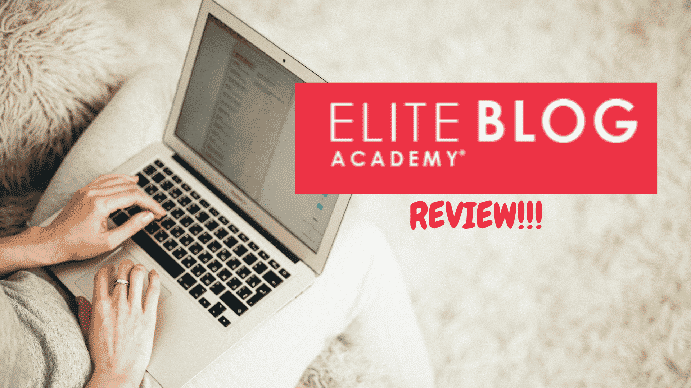 A warm welcome to my Elite Blog Academy 4.0 review!
In this age of social media, blogging or publication of written content online is still a very prominent and popular choice for many individuals.
Also, among the reasons why the blogging industry is still alive and kicking is that it gives digital entrepreneurs the opportunity to build their brand and promote the products that best represent their niche and advocacies if there are any.
And if you're among the aspiring bloggers, you might've turned to online courses if you're unsure where to start. And one of the programs that you might've come across is Ruth Soukup's Elite Blog Academy.
In today's article, I will relay to you my analysis of the program and help you determine if they're the perfect fit or should you continue searching for better alternatives.
But before I officially start, allow me to have this opportunity firstly to share with you that I'm NOT an affiliate of Ruth and in NO way representing any digital products attached to her.
This is my honest review of the program and whether it could indeed help you gain success in the industry.
So without any further ado, let's get right into today's review…
Who Founded Elite Blog Academy?
Elite Blog Academy is the brainchild of Ruth Soukup. She is a digital entrepreneur who made a fortune through blogging.
Ruth is a well-known figure in the field of blogging and generating income from it. In case you have not heard yet, she made various appearances on TV shows like the 700 Club. She was also featured and spoke at a TedTalk event two years ago.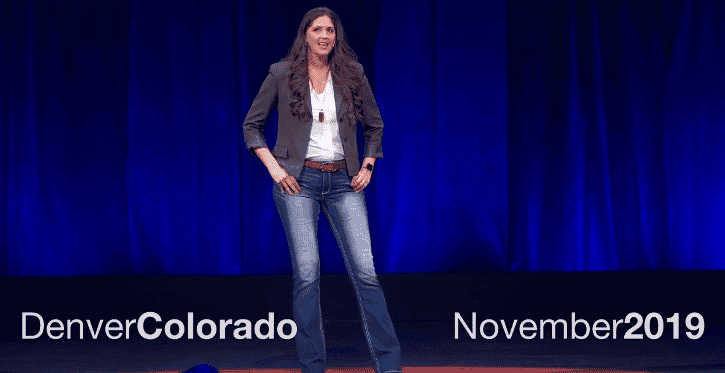 She founded Elite Blog Academy in 2014 for the very purpose of helping newbies and struggling bloggers gain traction and find the fulfillment they are seeking.
In their years of providing support to many individuals, they claimed that they were able to help thousands in finding success in blogging and utilizing their personal websites to attract audiences and earn money.
With her credentials and reputation, does it mean that her program is the perfect fit for you? You have to remember that experiences vary, and one success doesn't mean that it would be the case for everybody, no matter how prominent the guru we're dealing with.
In any case, let's continue with my Elite Blog Academy 4.0 review and determine whether they are indeed the best one for you…
What is Elite Blog Academy?
As the name suggests and considering the profession of Ruth Soukup, Elite Blog Academy is an online program that particularly specializes in providing training on the essentials of creating and managing a successful blog site.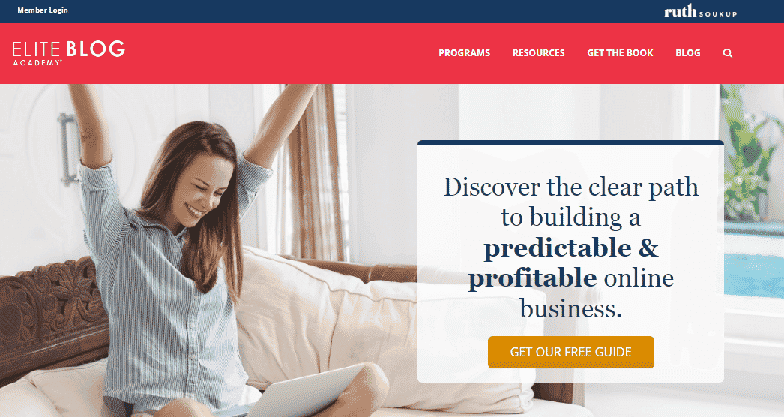 The two primary targets of the program are beginners and bloggers who are struggling or in need of a refresher in improving their already existing websites. Whatever the case may be, I believe the business can deliver and help you in your endeavors.
The training comprises four modules that are categorized into three units per module. Thus, it equals 12 smaller units which include a combination of videos and workbooks.
There's no specific time frame for the length of completion. You can go back to the training videos anytime you wish and revisit lessons to ensure that you have fully comprehended them.
However, if you're looking for a free alternative to start, then you can check out my best work-from-home recommendation!
How does the Elite Blog Academy Works?
As mentioned, the Elite Blog Academy comprises four main modules that are categorized into twelve sub-units. Below is the summary of the modules you are going to work with—

First Module – Start with the Fundamentals
One of the things I like about Elite Blog Academy is that they have minimized the topics on mindset.
Anyway, the training starts off with a discussion of the fundamentals of blogging and how you can set them up effectively. The sub-units are as follows—
Start with the Fundamentals
Conquer Your Content
Presentation is Everything
Second Module – Grow Your Traffic
The second part of the training involves optimizing your blogs to attract traffic and grow your audience. To help you achieve your goals, the following are the lessons you have to take on—
Set the Stage for Growth
Grow Your List
Rock Your Social Media
Third Module – Monetize Your Platform
In this part of the training, you'll learn the foundations of monetizing your blog publications—
Show Me the Money
Create Your Product
Master Sales and Marketing
Fourth Module – Build Your Business
Now, the next part is about how you can scale your business—
Work Smarter, Not Harder
From Blog to Business
Lead Your Team
Elite Blog Academy is not the first blog training program I have reviewed in the past. There are several of them, and you can check them out for reference—The Copy Cure, Laptop Lifestyle Academy, Blog Growth Engine, and Kindle Publishing Income, just to name a few of them.
Or you can refer to the main page and see the full list of reviews by clicking this link.
How Much is the Program?
If you're interested in availing of the program of Elite Blog Academy, they are offering a three-payment method. However, I believe that they are a bit overpriced.
Here is the summary of the payment plan—
The Monthly Payment Package costs $297 per month
The Quarterly Payment Package costs $797 every three months
The Annually Payment Package costs $2,997 per year
Fortunately, they have a refund policy, but it is conditional. Every member wishing to have their money back must submit a study of the 36 units within 180 days before their refunds would be approved.
The payment plan and 180-day refund policy, I still don't feel that they're practical, especially if there are tons of better options around. As you see from the summary of the program, you can even resource them for free over the internet.
You can check out my best work-from-home recommendation if you are looking for a much cheaper alternative that can help you produce the content according to your niche and then provide you the financial freedom you so desire.
Is Elite Blog Academy a Scam?
I can honestly tell you that Ruth Soukup is not a scammer.
She is a legitimate digital entrepreneur that can help you gain some level of success through blogging.
I give her program 7.5 stars out of 10
However, you may want to manage your expectations, considering how expensive the training program is. Again, as I explained in the earlier sections, the experiences of the training may greatly vary from person to person.
People might lead to the thinking that it might be a scam, especially if their expectations are not met. But I assure you that this is not the case, and Ruth's Elite Blog Academy is legitimate.
What I LIKE about Elite Blog Academy
Now, below are the traits that I particularly like about Ruth's Elite Blog Academy—
Extensive but Straightforward Lessons
First and foremost, the lessons provided in the program are high quality and organized in a manner that would allow you to learn blog progressively.
Amazing Community
Elite Blog Academy has an active community on Facebook where you can exchange your thoughts with fellow members of the group.
What I DON'T LIKE about Elite Blog Academy
The following are some of the disadvantages of Elite Blog Academy that you have to take note of as well—
Expensive
The price of the training is a bit overpriced, in my opinion. If you don't have a sufficient budget to accommodate the cost or are unwilling to spend that much money, then this training isn't for you.
Conditional Refund Policy
Although they offer a 180-day refund policy, you have to submit a study of the 36 units, which is time-consuming. But it is something that you have to go through if you believe the program is not a good value for your money
Final Thoughts on My Elite Blog Academy 4.0 Review and A Better Alternative
I hope today's Elite Blog Academy 4.0 review has provided you with the insights you need about the training program and whether it is the right one for you or should you search for a better one.
Although Ruth's program offers quality training, I don't feel it's practical, especially for individuals who are under a tight budget. But if you have the capacity to pay for the required payments, then, by all means, do so as you please. I believe it would serve you well, especially for newbies.
But don't lose heart if you don't have the funds.
Fortunately, there are tons of ways how you can turn your passion into a site that's generating money without having to break the bank. And of the popular methods you can employ is affiliate marketing.
And the reason why they're very popular is that they're cost-effective, and it suits all levels of experience.
You can check out my best work-from-home recommendation if you're keen on knowing more about affiliate marketing and how it can help you financially.
Well, I believe that's just about it in today's Elite Blog Academy 4.0 review!
And to show you my deep appreciation just by being here, I'm also giving away my book to help you kickstart your business—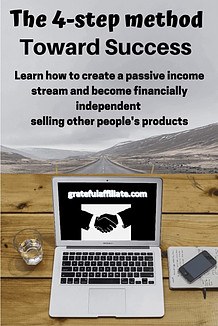 I hope to see you in the next topics!
Peace!