Welcome to my CB Profit Sites review! In this article, we'll review Glynn Kosky's training program and if it's worth your while and money.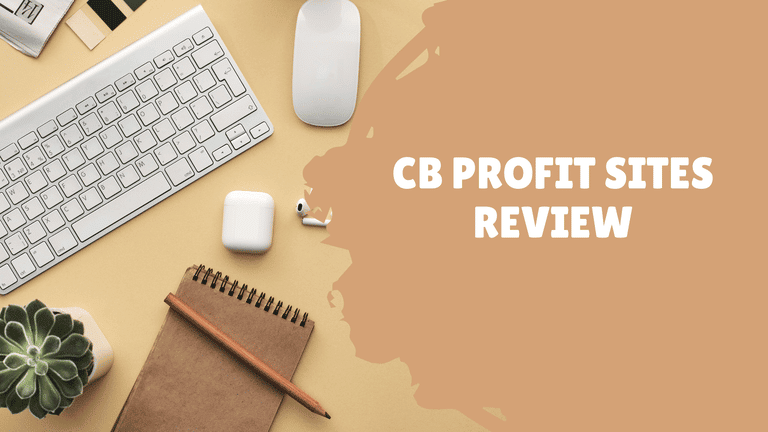 Many people want to earn a sustainable income at home but are not willing to put in the work. Like a traditional brick-and-mortar store, online business still requires capital and time to prosper significantly.
However, some people still turn to an easy way to generate profits in the comfort of their homes.
Although it's possible to earn small amounts of money online, it won't be sufficient to make a living.
And if you happen to search for the easiest way to earn income online, then you will likely come across Glynn Kosky's DFY (Done-for-you) program called the CB Profit Sites.
In today's article, I will provide you with the essential features of the DFY system and whether it's the right program for you.
But before I begin, let me share with you that I'm NOT an affiliate of Glynn Kosky, and I will NOT benefit if you decide to purchase the system.
So without further ado, let's begin…
Who is the Founder of CB Profit Sites
CB Profit Sites is the brainchild of Glynn Kosky. He is a seasoned digital entrepreneur, and his passion for earning money online and eCommerce started in 1999, as he explained in his "About Page."
Glynn Kosky is a name I am very familiar with because I have already reviewed three of his DFY program prior—High Ticket Profit Systems, AffiliSites Pro, and Commissionpages.net.
The mentioned programs are only a few of the many DFY systems he has published. The other one's Secret Affiliate System, 5K Profit Formula, 100K Commission System, and 10X Bitcoin Commission.
As you see, he is fond of creating DFY systems. I am not a fan of DFY in general because of their low-income potential and how typically overhyped their marketing campaigns are. In fact, I have given three of his programs a meagre rating.
CB Profit Sites is another one of his DFY systems that he disguises as affiliate marketing. Is the program the same as his other programs and typical low-quality DFY systems?
Let's continue with my CB Profit Sites review and learn more about the program…
What is CB Profit Sites?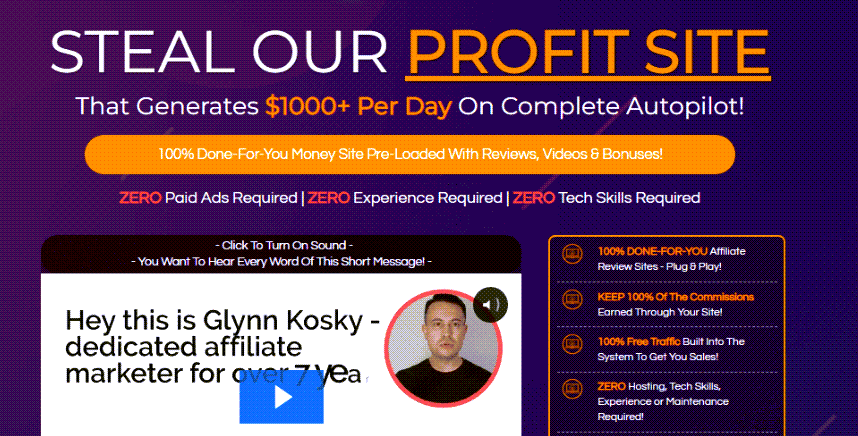 CB Profit Sites is a done-for-you system. As the name suggests, a DFY program basically provides its members with pre-made materials like websites, templates, email funnels, sales pages, etc.
They advertise their program to generate $1,000 in income a day automatically. However, I'm sure you might have heard the saying, "if something is too good to be true, then it is highly likely not to be true."
A hallmark of DFY systems, in general, is overhyped and exaggerated claims about the program's potential. And CB Profits Sites is no different.
The guarantee of becoming financially independent is undoubtedly enticing. Combine this with overhyped claims, and then it's likely that unsuspecting people would bite the bait of empty promises.
In DFY programs, you must note that you receive the same content as any other member. Major sites like Google and Facebook have heightened restrictions on duplicating materials, and they filter them out because they see them as spam and potentially dangerous to their users.
That said, DFY sites generate poor leads, which results in low sales conversion. So their exaggerated claim of being high and reliable goes out of the window.
If you are searching for a better source of income without BS and can give you the financial stability you want, then you should check out my best work-from-home recommendation!

What's Inside the CB Profit Sites Program and How Does it Work?
If you are curious about what you'll be getting from the CB Profit Sites program, then the following is a summary of the system's features—
Website Hosting
Digital products
Product review templates
Video tutorials
Website templates such as banners, call-to-actions, and graphics
Now, below are the steps you have to take to become a member of CB Profit Sites and how they work—
First Step: Sign up for the program
Second Step: Login to your account to access your personal dashboard, and then enter your Clickbank ID
Third Step: Customize and manage your DFY sites
Fourth Step: Generate traffic and earn commissions
Again, generating traffic from the internet is not as easy as it sounds. It will require you to put in the work and capital to achieve your digital marketing goals.
As you see, it also appears that you have to create a Clickbank account as well. Fortunately, registering to Clickbank is straightforward and won't take much of your time.
Clickbank isn't that demanding regarding the new members compared to Amazon Associates. They all require basic information, including payout options such as PayPal or bank.
I also reviewed many DFY systems in the past. You can read about them if you like—Simple Affiliate System, Mary's System, Social Media Lead Machine, Mega Marketing System, and The Secret Code System.
Or you can check the complete list of reviews by clicking here.
How Much is the CB Profit Sites Program?
Apparently, CB Profits Sites is not suitable for newbies because you need the experience and skills for you to be able to generate traffic and convert them to sales.
In addition, they are also not for people who are looking to save money and are under a tight budget.
The front-end cost of CB Profits Sites is only $23. Although the cost appears to be cheap, Kosky's program has six known hidden upsells that were not discussed or presented in any of his video sales letters.
Below are the only upsell that I only managed to find out—
First Upsell: Unlimited Version costs $47 to $97
Second Upsell: DFY Version costs $67 to $97
Third Upsell: Automated Traffic Flow costs $67 to $97
Fourth Upsell: Conversion Boosting Tools cost $47 to $67
Fifth Upsell: Bonus Page Builder costs $37 to $67
Sixth Upsell: License Rights cost $67 to $167
As you see, you'll end up spending more money than what you have bargained for. If you have experience with Glynn's previous program, you'll realize that the marketing strategy has the same elements of not disclosing these upsells upon registration.
They offer a 30-day refund policy, which is questionable due to the number of negative comments about this particular procedure.
If you are looking for a better source of income that's way more budget-friendly yet effective in helping you gain financial stability online, then you have to check out my best work-from-home recommendation!

Is CB Profit Sites a Scam?
Just like my previous reviews about Glynn's DFY program, I won't say that CB Profit Sites is a scam. However, it would be better if you refrain from doing any business with them—the inconveniences involved aren't just worth it.
What I LIKE About CB Profit Sites
I did not find anything positive about CB Profit Sites that could lead me to recommend them in any way.
What I DON'T LIKE About CB Profit Sites
Below are the disadvantages of becoming a member of CB Profit Sites—
Low Income Potential
Prominent sites like Google and Facebook filter out DFY content because they are recognized as spam and potentially risky to their site users.
With this being said—lead generation and sales conversion are almost impossible with them.
Market Product Limitation
In contrast to genuine affiliate marketing, you are only allowed to promote products that are within their database.
Expensive Upsells
Yes, it has a $23 front-end cost. But you must remember that it also has expensive upsells that were not disclosed during the registration process.
Final Thoughts on My CB Profit Sites and My Personal Review
I hope my CB Profit Sites review has provided you with the sufficient information you need on why the program is not a good investment of your time and money.
The system's sales pitch is overhyped and highly exaggerated. In reality, it is only a marketing campaign to cover up how low quality the program is.
Also, they have intentionally not disclosed the expensive upsells. If you are not familiar with Glynn's previous program, then it's likely that you'll end up incurring higher expenses.
With this being said—I am giving CB Profit Sites a 3 out of 10 rating—

A Better Alternative to CB Profit Sites
CB Profit Sites advertised their system as an affiliate marketing program. However, they are more of referral marketing than affiliate marketing. For one thing, they disallow you to promote digital products outside of their program.
Also, referral marketing is focused on rewarding its members by successfully inviting someone into its system. On the other hand, affiliate marketing allows you to promote any products that best represent your niche and specific advocacies.
If you are looking for a program that can help you with affiliate marketing, consider clicking the highlighted description or button.
>>HERE'S MY BEST WORK-FROM-HOME RECOMMENDATION!

I believe that's just about it in today's CB Profit Sites review!
And to show you my deep appreciation just by being with me, I'm also giving away my book for free to help you jumpstart your affiliate marketing business—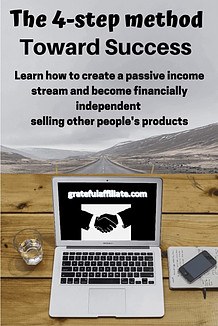 Thank you for your time in reading today's discussion!
Peace!