Welcome to my 6 Figure Affiliate Bootcamp review! In today's discussion, I'll share with you my insights on whether Liam James Kay's program is legit or a scam.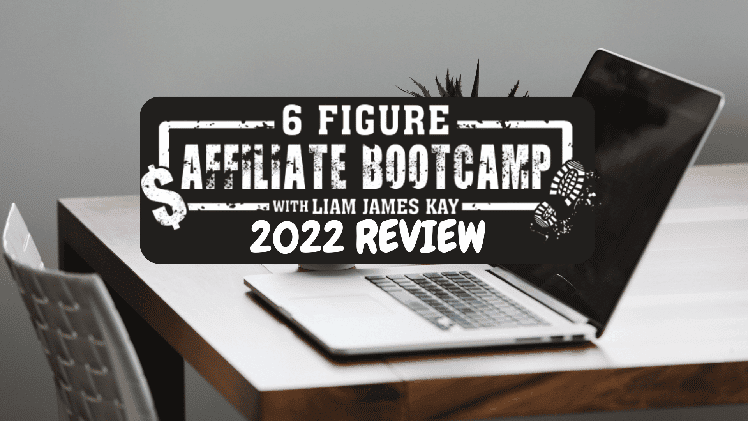 Being able to earn reliable income online was a far-fetch idea in the early days of the internet. However, this is no longer the case because there are a ton of options available now that can help anybody achieve financial stability, and without the need to leave the comfort of their home.
One of the popular platforms that many people turn to to help them with this goal is affiliate marketing.
In layman's terms, the business model involves marketing someone else's product or services through your content and earning a commission.
Although it may sound easy, this isn't exactly the case which is why a lot of poeple seek the guidance they need from online courses such as the 6 Figure Affiliate Bootcamp.
And yes, the marketing pitch is interesting, and it looks legitimate. However, is it worth spending about $700? Or are there other legit programs that are more affordable yet can deliver equal or even better results?
If you have these concerns in mind, then you definitely have come to the right place!
But before I begin, allow me to disclose that I'm NOT an affiliate of Liam James Kay, and I will NOT earn a commission if you decide to buy afterward.
So without further delays, let's begin…
Let's Meet the Creator of the 6 Figure Affiliate Bootcamp Training Program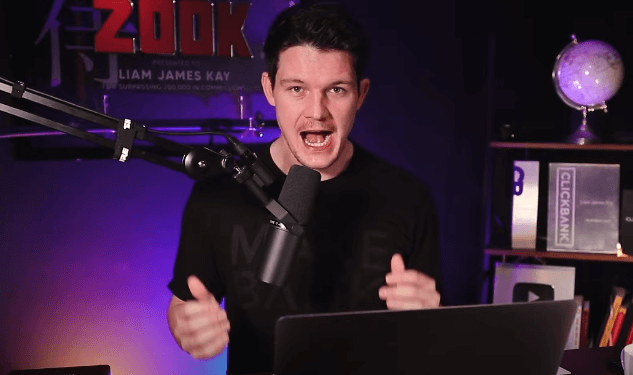 As I already mentioned earlier, Liam James Kay is the creator of the 6 Figure Affiliate Bootcamp. He is a digital marketer from Manchester, United Kingdom. In addition, he has a popular YouTube channel with over 193K subscribers at the time of this writing.

Before starting in the digital marketing industry, he used to have a regular 9 to 5 job like many of us do. But he eventually shifted his focus to affiliate marketing once he discovered the amazing potential of the business model.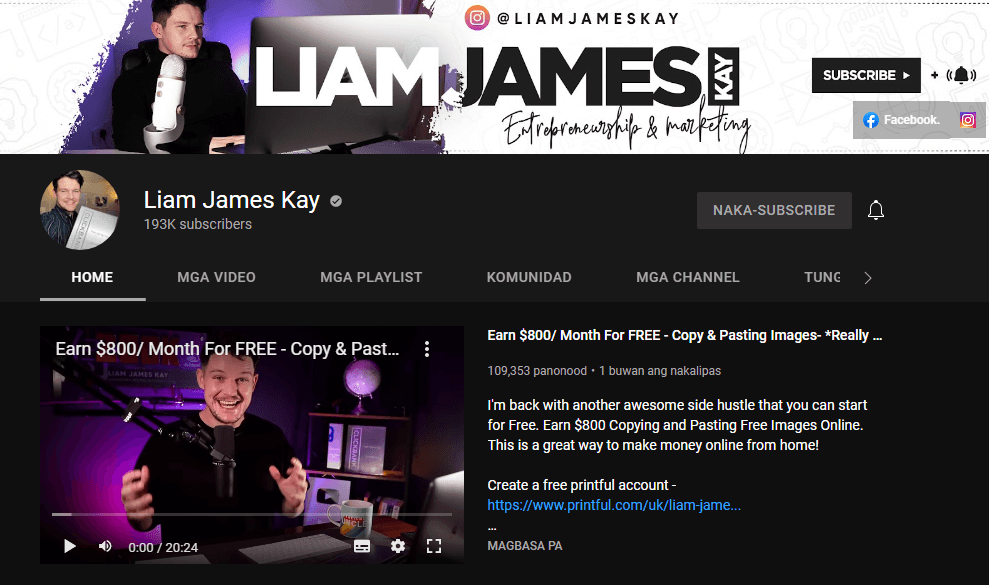 As a result, he took the risk and embraced the challenges involved in the industry. He quit his regular job in 2018 and pursued a new career path in eCommerce.
The venture ran through difficult times, but he persisted, and through his experiences, he managed to climb up and progressively grew his business to a money-making site that aided him in supporting his lifestyle.
He joined YouTube in 2014 with the sole purpose of sharing his insights on how to earn income online that would be of value to his audience.
Liam James Kay is also the recipient of the Clickbank Platinum Award, which, in my opinion, solidifies his credibility as a super affiliate.
Aside from the 6 Figure Affiliate Bootcamp, Liam is also the creator of Elite Natives Academy, which is another affiliate marketing training program that includes lessons on paid advertisements. Elite Native Academy is also a program that I reviewed in the past that you can read about if you like.
With this in mind—does this mean the program is legitimate? Or is it a scam, after all?
Let's continue with my 6 Figure Affiliate Bootcamp review and learn more about the training course…
What is 6 Figure Affiliate Bootcamp?
6 Figure Affiliate Bootcamp is an online course that provides training on the basics of affiliate marketing. From the title of the program itself, one may have the impression that they are guaranteeing a 6 figure source of income after you have taken the program.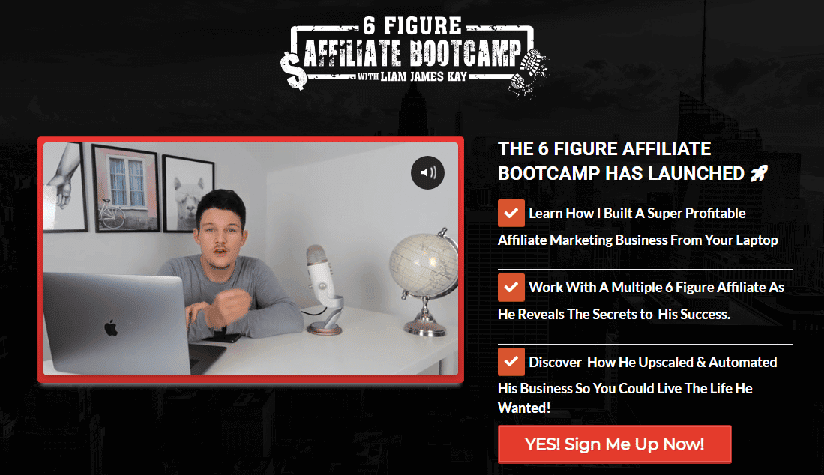 However, the idea comes to me a little bit overhyped. Although the program may produce positive results for some, it may not always be the case for everybody. Considering the high price of the training, some of the members may even call it a scam if they have not obtained the results they are expecting.
Anyway, every internet guru has their own way of marketing their program, and that is just the path that Liam went to.
6 Figure Affiliate Bootcamp comprises a total of 82 videos and webinar sessions that would justify the $697 price of the program. However, although I admire Liam James Kay's content on YouTube and appreciate his background and credentials, I don't believe it's worth spending that much.
Another popular affiliate marketing program today is John Crestani's Super Affiliate System Pro. And even though it is more expensive and John's personality is a little bit cringey, in my opinion, his program is better because the training is more comprehensive, which includes weekly webinars from John himself.
6 Figure Affiliate Bootcamp may provide the results some of its members are expecting, but I feel there's nothing you can find on YouTube that is similar to his modules. Also, there are more affordable options that can deliver equal or even better results, such as my best work-from-home recommendations!

What's Included in the 6 Figure Affiliate Bootcamp Training Program?
As mentioned, the program comprises 82 videos that are categorized into 11 main lessons, which include the following—
Millionaires Mindset
As the module's name suggests, it is a mindset training that should prepare you for the training.
Choosing Your Niche
In order to know what products you'll market, you need to determine your niche first. The second part of the training involves everything you need to know about choosing the niche you prefer.
Building Your Brand
The idea of this module is to help startups in building their brands by adding personality to selling the products.
Finding the Best Possible Brand to Promote
Once you have found the niche that suits your preferences, Liam will now share his insights on finding the best products that generate the highest possible profits.
Sales Funnel
The sales funnel he is using for this purpose is a program called Builderall which includes several affiliate marketing tools like a page builder.
Email Marketing
In this section, you'll learn how to generate organic traffic through email marketing.
YouTube Marketing
You'll also learn how you can utilize paid advertising from YouTube's AdSense.
Instagram Marketing
Similar to the previous section, this part of the training will teach you how you can earn from Instagram's AdSense.
Google Ads
In addition to social media marketing, you'll also learn Google Ads and how to make your content SEO-friendly to improve your presence online.
Creating Your Personal Blueprint
The last part of the training is all about how you can put together the things you have learned and put them into action.
I have also reviewed several affiliate marketing programs that you can refer to if you are interested. And if you want to read, some of the examples are Affiliate Dojo, SAS Affiliate, Affiliate Secrets 3.0, and AffiliSites Pro, just to name a few of them.
Or you can check the full list of publications if you want to read about the other reviews I have written.
How Much is 6 Figure Affiliate Bootcamp?
Back in 2020, the price of the 6 Figure Affiliate Bootcamp was almost the same as Super Affiliate System Pro, which is $997. But as I checked recently, it goes down to $697. Also, I did not find stipulations for a refund policy.
As I emphasized earlier, there's really no need for you to spend this much to gain quality training on affiliate marketing. You can find tons of free resources online, or if you prefer more in-depth training on the matter, then there are also more affordable options, such as my best work-from-home recommendation!

Is 6 Figure Affiliate Bootcamp a Scam?
No. I am absolutely certain that Liam James Kay's 6 Figure Affiliate Bootcamp is not a scam.
It is a legitimate affiliate marketing training program that can help you gain traction in the business.
The only part of the program that I have mainly had an issue with is the high cost of availing of 6 Figure Affiliate Bootcamp training.
Now, below is the opinion of other people about the program—
What I LIKE About 6 Figure Affiliate Bootcamp
The following are the positive traits of 6 Figure Affiliate Bootcamp that you have to consider—
Liam James Kay is Legit
Liam James Kay is a legitimate digital entrepreneur with that you can put your trust. Also, he is the recipient of Clickbank's Platinum Award, which further boosts his credibility in the industry.
Paid Ad-Focused Training
I believe the program could be an excellent program for people who seek training in improving traffic through paid ads.
What I DON'T LIKE About 6 Figure Affiliate Bootcamp
Now, below are the disadvantages of availing 6 Figure Affiliate Bootcamp—
Expensive
First and foremost, the program is too impractical and may not be for people who are not willing to spend about $700 for a training program.
The Lessons Are Too General
The program may not be for beginners because it lacks some of the essential elements in affiliate marketing, such as creating quality content that attracts traffic. Instead, they put several videos that are focused on paid ads.
Final Thoughts on My 6 Figure Affiliate Bootcamp Review and My Personal Rating
Affiliate marketing can indeed give you achieve your financial goals once you have set it up properly and managed it effectively. However, you really don't have to spend over $500 for quality training.
In addition, you also have to bear into consideration the expense involved in starting the business, which includes the following potential costs—
Website hosting will cost you an approximate amount of at least $100 per year
Paid ads are about $500 (and more) per month
Sales funnels are about $97 per month
An email autoresponder is about $30 per month
Ad traffic tracking software is about $30
With this being said—I am giving 6 Figure Affiliate Bootcamp a 7 out of 10 rating—

An Alternative to 6 Figure Affiliate Bootcamp
If you are looking for budget-friendly affiliate marketing training, then consider clicking the highlighted texts below—
>>HERE'S MY BEST WORK-FROM-HOME RECOMMENDATION!

I believe that's just about it in today's 6 Figure Affiliate Bootcamp review.
And to show my gratitude just by being present here, I am also giving away my book at no cost to you.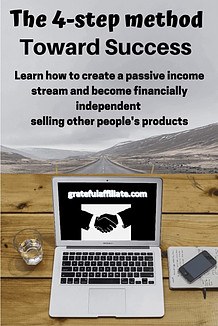 Thank you for your time!
Peace!