In today's Social Media Lead Machine review, I'll provide you an analysis of Nubar's course whether it's worth every penny or should search for alternatives.
Welcome to my Social Media Lead Machine review!
Regardless of age and lifestyle, almost anybody today has at least one social media account. Aside from keeping up with current trends, it is also the primary tool we use to connect with our distant friends and loved ones.
In the early days of social media, entrepreneurs might not have thought about the great potential of the platform in promoting their brand to the online consumer. But today, it has become a popular medium for brand promotion and a source of income for many digital marketers.
And if you're searching for courses on the internet that teaches digital marketing, I'm sure that you'll find Blake Nubar's Social Media Lead Machine is probably among the top results.
And the reason why this is the case is that he is highly regarded in his craft and sales funnel niche.
However, as legit as he may be, you may still want to be sure if he is indeed the real deal and whether his program could really bring you the financial abundance you desire.
If this is your concern, then today's topic is specially made just for you!
In this article, I will provide you a thorough analysis of the program and whether it is the right one for you.
But before anything else, I would like to disclose that I am NOT an affiliate of Social Media Lead Machine and in NO way promoting the program.
With that out of the way, let's begin…
Who is Blake Nubar?
Blake Nubar is a digital marketer that made his fortune from sales funnels and social media marketing.
He is a prominent figure in the niche of sales funnels. In fact, he is a recipient of Clickfunnels' Two Comma Club. What this means is that he has already reached millions in sales as their member.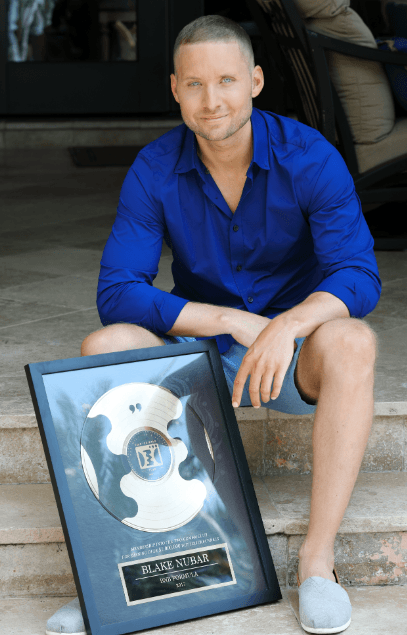 Currently, he also holds the record for earning millions in just a matter of 43 days!
As you can see, he is legit! And if anyone is going to teach you valuable lessons on ClickFunnels, then that would certainly be Blake.
And in the following years, he founded training courses that impart his experiences and learnings along the way as an online entrepreneur. His programs' primary purpose is to help aspiring digital marketers gain financial independence through funnels and lead generation.
Let's continue with my Social Media Lead Machine review and find out how the program works…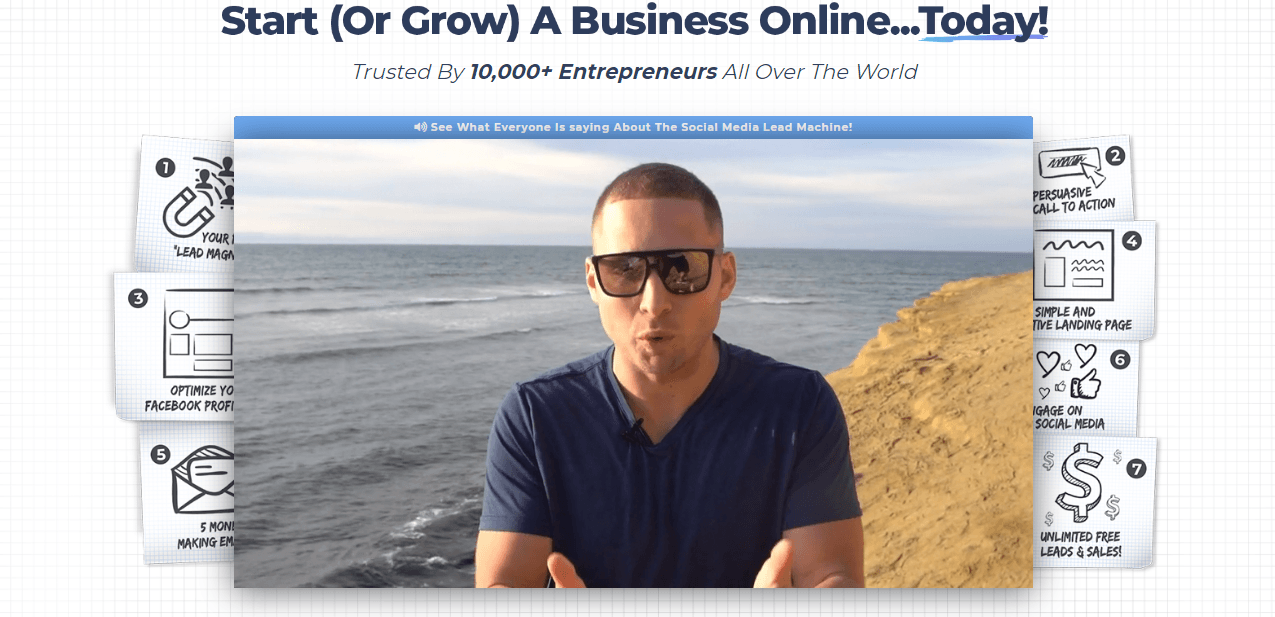 What is Social Media Lead Machine? And how much will it cost you to sign up?
Social Media Lead Machine is an online training program that provides courses on generating leads through social media platforms like Facebook.
The focus of the program can be broken down into three main categories—
The basics of optimizing your social media profile
How to connect with a funnel and use it to your advantage
How to improve traffic
The base price of Social Media Lead Machine would only cost you $7 for Blake Nubar's Blueprint. However, there are upsells after your initial registration—
The Social Media Lead Machine Masterclass Video Course costs $197.
The Done For You Service costs $997.
I will explain in the following chapter how each of the programs would be able to help you achieve your financial goals.
However, my only concern here is that you may have to pay $997 to fully benefit from the program, considering that there are cheaper options on the internet.
If you're looking for a more budget-friendly option that can provide quality online training, then check out my best work-from-home recommendation!
How does Social Media Lead Machine work?
Social Media Lead Machine offers three tiers once you have decided to join the program. Let's take a look at each of them and see how they can help you become more financially independent—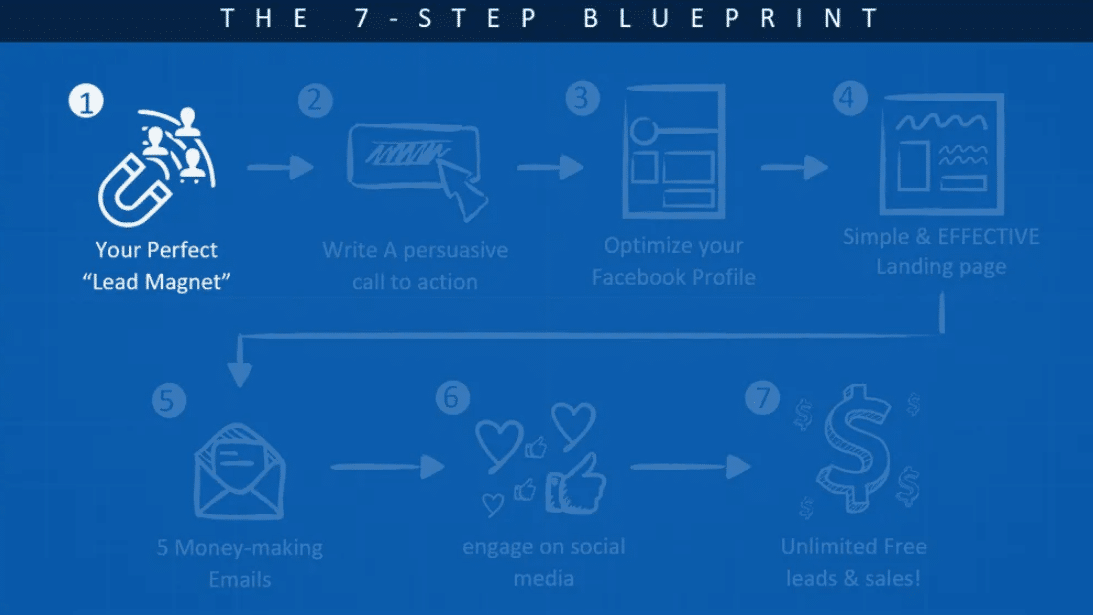 The Social Media Lead Machine Blueprint
Blake Nubar's Blueprint is about his strategies in lead generation through social media platforms.
As you see, the Blueprint is comprised of seven practical steps—
How to create the perfect Lead Magnet
How to write a persuasive call-to-actions
Optimize your Facebook profile to obtain the maximum result
Create a simple yet effective landing page
Write emails that generate leads
Improve social media engagement
How to drive unlimited leads that generate sales
These topics are compressed in an 82-page PDF document that would only cost you $7.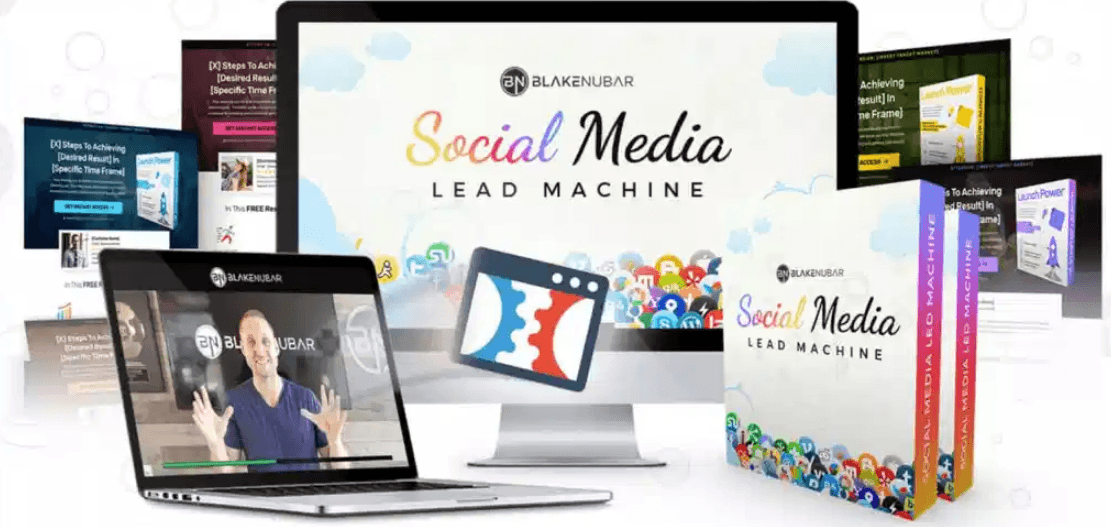 The Social Media Lead Machine Masterclass
As mentioned, the second tier is actually an upsell, which would cost you $197.
The Masterclass course is an extension of the first course—the Blueprint is the foundation of social media marketing, while Masterclass is a 30-day video course that teaches its students how to optimize their social media profile to achieve maximum results.
This section is a comprehensive topic that tackles the finer details of managing lead generation. But this may be the case—Blake Nubar shares a much easier route in setting up your profile.
Also, the Masterclass is categorized into five phases which include—
Phase One – Build Your Traffic Machine
Phase Two – Create An Irresistible Lead Magnet
Phase Three – Launch Your High Converting Sales Funnel
Phase Four – Five Steps Email Sequence
Phase Five – Get Unlimited Leads and Sales
You may have noticed the programs' similarities with the Blueprint course. However, as mentioned earlier, Masterclass is a more advanced course than the previous program.
Aside from the abovementioned classes, the member will also get a Masterclass Bonus which includes the following additional courses—
Masterclass Bonus #1 – How to set up a chatbot
Masterclass Bonus #2 – Supercharge your landing page (another topic on improving your landing or sales page)
Masterclass Bonus #3 – Leads and sales booster secrets
Done For You Service
The third and last tier is what he calls the Done For You Service.
As the title suggests, it basically includes pre-made programs for people who don't have time to create their own content or prefer an already done system for you.
If you prefer this program, you have to prepare a huge budget because it will cost you $997.
However, the truth is that you don't really have to pay this much to learn how to earn income online. And if you're looking for a more affordable and better alternative, then you have to check out my best work-from-home recommendation!
Is Social Media Lead Machine a scam?
No. Social Media Lead Machine is definitely not a scam. It is a legitimate program that offers training on social media marketing and generating leads.
You don't have to worry about anything if you're considering signing up to his program because you are in perfectly good hands.
The only downside of the program is expensive upsells that would cost you up to $997, as mentioned earlier.
I've also reviewed similar programs in the past. You can check them out if you like— Super Affiliate Pro, Billy Gene Is Marketing, and Overnight Millionaire System, just to name a few.
What LIKE about Social Media Lead Machine
Blake Nubar is legit!
As I repeatedly emphasized in this article, Blake Nubar is a legitimate and well-known digital marketer.
Excellent subjects on lead generation
Aside from his credibility, you can expect quality training on funnels and generating leads through social media.
Affordable base price
The Social Media Lead Machine Blueprint is only $7!
Decent refund policy
You can ask for a refund in events that you are not satisfied with the program. They'll reimburse the initial registration fee as long as the request was made within the 14-day window.
What I DON'T LIKE about Social Media Lead Machine
Expensive upsells
Although the base price of the program is only $7, the following upsells cost $197 for the Masterclass and $997 for the Done For You system.
Extra cost on Clickfunnels
Blake Nubar is primarily using Clickfunnels. However, the cost of the funnel application isn't included in the training package. Therefore, you may have to avail of them separately, and it would cost you $7 per month.
It may not be suitable for newbies
The courses listed in Social Media Lead Machine are a little advance, and inexperienced digital marketers may find them a little hard to comprehend at first.
Social Media Lead Machine Review: Final Thoughts
I hope my Social Media Lead Machine review has somehow helped you decide whether the program is worth your time and money or should you search for other income opportunities online.
Blake Nubar is a legitimate digital marketer and highly reputable in the field of funnels and social media marketing. And you can definitely learn from him in regards to boosting sales by improving lead generation.
However, it may not be suitable for those who are under a tight budget.
Although the Blueprint program is only $7, the following upsells of $197 and $997 could be out of reach to some individuals.
But if you sufficient savings to cover the program's cost, then yes, you could sign up for his courses at your own risk.
Lastly, I'd like to mention that you may have to manage your expectation before you avail of the program and give them your utmost attention.
Although Social Media Lead Machine is legit, it may not always work for some people, or some may even find it irrelevant.
Let's continue to the last section of the article, and I will show you a better option…
How I earn income online
When you search for income opportunities on the internet, I'm sure that three of the top results would include affiliate marketing, dropshipping, and remote jobs.
And such instance is rightfully so because they yield high income and can provide you the financial freedom you desire if you are able to formulate an effective strategy going in.
However, affiliate marketing is a better option than dropshipping or any remote jobs online for many apparent reasons, and it includes the following—
It suits all levels of experience
You are not directly involved with inventory or product management
100% legitimate
It is a more stable and higher source of income
It is free, to begin with
Free of any risks
And most importantly, potential income is unlimited because you can essentially market as many brands as you like
Yes, what you'll basically be doing is to represent a product or service through your online content or social media influence.
The brand will provide its affiliate marketers a personalized link which they'll use in promoting their products. And then, the affiliate earns commissions every time someone engages the link and uses it to avail the brands' offerings.
Of course, your success in this type of opportunity depends on the quality of content and traffic being driven to your content. Also, another factor here is how well you advertise and persuade your audiences to use your affiliate links.
If you're a newbie to the concept of affiliate marketing and have no idea where to begin or have already been doing the business for quite some time but struggling as of the moment, then you no longer have to worry any further! I got you covered!
Consider clicking the description below and discover how you can create a stunning online site from scratch that's generating a lot of leads—
>>HERE'S MY TOP WORK-FROM-HOME-RECOMMENDATION!
Well, I believe we've covered sufficient grounds here!
Thank you for the time in reading my Social Media Lead Machine review!
And for being on my website, here is a FREE copy of my e-Book.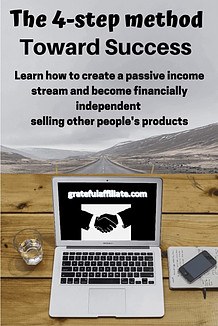 Just click on the button and get your own copy NOW!