Is Ecom Warrior Academy Legit? Or is it a scam? For today's topic, I'll help you determine whether the program is a good investment or should you avoid them?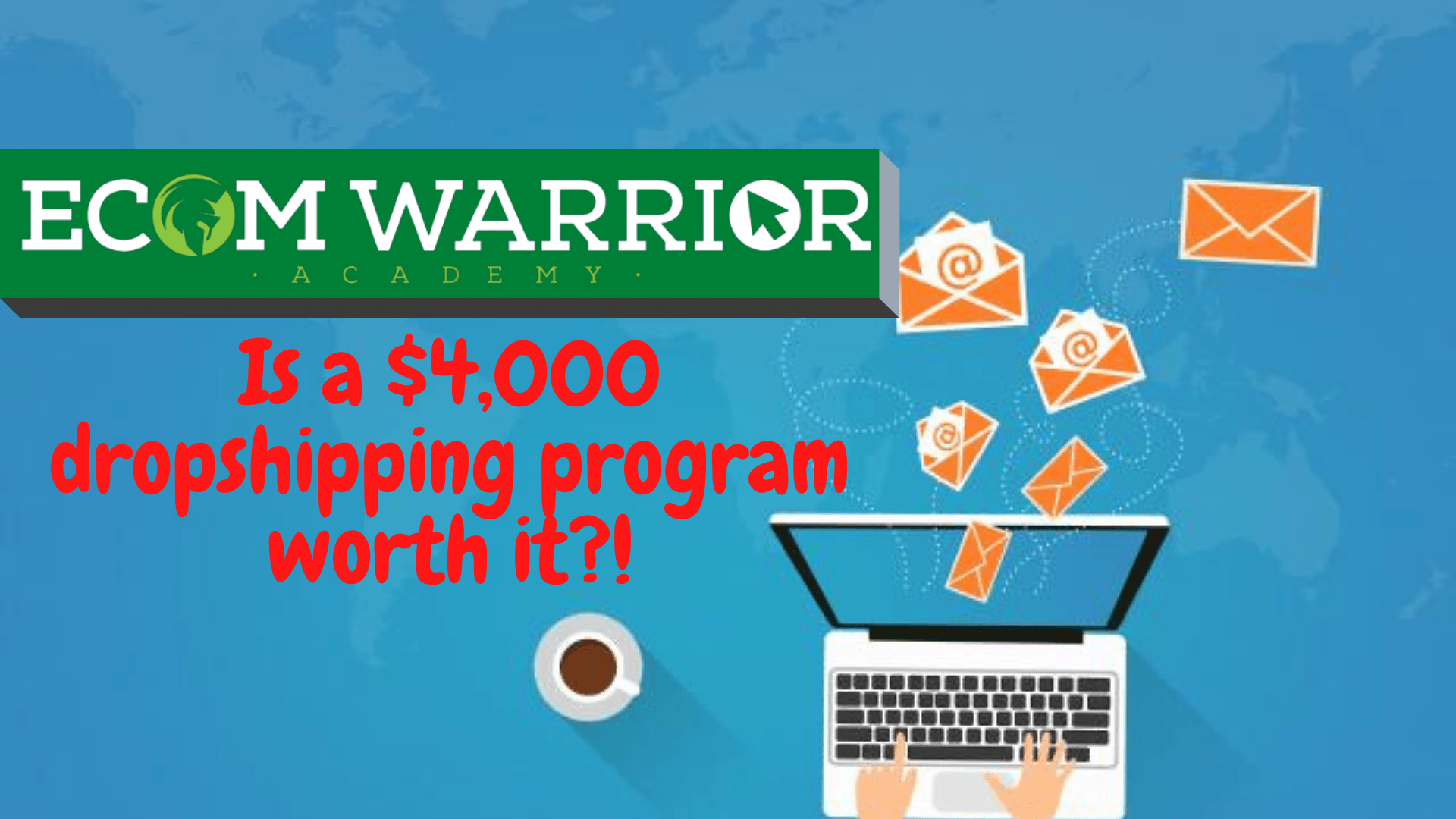 Dropshipping is among the most profitable eCommerce platform worldwide. And it is for this reason that many people today want to learn the business in hopes that it would help them turn their financial conditions for the better.
And if you search for legitimate dropshipping courses online, then there's a good chance that Matt Lepre's Ecom Warrior Academy is among the top result in your searches.about
If you're looking for answers on whether the program is worth your while or not, then today's topic is specially written just for you!
But before I start today's discussion, allow me to disclose that I am NOT an affiliate of Matt Lepre and in NO way promoting any of his programs. This article is my unbiased and honest opinion about Ecom Academy Warrior, which is based on research and understanding of the program.
So is Ecom Warrior Academy legit? Or is it a scam?
Let's begin and find out…
Who is Matt Lepre?
Before we delve into today's topic, let me introduce you first to the founder and creator of Ecom Warrior Academy.
There's not much information about Matt Lepre's background on the internet. However, I have gathered that he is an online entrepreneur with years of experience.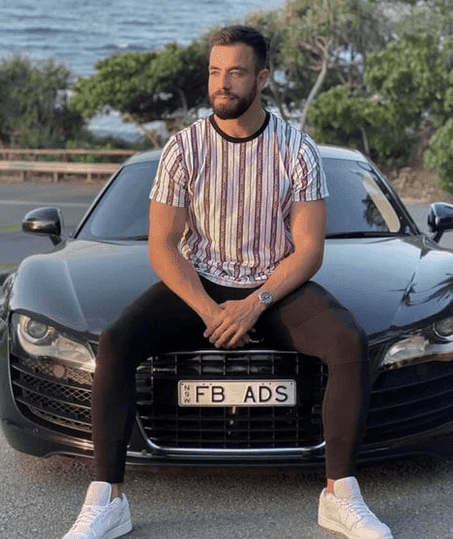 Matt's headquarter is currently located in Sydney, Australia. And his program is mainly specializing in providing courses on dropshipping.
Like many young entrepreneurs today, he dropped out of college to pursue his dreams of having a better quality of life. Matt was broke at that time with only his laptop as his means for work.
Through his perseverance and determination to succeed, he was able to break through and built an eCommerce enterprise that's generating six figures per month.
It's a story that we all can relate to, right? Also, it's something that we are familiar with.
Probably two of the most popular dropouts in our history are Bill Gates and Steve Jobs. Their example has become a pattern in many of the younger breeds of entrepreneurs today.
Aside from his interesting story, part of Matt's success also includes paying thousands of dollars for the best programs that can help him prosper in eCommerce.
With his experience and knowledge in the industry, he was able to develop his personal business strategy that could potentially help beginners build a profitable eCommerce store.
With this being said—Is Ecom Warrior Academy legit? Or is it just another scam program offering recycled and outdated materials?
Let's continue and find out the answers…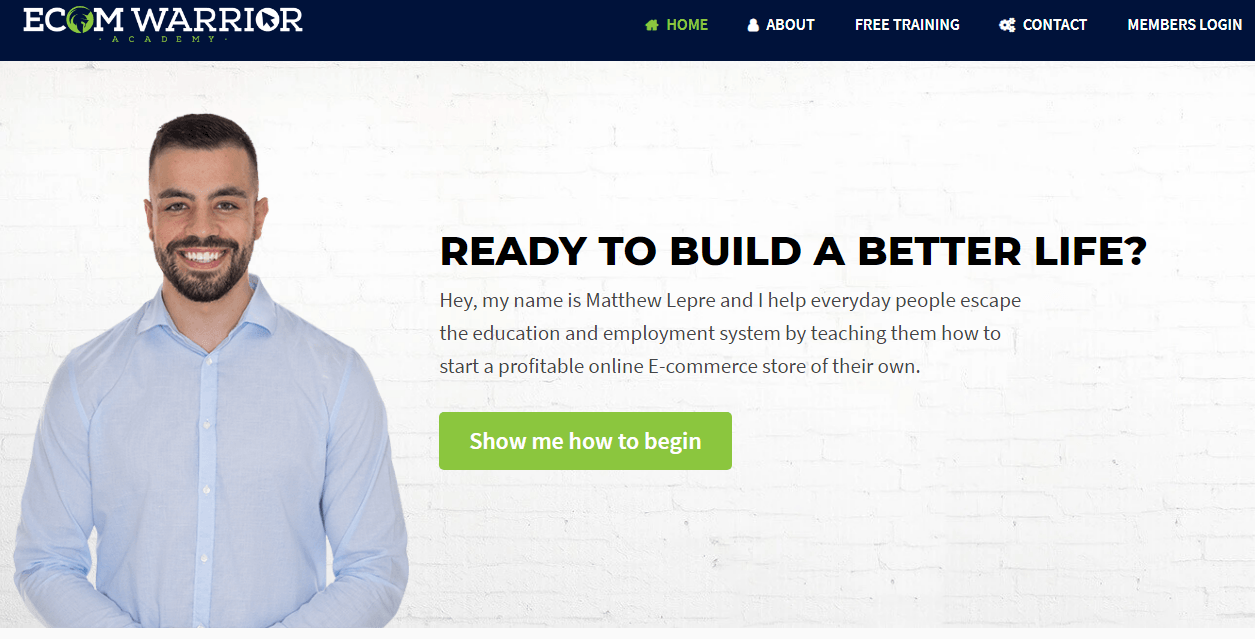 What is Ecom Warrior Academy?
As mentioned earlier, Ecom Warrior Academy is a program that primarily provides training on dropshipping. Aside from the courses, it also includes a one-on-one coaching session from Matt's team of experts.
It's a very comprehensive course that covers 60 areas of dropshipping.
However, what makes Ecom Warrior Academy stand out from the rest is the mentorship program. It is a huge plus because it somehow boosts the entrepreneurs' chances of succeeding in the business.
Also,  you can consult his team for advice instead of just referring to the training materials every time you are stuck.
Dropshipping is a very profitable source of income online. However, running the business poses difficulties and specific challenges that would test the entrepreneurs' perseverance to stay in the game.
Therefore, coaching sessions make a lot of sense, and it would greatly aid amateur dropshippers in managing their eComm stores.
However, as good as the program offers—its only setback is the price.
In case you want to sign up, you need to prepare a budget of $4,000!
Yes, granted that they have a mentorship program, but I still believe that it is way overpriced considering that there are more affordable alternatives that can provide you with the same or better results.
And if you're looking for a better option, then you have to check out my best work-from-home recommendation!
I've also reviewed several income opportunities online in the past. You may check them out if you like—Elite Traffic Pro 2.0 and Laptop Lifestyle Academy.
How does Ecom Warrior Academy work?
Unlike other online training programs, there's no overview of the courses' modules on their sales page.
They might probably distribute or provide a glimpse of its contents once you pay them their $4,000 registration fee. But I will not spend that much on any program if I am not entirely sure of what I am investing in.
It's not necessarily a negative thing, but being clear and transparent on what you offer does help potential clients what to expect once they signed up for your program.
Also, it helps them in deciding whether it is worth their while or not.
Anyway, what you'll see on their landing page is an image of Matt and an invitation to his course. On the lower side of the page is a call-to-action that says, "Show Me How to Begin."
Once you clicked the button, it will you to a second sales page with another call-to-action. After engaging the signup button, you will get a 42-minute presentation before he offers you the main program.
If you're willing to pay its full cost, you'll need to fill up the necessary information.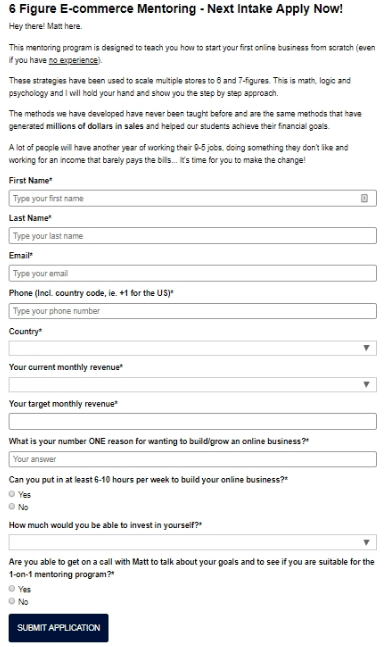 But a question in your mind might be if dropshipping is profitable. Is a $4,000 investment on dropshipping course worth it?
I'll discuss briefly in the following section the advantages and disadvantages of dropshipping or if there are better options…
Is dropshipping profitable? Or, is there a better alternative?
Dropshipping is an online order-fulfillment business model. Unlike a traditional brick-and-mortar store, it is not directly involved in inventory management.
Instead, the dropshipper will sell the products on their respective eComm pages. As soon as an order is made, the store owner passes it to a third-party supplier and then delivers the parcel to the customer.
Dropshipping has several advantages like—
Low startup cost
Not directly involved with inventory management
Low order fulfillment cost
Highly scalable business model
However, it possesses a lot of difficulties, as explained earlier, and it includes the following factors—
Sufficient capital to run the business
Creating a dropshipping store
Customer service management
Handling third party suppliers and order fulfillment
Finding reliable suppliers
Quality control
Marketing strategies
Low-profit margin
Very high competition
And the list goes on…
The business mechanics is pretty complicated, and it may not particularly suit individuals who are complete beginners to the industry.
If you're looking for a much better alternative to dropshipping, you might want to try affiliate marketing (I will explain more about this in the last section of the article).
Or, you can check out my best affiliate marketing program recommendation for more information.
Is Ecom Warrior Academy Legit? Or is it a scam?
NO. ECom Warrior Academy is NOT a scam.
It is a legitimate online training program that provides courses and mentorships on dropshipping.
The only drawback of the program is its high-cost products considering that there are cheaper options out there that can provide you the same or even better results.
What do I LIKE about Ecom Warrior Academy?
Legitimate
If you're considering registering for the program, then you'd be happy to know that Ecom Warrior Academy is a legitimate dropshipping training program.
Updated lessons
The program continuously updates its lessons in response to the ever-changing landscape in eCommerce.
Coaching program
Ecom Warrior Academy offers a one-on-one mentorship session that would significantly benefit the amateur dropshipper.
Easy-to-follow lessons
The lessons relayed in the courses are very understandable and straightforward.
What I DON'T LIKE about Ecom Warrior Academy?
High-cost program
The only con of Ecom Warrior Academy is its high price.
Final thoughts
I hope today's review has provided you with the answer to these all-important questions: Is Ecom Warrior Academy legit? And is it worth investing in?
Although the program is legitimate, I don't recommend them, especially if you are under a tight budget.
If you have sufficient funds to cover the program's cost, you can definitely sign up for the program. However, you still have to manage your expectation because results and experiences may vary.
I believe it could provide you quality training on dropshipping, but you don't have to pay this much.
As I repeatedly emphasized, there are better options out there that are way more affordable than Ecom Warrior Academy.
And if you're interested to know my best recommendation, then let's continue to the last section of the article…
How earn income online
As mentioned, affiliate marketing is the best source of income online for several apparent advantages over other eCommerce platforms, and it includes the following factors—
It suits all levels of experiences
It is 100% legitimate
It is a stable source of income
No risks
It yields higher profits
Budget-friendly
Potential income is unlimited because you can basically market as many products or services as you like
Yes, your main task as an affiliate marketer is to promote a brands' products or services using your content or social media influence.
The company will provide you a personalized affiliate link that you're going to attach to your online content. And then, you'll earn commissions every time someone right-clicks the link and uses it to buy the products offered on the landing page of the brand you're representing.
However, it is not easy as it looks like…
Your success in this type of online business model relies on the quality of traffic and engagement generated from your content.
If you're a complete beginner to the entire concept of affiliate marketing and have no idea where to start, then you no longer have to worry any further…
I have the perfect solution for you!
Slightly tickle the highlighted description below and discover how you can create a stunning website from scratch that's driving a lot of traffic and engagement—
>> HERE'S MY TOP WORK-FROM-HOME RECOMMENDATION!
Well, I believe that's just about it!
Thank you for the time and effort in reading today's "Is ECom Warrior Academy Legit?" article.
And, just for being here on my website, I am offering, FREE of charge, my eBook: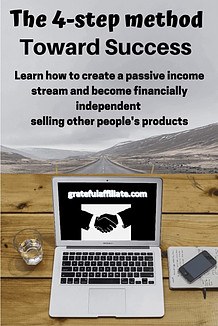 Just click on the button below and get your copy today!