Is Pssst Commissions a scam? Or is it a legit source of income? In today's discussion, I'll provide you with my insights into the training and help you determine if they're worth your while or not.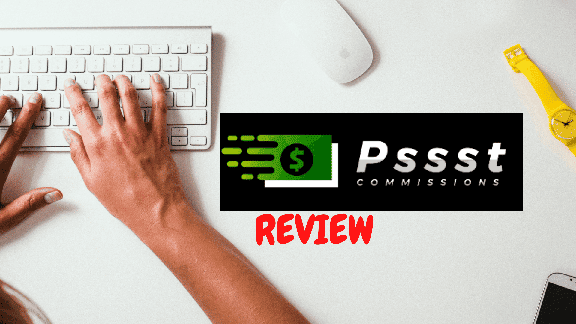 Work-from-home jobs and online businesses are a huge trend these days because it gives you the freedom to do what you love while earning a stable income that supports your lifestyle.
Pssst Commissions is not something you will come across by just browsing the web for a legitimate source of income online. It's likely that you have received an email from someone promoting the system.
If, for some reason that it has caught your attention and you want to know whether you can completely trust the DFY(Done-for-you) program or should you continue searching for better results, then you'd be happy to know that the review I have written for this article will especially tackle on this matter.
But before I begin, let me tell you first and foremost that I am in NO way connected with the program, and I will NOT gain any profits if you decide to avail the DFY system after reading my "Is Pssst Commissions a Scam?" review.
So without further ado, let's begin…
Let's Meet the Two Founders of Pssst Commissions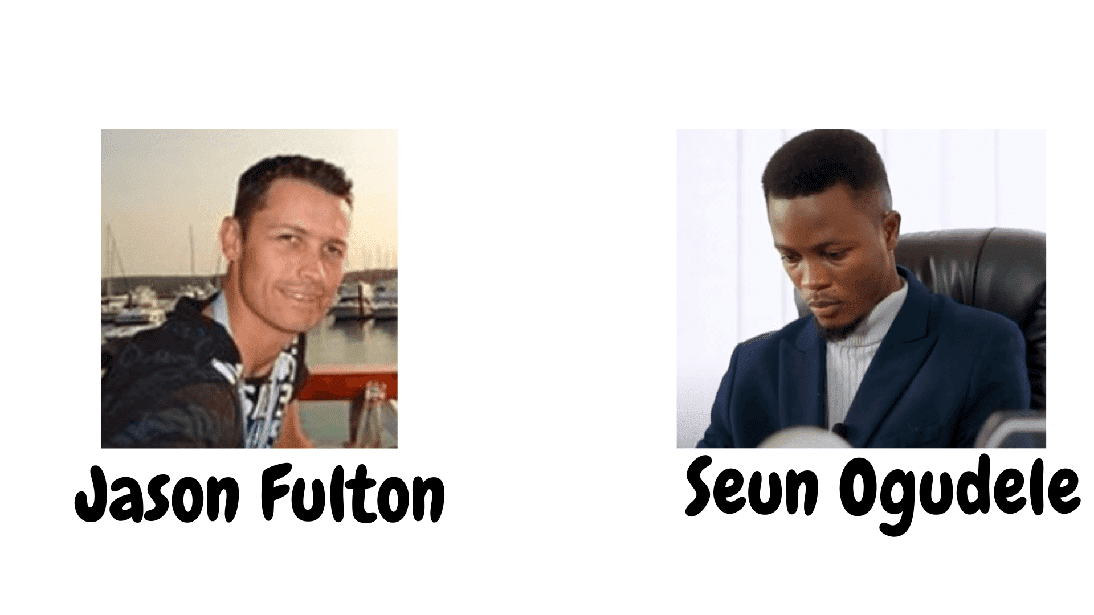 Pssst Commissions is the creation of two digital marketers, namely, Jason Fulton and his comrade Seun Ogudele.
I find it amazing that many of these "internet gurus" are giving out overhyped claims, showing off suspicious proof of income, and presenting a luxurious lifestyle, yet they are very stingy in disclosing their background and qualifications in the business.
And this seems to be the case with Jason Fulton and Seun Ogudele. You see them everywhere online, but it's kind of challenging to find sufficient background about them.
Both Jason Fulton and Seun Ogudele have a YouTube channel with 28.5K and 2.84K subscribers at the time of this writing—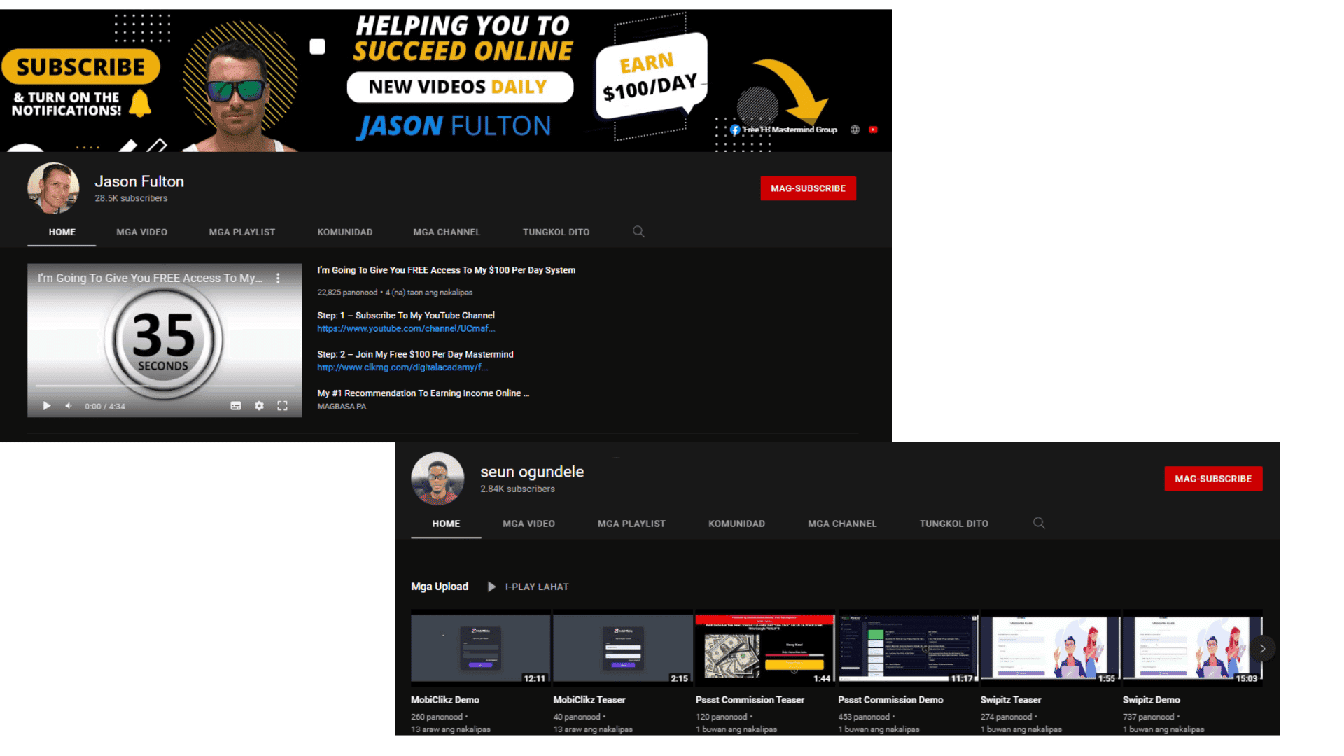 Also, according to StarsStat, Fulton's Youtube channel doesn't seem to be earning very much, and Ogudele isn't monetized as of yet—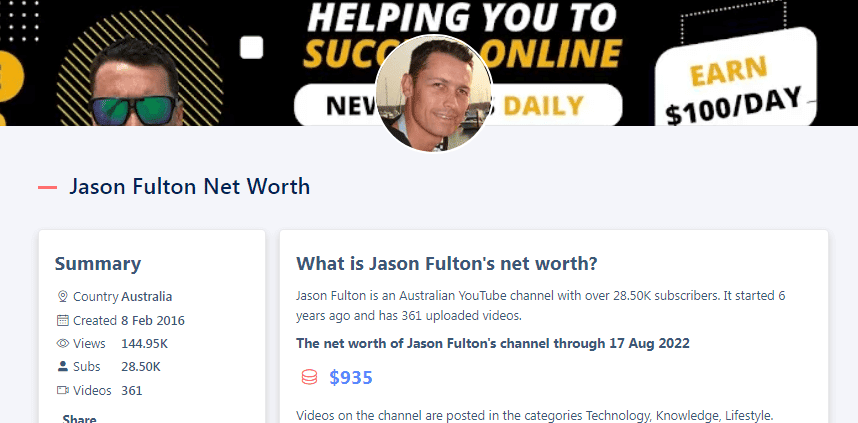 This net worth is calculated based on the publicly available CPM (cost per thousand views) paid by advertisers so the value of these stats is what they are "stats" about advertising revenue on Youtube.
As you see, their Youtube accounts don't seem to be engaging a lot of people.
So does this mean—is Pssst Commissions a scam? Are they untrustworthy? Or is the program legitimate after all? Let's continue with my review and learn more about the DFY system…
What are Pssst Commissions?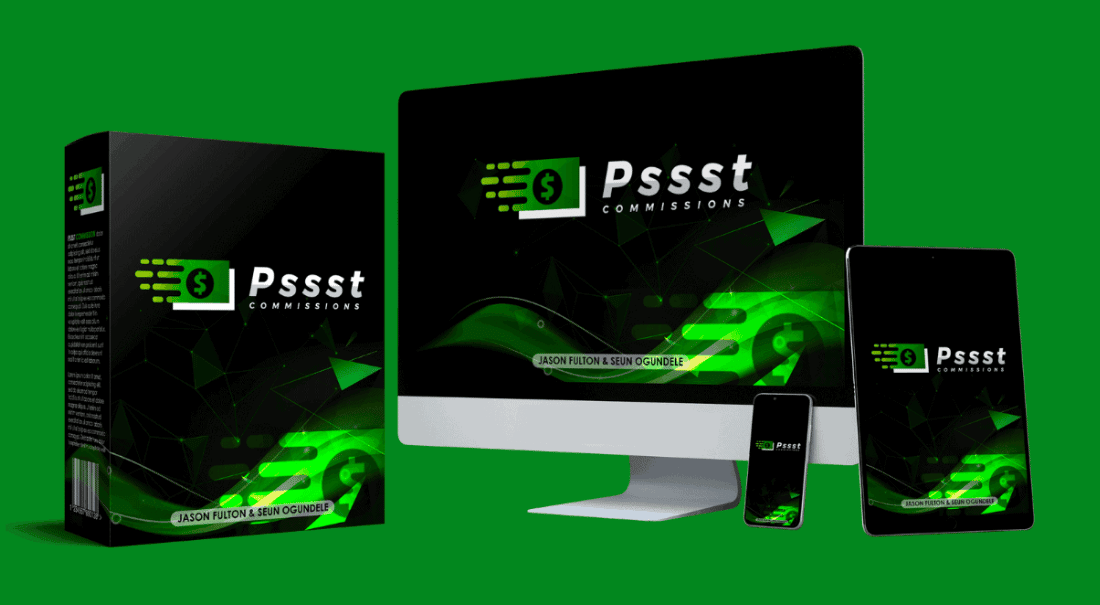 As you might have already guessed, Pssst Commissions is a DFY (done-for-you) system that provides its members with premade materials such as websites, blogs, learning paraphernalia, templates, and sales funnels, you name it.
Another name of DFYs that you might have heard of is a copy-paste system. And the reason why this is the case is that the idea of DFY is that you are to copy their supposed successful system and use it as your own.
Although they provide great promise that feels cringey at times, what they pitch won't exactly deliver what has been promised.
You have to remember that one success in digital marketing doesn't necessarily translate to the success of others, especially if the content is an outright duplication.
Allow me to explain…
Social media platforms and search engine sites like Google and Facebook have a heightened restriction on duplicating materials, and they deem them as spam and potentially risky to their users
I generally don't recommend DFY systems because the marketing pitches for them are usually overhyped and misleading, but in reality, it produces low-quality traffic and yield extremely low profits.
I have reviewed several DFY or copy-paste systems in the past. And some examples are as follows—Perpetual Income 365, Googlix, VIP Bot Club, and Payingsocialmediajob.com, just to name a few of the reviews I have published about DFY systems.
Or you can see the entire list of reviews and read more about the other articles I have written about by clicking this link.
But you can check out my best work-from-home recommendation if you are searching for a better source of income online that yields high and reliable profits.

How Much are Pssst Commissions?
If for some reason, you are interested in buying Pssst Commissions, they charge only $19 for the front-end system.
However, and like many DFY systems around, it also has upsells or upgrades, as they like to put it. They don't typically disclose the upsells when you first click on their link, and you will only learn about them once you have paid for the front-end cost.
Below is a list of the upsells that you have to acquire in order to gain access to some parts of their program—
Upgrade One: $47
Upgrade Two: $297
Upgrade Three: $47
Upgrade Four: $97
Upgrade Five: $147
Upgrade Six: $47
Upgrade Seven: $197
Upgrade Eight: $97
Upgrade Nine: $37
As a result, you'll end up incurring higher expenses than saving money.
The only positive thing about this is that they offer a 365-day refund policy if you are not happy with how the program is progressing. But overall, I don't think it's worth the stress.
If you are looking for a better source of income that can truly help you become more financially independent online, then you have to check out my best work-from-home recommendation!
How the Program Works
As I have already mentioned, the core part of the program is providing premade content and publishing as your own. Anyway, the mechanics of the DFY system is relatively simple. The following are the methods on how the program works, as they put it—
First Step: The very first thing you have to do is to enter your personalized referral ID (they call it "affiliate ID," but DFYs are not really affiliate marketing).
Second Step: Clone the website and ensuing marketing campaigns
Third Step: Activate traffic
Fourth Step: The last step is supposed to bring in the cash
Is Pssst Commissions a Scam?
Many DFY systems you'll come across over the internet are outright scams. However, I wouldn't go as far as saying that Jason Fulton and Seun Ogudele are scammers just because they are real people.
You see, some DFY publishers today commonly use a pseudo name to act as their founder and create an obviously romanticized backstory that should lure people into buying the bogus program.
Now, below is a reference to what other people are saying about the Pssst Commissions copy-paste system—
What I LIKE about Pssst Commissions
There is nothing positive that could lead me to recommend the program to anybody. Although founders are real digital marketers, I can't fully say whether they're a scam or legitimate.
It is best to stay away from this program and search for better alternatives that can truly help you reach your goals.
What I DON'T LIKE about Pssst Commissions
Now, the following are the things I don't particularly like about Pssst Commissions' DFY system—
Not Sufficient Information about the Founders
Even though they have a visible online presence, it doesn't mean that they are automatically legitimate. It is very challenging to find any credibility in the things they do if they are unwilling to share any information to back up what they claim to the public.
Expensive Upsells
Pssst Commissions have a total of nine upsells, and only six of them are under a hundred or fifty dollars. However, in reality, it would lead you to an approximate expense of $600! It is all just marketing tactics, you see.
Final Thoughts on My Review and My Personal Rating
I hope my review has provided you with the answer you need in answering this all-important question—is Pssst Commissions a scam? And why it is not a good program for you.
As I said, I do not recommend DFY systems at all. This is especially true if you are aiming to earn a program that yields reliable income that is able to support your lifestyle.
With this being said—I am giving the copy-paste program a 0 out of 10 rating—

In other words, the Pssst Commission is essentially garbage.
A Better Alternative to the Pssst Commissions Done-for-You System
One of the common pitches of DFY marketers is that they are an affiliate marketing program. However, this isn't entirely true because DFYs are more referral marketing than affiliate marketing.
Referral marketing is loyalty-based, and you earn commissions via successful invites from your family or friends. On the other hand, affiliate marketing allows you to engage the niche of your selection and publish the content according to that niche.
Affiliate marketing is focused on third-party businesses, and then you will earn commissions every time you are able to generate quality leads and sales conversion. This also means that your potential income is unlimited because you can basically promote as many businesses as you wish.
If you are looking for a program that can genuinely help you achieve financial independence through affiliate marketing, then you better try my best work-from-home recommendation!
I believe that is just about it in today's discussion on is Pssst Commissions a scam. Or is it legitimate after all?
And to show you my appreciation just by being here, I am also giving away my book for absolutely no cost to you in order to help you kickstart your affiliate marketing endeavor—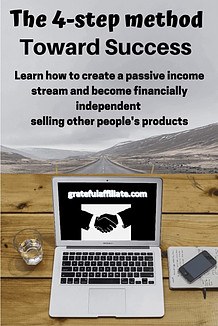 I believe that is just about it in today's Pssst Commissions review!
Peace!