Is Super Funnels Legit? Or is it a huge scam after all? If you have these concerns, then the article I've prepared will provide you with the answers.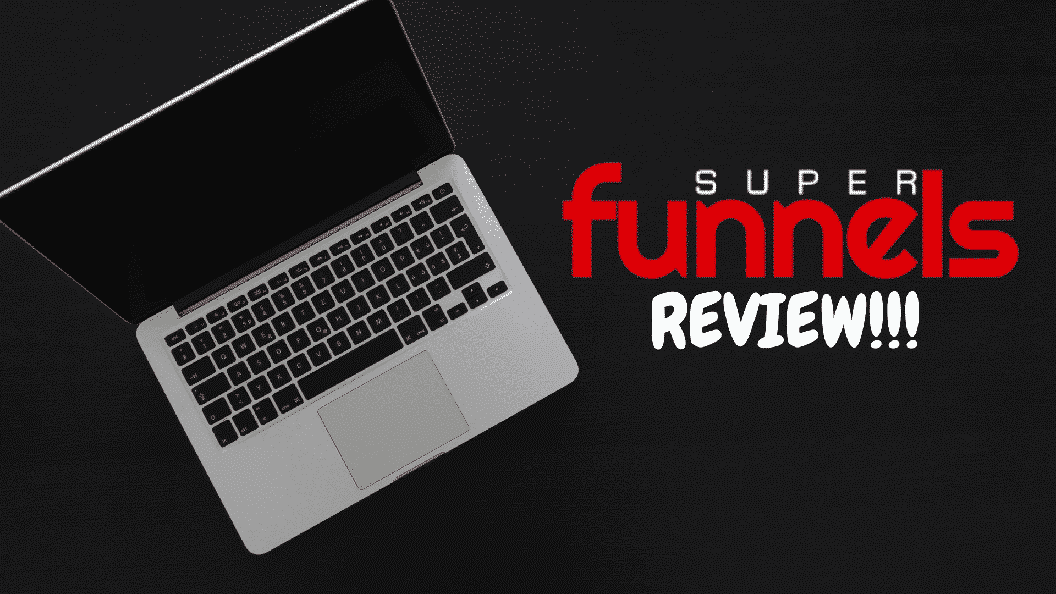 Is Super Funnels legit? Or is Brendan Mace another scammer you should refrain from doing business with?
If you're considering signing up to Super Funnels and have these concerns in mind, then you definitely have come to the right place!
In today's review, I will talk about the features, advantages, and disadvantages of Brendan Mace's program. And hopefully, it will help you decide if it's worth investing your time and money or should you search for more legitimate programs.
But before I officially begin, I indulge for a moment to share with you that I am NOT an affiliate of Brendan Mace, and I am in NO way going to benefit if you register for any of his products or upsells.
The article I have prepared is my unbiased opinion about the program and my analysis on the matter and if it could truly provide what they have promised in its sales pitch.
So without any further delays, let's begin today's topic…
Who is the Creator of Super Funnels?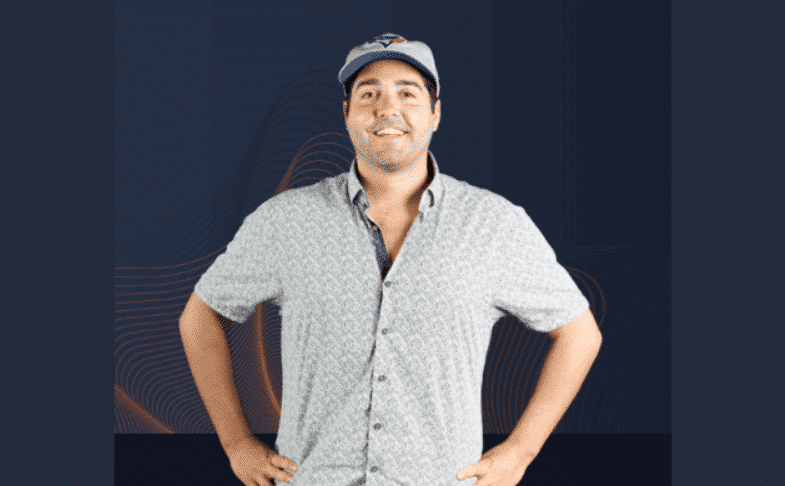 Brendan Mace is the creator of Super Funnels.
There's not much information about him over the internet. However, he has several social media accounts such as Facebook, Twitter, and YouTube. At the time of this writing, his YT channel has about 58K subscribers, as shown below—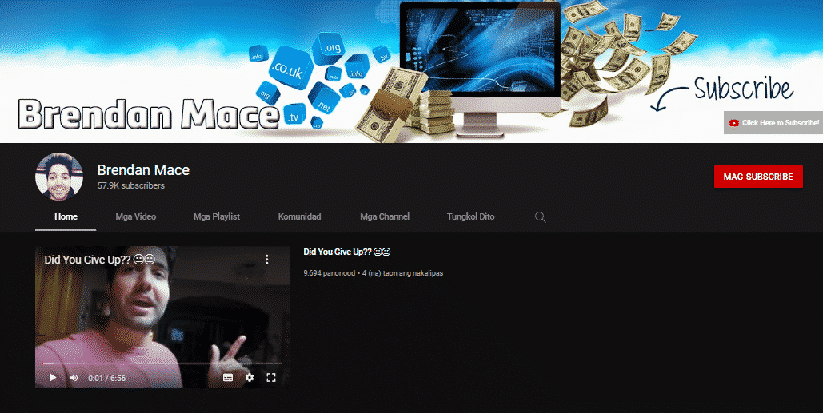 Like any other online marketer, he portrays himself as a success, but that doesn't seem to translate in the social media premise, as you see in the following data—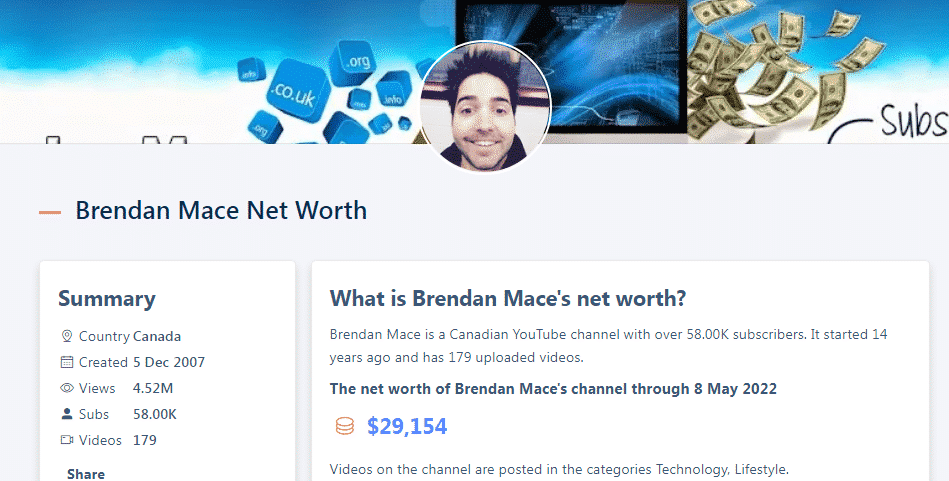 Aside from Super Funnels, he also developed other programs that offer various income opportunities, but most of them are DFY (Done-for-you) systems. Some examples of his work that you might have come across are as follows—
Print Monkey
Secret Weapon
The "No List" Secret
Zero Hour Work Days
I also previously reviewed two of his programs called Beast Funnels and Set & Forget. Although my initial conclusion to the programs is that they're not a scam, I don't recommend them either mostly because they are low-quality programs/systems and also very misleading.
They also offer the same DFY system. And I highly suspect that you would receive the same low quality and some repeated content from Beast Funnels in this system.
Rehashing content and rebranding them is a common practice in the make-money-online industry. But does this mean the program is a scam? Or is Super Funnels legit after all?
What is the Super Funnels Program?
Super Funnels is a program that sells a done-for-you system. As the name suggests, you don't have to do that much in this kind of program.
Everything is already made for you, and all you have to do is you have to get someone to click your personalized link with Super Funnels and persuade them to buy the system.
Another thing about DFY systems is that they advertised their low-quality program as an affiliate marketing system. However, this is not true, and it is more of referral marketing than affiliate marketing.
Under this setting, you are limited to only selling Super Funnels and its ensuing upsells. On the other hand, with affiliate marketing, you have the freedom to promote any brand that best represents your niche and advocacy.
And despite the hype that they redundantly mention in their sales pitch, the income potential for DFY systems is extremely low.
You have to bear in mind that you are basically buying a generic product. You are receiving the same content as the other person who purchases the Super Funnels' system.
Search engine consoles are strict on sites with repeated content because it sees them as spam. Thus, this will render your campaigns in Google, Bing, or Yahoo ineffective because they will just filter them out.
I've also reviewed several DFY systems in the past, and you can check them out if you like—VIP Bot Club, Googlix, Affiliate Traffic Bot, and Infinity Processing System, just to name a few of the reviews I have published.
Or you check out the entire list of reviews by clicking here.
How Much is the DFY System?
If you're interested in availing of the Super Funnels' DFY system, you only have to prepare an initial budget of $27.
This sounds very affordable, doesn't it?
You have to take note that the $27 is only the front-end cost.
So in the end, you will need to pay a total cost of $755 for the following five upsells in order to gain access to some of their upsells—
Max Commissions – $67
License Rights – $97
Done-For-You System – $197
Complete $1K System – $197
Limitless Traffic – $197
The "Limitless Traffic" is misleading. I think it's not Limitless Traffic after all. It's more of a Limited Traffic since, as I said earlier, your content is likely going to be filtered by search engine consoles.
And the additional expenses don't end there. Because you also have to for the following—
Paid Ads – $200
ManyChat – $30
Post Notification Script – $50
Although Super Funnels has training videos, it is subpar and most likely has been purchased from a PLR (Private Label Rights) site similar to Beast Funnels.
If you're looking for a source of income online that generates high profits and can help you become more financially independent, then you have to check out my best work-from-home recommendation!
Is Super Funnels Legit? Or is it a Scam?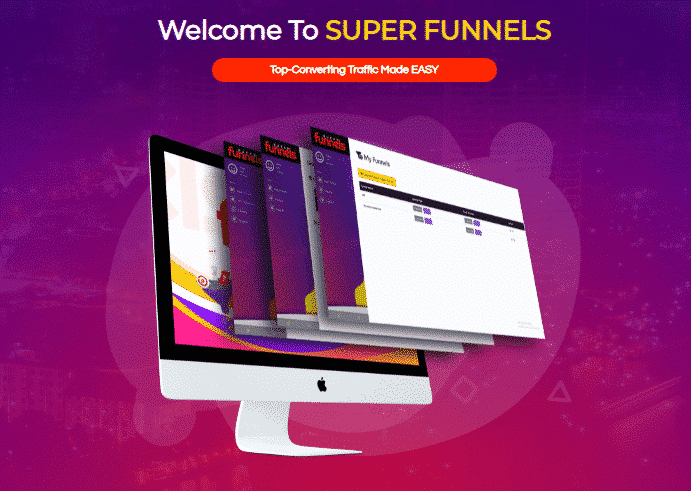 Just like my previous comments with Beast Funnels, I don't believe Super Funnels is a scam.
However, I don't recommend it either.
This is based on how low quality the program is, and also the fact that you would even end up spending about $1,000!
So yes, it's best that you stay away from Brendan Mace's DFY system.
What I LIKE about Super Funnels
Although Brendan Mace is a real person and has a YouTube channel, I did not find any positive characteristics that could lead me to recommend Super Funnels.
The program is all-hype, and the sales pitch is extremely misleading, which makes him appear a little desperate to generate leads.
What I DON'T LIKE about Super Funnels
Now, here are some of the things I don't like about the program that you have to take note of—
Upsells
Most online marketers wouldn't present you with the upsells until you have registered for the program.
As mentioned, the $27 may seem to be a steal, but you would end up spending about $1,000 due to the so-called upgrades.
Exaggerated Claims
As I repeatedly emphasized throughout the article, Super Funnel is all-hype and full of misleading sales pitches to attract customers into buying their low quality.
For example, "Make money in 60 seconds or less with 100% free traffic."
This is obviously just a marketing strategy to get money from your pocket – definitely NOT INTO your pocket!.
Another thing I like to point out is their claim of "100% free traffic."
However, due to their spammy content, the template you have received from them is likely to get filtered out by search engine consoles like Google, Bing, or Yahoo.
Low-Quality Training Course
Although Brendan Maces' Sales Funnel does offer a training course, I don't believe that it will be of any help to earning money…
If you're a newbie in the industry, I believe you're going to have a better chance of learning about the basics of affiliate marketing through the free resources available over the internet.
Hidden Cost
Aside from the upsells, there are also hidden costs that you have to consider. For example, you will have to incur expenses amounting to a total cost of $280 aside from the initial cost and upsells.
It includes programs like Paid Ads ($200), ManyChat $(30), and Post Notification Script ($50).
Unreliable Marketing Funnels
The funnels are basically all connected to Brendan Mace. What this means is that the funnels you have availed are going to cease to exist if he decides to put down Super Funnels out of nowhere. So you will end up with no leads and out of luck!
Takeaway in Today's Review and A Better Alternative to Super Funnels
I hope my review has provided you with the insights you need to determine why the program is not a good use of your time and money.
Yes, it's true that Brendan Mace is a social media personality and has over 30K followers on YouTube, but it doesn't mean that the program he is selling is quality and would help you achieve your financial goals.
His Super Funnels is advertised as an affiliate marketing program. But if you have been in the industry for quite some time, I'm sure you'd know that the platform he's portraying is not really the affiliate marketing you have in mind.
In reality, it is a DFY system where you are limited to promoting their products and funnels.
Affiliate marketing is among the most popular forms of eComm platforms around. And this is because it can provide financial independence once the business is set up effectively.
In addition, it's cost-effective and suits all levels of experience.
As popular as they are, the platform is also often misrepresented.
Affiliate marketing involves publishing content and promoting the products and services that best represent your niche and advocacy through your publications.
Consider checking out the link below if you want to learn how affiliate marketing truly works—
>>HERE'S MY BEST WORK-FROM-HOME RECOMMENDATION!
And to show you my appreciation for reading my "Is Super Funnels Legit" review, I'm also giving away my book for free to help you kickstart your affiliate marketing endeavor—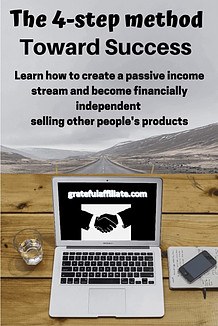 Well, I believe that's just about it!
I hope to see you in the next topics!
Peace!