In today's SEO Affiliate Domination review, I'll give you my analysis and insights if the training is a good use of your time and money or not.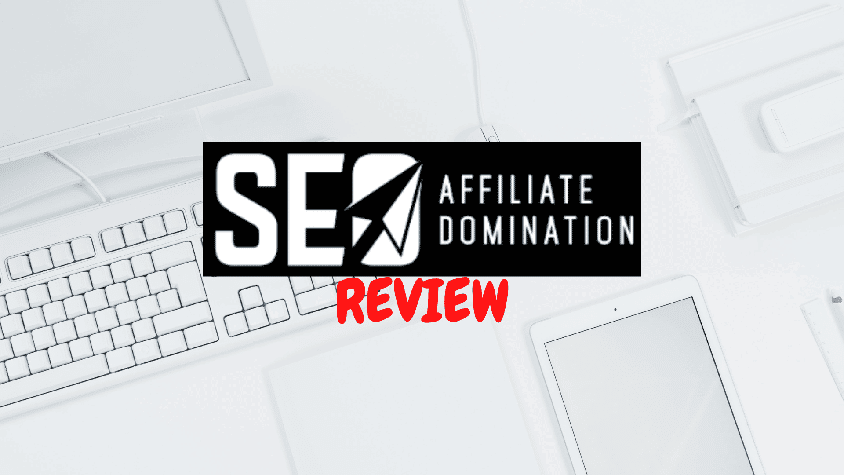 Greg Jeffries' SEO Affiliate Domination is a program that you might have come across as you browse for a legitimate online course or through an email you may have received.
Although their marketing pitch feels a little spammy, it might have still caught your interest, and you want to know if the program can truly help you in your digital marketing business.
And if this is indeed the case, then you'd be glad to know that the article I have prepared for you today will provide the information you need about the subject matter.
But before I begin, allow me to share with you first and foremost that I am NOT an affiliate of SEO Affiliate Domination and any of Greg Jeffries' digital programs, and I will NOT benefit in any way if you decide to purchase his programs.
So without any further ado, let's begin today's discussion…
Let's Meet the Founder of SEO Affiliate Domination
As I already mentioned, Greg Jeffries is the brains behind the SEO Affiliate Domination training program. He is successful in the field of affiliate marketing and has been doing a great job for over a decade now.
He also claims that he is earning about a six-figure income a year just by following the strategies and techniques he personally set.
Greg Jeffries is also the recipient of the Dream Car Competition Award that Clickfunnels organized. In addition to SEO Affiliate Domination, he is also the founder and owner of another eComm company he named Extemporaneous Marketing, LLC.
His experiences in the industry have inspired him to help others achieve a level of success like he did and master the methods he formulated for creating passive income. As a result, it gave him the motivation to establish SEO Affiliate Domination in 2017.
What particularly stood out for me about Greg's marketing pitch is that he doesn't make big promises about the potential of SEO Affiliate Domination. He is also very transparent, which is very admirable.
So does that mean Greg Jeffries is a trustworthy fellow? Is the training program legitimate?
Let's continue with my SEO Affiliate Domination review and learn more about the program…
What is SEO Affiliate Domination?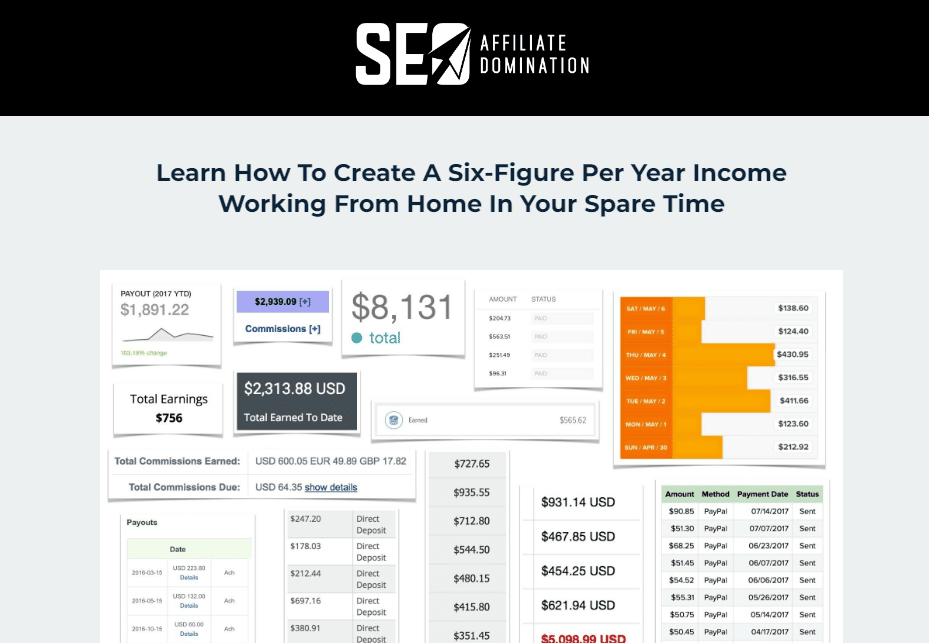 SEO Affiliate Domination is an affiliate marketing training program that takes 12 days to accomplish. The primary focus of Greg Jeffries' training is providing you with the essentials of generating quality traffic to your site through the utilization of SEO and sales funnels.
The training also lays out how you can improve sales conversion by creating engaging content.
Affiliate marketing is among the popular source of income online simply because no matter what your level of experience is, you can succeed in affiliate marketing as long as you have the determination to learn and the persistence to push through challenges and hardships.
Anyway, affiliate marketing is a commission-type online business where you earn commissions every time your audience clicks your affiliate links and avails of the products you are promoting in your content.
I also reviewed several training courses in the past related to affiliate marketing. Some examples of the articles I have published are as follows—Affiliate Escape Plan 2.0, SEO for Bloggers, Elite Blog Academy, and Simple Affiliate System, just to name a few of my publications.
Or you can check out the full list of reviews by clicking this highlighted description.
Although it teaches the basics of affiliate marketing, the downside of SEO Affiliate Domination has the high price, which I will discuss later.
If you are looking for a more affordable training program, then you have to check out my best work-from-home recommendation!

How does SEO Affiliate Domination Works?
As mentioned earlier, the training programs of SEO Affiliate Domination include the following 12 modules—
First Module: The Hows and Whys of SEO
Second Module: Domains and Hosting
Third Module: Registering Domains
Fourth Module: Setting Your Hosting
Fifth Module: WordPress Themes
Sixth Module: WordPress Plugins
Seventh Module: Keyword Introduction
Eighth Module: Keyword Planner
Ninth Module: Keyword Tools
Tenth Module: On-Page SEO
Eleventh Module: Off-Page SEO
Twelfth Module: Not the End
As you see, the modules of Greg Jeffries' program are pretty much self-explanatory. Also, another great thing about SEO Affiliate Domination is that they're relatively straightforward.
In addition to the basic lessons on content optimization, each member will also gain access to the program's exclusive social media group.
However, as good as the program may appear to be, they do not have software and other resources besides the modules and private online groups.
How Much is the SEO Affiliate Domination Training Course?
If you are interested in trying out SEO Affiliate Domination, then you have to prepare a budget of $997! If you don't have the money to accommodate the full price, you will can shell out three installment payments of $397—this will cost you total spending of $1,194!
Now, you have to remember that the program does not include any software or tools. Also, you have to take into account the expenses you need in establishing an affiliate marketing endeavor. Some examples of the costs you have to consider include—
Web hosting cost is estimated to be approximately $150 a year (But I know a place where it's a fraction of that price)
Web domain name cost is estimated to be $15 a year
You also have to consider keyword research and traffic tracking tools will cost you about $30 to $100 per month
I did not find any refund policy clauses, which is a disappointment. And this is considering how expensive the program is.
If you want a program that is more affordable yet can deliver equal or even better results, then you should check out my best work-from-home recommendation!

Is SEO Affiliate Domination a Scam?
No. Greg Jeffries' SEO Affiliate Domination is not a scam. It is a legitimate program that provides good training on SEO and how you can drive quality traffic to your site.
Below is what other people are saying about SEO Affiliate Domination—
What I LIKE about SEO Affiliate Domination
The following are some of the things I particularly like about the quality of SEO Affiliate Domination—
Greg Jeffries is Legitimate
Greg Jeffries is a legitimate digital entrepreneur with years of experience, that you can put your trust in.
Beginner-Friendly
SEO Affiliate Domination is a program that is excellent for people who are just starting from scratch.
Online Community
The program has an exclusive social media community of like-minded individuals.
What I DON'T LIKE about SEO Affiliate Domination
Although SEO Affiliate Domination is legitimate, there are several disadvantages that you have to take note of as well—
Expensive
First and foremost, the program is expensive. If you don't have the money or are plainly not willing to spend that much, then SEO Affiliate Domination is not the program for you!
Grey Hat SEO
I believe SEO Affiliate Domination is a quality program, but one of the red flags of Greg Jeffries' course is that it puts too much emphasis on DFY (Done for You) content and article spinning.
You have to keep in mind that DFY content and article spinning are highly restricted by prominent sites like Google and Facebook, which make it hard for you to generate any quality traffic at all by using these methods.
Lacks Paid Traffic Lessons
Although it's a good thing that they are providing lessons on organic traffic, it is also important that we know how we can utilize paid traffic to our advantage, which SEO Affiliate Domination is greatly lacking.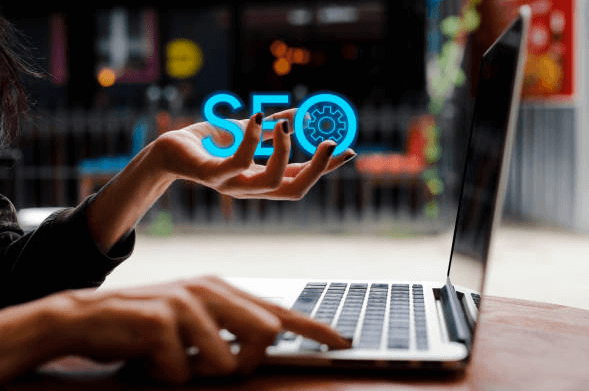 Final Thoughts on My SEO Affiliate Domination Review and My Personal Rating
I hope my SEO Affiliate Domination review has provided you with the insights you need on whether the program is the right for you or if you should continue searching for better programs that can help you get closer to your goals.
I honestly believe that SEO Affiliate Domination offers quality training on organic traffic, but my only issue with the program is that it is too expensive.
If you have the financial capacity to accommodate the required costs, then, by all means, you can try the program for yourself.
With this being said—I am giving the program a personal rating of 7 out of 10—
A Better Alternative to SEO Affiliate Domination
Affiliate marketing is extremely popular nowadays because of its capability to bring financial independence once the sites are properly set up and optimized.
Although SEO Affiliate Domination offers quality training, it may not be for people who are under a tight budget.
If you are looking for an affiliate marketing training that offers the full package yet won't cost you to break the bank, then consider clicking the highlighted description or button below:
>>HERE'S MY BEST WORK-FROM-HOME RECOMMENDATION!
I believe that is just about it in today's SEO Affiliate Domination review!
And to show you my appreciation just by being here today, I am also giving away my book for free to help you kickstart your affiliate marketing venture—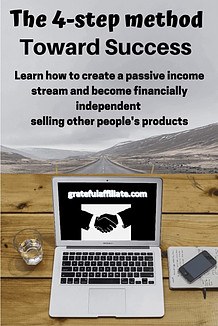 Thank you for your time!
Peace!