In this Elite CEOs review, I'll share with you my insights and analysis to let you know if it's a good use of your time and money, or if should you hold back from purchasing the program.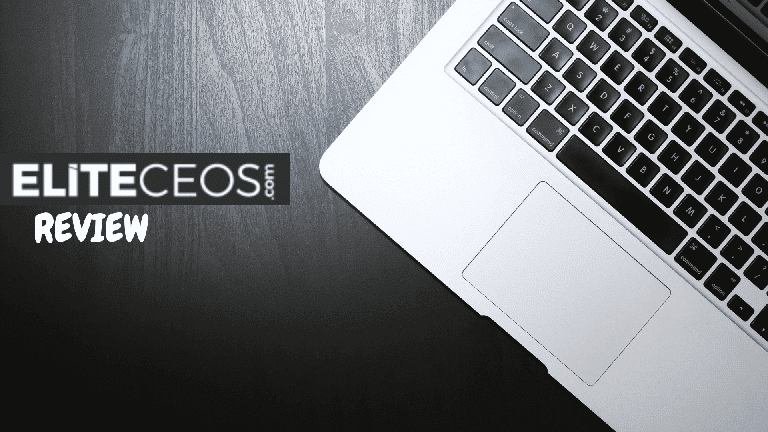 Tanner Chidester is a fairly popular internet guru and digital entrepreneur. And this is because, aside from his online courses, he also has an ample amount of followers on the internet in general.
With this being said, it is likely that you have come across Tanner Chidester's Elite CEOs program while searching for a legitimate and stable source of income online.
The potential income he claims his program can help you with is indeed appealing. In addition, he is a well-known personality in the digital marketing industry.
So does this mean the program is legit? Or is it a scam?
If you have these concerns in mind, then the article I have prepared for you today will particularly give you insights about the program and whether they're worth your while or not.
But before I begin, let me disclose to you that I am NOT representing Tanner's product in any way, and I will NOT benefit if you decide to avail of the program.
So without further ado, let's begin…
Let's Meet the Brains Behind the Elite CEOs Program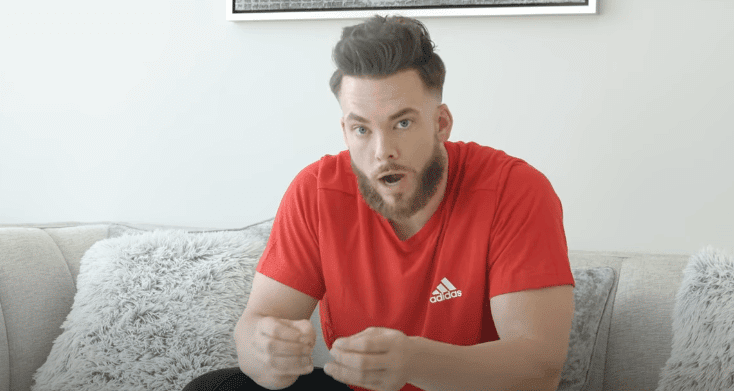 Before I begin discussing the specifications of Elite CEOs, it's important that we talk about the founder first. As mentioned, he is a relatively well-known digital marketing entrepreneur and has a somewhat interesting background.
Elite CEOs is headquartered in Friendswood, Texas.
Tanner Chidester claims that he is a self-made millionaire and generates profits of about seven figures through two programs of his creation. Aside from Elite CEOs, he also established Fit Warrior—a fitness coaching consulting program that also assists clients with their diet.
He started with nothing and from scratch and paved his way to success at only 27 years old.
But before he achieved the success he is experiencing, he actually began his career path in digital marketing by selling health and fitness plans after he dropped out of college.
Like many startup stories, he wasn't earning sufficient income to keep him afloat. In other words, he struggled greatly in his first years in business.
He had to work at the Olive Garden restaurant in order to pay his monthly bills and other essential expenses.
One way he was able to increase his income was when he realized that he could astronomically mark up his programs from $40 to $1,500, and people were still willing to buy them.
From there on, he was also able to significantly improve his income.
So does this mean he can also help you become financially independent as well? Or is he trying to scam people?
Let's continue with my Elite CEOs review and learn more about the program…
What is Elite CEOs?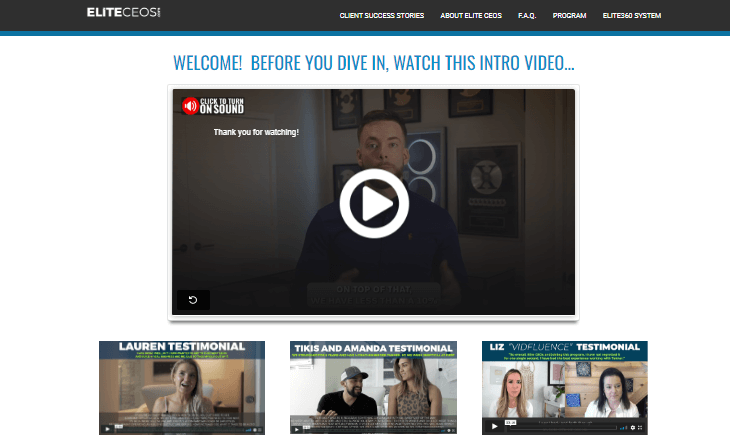 If his Fit Warrior program provides consultation on diet plans and anything about health and fitness, Elite CEOs is a consultation program to help online entrepreneurs how they can scale their businesses that would earn them a stable income.
The program is offered in two parts—the initial membership plan includes the basic solution to grow your digital marketing business. The other one includes coaching services from Tanner Chidester and his team of experts.
I will explain the details of the program's cost in the next sections of the article.
And as you will see, and in my own opinion, the program isn't suitable for beginners that don't have a sufficient understanding of digital marketing in general.
It might serve struggling digital entrepreneurs to gain traction in the business, but might not be as helpful to startups due to the lack of lessons related to the basics of the business that could help them flourish.
I have reviewed several similar programs in the past. You can read about them by clicking the following links—Project Thunderbolt, Simple Affiliate System, 7 Figure Seller Summit, and The BJK University, just to name a few of the reviews I have published.
Or you can check the full list of reviews by clicking this highlighted link.
However, if you are looking for a training platform that can indeed help you with digital marketing, starting from essentially zero to building a successful affiliate marketing business (like I did), then you should check out my best work-from-home recommendation!

How Do the Elite CEOs Works?
The initial sets of programs will provide you with lessons on the following—
How to set up your sales funnels
How to create a set of content that will comprise your funnels and marketing campaigns
How to search for the best high-ticket digital programs and how you can effectively promote them
How to set up your Facebook Ads and manage them
How to automate your system
In addition, it also provides the following benefits—
Introduction to Facebook Advertisements
Advanced Lessons to Funnel Setup
Organic Messaging 101
Facebook Group Marketing
Strategies for Messaging and Sales Calls
Other than the lessons, there are other features such as—
Additional Five Training Modules
Access to Private Facebook Group
Live Webinars and Question and Answer Sessions
PLR Resources
If you are happy with the program, you may also purchase their coaching services. However, it will cost you much more than the initial cost.
Let's talk about the fees in the next section of the article…
How Much is the Registration Fee for Elite CEOs?
As mentioned, Elite CEOs have two tiers of membership classification. The initial registration fee for Elite CEOs is $37, which gives you access to the basic modules and some of the perks of the program.
However, if you want the whole package and be coached by Tanner and his team of experts, then you will have to cash out a total amount of $2,500 which is part of their coaching to create and sell a high-ticket online coaching business.
You will need some kind of expertise in some particular kind of coaching (i.e. Marital problems, quitting smoking, getting great abs in 30 days, etc.) in order to develop that high-ticket program that you will sell. Elite CEOs will teach you how to package the knowledge that you already have into a high-ticket program
There are also monthly fees which are the following—
Email autoresponder costs $30 per month
Traffic tracking software costs of approximately $30 per month
Clickfunnels for a cost of $127 per month
Unfortunately, the program does not have a refund policy. Thus, you have to think it through if you are considering Elite CEOs to help you scale your business.
But in reality, you really don't have to spend this much on a program that can help you with your digital marketing venture. There are a lot of cheaper and even free resources that you can opt for.
And if you are looking for a more budget-friendly program that can help you become financially independent online, then you have to check out my best work-from-home recommendation!

Is Elite CEOs a Scam?
No. Elite CEOs is not a scam.
Tanner Chidester is a legitimate digital entrepreneur and internet guru with years of experience in the industry.
Although the program has an initial registration cost of $37, you may have to spend a total amount of $2,500 to fully benefit from the program. In addition, there are no refund policy stipulations which is a huge red flag, in my opinion.
Below is what other people are saying about the program—
What Do I LIKE About the Elite CEOs Program?
Now, the following are the thing I particularly like about Elite CEOs—
Tanner Chidester is Legit!
Tanner Chidester is legitimate. And I believe he can help you achieve your financial goals in digital marketing.
Access to Exclusive Social Media Community
It gives you access to their online community of like-minded individuals.
Positive Overall Rating and Comments
The program has obtained an Excellent overall rating in Trustpilot—

It also has received a lot of positive comments from its members with a 4.9 out of 5 on Trustpilot: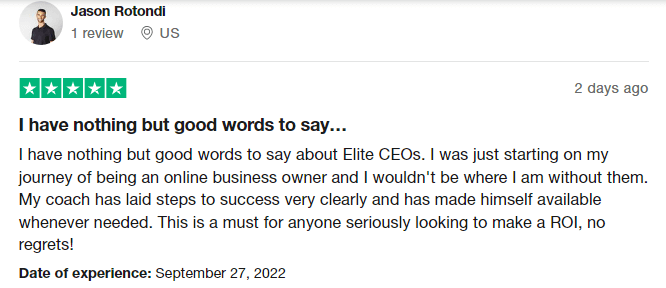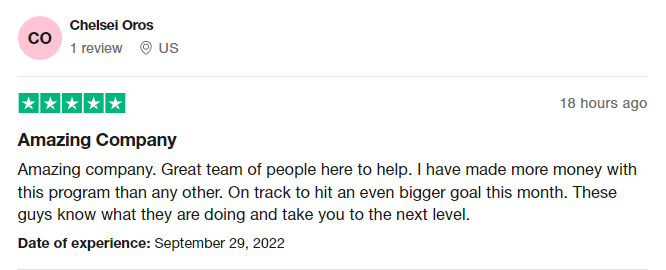 What I DON'T LIKE About the Elite CEOs Program
Below are the things I don't like about the Elite CEOs program—
Expensive Additional Costs
You need to pay over $2K in order for you to fully benefit from the program. You will also have to incur additional monthly expenses of over $100.
It is Not Suitable for Beginners
The program is only suitable for people that already have experience in digital marketing. It is targeting people that already are experts in some niche, and are ready to go that extra mile to get their coaching to the next level. Basically in one of these three categories: Health, Wealth, and Relationship. But it could be applied to anything else you might be involved in and want to share with the world.
Final Thoughts on My Elite CEOs Review and My Personal Rating
I hope my Elite CEOs review has provided you with the information about the program and helped you determine whether the program is worth your while or if you should keep away from them and search for better options.
It is a good program for people who are experts in some sort of niche and want to scale their business to the next level, but it may not be as useful to startups and beginners. You can turn to the next section for my recommendation about the subject matter.
However, if you are willing to spend the money and get expert help that will help you get out there with your coaching abilities and grow your business with the power of the internet, then, by all means, go ahead and try the program (at your own risk).
With this being said, I am giving Elite CEOs a star rating of 9 out of 10!

An Alternative to Tanner Chidester's Elite CEOs Consulting Program
Affiliate marketing is a popular eCommerce that many people turn to because of its amazing ability to bring high income no matter what your level of experience in digital marketing is.
In fact, it is the same eComm platform that I have used over the years, and it has helped me become financially independent.
Among the reasons why they're popular is because of the following factors—
It suits all levels of experiences
You can use any kind of passion and/or hobbies of yours and exploit the fact that you know how to help others with your knowledge
It has low risk and low investment
You are not directly involved with inventory management
No sales call involved (If you are like me and don't want anything to do with cold sales calls over the phone)
It is cost-effective
You can start your own business (with your own website) with a budget of about $500 for the first year.
The potential income is limitless since you can promote as many products as you like
If you are interested in knowing more about affiliate marketing and how it can help you economically, you should check out my best work-from-home recommendation!

I believe that is just about it in today's Elite CEOs review! And to show you my appreciation just by being here, I am also giving away my book for free to help you kickstart your business—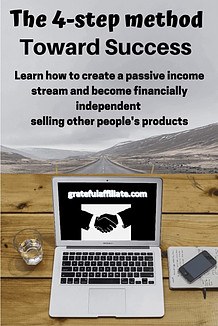 Thank you for your time in reading my article!
Peace!