Are you looking for a legitimate Amazon FBA program that can help you take your online business to the next level? Then the Rainmaker Challenge might just be what you need. This program promises to guide you through the ins and outs of Amazon FBA and help you achieve success in just 90 days. But is it really worth your time and money?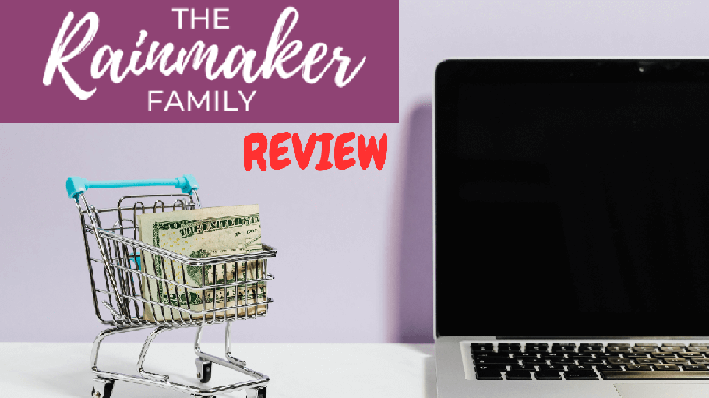 In this Rainmaker Challenge review, I'll look closely at the program and share my honest thoughts. We'll cover its good and bad points, giving you a complete picture of what the Rainmaker Challenge offers.
Amazon FBA businesses might not be as popular as regular dropshipping, but they can make good money when set up and run well. Is the Rainmaker Challenge the right program to help you succeed with Amazon FBA?
Keep reading to see if this program is a good fit for you.
Before we start, I want to make it clear that I'm NOT connected to the Rainmaker Challenge, and I WON'T make money or get any rewards if you sign up after reading this review.
So Who are the Developers of The 7-Day Rainmaker Challenge?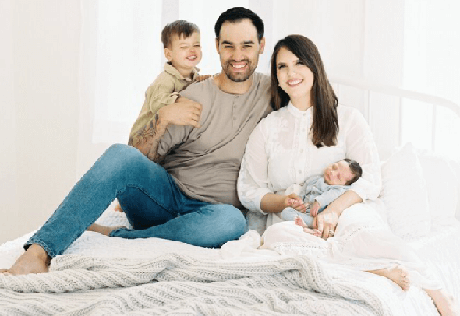 The 7-Day Rainmaker Challenge was created by real-life couple Stephen and Chelsey Diaz, who call themselves The Rainmaker Family. They promote their program as the ultimate way to make money with Amazon FBA, even while you're snoozing.
It's not entirely clear why they chose the name "Rainmaker," but it might have something to do with making lots of money.
Stephen and Chelsey's journey began at summer camp, where they became best friends and later fell in love. Together, they started a photography business called Trecreative that lasted for four years. They eventually decided to close it down so they could spend more time with their kids.
While the photography business was making good money, it was also really time-consuming and took away precious family moments. So, they shut it down and focused on their children.
To keep supporting their family financially, they turned to eCommerce, specifically Amazon FBA, which has been a big help for them.
Their story is definitely inspiring, but does it mean their program is the real deal?
Let's continue with The Rainmaker Challenge review and learn more about the program and what it can do to help you reach your goals…
What is The 7-Day Rainmaker Challenge?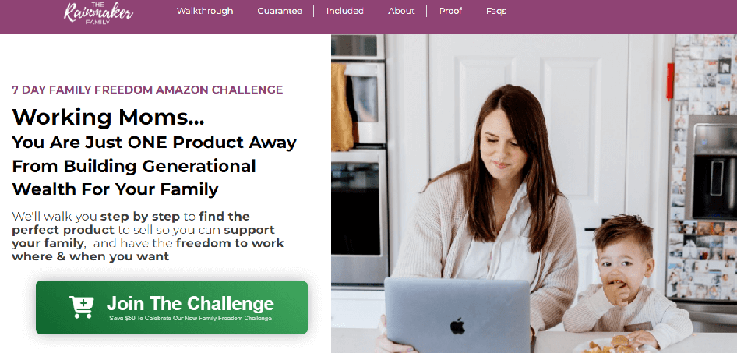 You might have already guessed that The 7-Day Rainmaker Challenge is a training program for Amazon FBA (Fulfilled By Amazon). The course specifically aims to help stay-at-home parents and homemakers earn a steady income while still spending quality time with their families.
I have to say, I like how they're promoting the program. But, in my opinion, it might be a bit misleading.
Amazon FBA is like dropshipping, except it's handled through Amazon.
What I find misleading is that dropshipping requires more than just seven days of hard work and dedication. It can take months before you start seeing any results.
I've also looked at many Amazon FBA, drop servicing, and dropshipping courses before. A few well-known ones I've covered include Supreme Ecom Blueprint, The Last Amazon Course, Drop Servicing University, and Performance Dropshipping, among others.
If you're curious about alternatives to The 7-Day Rainmaker Challenge and Amazon FBA for earning money online, don't miss out on discovering my top work-from-home suggestion!

What's Inside the 7-Day Rainmaker Challenge Training Program?
As the name suggests, this program lasts seven days. Unlike other courses I've checked out, it has a fixed timetable for the training instead of just offering video resources. This makes it feel more like a workshop than a usual training course.
Now, let's go over the program quickly:
First Day: Where to Start
On the initial day of the training, the basics of Amazon FBA are introduced by Stephen and Chelsey. They also talk about key points to keep in mind for achieving your objectives.
Second Day: How to Do This in Less than 60 Minutes a Day
The couple shares their insights on how you can create a stable passive income by dedicating less than an hour each day to your business.
Third Day: How to Powerfully Profit from the Start
Day three focuses on helping beginners gain traction and succeed, even if they don't have any prior experience.
Fourth Day: How to Make Your Business "Hands Off"
In the next part of the training, the founders promise that you can master the Amazon FBA business in about an hour. However, I find this assertion doubtful because true mastery of the business requires time and considerable patience.
Fifth Day: Find High-Profit Products to Sell
On day five, Stephen and Chelsey reveal how to research and choose the most profitable items to sell, based on their expert opinion.
Sixth Day: Go from a Product Idea to Physical Reality
The couple will then share their insights on how you can source your products from reliable manufacturers to turn your ideas into physical reality.
Seventh Day: How Do I Accelerate and Take My Business Bottomline to the Moon?
On the final day of the training or workshop, you will learn strategies to make your Amazon FBA business generate consistent passive income and drive your profits to new heights.
Bonus Features
Along with the main training, they also provide extra bonus materials designed to assist you in becoming successful with Amazon FBA. Here's a brief overview of the bonus offerings:
First Bonus: "How to Build During Your Nap" – This eBook explains how to create dependable passive income, even while you sleep.
Second Bonus: "Heather's Secret Tool" – Instead of being a set of tools or software for Amazon FBA, this is another book about generating passive income, told from the perspective of a woman named Heather.
Third Bonus: "How to Get Amazon Products for Free" – This resource will teach you where to find products you can sell at no cost.
Fourth Bonus: "Our Power Profit Tool" – For this bonus, you'll receive an actual tool designed to help you minimize mistakes, save money, and reduce expenses.
Fifth Bonus: "Followers2Dollars Instagram Course" – This course will show you how to turn your Instagram followers into paying customers.
Sixth Bonus: "Introduction to Our Product Sourcing Agent" – The final bonus aims to help you establish successful transactions with product suppliers by introducing you to their recommended sourcing agent.
How Much is The 7-Day Rainmaker Challenge?
I was pretty shocked when I found out how much it costs to join the Rainmaker Family. I thought it would be somewhere between $500 and $1,000. But it's way less than I expected. As of the time of writing this review, the main course is just $47 (discounted from $97) to get access to the basic training.
However, there are additional costs involved. Nonetheless, it is still cheap in comparison to other Amazon FBA programs like Supreme Ecom Blueprint and The Last Amazon Course.
However, here's a breakdown of additional costs you should be aware of:
Starting Costs: $1,000 – $10,000
While the Rainmaker Challenge has a relatively low entry fee of just $47, it's essential to keep in mind that starting an Amazon FBA business comes with additional costs. Stephen and Chelsea, the program's creators, recommend having a budget of $1,000 to $10,000 to successfully launch your business.
This budget should cover the cost of purchasing and storing inventory, as well as the various fees associated with using the Amazon FBA platform. For instance, Amazon charges seller fees, which include referral fees and subscription fees, and FBA fees, which cover the storage, fulfillment, and related services.
Aside from these costs, you may also need to allocate funds for marketing and advertising, such as running Amazon Sponsored Product campaigns, to help increase the visibility of your products and boost sales. Additionally, if you need to source products from overseas, you should also consider the costs associated with shipping and customs fees.
After buying the Rainmaker Challenge, you'll find a few extra offers (I call these upsells) to "enhance your experience":
Family Freedom Challenge Box (Free + $19.95 Shipping)
Get your hands on a helpful workbook and daily tips to guide you during the challenge. All you have to do is pay $19.95 for shipping.
Rainmaker Challenge Plus Experience – $127
For $127, you can dive deeper into product research with advice from experienced coaches. You'll also get a chance to win product research done just for you, snag a cheat sheet for product qualifiers, and have lifetime access to review the material whenever you want.
Rainmaker Lifetime Access Pass – $97
At $97, the Rainmaker Lifetime Access Pass lets you enjoy unlimited access to reruns, MP3 audio downloads, and transcriptions of the course content.
Is The Rainmaker Challenge a Scam?
No. I honestly believe that the 7-Day Rainmaker Challenge is NOT a scam.
It is a legitimate program that can help you with your Amazon FBA business.
Now, below is what other people are saying about the Rainmaker Challenge:
What I LIKE About the Rainmaker Challenge
The following are the things I particularly like about the Rainmaker Challenge:
Legitimate
Stephen and Chelsey Diaz are legitimate digital entrepreneurs.
Positive Trustpilot Rating
The Rainmaker Challenge has a pretty impressive rating on Trustpilot. 93% of people who reviewed it gave it 5 stars (out of 213 reviews). That's definitely something worth paying attention to!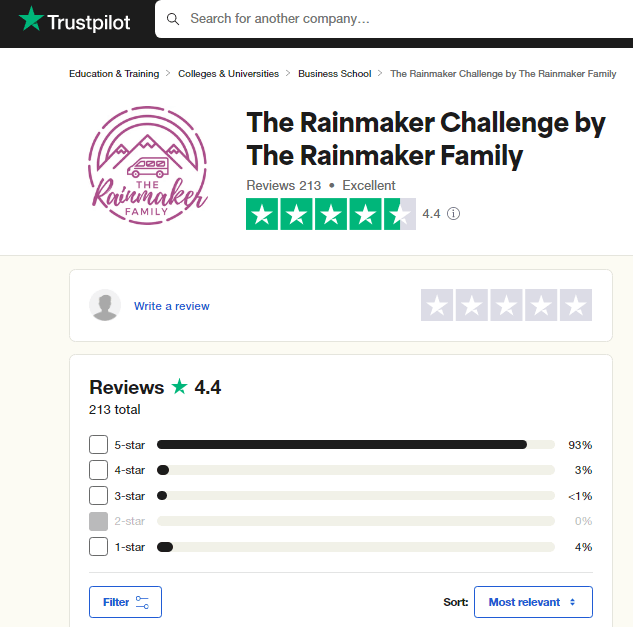 What I DON'T LIKE About The Rainmaker Challenge
The Rainmaker Challenge has a few areas of concern that you take note of, which includes the following:
Workshop or Training Course?
One downside is that there aren't any digital materials for the main courses that you can easily refer back to. You'll need to take notes during the sessions.
Plus, each session has a set time, which can be a pain if you can't make it or you're running late. I read in the system that you can watch re-runs for up to 14 days, but that is still annoying in my book.
Misleading Claims
Some aspects of the Rainmaker Challenge's advertising could be confusing. For example, truly mastering Amazon FBA takes months, not just one week (or 7 days, as they claim).
Very Short Refund Policy
They have a very short 3-day refund guarantee, which, if you ask me, is way too short to decide if the program's really a good fit for you or not!
Final Thoughts on The Rainmaker Challenge
The Rainmaker Challenge is an interesting program for learning about Amazon FBA, offering a structured 7-day training workshop. However, its claim of mastering Amazon FBA in such a short time might be unrealistic, as true mastery usually requires more time and experience. Additionally, it's important to thoroughly research the program, its creators, and user reviews to make an informed decision before investing in it.
Even so, it's a much more budget-friendly Amazon FBA training option, and you can give the program a shot to see if it suits your needs.
With this being said, I am giving The Rainmaker Challenge a final rating of 7 out of 10, with a deduction on the short refund policy and misleading claim.

An Alternative to the Rainmaker Challenge
Affiliate marketing has become an increasingly popular choice for people who want to generate a consistent income from the comfort of their homes. The appeal of affiliate marketing stems from its low-risk nature, minimal startup costs (sometimes as low as $500), no requirement for managing inventory or shipping, and the ability to earn an unlimited income by promoting multiple affiliate partners.
Since 2016, I've been using a powerful training platform that has been instrumental in helping me build a highly successful online business. This platform has enabled me to generate passive income, earning money even while I sleep. If you're serious about embarking on a successful affiliate marketing journey but aren't sure where to start, I recommend giving this platform a try.
Experience the transformative power of this training platform, which has revolutionized my online business and can do the same for you. Don't miss the chance to establish a flourishing online enterprise and secure passive income for yourself!
Click on the link or button below to learn more about this incredible opportunity and start building your dream business today.
>>HERE'S MY BEST WORK-FROM-HOME RECOMMENDATION!

And to show you my appreciation for being here today, I am also giving away my eBook for free to help you start your business: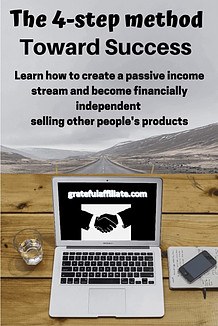 Peace!