In today's Supreme ECom Blueprint review, I'll provide an analysis of whether it is a good use of your time and money or not.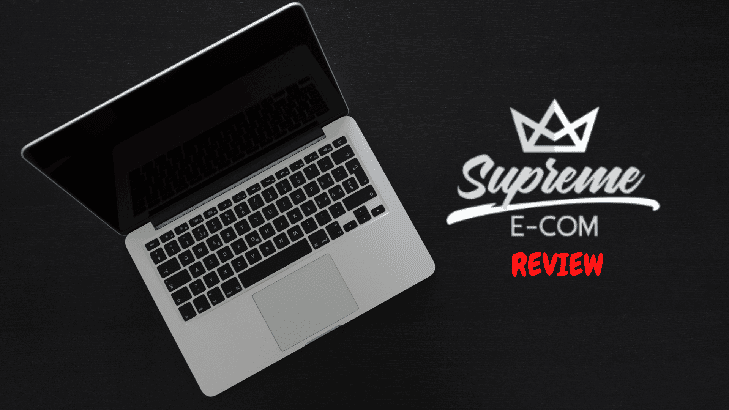 Dropshipping is an ECommerce model that has been around for many years. Although it is a challenging business to work with, it has the capability to provide financial stability in the long run once it is set up and managed effectively.
With that being said—a lot of dropshipping startups who desire to take advantage of its potential turn to training programs for help.
Unfortunately, not all training courses on the internet that make big promises are legitimate. And some of them are even outright scams that you should avoid at all costs.
So is Supreme ECom Blueprint the same as any other typical scam? Or is it a legitimate dropshipping program that can help you gain financial stability?
In today's article, I will talk about the features of the program and discuss its advantages and disadvantages. Ultimately, I will share with you my thoughts and analysis on whether they may be a good value for your money or not.
But before I begin, allow me to have this moment, first and foremost, that I am NOT an affiliate of Supreme ECom Blueprint, and I will NOT earn commissions if you decide to avail of their program.
So without further ado, let's begin…
Who Created Supreme ECom Blueprint?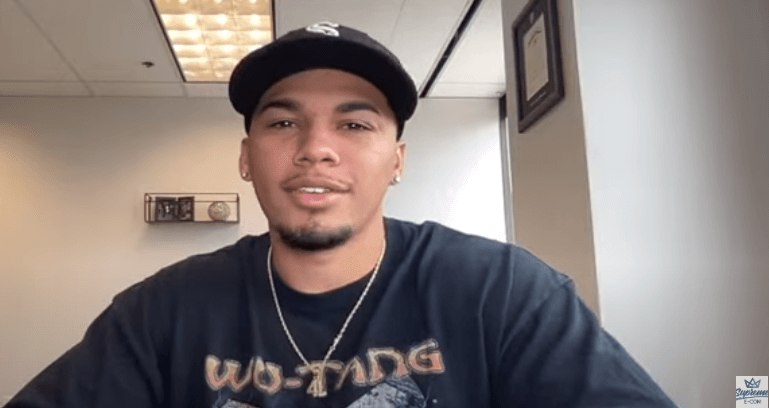 Supreme Ecom was developed by AC Hampton. He is a digital entrepreneur who has helped a lot of aspiring dropshippers build a profitable Shopify store.
If you happen to do research about Supreme Ecom Blueprint on your own, you'll find a number of positive comments about the program claiming that they were helped significantly by Hampton's dropshipping methods.
However, this isn't exactly the case with the pricing of the program, which I believe to be a little pricey. I will explain more about this as we move forward in today's discussion.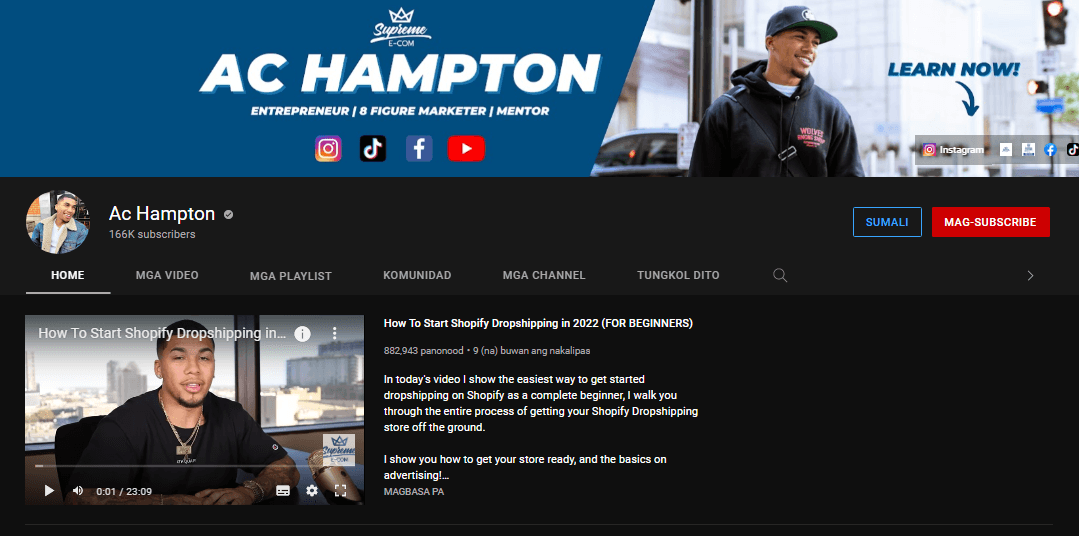 Anyway, he is also a social media personality on YouTube, where he has a decent amount of followers, about 19K subscribers. He regularly publishes content about dropshipping and other topics related to making money online.
There's not much backstory about his journey in the digital marketing industry, but some articles mention that he quit his regular job when he realized the amazing potential of dropshipping and eCommerce, in general.
Although this is my first hearing about him, I believe (from my research) that he is pretty legit, and his understanding of dropshipping can help those who desire to earn regular income from the business model.
Let's continue with today's Supreme Ecom Blueprint and learn more about the important specifics of the program…
What is Supreme ECom Blueprint?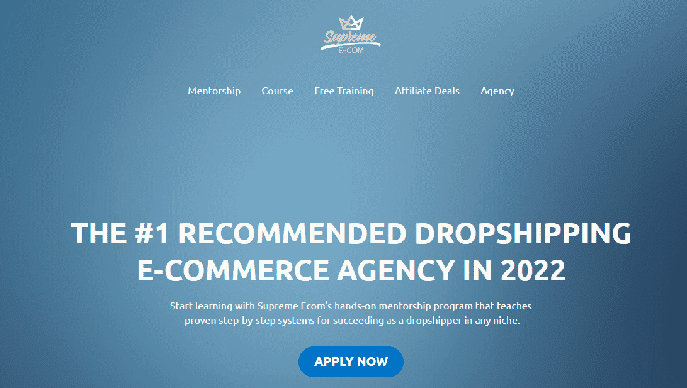 As you might have already suspected, Supreme ECom Blueprint is an eCommerce training course that primarily focuses on establishing a profitable dropshipping Shopify store.
The lessons provided in the training program are a combination of the basics of dropshipping and Shopify and the culmination of AC Hampton's experiences and expertise in the field.
Dropshipping can indeed deliver massive income if you have properly set it up and managed it effectively. However, creating and managing dropshipping is not a walk in the park.
Like any business, it requires capital to put up a dropshipping business. Of course, you can utilize the free trials and free services around you, but what happens if the free trial period has run out and free services won't be of any help at all?
You still have to place an investment of an approximate amount of at least $5,000 to properly establish your dropshipping business. This thought is something to think about before you delve into this business model.
In addition, you need the skills and ability to read market trends to succeed in this type of eCommerce model. This is where the services of Supreme ECom Blueprint will be beneficial for you.
I also reviewed several dropshipping and Amazon FBA programs in the past. You can read about them in order for you to know more about the other options you have—Drop Servicing University, Performance Dropshipping, Ecom Babe, AMZ Formula, and Ecom Profit Masterclass, just to name a few of the articles I have written previously.
But if you are interested in more about the other reviews I've published, then you can see the full list of articles by clicking here.
However, if you're searching for a source of income that's cost-effective and suitable even for beginners, then you should check out my best work-from-home recommendation!

How Does Supreme ECom Blueprint Work?
The lessons of Supreme ECom Blueprint are relayed in two methods which are in video format and a platform called Teachable.
The following is a summary of the course available to their members—
First Module: Back-End Shopify Set Up
Second Module: Steps to Running Your First Ads
Third Module: Video Testing
Fourth Module: Lookalike Audience Testing
Fifth Module: Retargeting Funnel
Sixth Module: Scaling
Seventh Module: Automate Your Store
Eighth Module: Important Bank Criteria
The modules are pretty much self-explanatory and straightforward. But you have to take note that although it has dropshipping basics, they mainly focus on Shopify creation and management.
With this being said—this online course may not be preferable for dropshipping newbies who are just starting up from the ground up or do not have any idea about dropshipping at all.
How Much is Supreme ECom Blueprint?
Supreme ECom Blueprint used to be around $500, but they have raised the registration cost to an amount of $746.25.
In addition to the main course, there are additional programs or upsells that are said to complement the entire program. The expected total amount you'll spend on the full package of Supreme ECom Blueprint is $3,875.
Now, if you are planning to sign up for the weekly one-on-one mentorship program, then it will cost you approximately $8,000. And there's an additional $371.25.
That is expensive!
Aside from being not suitable for beginners, it may also not be ideal for people who are under a tight budget and not willing to spend that much.
Lastly, no refund policy was stipulated, which is a huge disadvantage.
If you want a program that can teach you how to earn income online without having to break the bank, then you better try my best work-from-home recommendation!

Is Supreme ECom Blueprint a Scam?
No. Supreme ECom Blueprint is NOT a scam.
AC Hampton is a legitimate digital entrepreneur. You can put your trust in him to help you learn and build a profitable Shopify dropshipping store.
A word of caution, though—you have to manage your expectations if you are keen on signing up for the program because experiences may vary. And this is in consideration of the high price of the program.
The following are what others are saying about Supreme ECom Blueprint—
What I LIKE About Supreme ECom Blueprint
The following are the things I particularly like about Supreme ECom Blueprint—
Extensive Lessons
First and foremost, I like the extensive lessons they provide on Shopify account creation and its eventual management.
Social Media Utilization
Aside from the typical internet ads, the program also puts a high emphasis on using social media ads like Facebook to improve leads and sales.
AC Hampton is Legit
Lastly, AC Hampton is a legitimate drop shipper with years of experience you can trust.
What I DON'T LIKE About Supreme ECom Blueprint
Below are the disadvantages of Supreme ECom Blueprint that you have to take note of—
Expensive
The initial cost of Supreme ECom Blueprint is overpriced.
You can find programs that can teach you how to earn a stable income without having to spend even $100. And if this is the case, then you should check out my best work-from-home recommendation!
Expensive Upgrades
The other offerings of Supreme ECom Blueprint will cost you a total amount of over $8,000.
No Refund Policy (as far as I know)
No refund policy was stipulated, which is a huge con of Supreme ECom Blueprint, considering how expensive the program is.
Final Thoughts on My Supreme ECom Blueprint Review and My Personal Rating
I hope my Supreme ECom Blueprint review has provided you with the essential insights you need in determining whether the program is a good value for your money or whether should you continue searching for a better alternative.
Although the program can indeed guide you in creating a successful Shopify dropshipping store, I believe it is too expensive, especially if you are new to drop shipping.
But if you have the means to pay for the required payments, then, by all means, you should check out the program at your own risk.
With this being said—I am giving Supreme ECom Blueprint an 8 out of 10 ratings because of the quality of the training.

An Alternative to Supreme ECom Blueprint
Affiliate marketing is another popular eComm platform that is a better alternative to dropshipping because of several apparent reasons, such as—
It suits all levels of experience—no matter if you're a seasoned or newbie, you can succeed in this type of business model
It has a very low risk
It is cost-effective, and you can start the business with only a few hundred dollars in capital
Your involvement with inventory management and parcel delivery is not a necessity
Your potential income is limitless since you can promote as many brands as you like
Of course, it is not as easy as it sounds. You need the skills and ability to create engaging content to attract quality leads to your site and convince them to buy the products and services you are trying to promote.
Consider checking out the highlighted description below if you indeed want to know more about the mechanics of affiliate and how it can help you become more financially independent and live the life you always imagined to be without having to leave the comfort of your home—
>>HERE'S MY BEST WORK-FROM-HOME RECOMMENDATION!
I believe that is just about it in today's Supreme ECom Blueprint review!
And to show you my appreciation just by reading my article, I am also sharing with you my eBook for free to provide you guidance as you begin your own affiliate marketing venture—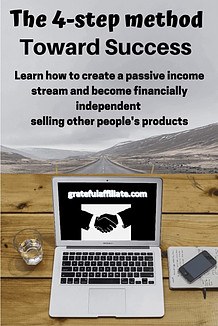 Thank you for your time!
Peace!