Welcome to my YT Money Master Course review! In today's review, I'll help you determine whether this platform is legit or a scam that you should avoid.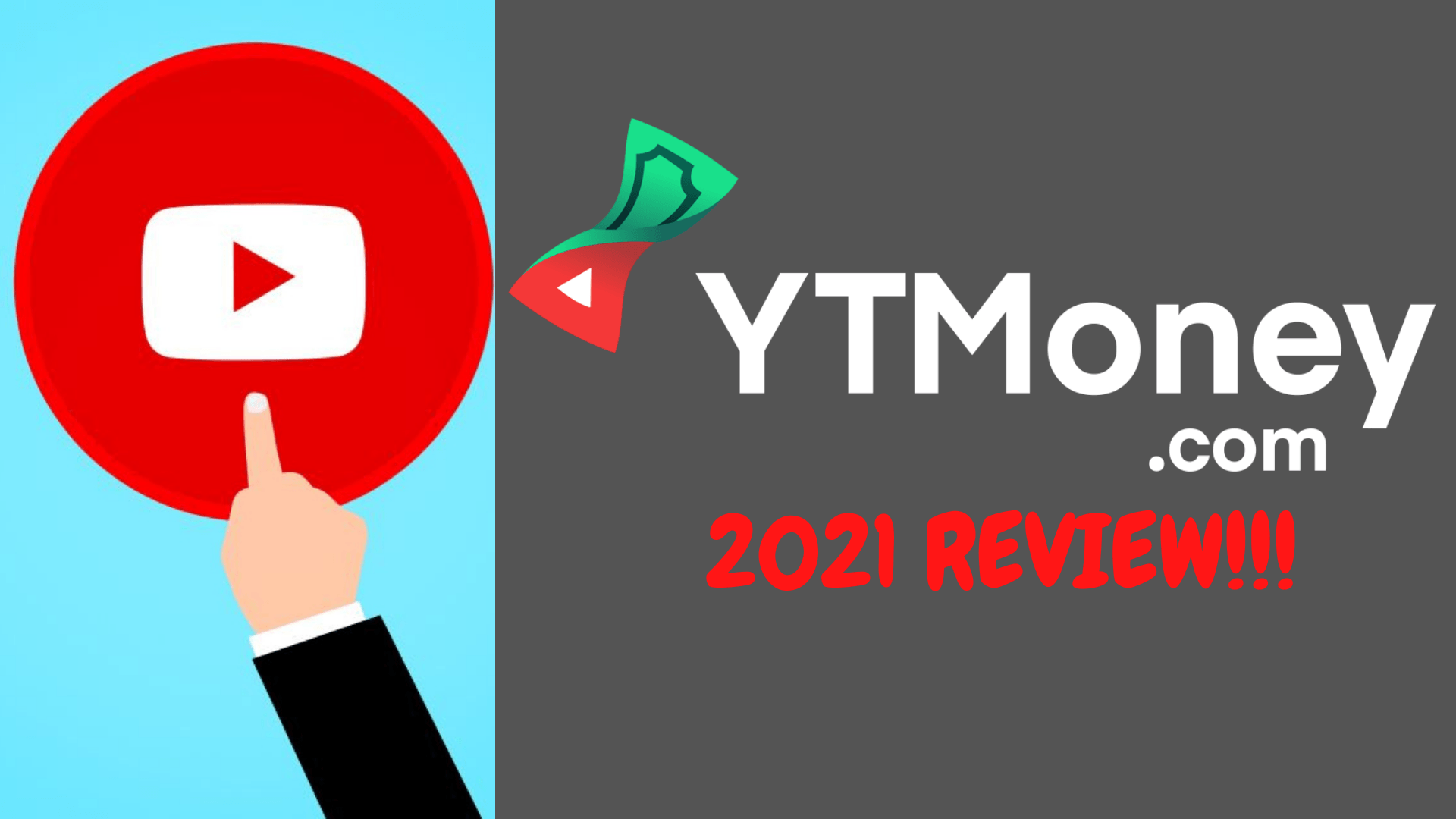 If you are here because you want to know whether Kody White's program is legit or just another scam, then you have come to the right place!
For today's topic, I will provide you a detailed analysis of the training course and help you determine if YT Money is the right course for you.
But before I begin, allow me to disclose that I am NOT an affiliate of Kody White. Also, I do NOT promote any of his programs. The contents of this article are my unbiased opinion about the training course based on my thorough research and understanding of how the industry works.
So without further ado, let's begin my YT Money Master Course review…
---
Product Name: YT Money Master Course
Owner/Creator : Kody White
Price: From $247 to $4,997, and up to $7,500
Recommended: Maybe…If you have a LOT of money to spend, but for most people it would be too expensive.
---
Who is Kody White?
Kody White is a 20-year old digital entrepreneur and creator of the online course called YT Money Master Course.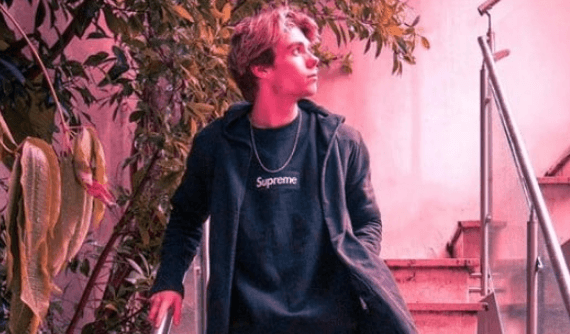 Although he teaches earning income through YouTube, I only managed to find one account under his name, and it also only has one video.
I checked on the "about" section and found his Instagram account.

He's a typical guru that you'd find on the internet. He shows off his luxury cars, mansions, flashy clothes, etc. So many guru lifestyles today are rented, but I am not sure if this is the case with Kody.
Also, I find it odd that he only has 18 posts overall despite having approximately 340k followers. This has led me to suspect that these followers are likely to have come from clickbait. By the way, the art of click-baiting is also included in his training course.
He also claims to "own 20 cash cow YouTube channels." But where are these cash cow channels that he is talking about? He didn't mention them, unfortunately.
And it is through his training course he aims to share his knowledge and help his followers earn significant income through YouTube.
However, there are ethical issues here since parts of the training are based on somebody else's creation.
I have written a lot of reviews in the past about earning money on Youtube and most of them turned out to be very low-quality systems. Here are some examples: YT Crusher, Tube Profit Sniper, and Tube Crusher
So does this mean that Kody White's program is a scam that an individual should avoid? Let's continue with my YT Money Master Course review and find out more about the program…
What is the YT Money Master Course?
Kody White's pitch is that through the help of his training course, you can become a high-earning YouTuber without ever showing your face to your audience.
So you might wonder if it's possible. Well, the answer is yes, but there are some ethical issues behind it, as mentioned.
Upon watching the promotional video on Kody's website, I immediately figure that the program he offers is similar to a widespread practice on YouTube. And that is—
Finding viral contents on YouTube
Identifying the elements that made it viral
Copying and modifying parts of the content to make it appear your own
If you're familiar with Caleb Madix's "The YTA  Method" or Kevin David's content-copy methods, then you'll find YT Money is sort of heading in that direction.
The practice of content copy on YouTube is prevalent in that you may find multiple videos with almost similar contents, while others are a blatant photocopy of the original.
If you look at it in another way, copying content from another creator for your personal gain is a form of plagiarism.
What's surprising here is that such action seems to be an acceptable practice, especially to those motivated by greed and who want to take advantage of YouTube's seemingly inability to monitor and filter contents.
In my opinion, no matter how the contents are spun, it is still a form of plagiarism if you fail to notify the owner of the contents or at least to acknowledge the original creators.
---
If you're looking for a reliable and more legitimate income opportunity online, then you have to check out my top work-from-home recommendation.
---

How much is YT Money Master Course?
The following are the costs of Kody White's programs—
YT Money – the training courses will cost you from $247 to $4,997,
YT Money Accelerator – it's a one-on-one coaching program that would cost you a hefty amount of $7,500
How does the YT Money Master Course work?
YT Money Master Course offers extensive topics on making money through YouTube's monetization program. The following are some of the modules you'll find in his training course—
Module One—Introduction to the program
As the title suggests, it basically comprises of what to expect in his program and the background of the programs' creator.
Module Two—Mindset
Like many gurus on the internet, Kody White is also a fan of making you believe that you don't have the proper mindset to be wealthy and attract abundance in your life.
Well, yes, maybe having the right mindset is important up to some extent, but it is not a powerful enough lever in helping you change your financial situation.
Improving your situation requires putting time and effort into the craft and creating value. But, if you're mainly focusing on mindset and attracting abundance, nothing will change!
Module Three—Introduction to YT Money
For this section, you get another introduction to the program. But this time, it includes niche picking, identifying viral niches, and channel verification.
Module Four—Basic of creating contents
The fourth module entails the necessities of creating content. Some of them include topics on—
Tools you'll need in hacking YouTube (as he puts it)
Basic equipment to start creating YouTube contents
Editing viral YouTube contents (yup, you've heard that right. You're editing YouTube videos that already gone viral)
Optimizing titles for mobile
Module Five—Getting your channel monetized asap
This part of the module will basically provide you the essentials of speeding up the review process, purchasing a YouTube channel that's already monetized, and partnering with a network.
Module Six—How to make viral videos
Kody doesn't really teach you how to make viral YouTube videos. Instead, he teaches you how you can copy parts of other creators' content and then edit it to make it appear that it's your own.
Module Seven—Getting a high click-thru rate on a video
For this section, Kody teaches you his technique on clickbaiting audiences.
Module Eight—Getting high audience retention videos
This module includes topics on—
 The preferable length of the videos
How to hook viewers up to the end
How to find viral videos
Module Nine—Search Engine Optimization
As the title suggests, this section of the training course is supposed to guide you on the basics of Search Engine Optimization.
Module Ten—How to optimize your monetization
It includes the essentials on—
Brand deals and brand marketing
How to increase CPMThe basics of Kajabi
Module Eleven—How to expedite the growth process and explode your channel
The module talks about more on the social media end, like optimizing Instagram shoutouts.
Module Twelve—Dealing with copyright issues
Kody shares his supposed number one secret in getting a copyright strike.
Module Thirteen—The BIGGEST problems YouTubers face and solutions
Kody shares some of the possible issues that a YouTuber might face. It includes concerns about limited ads, low CPMs, and channel demonetization.
YT Money Accelerator
Kody White also offers a one-on-one coaching program. However, I don't recommend YT Money Accelerator in any way because it is unreasonably overpriced.

Is YT Money Master Course a scam or legit?
YT Money Master Course is not a scam. It is a legitimate training course that teaches an individual how to earn income through YouTube.
It appears to me that he is indeed earning money from publishing YouTube content.
This may be the case—I don't recommend the YT Money Master Course in any way because I also believe that the $247 and $7,500 of the programs aren't worth your money.
For one thing, you can get free tutorials on the internet, and there are much better and more affordable ways to earn income online. And one example is my top work-from-home recommendation.
Cons—What I don't like about YT Money Master Course
It teaches clickbait
Although there are no strict laws penalizing people creating clickbaits, it is still a dishonest attempt to mislead and lure someone into clicking or engaging irrelevant content.
Terrible refund policy
Yes, they have a refund policy. The bad news is that it is only for 24 hours and you haven't gone through 25% of the training course.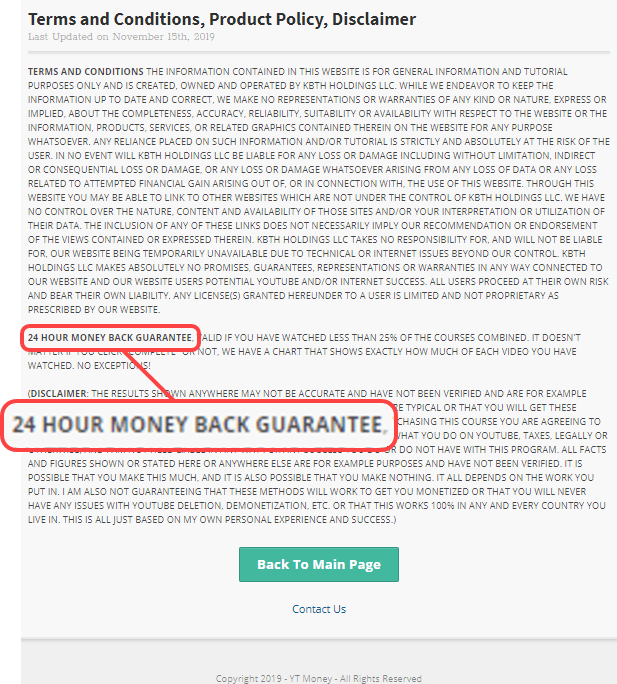 High priced courses
The $247 to $4,997 is unreasonable! You can get better and cheaper tutorials online or even for free on YouTube.
Lastly, the $7,500 price of its one-on-one training program is definitely overpriced.
High possibility of getting a copyright strike
As mentioned, the training program is all about finding viral videos and then editing them and calling it your own afterward.
Such practice is extremely unethical, especially if you failed to inform or credit the owners. And you'd likely get a copyright strike if the owners discover that you've used their contents for profits without consent.
Pros—What I like about the YT Money Master Course
Kody White is legit
Kody White is legitimately earning income from YouTube.
YouTube can be a reliable source of income
YouTube channels can be monetized even if you aren't popular or do not have millions of subscribers. As long as you have sufficient subscribership and viewership, then it is possible.
YT Money Master Course review: final thoughts
I hope my YT Money Master Course review has helped you in determining whether the program is a good value for your money or you should search for other income opportunities online.
Although the program is legitimate, I am not a fan of copying content from other creators. Also, I still don't recommend them because they are overpriced, the refund policy is terrible, and it teaches clickbait.
Let's continue to the last section of the article, and I will show you a better source of income online…
How I earn income online
Affiliate marketing is the best source of income online for several apparent reasons, and it includes the following—
It is free, to begin with
It yields a higher and reliable source of income
No risks
It suits all levels of experience
No need to handle inventories
No upsells
Potential income is unlimited because you can essentially promote as many brands as you like
And yes, your main task as an affiliate marketer is to market a brand using an affiliate link provided by the brand you're representing. And then, you earn commissions anytime someone engages the link and uses it to purchase the products or services.
Of course, your success in this type of online opportunity relies on the quality of traffic being driven into your sites' content.
If you're a newbie to affiliate marketing and have no idea where to start, then I have the answer to all your concerns!
Tickle the description and discover how you can create a stunning website that's driving a lot of traffic from scratch—
>> HERE'S MY TOP WORK-FROM-HOME RECOMMENDATION!
Well, I believe we've covered sufficient grounds here!
Thank you for the time and effort in reading my YT Money Master Course review!
And just for being here on my website, I am offering my free e-book that teaches the same method I use to earn money online, so go ahead and click the button below and get your own copy!
Peace!