Affiliate Lab is likely a familiar name if you're interested in improving your skills in SEO and affiliate marketing. In this review, I'll cover everything you need to know about Affiliate Lab, from the content and resources offered to the effectiveness of the training methods. By the end of this review, you'll have a clear understanding of whether Affiliate Lab is the right option for you to take your digital marketing skills to the next level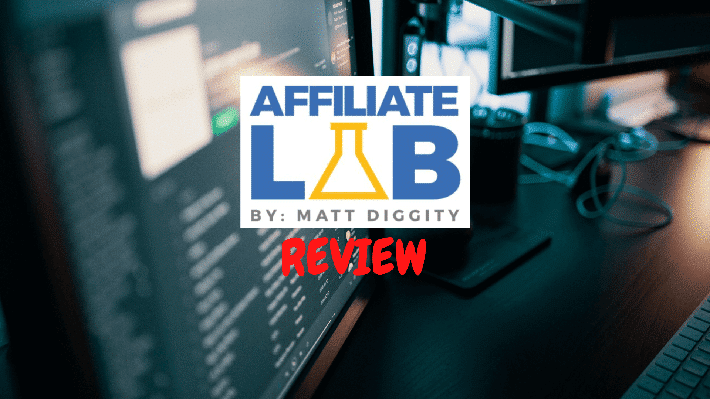 Affiliate marketing is among the popular work-from-home opportunities online because it allows you to earn a reliable income while creating the content you are passionate about, either through social media or blog publications.
With the rapid rise of eCommerce, many people around the world are eager to learn and succeed in business. This event also led to an increase in the demand for online training courses. Unfortunately, not all affiliate marketing programs that say they can help you are exactly truthful or provide you with quality training.
So is Matt Diggity's Affiliate the same as with other scam programs, or is it legitimate after? If you have this concern, then you'd be glad to know that the article I prepared will give you the insights you need to determine whether it is indeed the right choice or not.
But before I begin, allow me to have this opportunity to disclose that I am NOT an affiliate of Matt, and I will NOT earn anything if you decide to avail any of his products eventually.
So without further delays, let's begin…
Who is Matt Diggity?
Before I start discussing what Affiliate Lab is all about, allow me to introduce, first and foremost, the creator of this affiliate marketing program.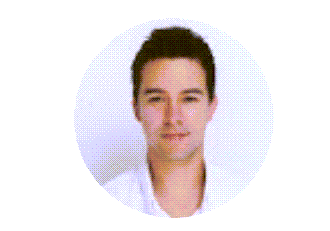 The story of Matt Diggity is something we can all relate to, especially those who feel stuck in a 9 to 5 job. He is an electrical engineer by profession but eventually quit his regular job after he experienced a nervous breakdown at work.
After the event, he felt lost and didn't know where to start all over again. He eventually discovered the amazing potential of affiliate marketing. Matt fell in love with the idea of earning a reliable income while working in the comfort of his home.
But as we all know, following your heart's desire won't be a cakewalk. In his bio, he mentioned that he experienced a lot of setbacks before reaching the pinnacle of success. He was already earning sufficient money early in his career as a digital marketer, but his websites would always be penalized and put down. Such events made it extremely hard for him to keep a steady income that would support his lifestyle.
However, this event didn't discourage him. Instead, it motivated him, and he started all over again and pressed forward whenever there were setbacks. During these periods, he also formulated techniques and strategies that worked for him, which you can also find in his training course.
With this being said—Affiliate Lab is the result of both the basics of Affiliate Marketing and SEO and the lessons he learned along the way.
Let's continue with my Affiliate Lab review and learn more about the training course he offers…
What is Affiliate Lab?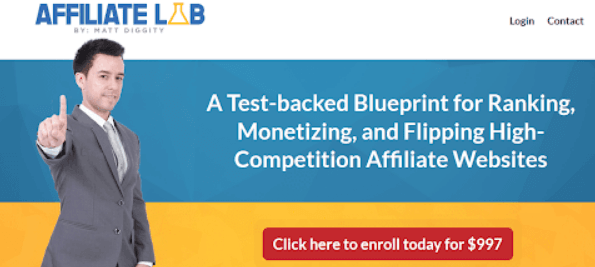 As you might have surmised by now, Affiliate Lab is an affiliate marketing program that aims to help you gain traction in the business through various tools or platforms. It includes building a website, creating landing pages, Search Engine Optimization, and product search and testing.
Affiliate Lab offers over 180 training videos that span 10 to 70 minutes each. I will discuss the overview of the module and what to expect in the next section of the review.
You will also gain access to their assistance team whenever you have issues with the program or decide to cancel your membership if you are unhappy with how the program is progressing. His team's customer support is very responsive, and you can reach them anytime through email. According to what I've read, they usually reply about one to two hours after the email is sent.
Lastly, the member will also gain exclusive access to their private social media community, such as Facebook.
I also have reviewed several affiliate marketing programs in the past, and you can read about them if you are interested—Super Affiliate System Pro, Affiliate Marketing Mastery, Simple Affiliate System, and AffiliSites, just to name a few of them.
Or you can see the full list by referring to this highlighted description here.
But if you're looking for a more affordable affiliate marketing program that can deliver quality training, then you have to check out my best work-from-home recommendation!
What's Inside the Affiliate Lab Training Program?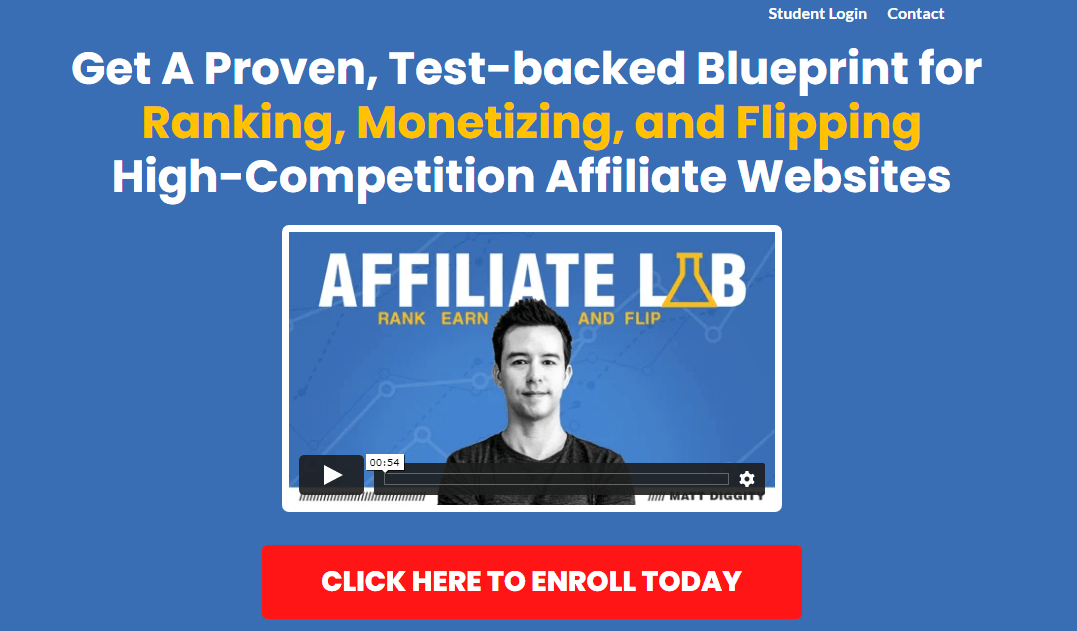 As mentioned, the program offers over 180 training videos that span 10 to 70 minutes each. Below is a summary of the modules included in the program—
First Module: Introduction
The first part of the training will introduce you to the program and what you can expect from joining Affiliate Lab.
Second Module: Niche Selection
In the next part of the training, Matt will share with you his insights on selecting the right topic that suits your niche.
Third Module: Onsite SEO
It's an in-depth training on onsite SEO, like topics on site architecture, keyword research, onsite optimization, affiliate links, etc.
Fourth Module: Offsite SEO
In this part of the training, you'll learn to establish SEO strategies that create quality engagement.
Fifth Module: Technical Audits
Matt will teach you how to evaluate your site to improve the quality of traffic and sales conversion.
Sixth Module: The Kitchen Sink
The term kitchen sink is used to refer to the troubleshooting techniques that Matt will provide in this part of the training.
Seventh Module: The Authority Site Module
The penultimate part of the training is all about the basics of creating authority sites.
Eighth Module: What's Next?
The last section of the articles is dedicated to motivating students to press forward and how to scale their business upwards.
How Much is the Registration for Affiliate Lab?
It was said that the original registration fee used to be a whopping one-time payment of $2,997!
And then, it was significantly reduced and priced at $997 as of today. However, you have to take note that the registration fee would go up to $1,497 if the number of members exceeds 50.
To some, the cost of $997 might not be affordable. So their solution is to make two installments of $597 instead of just a one-time payment.
But bear in mind that opting for the two-installment may cost you more compared to other forms of payment.
Although they significantly cut the cost, it is still expensive, in my opinion.
If you're looking for a more affordable program that can teach you affiliate marketing, then you have to check out my best work-from-home recommendation!
Is Affiliate Lab a scam?
No. I did not find any reason to believe that Affiliate Lab is a scam.
As I mentioned earlier and based on the information I've gathered so far, it is a legitimate platform that offers an Affiliate Marketing course.
As mentioned, the only downside of this training program is that it is very expensive, and they do not offer a refund policy.
The following is what other people are saying about Matt Diggity's Affiliate Lab—
What I DON'T LIKE About Affiliate Lab
A Bit Expensive!
The training course provided by Matt Diggity, while highly valuable and informative, may not be within the budget for every individual looking to enhance their skills in the field of affiliate marketing.
No refund policy
They do not offer any refund policy if you're not satisfied with the program.
What I LIKE About Affiliate Lab
Legitimacy!
Affiliate Lab is a genuine and trustworthy platform for learning affiliate marketing. If you're considering signing up with Affiliate Lab, you can be confident that you're investing in a reliable and credible program.
No Upsells
One of the notable features of Affiliate Lab is the absence of upsells. Once you join the training course, you can access all the materials and resources without having to purchase additional upgrades or packages.
Up-to-date Content
Matt Diggity is committed to providing relevant and current information in his training course. He constantly updates his content to ensure that members receive the latest industry insights, strategies, and techniques.
Beginner-Friendly Course
The detailed, up-to-date materials make it easy for newcomers to the field of affiliate marketing to understand the concepts and apply them in practice. The course provides a solid foundation for beginners, equipping them with the knowledge and skills they need to succeed in their affiliate marketing journey.
Final thoughts with My Affiliate Review and My Personal Rating
I hope my Affiliate Lab review has provided you with sufficient information about the training course and helped you in determining whether they're a good value for your money or should search for other platforms.
In my opinion, Affiliate Lab is one of the best SEO training courses online—they provide detailed and up-to-date lessons that every beginner and a seasoned affiliate marketer can benefit from.
Unfortunately, the price of the program is not the most budget-friendly option around. The good news, however, is that there are better alternatives that can deliver equal or far superior results without having to break the bank. And in the last section of this review, I will provide you with the highly recommended program that I have personally used.
With this being said—I am giving Affiliate Lab a solid rating of 8.5 over 10—

An Alternative to Affiliate Lab
Affiliate marketing is an excellent income-generating option that offers many benefits, such as:
Low risks
Potential to start with a capital as low as $500
Budget-friendly and cost-effective
No direct involvement in inventory management or shipping
Unlimited income potential through promoting multiple businesses
When you engage in affiliate marketing, you earn commissions every time someone uses your provided link to purchase products or services from the brand you're promoting.
The success of affiliate marketing largely depends on attracting high-quality traffic to your website.
This means targeting visitors who are genuinely interested in the products or services you promote. To achieve this, focus on creating valuable content, optimizing your site for search engines, and using marketing strategies such as social media, email marketing, and paid advertising. By consistently attracting the right visitors, you'll improve your conversion rates and find success in your affiliate marketing efforts.
Whether you're a complete beginner, unsure of where to start or someone with knowledge in the field but currently facing challenges, and you want guidance on this? Don't worry – there's a solution for you!
If you're seeking a high-quality program that teaches you how to succeed in affiliate marketing without breaking the bank, especially if you're on a tight budget, I highly recommend the training course I've been personally using for the past 7 years to build a profitable online business.
This platform may serve as an affordable alternative to Affiliate Lab, offering valuable insights and resources to help you excel in your affiliate marketing journey.
Ready to try my method? Consider giving the highlighted description or the button below a click:
>>HERE'S MY BEST WORK-FROM-HOME RECOMMENDATION!

And to show you my appreciation just by being here today, I am also giving away my eBook for free to help you start your business—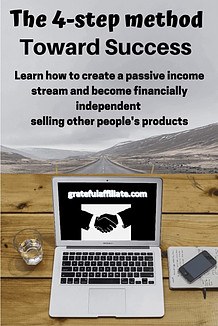 Peace!