Welcome to my Crowdtap review! For today, I'll help you decide if this site is worth your while or a scam that you should avoid.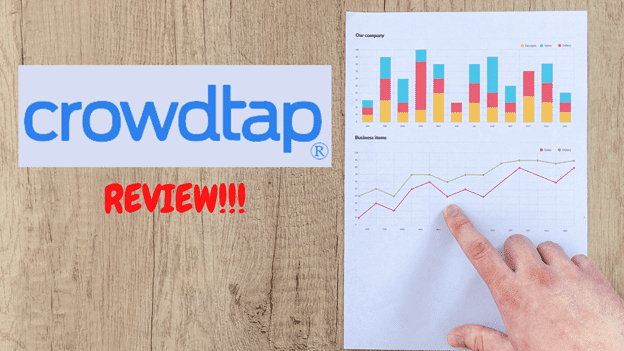 Welcome to my Crowdtap Review!
Although GPTs (Get-Paid-To) are not as lucrative compared to other income opportunities online, GPT tasks such as paid surveys are among the popular platforms around mainly because they're very easy and a quick way to earn some bucks.
If you're new to GPT, among the top-rated sites that you might have become acquainted with is Crowdtap.
And maybe one of the main reasons why they're popular is that the platform is owned by a legitimate digital entrepreneur and tech personality, Matt Britton (founder of Suzy).
So does this mean that the site is a good source of income as well?
Well, not necessarily.
For today, I will talk about the specifics of Crowdtap and help you determine if they're worth your while or not.
But before I begin, allow me to have this moment to share with you that I am NOT promoting Crowdtap in any way. And I will NOT earn any referral commissions if you decide to pursue the program.
This is my honest impression of the program and a review of the opportunity they offer.
So without further ado, let's start…
Who Developed Crowdtap?
Crowdtap was founded in 2009 by a prominent entrepreneur from New York named Matt B. Britton.
Aside from Crowdtap, he is also the founder and previously managed various successful companies like MRY or Mr. Youth (a tech and marketing company), Magma Group (a marketing research firm), and Suzy (it's an artificial intelligence software comparable to Siri or Alexa).
From these accolades alone, some of you might immediately surmise that he is legit and may check out the program without any hesitation.
However, you have to remember that this isn't always the case. As good as the platform may be on the outside, it may still have some flaws that would render them not suitable to some.
You still have to research and take note of its pros and cons to help you identify whether they're the right fit.
With this being said—let's proceed with my Crowdtap review and learn more about the site and how it works…
What is Crowdtap?
Crowdtap is a marketing research and data analysis agency that provides incentives and rewards to its members for participating in a particular study—the primary methodology that they are employing is the old-fashion survey, polls, and behavior tracker.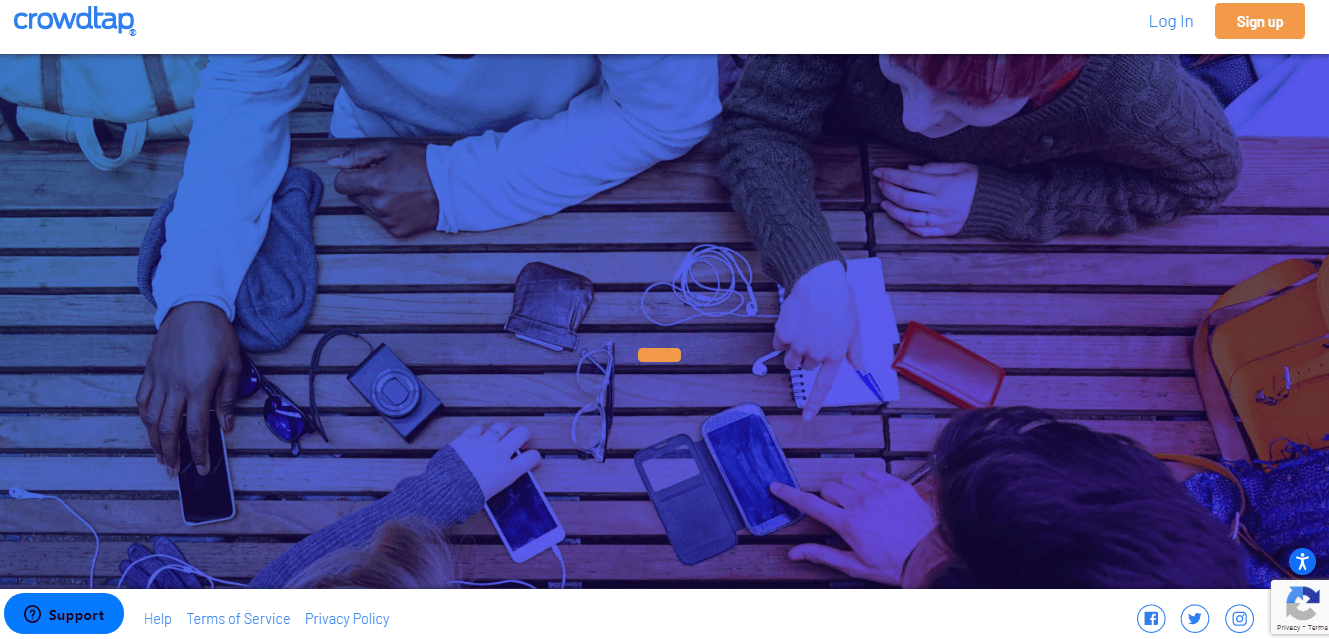 And yes, the tasks are that simple and straightforward. All you have to do is to respond honestly in order for them to gather the most accurate data.
Also, you need to take on initial tests during registration and before taking the actual survey to help the researchers determine whether you are the right candidate for the study.
Either way, the survey isn't complicated, as I explained earlier. And it should only take you about 10 minutes to a maximum of 30 minutes per task.
The task may not mean much to us, but the statistical information gathered from these studies may boost a company's profitability. It essentially gives them insights into consumer behavior and collective pulses of their market audience, which should help them improve their products and other services.
However, although it may have a substantial impact on the company, the fact still remains that the tasks are uncomplicated and won't require much work on your part. Also what this means is don't expect to earn any significant income with it either.
I will talk more about the potential income of paid surveys and why they may not be suitable for everybody in the following sections.
Any, I've also reviewed other income opportunities in the past. You can check them out if you like—eComm Warrior Academy, Laptop Lifestyle Academy, 7 Figure Seller Summit, and Super Affiliate System Pro, just to name a few of them.
Or, you can visit the main page by clicking here if you want to see the full list of product reviews.
Registration Process and How the Site Works
The registration of Crowdtap is relatively simple and straightforward—you only have to present their basic personal data like name, address, email, age, gender, birthdate, etc.
In addition, and like any GPT site, you also have to answer initial questionnaires in order to determine the demographics you belong to and help them generate the most accurate statistics.
After registration and complying with their initial requirement, it is only then you can attempt to participate in marketing studies. Before you can actually begin the survey, you have to take on a pre-qualifying test to help researchers further determine if you are indeed the right person for the study.
Once you pass, you will be redirected to the survey page.
Just like the registration process, the actual survey isn't difficult as well. All you have to do is to answer the questionnaire as honestly as possible. Also, it should only take you about 15 minutes to 30 minutes to get through the entire item.
You will initially receive your earnings in the form of points. And if you're wondering about the potential income and how members are paid, then let's continue to the next section…
Potential Income and Payment Method
Yes, GPT sites and paid surveys are an easy way to earn money online, but you have to bear in mind that they're not a good option if you're seeking a reliable source of income.
The pay is super low and won't be sufficient to cover your monthly expenses. In general, the average income per task of GPTs is within the range of less than a dollar, and it rarely goes up to $5. So, in other words, it's not money to buy groceries with.
Also, the frequency of tasks won't be as much as you might have expected. Such an instance makes it even more challenging to earn any sufficient income.
What makes it worse is that Crowdtap doesn't offer monetary incentives. Your rewards can only be redeemed in the form of electronic gift cards to popular online merchants like Amazon Prime, Sephora, Walmart, Red Box, NFL Gifts Shop, PlayStation Store, Google Playstore, etc.
However, you need 1,000 points first before you can redeem your gift cards—this is equivalent to $5 reward points.
If you're looking for a better income opportunity that can deliver financial stability, then you better try my top work-from-home recommendation!
Is Crowdtap a Scam?
No. I don't think that Crowdtap is a scam.
I believe that it is a legitimate site that rewards you for answering their surveys.
However, there are several disadvantages you have to take note of if you are interested in the site…
What I DON'T LIKE about Crowdtap
I have listed some of the downsides of the program—
Limited to North America
The access to Crowdtap is exclusive to individuals who are residing in North America.
No Cash Rewards
As mentioned, Crowdtap only offers gift cards, and there are no cash incentives available.
Poor Consumer Rating
Crowdtap has a poor overall rating from two of the prominent sites like the BBB (Better Business Bureau) and Trustpilot.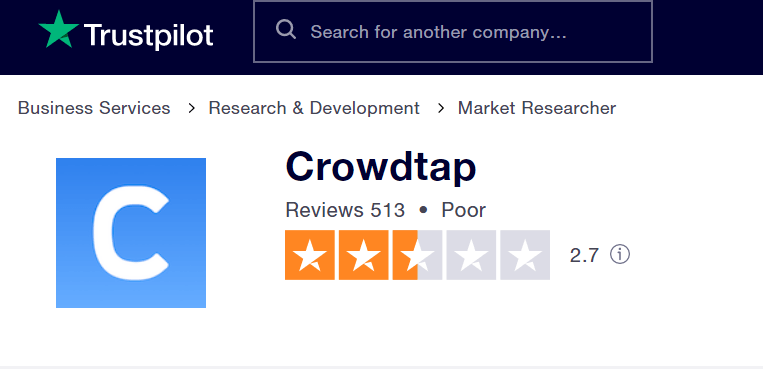 Terrible Customer Service
Among the top concerns about Crowdtap is their terrible support—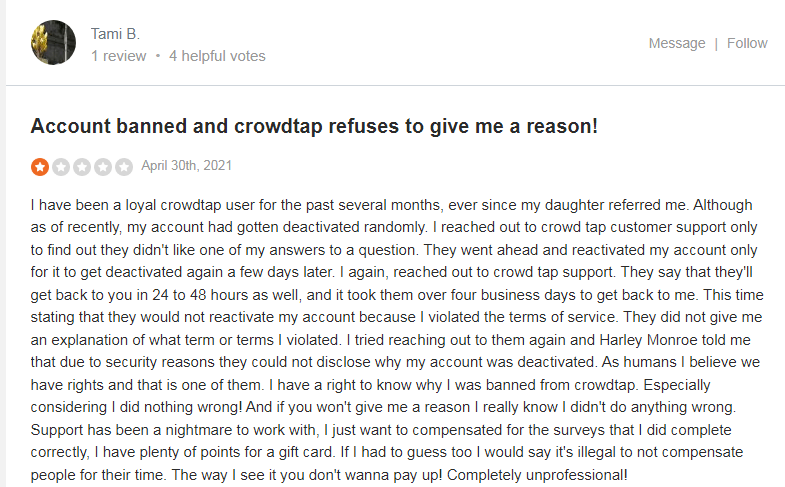 Blocking of Accounts
Another common issue with the site is the accounts that were suddenly disabled or blocked without any apparent reason or notifying members of the case—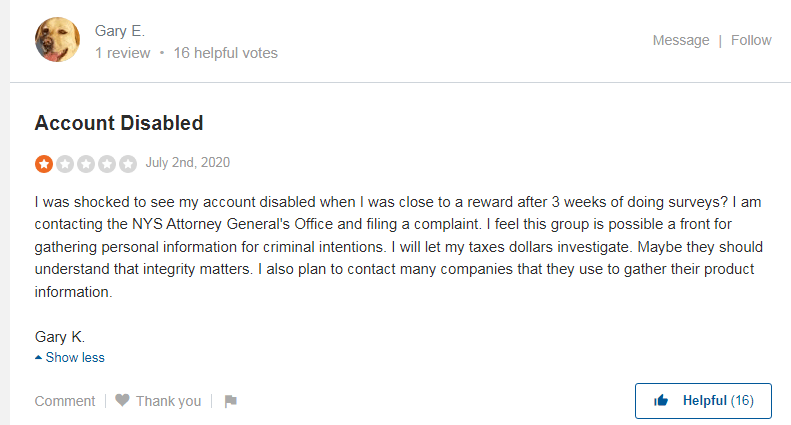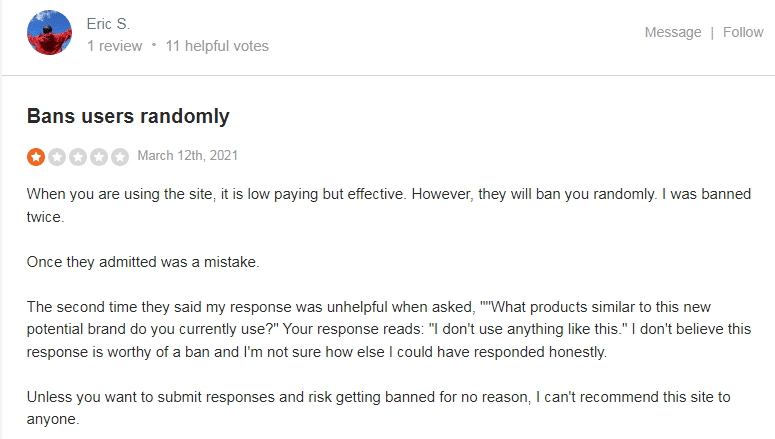 High Ceiling
Although $5 may not be that much to us, the process of reaching them would take a while.
Let's say you are taking paid surveys seriously, and you are earning about an average of 9 points a day, and it means that you need at least 100 days or 3 months to earn $5!
Low Paying
Again, aside from no cash incentives are provided, the payout is extremely low!
You better try my best work-from-home recommendation if you want an income opportunity online that can boost your monthly earnings!
What I LIKE about Crowdtap
Some of the supposed advantages of Crowdtap, like free registration and gift card rewards, are available in many GPTs and paid survey sites. Other than these elements, there are no more praiseworthy things about the site that I could think of.
Final Thoughts: Crowdtap Review
I hope my Crowdtap review has provided you with the information you need in determining whether the site is indeed worth your while or is it something that you should stay away from.
Although the site is legitimate, it would be better to just search for other similar platforms. For one thing, they don't have cash incentives for every task accomplished, and what you'll get instead are gift cards.
Also, the platform as a whole has a poor rating on credible review agencies like the BBB and Trustpilot, which should be a red flag, right?
Anyway, if you are not bothered with the payment method and negative customer feedback doesn't bum you out and still want to check out the program, by all means, do so as you wish.
If you are into GPTs and paid survey tasks, then there are better and more popular sites you can try, like Fusion Cash or Swagbucks.
Lastly, the payout in this type of income opportunity is very low.
Let's proceed to the last section of the article, and I will present you with a much better alternative than paid survey tasks…
How I Am Making a Living Online
When you browse the internet for money-making opportunities, then I am very certain that you have stumbled upon affiliate marketing among the top results. And this is rightfully the case because it can definitely help you achieve financial independence once you have set up the business effectively.
In addition, many are interested in affiliate marketing for several apparent reasons, such as the following—
It is very cost-effective
100% legitimate
Low risk
It is beginner-friendly
You don't have to concern yourself with inventory management or shipment
Most importantly, your potential earnings are unlimited since there's no limit as to how many brands you can advertise
And yes, your main responsibility in this type of business is just to promote businesses through your posts online, such as blogs, video content, or other publications.
Well, of course, your success in this nature of business depends on your posts' quality of engagement and sales conversion.
If you are new to the concept of affiliate marketing and have no idea where to begin, then I'll offer you something that should put all those uncertainties away and help you become successful.
Do you see the following highlighted text?
Give it a gentle tickle, and I'll show you how you can create stunning publications that are attracting quality traffic from scratch—
>>HERE'S MY TOP WORK-FROM-HOME RECOMMENDATION!
And to show my appreciation to you just by accompanying me today, I'm also giving you my book for absolutely free of cost to help you jump-start your endeavor—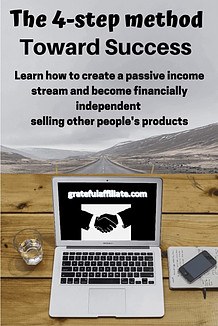 Well, I believe we've covered sufficient grounds here!
Thank you for the time and effort in reading my Crowdtap review!
I do hope to see you on the next topics!
Peace!