In today's i-Say Survey review, I will provide the essential specifics of the GPT site and help you decide whether they're worth your while.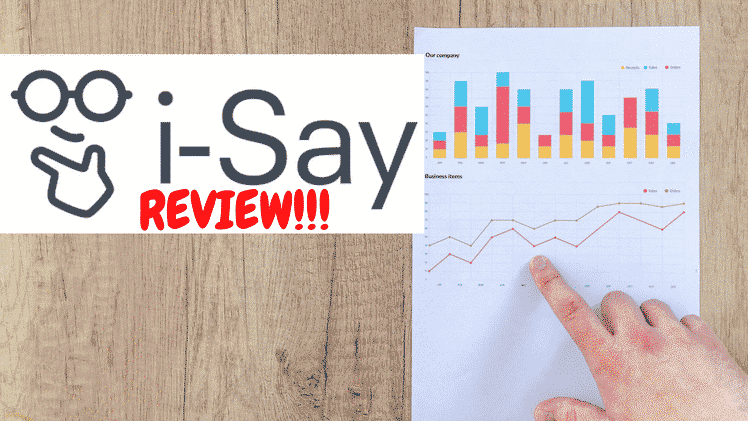 Welcome to my i-Say Survey Review!
If you're mainly looking for an easy source of income, then it's likely that you have turned to GPT and reward sites.
And among the platforms that you might have come across is Ipsos i-Say. In fact, they are among the largest GPT sites in the world, which also explains why they're in the top results in many search engines.
But if you still have doubts about the program's legitimacy, I will help you put those uncertainties aside and provide you with my analysis on whether they're indeed the perfect fit for you.
But before I begin, allow me to have this opportunity to share with you that I am NOT an affiliate of i-Say, and I will NOT earn any commissions or benefits if you ever decide to sign up for their program.
So without any further delays, let's begin…
Who is the Creator of Ipsos i-Say?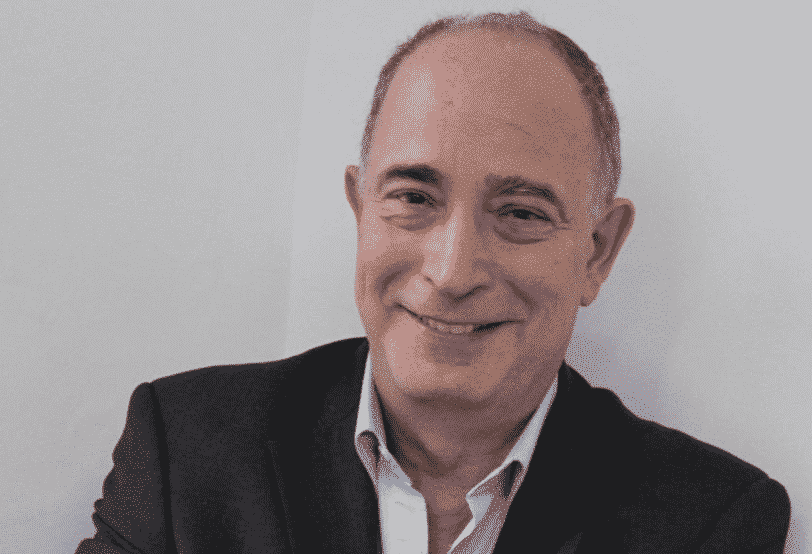 i-Say developed an international marketing firm called Ipsos. The company is popularly known around the globe and currently provides services in 88 countries, including the United States, Canada, United Kingdom, and France, to name a few.
According to Wikipedia, Ipsos was founded by a French businessman named Didier Truchot in 1975. The company provides marketing and feasibility studies to help clients collect and gather data from their target market.
At the time of this writing, he has an estimated net worth of 550 million dollars and is currently in 118th place for Frances' Greatest Personal Fortune.
Before he established his own company, he was part of the IFOP or French Institute of Public Opinion, where he met the co-founded
Throughout the years, Ipsos has progressively grown to accommodate the technological advances of the present generation. And one of the company's developments is the GPT site i-Say.
In the following section of my i-Say Survey review, I will explain the sites' income opportunities further. Hopefully, it will give you a better understanding of how the program works…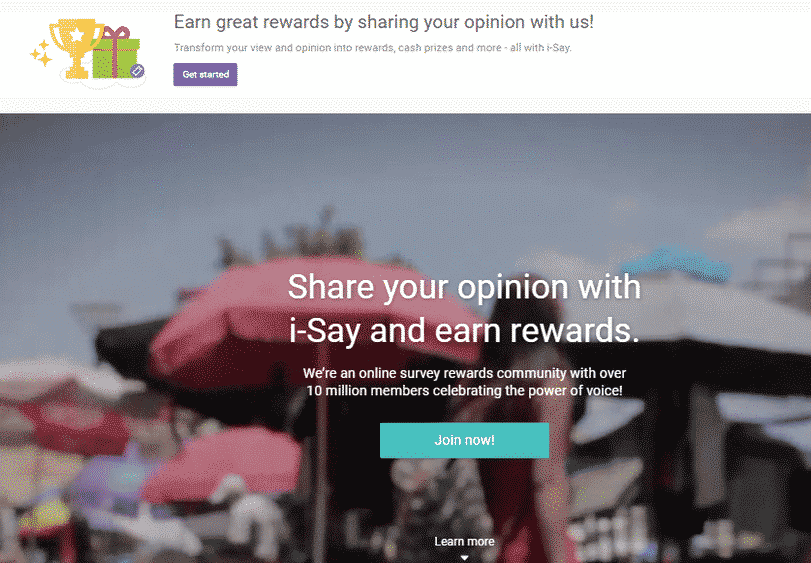 What is i-Say Survey?
i-Say Survey is a GPT site that compensates members by answering surveys or questionnaires.
Aside from paid surveys, the company also rewards members by completing various tasks like beta testing games, downloading applications, shopping, watching videos, etc.
As you might have already surmised—the company's primary focus is providing surveys. And once you have successfully finished the registration process, you will regularly receive email notifications indicating available paid surveys based on your profile.
Also, you can check your dashboard from time to time and browse polls you are interested in participating in.
However, it doesn't mean that you are already qualified to take part in the marketing study if you have received an invitation or seen the available survey on your dashboard.
Once you have clicked or initially accepted the invitation, you will still have to take preliminary questionnaires for them to determine if you are indeed the right target market.
It may not mean that much to us. Still, the data collected from marketing research can provide businesses with valuable insights into market trends and behaviour that could potentially help them improve products or services.
Also, the rewards from GPT sites are very low, considering how easy the tasks are.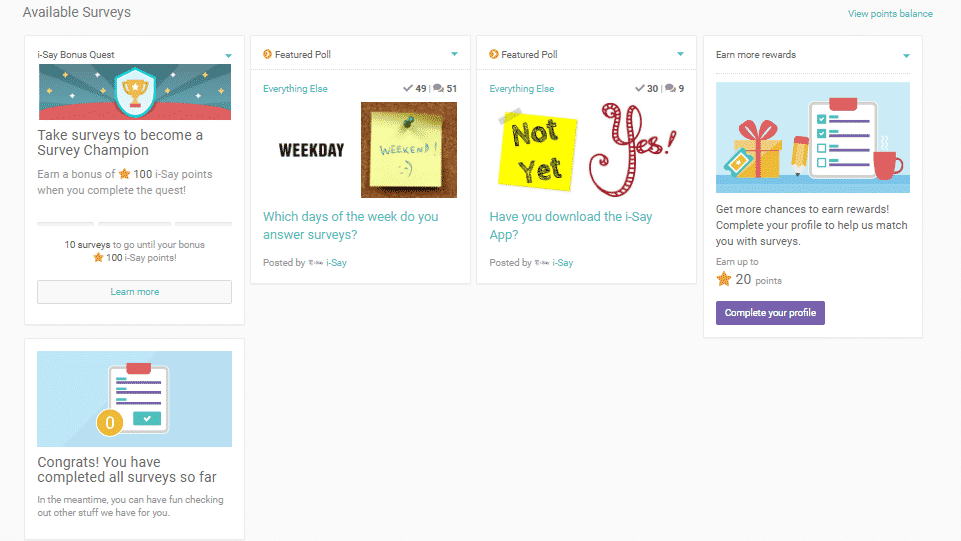 If you're looking for a more profitable and reliable source of income online, allow me to share with you my best work-from-home recommendation!

The Registration Process
Registration for GPT and reward sites is completely free. And you don't have to cash out anything afterward.
However, there's a requirement to join i-Say Survey.
First and foremost, you must be at least 18 years of age and residing in the areas where they provide services.
Some of these countries include the United States, Canada, and the United Kingdom.
In Europe, it includes Spain, Romania, Italy, Germany, Finland, Hungary, France, Italy, Denmark, Russia, Norway, and Poland. Lastly, it comprises the United Arab Emirates, Saudi Arabia, and Egypt in the Middle East.
As you see, only a few regions can access the site. But if you really want to try i-Say, you can use a VPN connection if you're not within their coverage of services.
I've also reviewed several GPT and reward sites in the past. You can refer to them if you like and see if you have come across any of them—Crowdtap, Timebucks, Surveytime.io, and Freecash.com, just to name a few.
Or, you can always check the complete list of reviews if you want to see the other articles I have published previously.
Payment Method
i-Say Survey implements a pointing system once you have accomplished the task at hand. Every 100 points are equivalent to $1.
Aside from the typical paid survey and other specified tasks relayed earlier, the member will also earn through referral fees which are 100 points for every successful registration. Also, they have a draw in which ten members win 5,000 points.
You can redeem your points and convert them through either cash or gift cards. Some of the platforms you can use as a medium for redemption are as follows—
Online Banking
PayPal
Gift Cards such as Tim Horton, Starbucks, Amazon, etc.
iTunes Cards
Also, the points required vary depending on the payment you have used. If you opt for gift cards, you can quickly redeem them because the withdrawal ceiling is only $5 or 500 points.
On the other hand, the withdrawal ceiling is 1,530 points or $15.30 for cash redemption through PayPal. Due to the low amount of points and availability of the tasks, it will take a long time for you to reach the required points.
Lastly, payout requires you 1000 points which yields $10. Since it's a banking method, you also have to consider the specific bank policies, which would take at least three business days before the money arrives.
If GPT sites don't suit your preferences, then you can check out my best work-from-home recommendation, and I will show a better alternative that can generate higher and more stable profits!

Is i-Say Survey a Scam?
No. I don't believe i-Say Survey is a scam. It is a legitimate GPT and reward site you can turn to for passive income.
I believe you are in perfectly good hands if you consider signing up to Ipsos ISay and taking advantage of their program.
Also, the company has been in business since the mid-70s. Thus, I find it hard to believe they are observing fraudulent practices.
What I LIKE about i-Say Survey
Now, below are some of the things I particularly admire about the i-Say Survey—
Task is Easy
The task you will work on is very easy, the instructions are pretty straightforward, and it will only take you about a few minutes or so to finish them.
Free Membership
Like in any other GPT site, i-Say requires no registration fee, and anybody over 18 years of age and residing within their services can join the platform.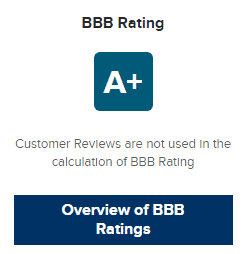 A+ BBB Rating
The Better Business Bureau is one way people check a business's credibility. A positive A+ rating doesn't necessarily mean that the business is trustworthy. However, it likely indicates that the platform is legitimate.
What I DON'T LIKE about i-Say Survey
The following are the reasons why the platform may not be your cup of tea and why you may search for other options—
Potential Income is Very Low
First and foremost, GPT and reward sites yield low income. If what you're after is a source of income that generates high income, then i-Say is not for you.

Negative Customer Feedback
The company has obtained poor customer feedback in BBB, which ranges from profiles that were suddenly cancelled without any reason while other reasons, including not receiving any projects at all.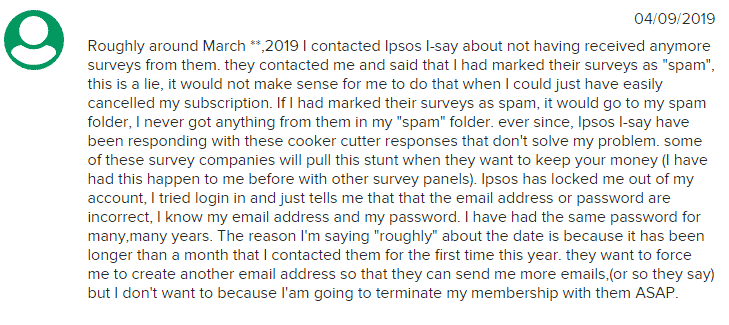 By clicking here, you can read more about Ipsos i-Say's company profile in BBB.
Final Thoughts in Today's i-Say Survey Review and A Better Alternative
I hope today's i-Say Survey review has helped you gain sufficient insights about the company and whether it could help you earn a good income from paid surveys.
If you're not expecting too much about the income potential of the platform, then, by all means, you can try Ipsos i-Say Survey and see whether it works for you.
But suppose you're looking for a business model online that can generate high profit and provide sustainable income. In that case, you may have to exercise your option and search for another income source online.
And if you mainly search the internet for the top work-from-home jobs, then I'm sure you'd come up with affiliate marketing among the top results.
And the reason why they're very popular is that they're cost-effective, and it suits all levels of experience.
Slightly tickle the highlighted description below if you want to learn more about affiliate marketing and how it can help you become financially stable—
>>HERE'S MY TOP WORK-FROM-HOME RECOMMENDATION!

I believe that's just about it in my i-Say Survey review!
And to show my gratitude by reading today's topic, I'm also giving away my eBook for free to help you kickstart your venture—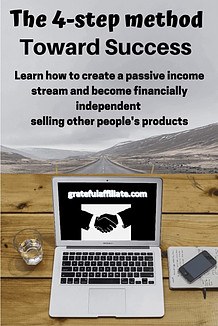 Peace!