Is Freecash.com too good to be true? Find out if this platform is a scam or a legitimate way to earn extra cash in this informative article.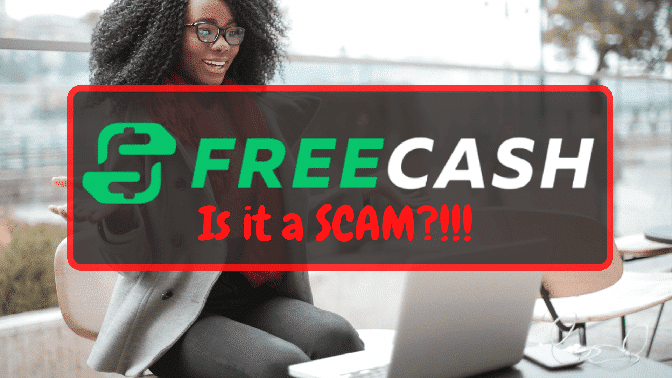 Is Freecash.com a scam? Or is it a legitimate income opportunity after all?
You might have these concerns as you come across the program through the ads popping up in your social media timeline.
It looks legit, and the sales pitch is engaging enough that it caught your attention.
If this is the case, then it might have led you to want to know more about the program and whether it can truly provide what they advertise.
In this article, I will talk about the specifics of Freecash.com and list some of its advantages and disadvantages. And hopefully, it would help you decide if it's indeed worth your while or not.
But before I begin, allow me to share with you that I am NOT an affiliate of Freecash.com and will NOT earn referral fees if you create an account. This article is my honest and unbiased review of the program.
So with that out of the way, let's begin…
Who are the Creators of Freecash.com?
Unfortunately, I wasn't able to find the original people behind the program. But it appears that they have changed management in 2020 and are currently under a company called Almedia Online, LLC.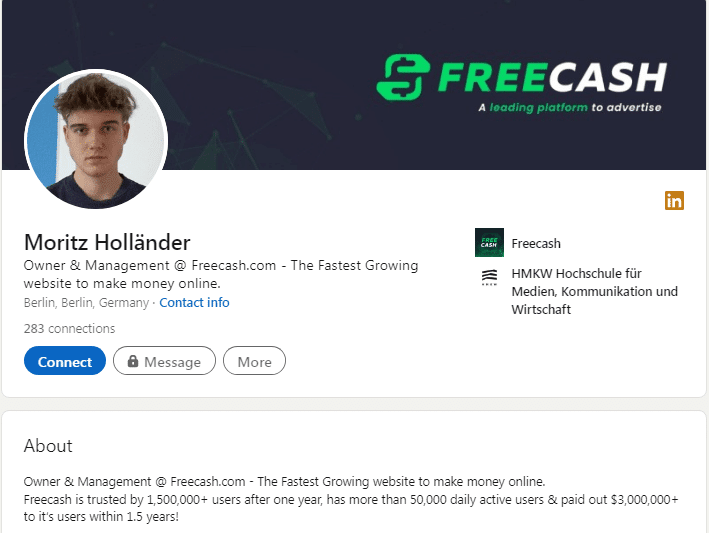 The entity is owned by a digital entrepreneur named Moritz Hollander.
I also checked their domain address and found that the site was established over 20 years ago—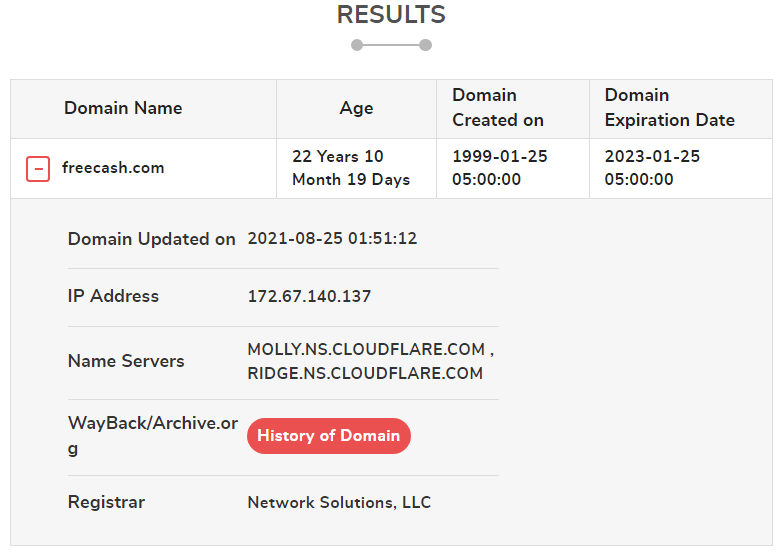 However, back in 1999, it was called Freeskins.com. And they changed the domain name to Freecash.com on August 25, 2021.
There's no information why they have changed their name after 20 years. However, such an instance doesn't immediately conclude that they're a scam. Let me reiterate that they have been in business for two decades now, which says a lot about the credibility of the site.
Also, according to their IP address, the operation of the business is located in San Francisco, California—

But there's still the big question of whether they're actually legit or not. It's been more than 20 years, and we still don't have a lot of info about how they work.
On top of that, they just changed their name and switched up their management a few months back. That's gotta make you wonder, right?
So, is Freecash.com a scam? Or is it a legit site, after all?
Let's keep going and see what else we can find out about the program…
What is Freecash.com?
Freecash.com is a classic example of a GPT (Get-Paid-To) site.
They'll basically reward you for completing particular tasks or surveys.  The incentives are usually in the form of money, bitcoins, electronic gift cards, or free skins that are used in online games such as Fortnite and Counter-Strike: GO, just to name a few.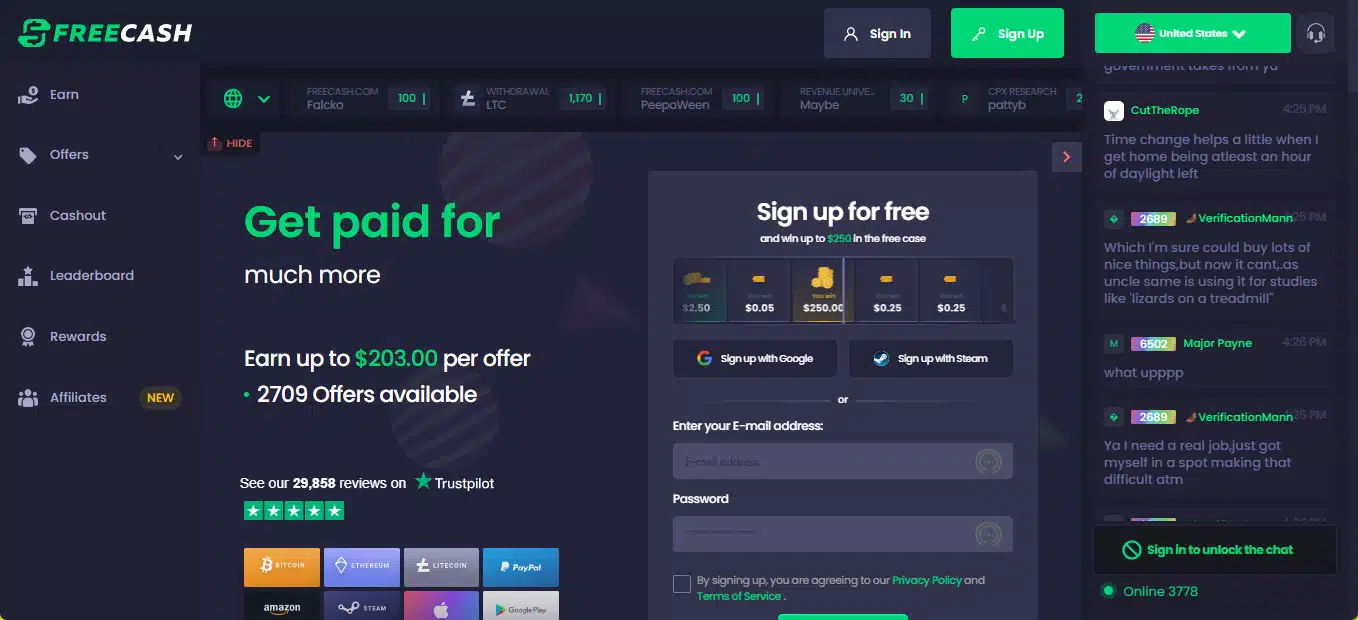 As mentioned, your earnings are dependent on the tasks assigned to you. After you have registered, you will be redirected to your personal dashboard or "offerwall" which you'll find the various offerings available.
Also, Freecash.com is just a contractor or middleman between you and companies needing minor services such as surveys, ad watching, testing products, etc.
Yes, it is that simple!
Therefore, do not expect a large sum of income as a result of accomplishing assignments.
If you are looking for a platform that can provide a more reliable source of income, then you better check out my best work-from-home recommendation!
What the Program offers
Now, let's take a look at the different tasks available to its members—
Paid Surveys
The requirement for paid surveys is relatively simple. All you have to do is answer surveys from another party outside of Freecash.com.
There are companies that would seek the assistance of contractors to help them distribute surveys. The data gathered from these surveys are essential to businesses in improving their products or marketing strategies in promoting their offerings.
However, you have to take note that you have to qualify first before you can do the survey. Thus, you have to pass the preliminary questionnaire first before taking the survey.
Paid Offers
The task required for paid offers depends on the instructions provided by the company.
Some of the common assignments you'll get include watching advertisements. These are the short clips that usually interrupt your gaming or during the middle of your YouTube videos.
Additional tasks that you'll find on their offerwall include completing an offer, beta testing an unreleased application, product testing, etc.
Referral Program
You earn a bonus through their referrals when you are able to invite someone into joining or signing up for the program.
If you successfully invited someone you will only earn when someone clicks your referral links and actually registered or bought the items.
However, you have to bear in mind that affiliate marketing is way different from referral marketing.
In affiliate marketing, you are focused on promoting several brands and engaging potential customers into buying their products or services. In contrast, referral marketing is more about rewarding their current customers or clients when they have invited someone.
Also, the earnings from affiliate marketing are much higher and more reliable compared to referral marketing. In fact, many individuals today are making a living through the said eComm platform alone.
And if you're interested in knowing more about affiliate marketing and how it can help you earn profits, then you better check out my best work-from-home recommendation!
Leaderboard
Last but not least is you also earn when you become among the point leaders of Freecash.com. The platforms provide additional bonuses to their top-performing members.
Is there a Registration Fee?
Like any typical GPT site, it is completely free to join and signup for their site.
But you may ask how Freecash.com earns a profit.
Well, it's simple, really. Remember what I said about them being a contractor or the middleman between you and a third-party company?
The third-party company pays Freecash.com and then gives you incentives for participating.
How Do You Get Paid?
Once you start earning from the site, your income is in the form of cash, cryptocurrency, and electronic gift cards.
And you can withdraw through PayPal for cash, Binance or Coinbase for cryptocurrencies, and Amazon for electronic gift cards.
Also, you need to have a minimum of 5,000 points or $5 before you can withdraw your earnings.
Is Freecash.com a Scam?
Without the original owners being disclosed, some of you might think that they're potentially a scam.
In my opinion, even without them providing any of the basic data about the business, there's still not that much risk since you are not cashing out any money, right?
The only risk I could see is you providing them some of your personal information like address, name, billing information, email address, etc.
Also, I'm sure you will be downloading files in some instances since you're going to test applications as part of your tasks.
But I believe you shouldn't worry that much since it appears that they are regulated by a Privacy Policy as well.
Also, it has an outstanding rating in Trustpilot, which means that many people have tried it, and apparently, most of them did not receive unsatisfactory results.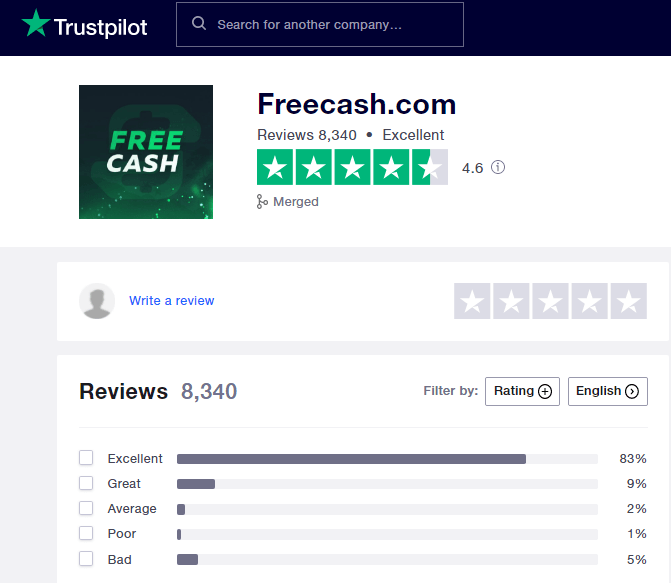 If you're wondering if there are alternatives to Freecash.com, then there are many sites you can turn to, such as Fusion Cash or Swagbucks.
I've also reviewed other income opportunities online in the past. You can check them out if you like—Kindle Publishing Income, Story Vault, Copy Cure, and YouTube for Bosses 3.0, just to name a few of them.
Or, you can check out the full list of reviews on our site here.
What I LIKE about Freecash.com
Here are some of the advantages of signing up to Freecash.com—
User-friendly interface
The dashboard is relatively easy and convenient to use.
Excellent Customer Support
The sites' customer assistance is very responsive whenever you have queries.
High Trust Rating
As mentioned, Freecash.com has a very high trust rating in Trustpilot. This means that most of its members are satisfied with their program.
What I DON'T LIKE about Freecash.com
Now, I also listed some of the cons of Freecash.com that you have to bear in mind—
High Payout Ceiling
Considering how low the distribution of points is, it would take quite some time before you reach the 5,000-point ($5) ceiling.
Also, the payout ceiling of Freecash.com is a little high when you compare them to more popular platforms like Swagbucks, which is at $3.
Not a Reliable Source of Income
If you're thinking of quitting your regular job to do GPT tasks instead, then you're making a huge mistake, my friend.
The income is too low, and the earnings from them won't be enough to cover your monthly expenses.
Final Thoughts
I hope my review today has given you the info you need to figure out if Freecash.com is the real deal or not. Is it worth your time as a way to make some cash?
With over 8K reviews on Trustpilot.com and a solid 4.6 rating, it seems like the members are pretty happy with their experience.
But there's a catch. The downside to GPT sites is that they don't pay much. Sure, the tasks are pretty easy, but you're not going to make a ton of money doing them.
If you're on the hunt for a more reliable way to make money online, then stick around for the last part of the article…
How I am Making a Living Over the Internet
Affiliate marketing is one of the top ways to make money online, and that's because it can be a steady income source if you know how to manage it right.
A lot of folks prefer affiliate marketing over other options for several reasons, like:
It's totally legit!
Easy on the wallet
No sneaky upsells
Super low risks
You don't have to deal with inventory or shipping products
Plus, there's no limit to how much you can earn since you can promote as many brands as you want.
Your main goal is to advertise brands through your online posts. When someone clicks on your link and buys the products, you make a commission. Your success depends on how well you engage with your audience.
If you're new to affiliate marketing and don't know where to start, don't worry – I've got something to help you out. Just check out the button or the highlighted description below.
>>HERE'S MY BEST WORK-FROM-HOME RECOMMENDATION!

I'm also giving away my eBook to show my appreciation to you and help you as you begin your endeavour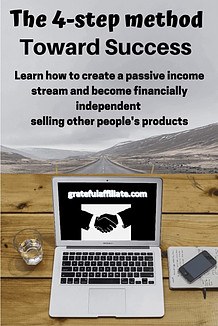 Peace!