Is Commission Jumpstart Legit? Is it a scam? For today's topic, I'll help you determine whether they're a good investment or should you avoid them.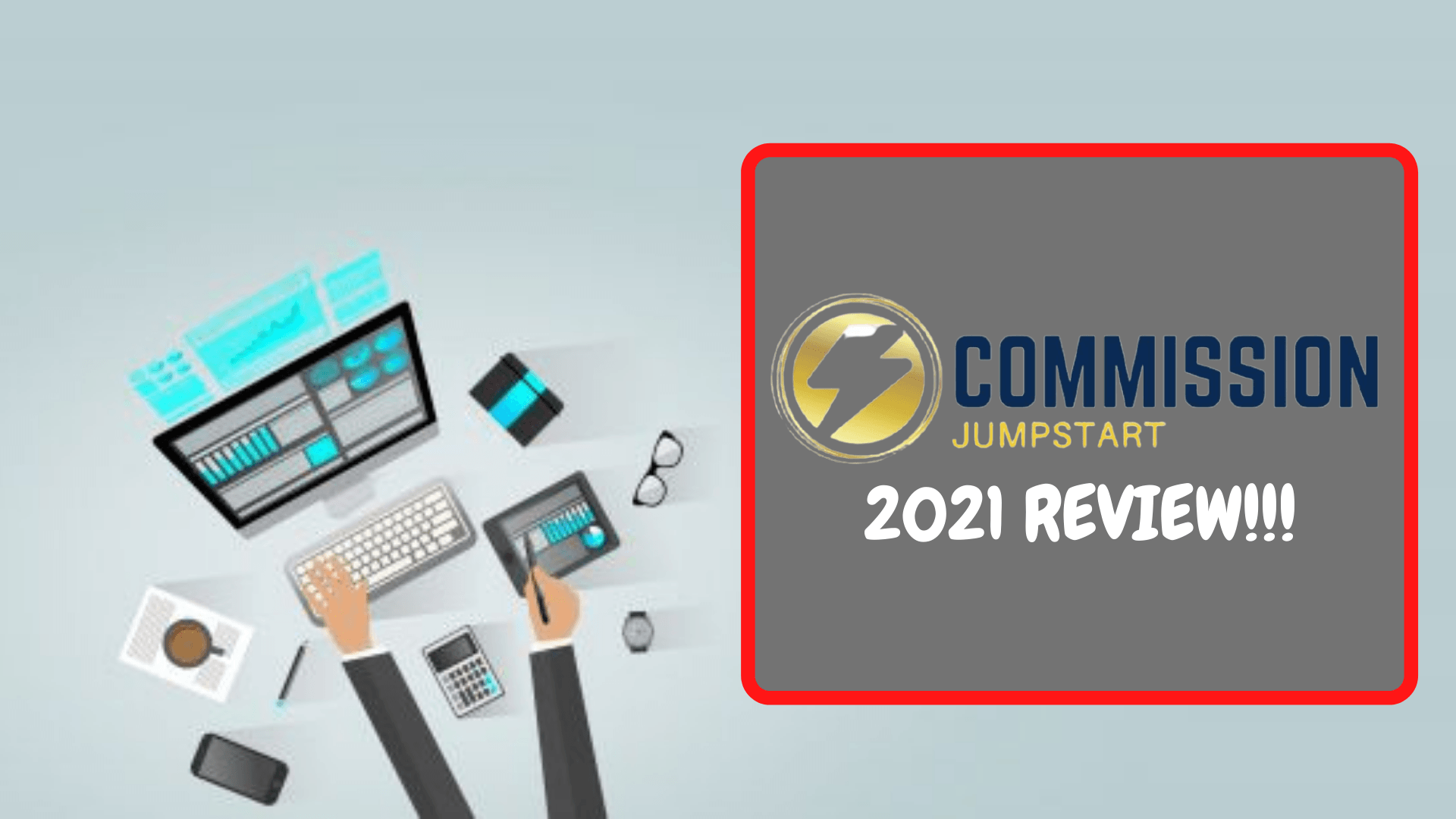 Is Commission Jumpstart Legit? Or, is it just another scam training course you'll find on the internet?
If you have these concerns in mind, then this article is just for you!
Affiliate marketing is legitimate, and many individuals have already achieved financial stability through it. As a result, many individuals want to learn the process as well to help them with their financial difficulties.
Such an instance has led many marketers to take advantage of the opportunity and profit from the situation. This also explains the overwhelming number of training programs you can find on the internet.
And with this many programs, it could be challenging to determine whether the program you're considering is legitimate or a scam.
With this being said—is Ross Minchev's program the real deal? Does it provide value? Or are they no different from businesses that are just trying to profit from you?
For today's topic, I'll cover these issues and help you determine whether they're worth your while or not.
But before I begin today's topic, allow me to disclose that I am NOT an affiliate or connected to Ross Minchev and in NO way advertising any of his digital products.
So without further delays, let's start…
Who is Ross Minchev?
Ross Minchev is a name you can definitely trust in the area of affiliate marketing. He has been in the industry for quite some time now and has gained an impressive reputation throughout the years.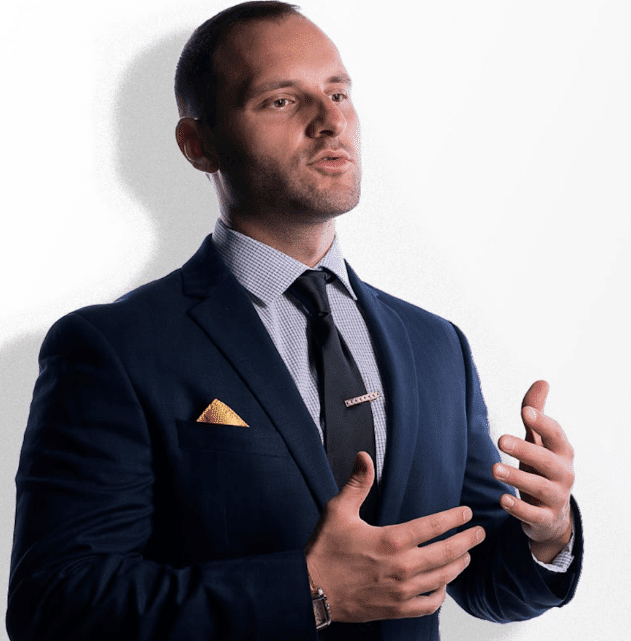 He is also a YouTube personality with over 70K subscribers. Ross regularly publishes quality content that could deliver value to his audience.  You can check out his YouTube content here.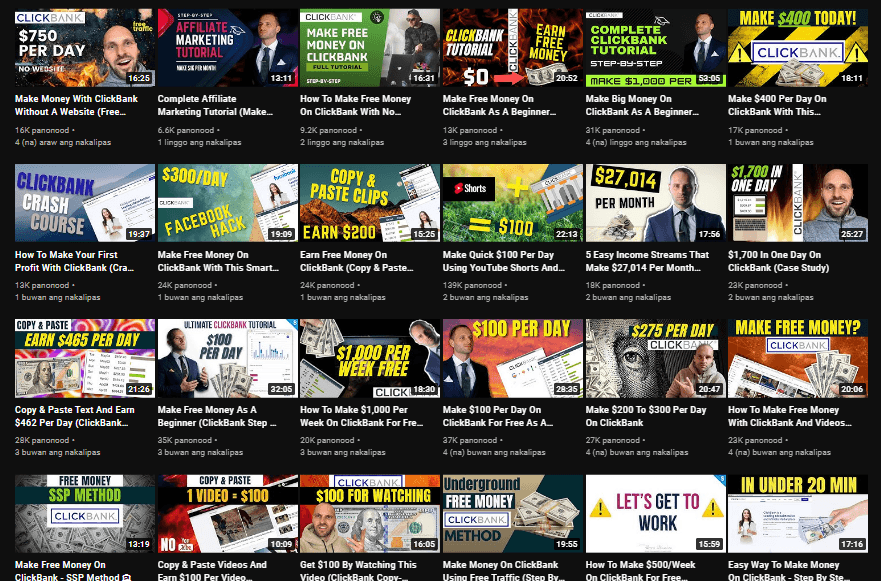 He is a prominent figure in affiliate marketing, but there's not much information about him on the internet. This may be the case—my overall impression of him is positive simply because of his credibility in the business and the value he provides through his social media content.
So once again, is Commission Jumpstart legit? Or, is it a good investment of your time and money or not? Let's continue and find out more information about the program…
What is Commission Jumpstart?
As you might have already guessed, Commission Jumpstart is a training course that specifically provides training on affiliate marketing.
This type of eComm platform is probably the most popular source of income online. And this is rightfully so because many have achieved great success from engaging in the business.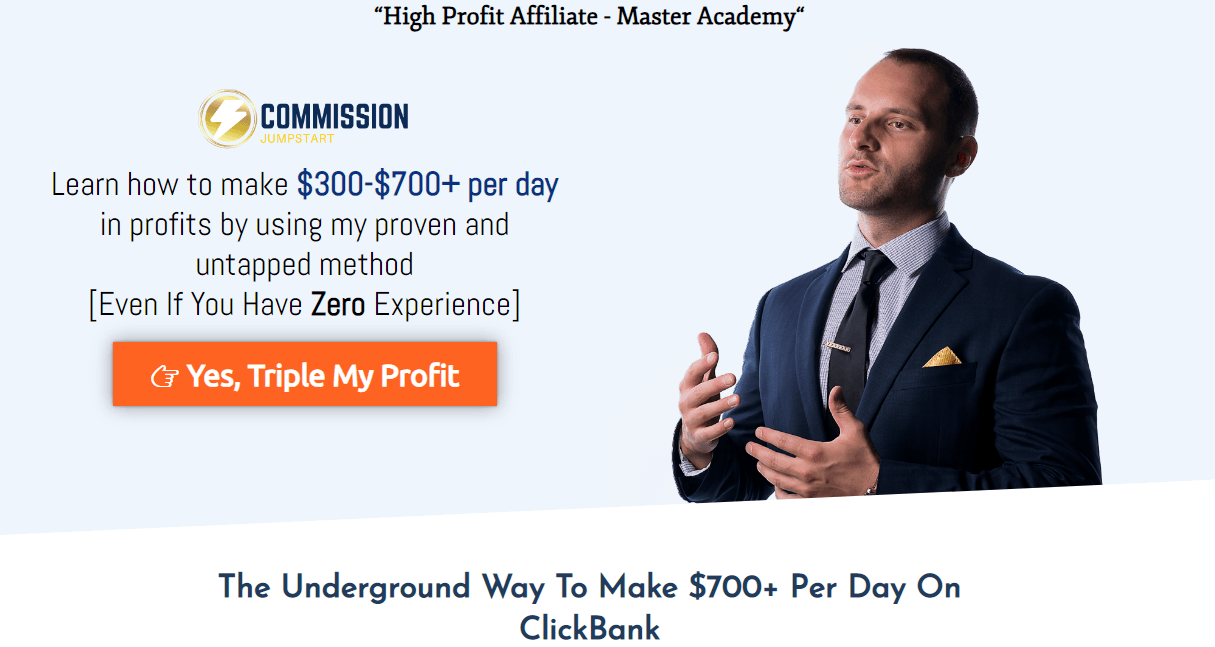 However, you have to remember that not all training program that claims to help you attain success in affiliate marketing could indeed meet your expectations. Although Commission Jumpstart is legitimate, it may not be a good program, especially if you're looking to learn the essentials of affiliate marketing.
And this is the case because the program primarily focuses on Clickbank. Don't get me wrong—Clickbank is a legitimate affiliate marketing platform. However, some of the products offered in the marketplace are low quality and a bit scammy.
You have to remember that there are other affiliate marketing platforms you can turn to that offer high-quality products. And if you are a responsible content creator, you have to be conscious of the products you're offering to your audience.
Another feature of the program that I don't exactly like is their concentration on paid traffic, such as Facebook Ads. I am not against paid traffic, but this may not be the best route for beginners.
There's actually a way to drive organic traffic without having to pay anything. It would take time and effort, but it is possible.
And if you want to learn how to create quality content and take advantage of organic traffic, then I suggest that you check out my best work-from-home recommendation!

What's In the Course?
The modules you'll find in the training program of Commission Jumpstart includes the following topics—
The Fundamentals of Affiliate Marketing
Ross Minchev shares his personal blueprint in earning money from Clickbank
How to create contents that generate high-quality leads
How to find the Clickbank products that convert to sales
Strategies on scaling your campaigns
Logo creation
The essentials of Facebook Advertisements
Statistics and monitoring your progress
Access to programs' Discord community
I have also reviewed similar affiliate marketing programs in the past. You can check them if you like Affiliate Dojo, Super Affiliate System, and Ecom Academy Warrior, just to name a few.
How Much is Commission Jumpstart?
If you're considering signing up for Commission Jumpstart's training program, it would cost you $297.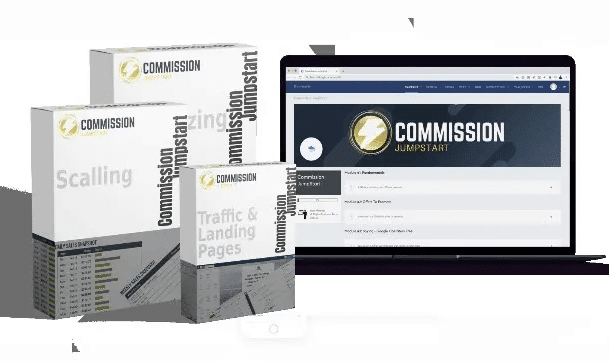 However, the programs' price isn't the only cost you have to consider before starting your affiliate marketing business. As mentioned, the program focuses training on paid traffic, which means that you also have to take note of the startup and maintenance costs to run the business.
For the paid traffic, you may have to prepare around $2,000 to effectively manage your leads and convert sales eventually.
Also, you have to take note that the $2,000 is only a rough estimate. The process may involve a lot of trial and error, especially for newbies.
Lastly, I would like to mention in this section how I am disappointed with the refund policy. It doesn't seem that they have one.
In the refund section of the website, they impose a condition that you have to avail of Clickfunnels software first, spend time watching all of the training videos, and spend at least $500 on paid traffic before they approve your refund request.
With this being said—the program doesn't seem to be a good investment to engage in.
If you're looking for a more budget-friendly affiliate marketing program that can provide the same or even better results, then you have to check out my top work-from-home recommendation!

Is Commission Jumpstart Legit? Or is it a Scam?
As you might have already surmised, Ross Minchev's Commission Jumpstart is a legitimate program. Rest assured that you are in perfectly good hands if you're thinking of availing of the program.
However, as I discussed earlier, the only disadvantage of the program is their primary focus on Clickbank, Facebook Ads, and the "not-so-good" refund policy.
What I DO LIKE about Commission Jumpstart?
Ross Minchev is Legit!
If you are looking for an expert who can help you learn affiliate marketing, Ross Minchev is definitely the person you can trust.
Decent Price
Commission Jumpstart's price of $297 is somewhat budget-friendly.
Quality Training
The program offers quality training on affiliate marketing, Clickbank basics, and paid traffic using Facebook Advertisements.
What I DON'T LIKE about Commission Jumpstart?
Terrible Refund Policy
The conditions imposed on its refund policy are terrible. First and foremost, you have to buy Clickfunnels products first. And then, you have to watch hours of training videos and spend at least $500 on paid ads.
In such a case, I believe it would be better not to buy products. Instead, you can save your money for better affiliate marketing programs such as this one.
Paid Traffic
As mentioned earlier, the program seems to be focused on paid traffic such as Facebook Ads.
Final Thoughts
I hope my review has helped you in determining—so is Commission Jumpstart legit? Is the program worth every penny? Or, should you search for better alternatives instead?
Whatever the case may be—you don't need to worry about anything if you're planning to try the program. But be sure to balance things out and consider its disadvantages as well.
The $297 is a reasonable price, but more affordable programs can provide you better results and meet or even exceed your expectations. Let's go to the last section of the article and check out the program I am referring to…
How I Earn Income Online
Affiliate marketing is probably the most lucrative source of revenue online. And many people are turning to this eComm platform for several apparent reasons, which includes the following—
100% legitimate – many individuals (including me) have already tried it and gained massive financial success
It possesses very minimal risk
It is highly cost-effective
You don't directly handle inventory management or parcel delivery
It can be a stable income source if it's properly managed
Your business could potentially generate unlimited income because you essentially advertise as many brands as you wish
And yes, your basic task as an affiliate marketer is to represent a brand and market its products or services to your audience.
The company will provide you with a personalized affiliate link. You will attach the links to your content, and then commissions are earned every time someone engages the links and uses them to purchase the offerings listed on the landing page of the brand you're promoting.
Of course, you have to bear in mind that your success in affiliate marketing may rely on lead generation and the ability to convert leads to sales.
If you're new to this type of eComm platform and have no idea how to start, then you no longer have to worry! I have the perfect solution!
Give the description below a slight tickle and discover how you can create a stunning website that's generating quality traffic from scratch—
>>HERE'S MY BEST WORK-FROM-HOME RECOMMENDATION!

Well, that's just about it!
Thank you for the time and effort in reading my "Is Commission Jumpstart Legit?" content!
And just for being here on my website, I am offering my eBook for Free. In it, I explain how I earn money while sleeping (and when I am awake too)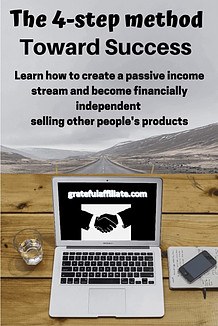 Just click on the button below and get your copy right now!