Is Xpango a Scam? Or is it legit after all? For today, I'll help you decide if the site is indeed a good program to venture into!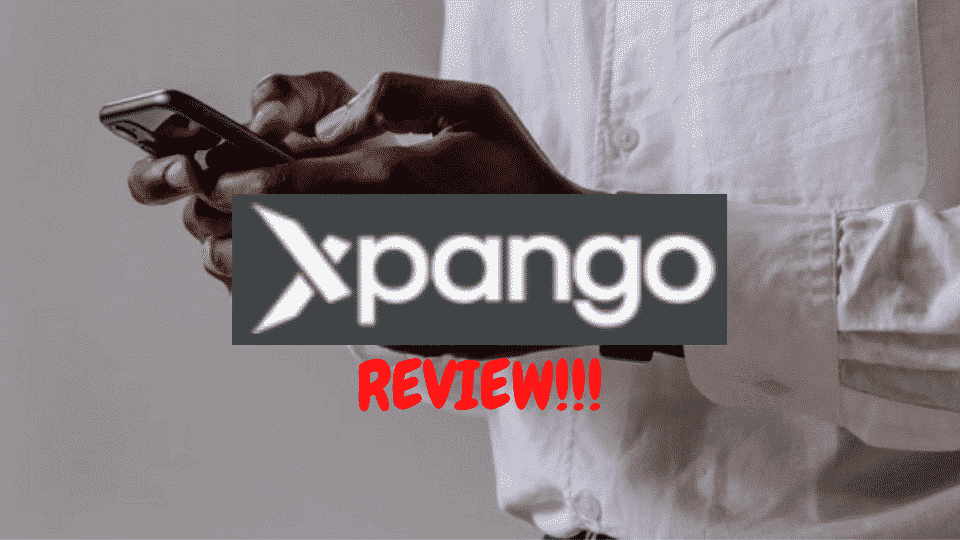 Is Xpango a Scam? Or is it something worth your time after all?
If you want to know the answer, then the article I have prepared for today is especially just for you!
But before I start, allow me to have this moment to disclose that I am NOT affiliated with Xpango and in NO way marketing any of their advertised products, if there are any.
And I will NOT gain any referral commissions if you decide to sign up to the site or avail of any of their products.
So without any further, let's begin…
Who are the Creators of Xpango?
Unfortunately, the founders and the current owner of the site were not disclosed.
Such practice is common in GPT platforms, and it does not necessarily indicate that they are a scam. However, sharing basic business information with the public certainly adds credence to their legitimacy.
I checked their domain name and found that the site was actually registered on October 04, 2005—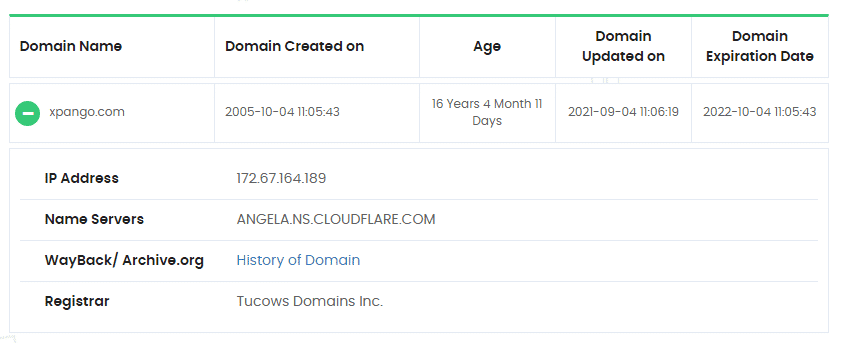 If the data generated by the application is true, then it is a little odd that they haven't provided any background about the company.
Also, there should be enough customer reviews about them on the BBB, Trustpilot, and Sitejabber.com if they were indeed established 16 years ago, right?
However, I did not find any!
Anyway, it appears that the site was only updated recently, which suggests they did an overhaul that changed the name of the platform as well.
As mentioned, there's not enough information about the company over the internet, but I will update this article as soon as I find one.
With this being said—is Xpango a scam after all? Or is it still a legitimate program to engage in?
Let's continue and find out more about the program…
What is Xpango?
Xpango is a GPT (get-paid-to) site that provides its member's incentives by engaging in tasks such as paid surveys, watching ad videos, installing apps, etc.
They may be simple and insignificant to you, but it does provide a lot of help to the company.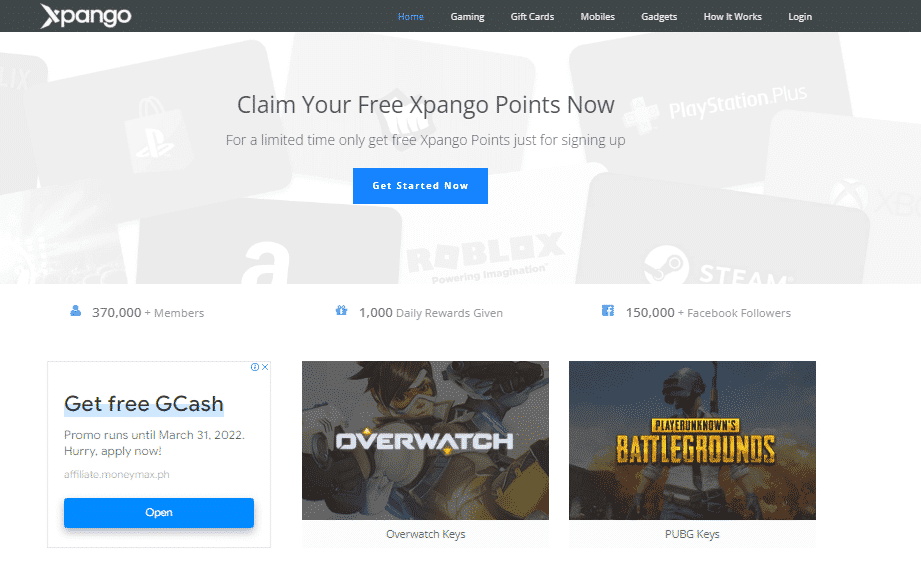 The data gathered from the study or research gives the business insights into the market trend or consumer behavior that would aid them in improving their products or marketing strategies.
However, as you see, the tasks involved are not that hard, and it would only take you a few minutes to accomplish. With this being said—do not expect that the pay would be that great as well.
The pay for GPTs is usually very low, and I doubt it would even reach $10 in a week. In contrast, other sites like Xpango don't give out money at all! Instead, they compensate members through electronic gift cards.
Thus, Xpango is not for you if what you are looking for is an income opportunity online that provides high and stable earnings.
Check out my best work-from-home recommendation if you want a program that can truly help you gain financial independence.
Now, I've also written reviews of several programs in the past related to money-making schemes online. You can read some of them if you like—eComm Everything, Project Thunderbolt, Timebucks.com, and Mary's System, just to name a few of the articles.
Or you can read the rest of the reviews by clicking on this link.
How does Xpango Works?
Xpango offers four income streams which include the following—
Offer Wall
The offer wall Xpango's main source of income. The site will reward you just by complying with simple tasks.
The tasks available on their dashboard vary depending on the specific data requirement by third parties, which includes paid surveys, advertisements, play games, trials, game beta testing, watching videos, installing applications, do-trials, etc.
After you have accomplished the required tasks, they will credit the points in your account, as mentioned in the previous section.
Daily Points
You also get free points when you log in daily to your personal dashboard.
Plus, you will receive extra points for taking on daily objectives like answering a number of surveys, playing games, installing apps, etc.
Referral Commissions
You also get rewards for every successful invitation. Every member will have unique referral links. They will earn points when someone uses their links and signs up to the program.
The registration and usage of GPT platforms are free in all of the sites I have reviewed in the past.
Xpango is unique in the sense that some of its features appear to require payment. And yes, one example is its referral commissions.
It's supposed to be free, right?
Well, this is not the case with Xpango. To gain the benefits of referral commissions, you have to avail yourself first some of its advertised programs such as Clix.
But that's not all. Your invites must also earn at least 1,000 points to qualify for the incentives.
Giveaways
On some occasions, Xpango organizes a promo event where they giveaway such as e-gift cards and gadgets.
However, these giveaways are conditional. You have to meet specific requirements first before you can join the promo.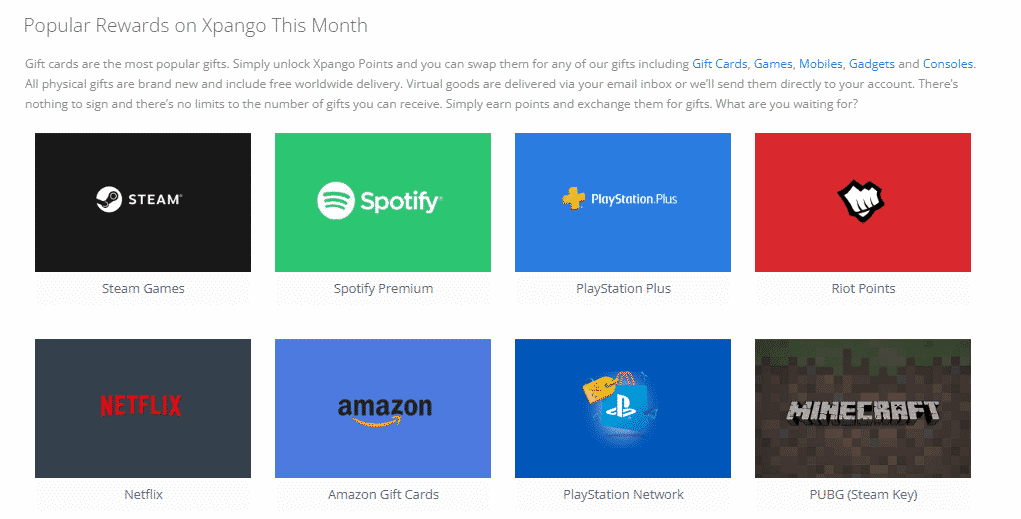 How are Members Paid?
As mentioned, you get Xpango points or XPs after every task is completed.
You can exchange your XPs for gift cards in Amazon Prime, Spotify Premium, Steam, PlayStation Plus, Riot Points, PlayStation Network, Netflix, and Steam Key.
In addition, you can convert them to PSN (PlayStation Network) Codes or a form of digital monetary medium you can use in the PlayStation Store.
They also mentioned that you could save your earned points to be exchanged for gadgets or other electronic items instead.
It may sound that great, but you may find it extremely challenging to achieve, considering the low-paying nature of the platform.
Unfortunately, there's no option for you to convert them to cash.
Also, you have to take note that the promos aren't always available, and it is only offered for a limited time only.
As I explained earlier, you need to avail Clix in order to gain access to some of its features. Therefore, I don't believe that it's really free.
So yes, if you're looking to earn some cash online, then Xpango is not the program for you.
Check out my top work-from-home recommendation if what you're after is a source of income that can help you gain financial stability online.
How Much is the Product?
The registration for Xpango is free.
You don't have to cash out anything if you're interested in signing up for the platform.
However, you also have to consider the payment that you may have incurred as a result of availing of Clix.
Is Xpango a Scam?
I don't think Xpango is a scam. I believe it is a legitimate GPT site that compensates its members by providing them with electronic gift cards.
What I LIKE about Xpango
Now are a few things I like about the features of Xpango—
Daily Login Rewards
You can earn points just by logging in to your account daily.
Extra Points
You also receive extra points by completing daily objectives
Promo Events
As mentioned earlier, Xpango organizes an event once in a while where they give out gadgets and other electronic items.
What I DON'T LIKE about Xpango
I also listed the following disadvantages of Xpango to help you determine if they're the right fit for you—
Paid Features
As mentioned, you may have to avail Clix to benefit from their referral program.
Non-Disclosure of Business Background
The company is not willing to share even the company's most basic features.
No Mobile Application
The site is only browser-based, and no mobile application is available as of yet.
No Cash Incentives
After completing GPT tasks, you will not receive any cash rewards. Instead, you earn points to be converted to gift cards or PSN codes.
If you're looking for an income opportunity online that can significantly boost your monthly profits, then you better try my best work-from-home recommendation!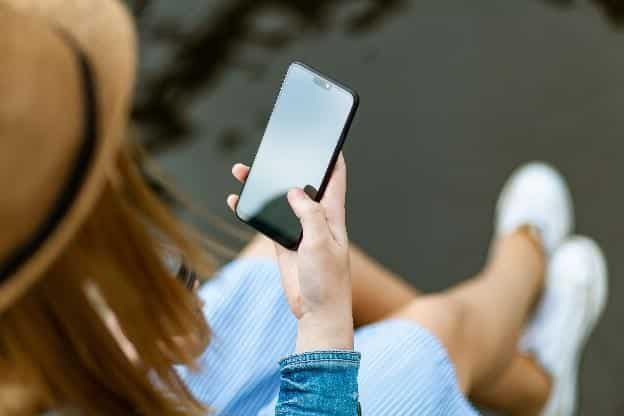 Final Thoughts
I hope the article I have prepared for today has answered the all-important question—is Xpango a scam? Or is it a good source of passive income after all?
As I have repeatedly emphasized, Xpango DOES NOT provide cash incentives. And if you are not comfortable with the offer, then this program is not for you.
But if you're fine with gift cards, then, by all means, you can check out the site for yourself.
Let's continue to the final section of my article, and I will show you a more profitable source of income online…
How I Am Earning Stable Income Online and Making a Living
When you specifically search for "the best online income" or "work-from-jobs," I'm sure you'd come up with affiliate marketing among the top results.
And this is the case for a very good reason. For one thing, the platform can indeed provide you financial stability if you are able to manage the business effectively.
In addition, they are very popular because of several apparent factors, which include the following—
It suits all levels of experiences
100% legitimate
Very low risk
You are involved with inventory management or shipment
Potential gains are limitless since you can promote as many brands as you wish
Your main task in this nature of business is to represent a company by marketing its line of brands.
And then you earn commissions anytime someone clicks your personalized affiliate links and uses them to avail the products offered on their landing page.
Of course, your chances of succeeding in this endeavor greatly rely on the quality of traffic your sites are attracting.
If you are new to affiliate marketing and have no idea where to begin, then I have something to offer that should put those uncertainties away.
Give the highlighted description below a gentle tickle and discover how you can publish posts that are generating leads and converting them to sales—
>>HERE'S MY TOP WORK-FROM-HOME RECOMMENDATION!
And to show you my appreciation for reading my "Is Xpango a Scam" review, I'm also giving away my book to help you jumpstart your affiliate marketing business—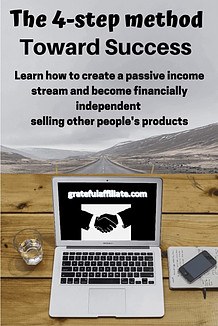 Well, I believe that's just about it!
Thank you for the time and effort in today's article!
I hope to see you on the following topics!
Peace!