In today's Online Marketing Classroom review, I will present you with the essential specifications of the program and help identify if it's worth your while or if you should search for better options.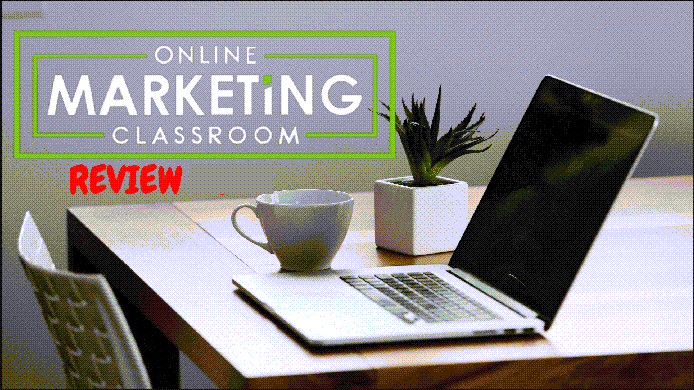 Online Marketing Classroom is an affiliate marketing program that I recently became familiar with due to an email message I received. For some reason, the sales pitch of the email was enticing, which led me to click the highlighted link.
As it redirects to the landing page, the two founders mentioned on the site are two individuals I am familiar with because I have reviewed two other digital marketing programs they have co-founded—namely, Kibo Eclipse and Project Thunderbolt.
Aidan Booth and Steve Clayton offer real programs to their audience. I also gave them a relatively good rating in my previous reviews of their programs.
So does this mean that Online Marketing Classrooms? If you're still unsure whether they can give you the results you are looking for, then the article I have prepared will shed light on the subject matter.
But before anything else, allow me to disclose and share with you that I'm NOT an affiliate of Booth and Clayton, and I will NOT earn commissions if you decide to purchase the program.
So without further ado, let's begin…
Let's Meet the Founders of Online Marketing Classroom
Online Marketing Classroom was founded and is currently owned by Aidan Booth and Steven Clayton. Aside from being seasoned digital entrepreneurs, they have also been business partners for many years. Some examples of the programs they developed together are the ones I mentioned earlier: Kibo Eclipse and Project Thunderbolt.
Before we move on and discuss the features of Online Marketing Classroom, let's briefly talk about the founders and get to know them a little better.
Steven Clayton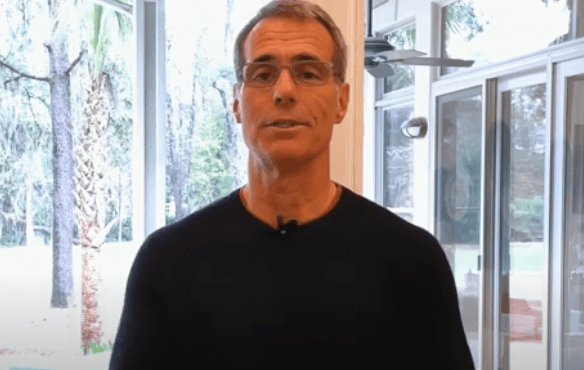 There's little information about Steven Clayton. But based on the data I have gathered, he is a former CFO of a company that was listed under the Fortune 500. But I have not found what company it was.
As stable as his position was, he wasn't content, and he wanted to get more out of life financially and with the freedom to enjoy life. Such circumstances lead him to turn to alternatives which include digital marketing.
Once he saw the industry's great potential, he left the corporate world to venture into internet entrepreneurship.
In 2013, he met Aiden Booth, and the rest is history. They have become business partners since then, and both are developing programs that are helping people earn passive income at home.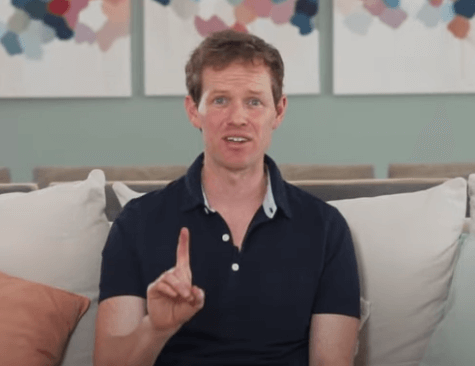 Aidan Booth
Aidan is the more experienced digital entrepreneur among the partners. He has been in the eCommerce industry since the early 2000s. And among the platforms that he regularly used is affiliate marketing.
As he gained experience, he also learned other aspects of the business, including developing eCommerce sites and creating websites that generate traffic and lead to sales conversion.
So with this in mind, does this mean that Aidan and Steve's Online Marketing Classroom is a legitimate program you can invest your time and money in? Or is it a scam, after all?
Let's continue with my Online Marketing Classroom review and learn more about the program…
What is Online Marketing Classroom?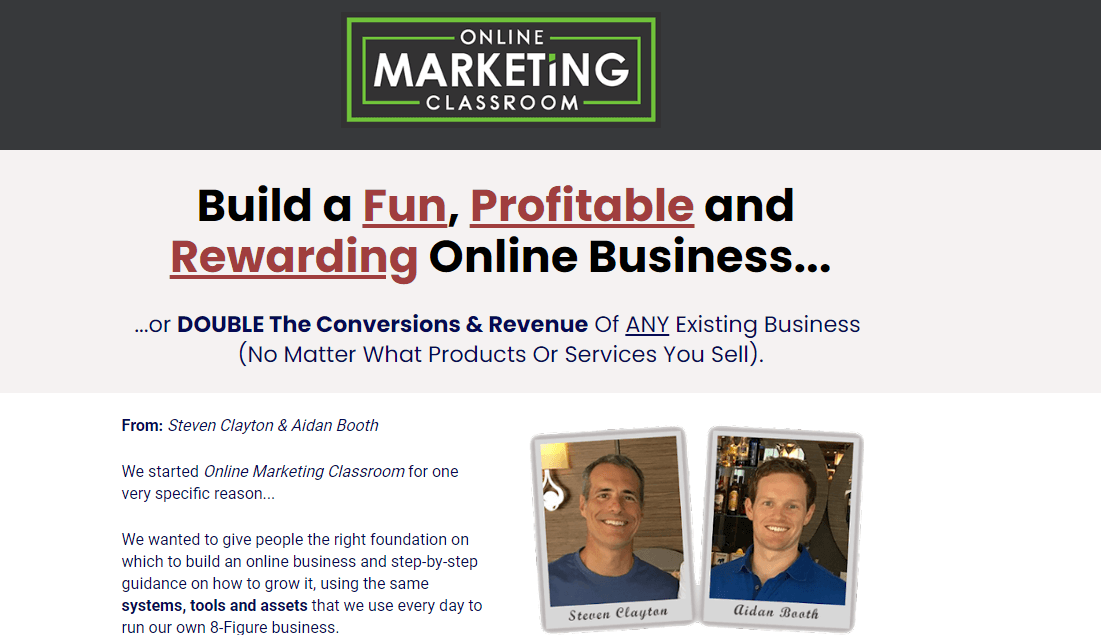 Online Marketing Classroom is a digital marketing membership site that offers training, tools, tutorials, and other lessons on earning reliable passive income in the comfort of your home.
The program mainly focuses on providing training on how you can earn from affiliate marketing, consulting business, and establishing an eCommerce store. The entirety of the program is broad, which may be a little confusing, especially for beginners.
The program also targets explicitly digital marketing in the industry of:
Dropshipping
Content creators—social media content and blogging
Freelancers
Owners of eCommerce sites
Affiliate marketers
However, the great advantage of Online Marketing Classrooms is that even though they are expensive, they have flexible membership plans.
I also reviewed several training programs that provide lessons on eCommerce in general. If you are interested, you can read about them if you like. Some examples are YouTube for Bosses 3.0, Billy Gene is Marketing, Elite Traffic Pro, and Rapid Profit Package, to name a few of them.
Or you can check the complete list of reviews by clicking here.
If you want a program that can deliver similar results without breaking the bank, you should check out my best work-from-home recommendation!

What are the Features Included in the Program?
Several training modules are included in the program, as I mentioned in the previous sections. For example, one membership package gives you access to 6 Business Labs, which include 45 video tutorials and 40 workshops.
I won't be able to present the entire 45 tutorials because of the time involved in explaining everything. So here's a summary of topics that is comprised in the program are as follows—
Quick Cash Methods
Fast Start Action Plans
List Building and Funnel Secrets
Traffic and Conversion
Branding and Product Tactics
Super Brand Secrets
I also listed below the other step-by-step training courses that's moderated by Steven Clayton and Aiden Booth:
Commission Blueprint Evolution
The first part of the training is supposed to give you lessons on establishing an affiliate marketing venture.
Natural Earth Kitchen Case Study
Clayton and Booth will also share the Natural Earth Kitchen case study with you and provide you with their marketing research analysis. The entire premise of the lesson is to give you insights on building and how to launch an online business from scratch effectively.
60-Day Challenge Course
As the name suggests, it is a 60-day challenge with 50 instructional videos.
Community and Mentors
Online Marketing Classroom provides access to its exclusive social media community and mentors. The idea of the program is to provide you with a vibe that you're in school and learning the essentials of digital marketing.
Private Software Suite
In addition to the community, they will grant you access to their recommended software to help you achieve your goals. Some examples of the software they share in their platform are Blackbird, Hawkeye, Domains on Fire, Traffic Spy, etc.
How Much is Signing Up for Online Marketing Classroom?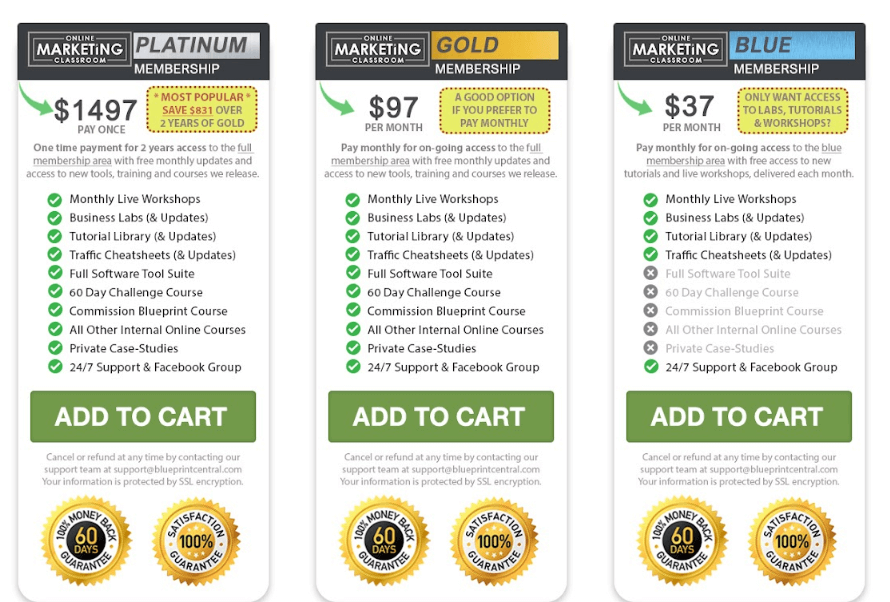 The cost of joining Online Marketing Classroom depends on the membership tier you purchase. The summary of the membership package is as follows—
Blue Membership Plan – this package will cost you $37 per month. The Blue Membership is their basic plan, meaning the features are minimal compared to the other two tiers.
Gold Membership Plan – the members under the Gold plan package will cost $97 per month. The membership plan includes access to case studies, software tool suite, Commission Blueprint Evolution, 60-Day Challenge, etc.
Platinum Membership Plan – this tier will cost you a one-time payment of $1,497! Platinum members are granted an all-access to the Online Marketing Classroom's features and other offerings for two years.
The program also offers you a 60-day money-back guarantee if you are unhappy with how the training is progressing. However, I am not sure if the refund policy is conditional. You have to contact their support team for details.
Nevertheless, I believe the program is not cheap at $1,497 if you take the one-time payment option. However, the $ 97 per month tier, which is probably a lot more affordable for most people, will give you the same program but as a recurring payment.
Suppose you are looking for a similar program to help you gain financial stability in digital marketing. May I suggest one that you can test-drive absolutely free for seven days? In that case, you should check out my best work-from-home recommendation!

Is Online Marketing Classroom a Scam?
No. Online Marketing Classroom is not a scam.
It is a legitimate training program that helps people gain traction in digital marketing.
The following are what other people are saying about the quality of Online Marketing Classrooms—
What I LIKE About Online Marketing Classroom
Below are the things I particularly like about Online Marketing Classroom—
Extensive Courses Available
Online Marketing Classroom provides various training courses about digital marketing and starting an eCommerce store.
60-Day Money-Back Guarantee
One great thing about Online Marketing Classroom is that they have a 60-day money-back guarantee if you are unhappy with how the program is progressing.
What I DON'T LIKE About Online Marketing Classroom
The main (and only) disadvantage of Online Marketing Classroom is that you may have to spend around $1,500 to benefit entirely from the program. Unless, of course, you decide to go with the monthly recurring price of $97.
Final Thoughts on My Online Marketing Classroom Review
I hope my Online Marketing Classroom review has provided you with the insights you need in determining if the program is a good investment of your time and money or if you should continue searching for better alternatives.
Although they give you extensive lessons and features on digital marketing, I believe it is way too impractical considering the number of free resources available and way more affordable alternatives around.
With this being said—I am giving Online Marketing Classroom an 8 out of 10 rating—

An Alternative to Online Marketing Classroom
Don't get me wrong here. Affiliate marketing can indeed provide financial independence, and you can achieve this right from the comfort of your home. In fact, this is the eComm platform I am using right now that has helped me become financially independent.
The bad news, however, is that not all digital marketing programs that promise great results can indeed deliver positive results. Not to mention the amount of money you might have to shell out to benefit from the program entirely.
So, if you are looking for an alternative with a seven-day free test drive that can give you equal or even better results, then should check out my best work-from-home recommendation!

I believe that's just about it in today's Online Marketing Classroom review!
And as a token of my appreciation for being here, I am also giving away my eBook for free to help you kickstart your affiliate marketing business—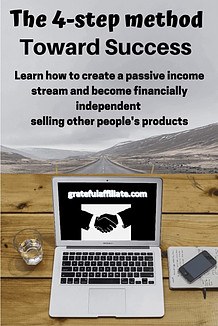 Thank you for your time in reading my review!
Peace!