In today's Powerhouse Affiliate review, I will give you essential insights about the program and help you determine if the training is worthwhile or if you should continue searching for better ones.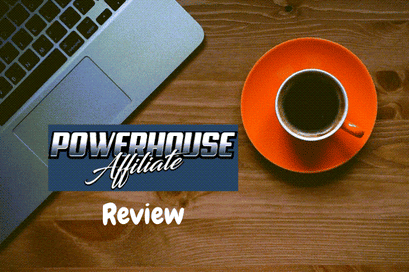 Your content's capability to attract traffic and convert them to sales is the lifeblood of any digital marketing business. Aside from publishing valuable content to your audience, you must know how to optimize them to rank and make it easier for people to look for them.
As you will see, it is not as simple as it sounds. The entire process is much more complicated than it appears. And with this being said—the common medium many aspiring internet marketers turn to is training courses or programs that could help them improve their situation and gain traction.
Unfortunately, not every training program you find online is legitimate.
So the question for today's topic: Is Powerhouse Affiliate one of them? Is Joey Babineau your typical internet guru?
If you have these concerns in mind, then you definitely have come to the right place because, in today's article, I'll talk about the specifications of his program and help you determine if they're indeed a bang for your buck or a scam you have to avoid at all cost.
But before anything else, let me share with you that this review is my unbiased opinion of the program and is based on my past experiences with similar programs. Let me also emphasize that I'm NOT an affiliate of Joey, and I will NOT earn any commissions if you decide to purchase the program.
So without further ado, let's begin…
Let's Meet the Founder of Powerhouse Affiliate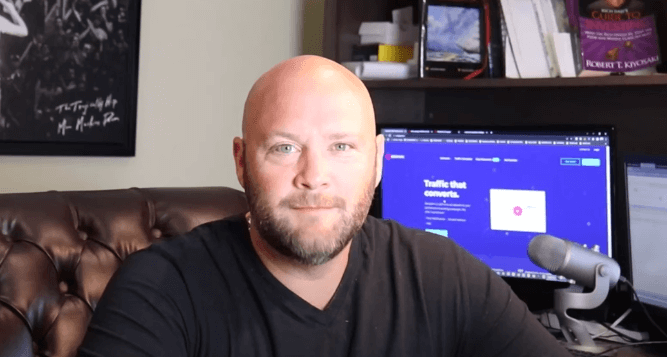 Powerhouse Affiliate is the brainchild of Joey Babineau. He is a digital entrepreneur from Canada with over 20 years of experience in the industry. To be exact, he started the business way back in 2002.
Joey mentioned that his particular area of expertise is with affiliate marketing, email marketing, and CPAs.
He says that he stumbled on these platforms accidentally one day, which changed his life forever.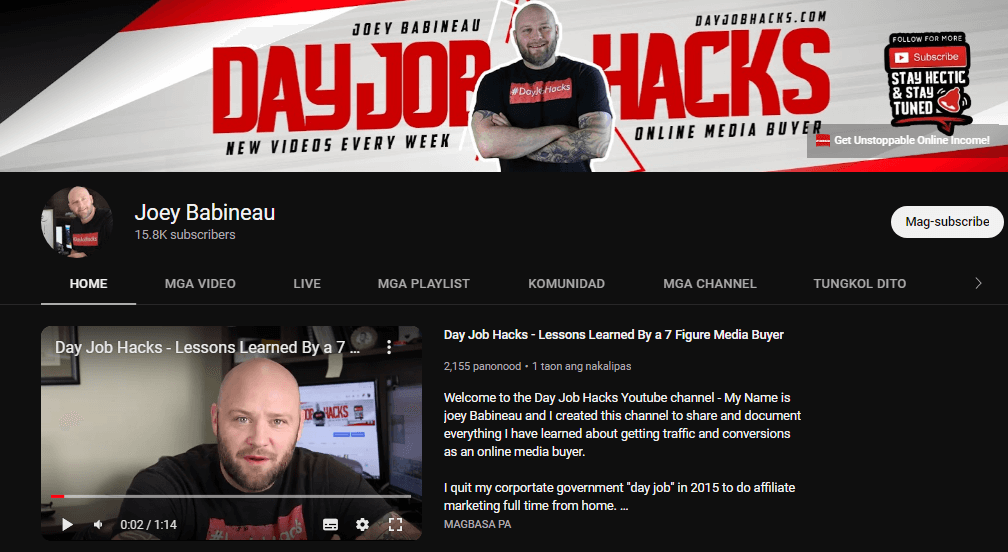 He is also a content creator on YouTube, with a respectable 15K followers on the social media platform.
His career motto is "content is king," and this is greatly reflected in his YouTube channel. I believe that the string of videos he publishes provides value and benefits anyone who watches what he publishes.
Some of the common topics he discusses in his content are Google AdSense, affiliate marketing, CPA and other popular ways to earn passive money online.
But beyond the data I have gathered, I could not find any more information about him except on his website.
So does this mean that Joey Babineau is your typical internet guru? Or is the program he offers legitimate after all?
If you want to know the answers, let's continue with my Powerhouse Affiliate review and learn more about the program…
What is Powerhouse Affiliate?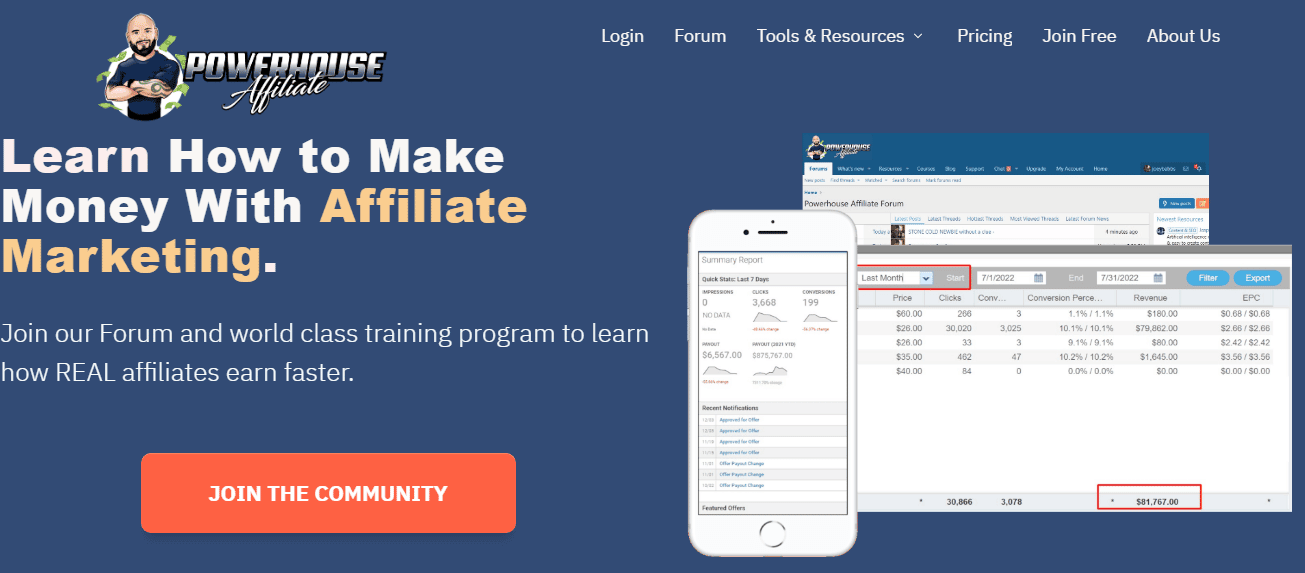 Powerhouse Affiliate is an internet marketing program that provides training in Affiliate Marketing, getting traffic to your website, white hat affiliate campaigns using CPA or Cost per Action, email list building, native Ads, and other advanced lessons. But they specialize in CPA.
In layman's terms, CPA is a marketing term used to measure the total cost of acquiring one customer in a given marketing campaign.
The program shows how super affiliates make massive income from affiliate marketing by taking advantage of CPAs. They will also present you with unique methods that can give you unlimited traffic.
After looking into the system, I was pleasantly surprised by what the course offers.
Powerhouse Affiliate will deliver results to its members. However, as they say in their affiliate marketing course, "the road to get there won't be easy"; therefore, don't expect miracles or become rich quickly.
As in every respectable training program, you will get what you put in yourself. It's not a miracle system, and you will need to put in the effort, just like anything else in life, for that matter.
I also reviewed hundreds of digital marketing programs in the past. And if you are interested in reading about them, some examples are as follows—Bye 9 to 5, Elite Natives Academy, Story Sales Machine, and The Copy Cure, to name a few.
Or you can check the complete list of reviews I've written just by clicking here.
Suppose you're searching for an alternative that can yield positive results and allows you to take a free test drive of the premium membership for seven days. Then you should check out my best work-from-home recommendation!

How Does the Powerhouse Affiliate Works?
The primary offering of Powerhouse Affiliate is a 5-Course Signature Series online training. The program offers several features.
The five stages or levels of completion are enumerated below, but let me say that at each level, there are several lessons where Joey will present you strategies on utilizing CPA to your advantage and how you can implement them in your digital marketing business.
The following are the five stages of the Powerhouse Affiliate training program:
Affiliate Marketing Certification
The first part of the program discusses the basic foundation of affiliate marketing which is relayed into 12 lessons.
First Lesson: How You Will Achieve Success in Affiliate Marketing
Second Lesson: How You Make Money With Affiliate Marketing
Third Lesson: Niche and Target Marketing Research and Study
Fourth and Fifth Lesson: How to Setup Your Website
Sixth Lesson: Time to Make Money Using Landing Pages and Blog Posts
Seventh Lesson: How to Set Up High Converting Landing Pages
Eighth Lesson: Tips for Profitable Landing Page
Ninth Lesson: Tracking Techniques and Strategies
Tenth Lesson: Overview of Website Traffic
Eleventh Lesson: How to Get Free Traffic
Twelfth Lesson: The 90-Day Challenge
Website Traffic Certification
This section of the program discusses a more advanced topic on lead generation and how to track traffic.
First Lesson: The Four Pillars of Traffic Surge Foundation
Second Lesson: The Basics of Solo Ads
Third Lesson: The Foundation of Bing Ads Traffic
Fourth Lesson: Push Notification Traffic
Fifth Lesson: How to Generation Video Traffic
Sixth Lesson: Facebook Traffic
Seventh Lesson: Native Ads
Performance Marketing Certification
The next level of Powerhouse Affiliate will teach you how to boost your site's performance through affiliate promotions, lead generation, setting up a marketing funnel, landing pages, etc.
First Lesson: What is CPA Affiliate Marketing?
Second Lesson: How to Get Accepted into the Top Networks of CPA?
Third Lesson: CPA Offers, Traffic Resources, and Restrictions
Fourth Lesson: How to Collect Leads and Prepare Killer Sales Funnel
Fifth Lesson: How to Setup the Squeeze Page
Sixth Lesson: How to Setup Landing Page or Tripwire
Seventh Lesson: How to Connect the Dots and Setup Sales in Autopilot
Eighth Lesson: Landing Page Hack
Email Listbuilding Certification
As the name suggests, this part of the program relays how you can monetize your content through email marketing and building your sales funnels. It provides seven lessons which include the following:
First Lesson: The Affiliate Funnel and Email Autoresponder
Second Lesson: How to Create Opt-In Bait and Squeeze Page
Third Lesson: Squeeze Pages and Email Autoresponders
Fourth Lesson: Sequences of Email Autoresponders
Fifth Lesson: How to Track Your Email Opt-Ins and Subscriber Rates
Sixth Lesson: The Blog Pre-Funnel Marketing Strategy
Seventh Lesson: List Segmentation
First Lesson: The Four Pillars of Traffic Surge Foundation
Second Lesson: The Basics of Solo Ads
Third Lesson: The Foundation of Bing Ads Traffic
Fourth Lesson: Push Notification Traffic
Fifth Lesson: How to Generation Video Traffic
Sixth Lesson: Facebook Traffic
Seventh Lesson: Native Ads
Native Ads Certification
The last stage of the program is a more advanced training of the entire lessons that were taught in the previous modules—
First Lesson: Webinar Worth Watching
Second Lesson: What Are Native Ads and Display Network
Third Lesson: How to Create the Best Landing Pages for Native Ads
Fourth Lesson: What is the Perfect Advertorial?
Fifth Lesson: The Ads and Network You Have to Consider
Sixth Lesson: How to Optimize and Scale the Native Ads
How Much is Powerhouse Affiliate?
Powerhouse Affiliate offers a free trial membership where you can get a good feel of how the program works and see if it suits your preferences. However, you must remember that this package is limited and will only give you an overview of the program.
There's also a second-tier trial period, but you have to pay $19 for the premium membership, which will give you complete access for 30 days, a very affordable way to learn about the system!
If you want to commit to the program entirely, it will cost you $47 monthly or a one-time payment of $797.
You also must notice that if you're not happy with how the program is progressing, they also offer a 14-day refund policy.
Powerhouse Affiliate has MLM features.
Powerhouse Affiliate also has another method of earning money through the promotion of its system, which is through its compensation plan.
The following is the summary of the compensation plan Powerhouse Affiliate—
First Tier – Premium members will earn a 50% commission for each recruit
Second Tier – Premium members will earn a 10% commission for each recruit
Third Tier – Premium members will earn a 5% commission for each recruit plus referral and recurring commissions
This tier system uses something very similar to an MLM, and judging by their rates, it can become very lucrative for someone to promote them.
Is Powerhouse Affiliate a Scam?
No, Powerhouse Affiliate is NOT a scam!
It's a legitimate training program. Joey Babineau is a legit entrepreneur with over 20 years in the industry and made over 7 million dollars in the past five years (according to his landing page)! That has to count as something very good!
Also, the following is what other people are saying about Powerhouse Affiliate—
What I LIKE About Powerhouse Affiliate
The positive things I like about Powerhouse Affiliate are the following:
Quality Training
It is beneficial, especially to people looking for quality training on CPA.
Joey Babineau is Legitimate
Joey Babineau is a legitimate digital marketer with years of experience.
Free Membership
The free membership is a very good way to get a view inside and will give you the "feel" of the program and what to expect from it.
What I DON'T LIKE About Powerhouse Affiliate
Now, the following are the things I don't like about Powerhouse Affiliate:
Short Refund Policy Period
The 14-day refund policy is short, considering the program's total cost.
CPA marketing is not for everyone
The fact that the training is based mainly on CPA marketing makes me say that it's not for everybody and is more of an intermediate to advanced marketer course. I would not recommend CPA to someone just starting out unless you have the budget for paid advertisement.
Final Thoughts on My Powerhouse Affiliate Review and My Personal Rating
I hope my Powerhouse Affiliate review has provided you with the information you need to help you decide if the program is a good use of your time and money or if you should continue searching for better alternatives.
As I said earlier (and this is my own opinion), CPA is a little complicated to work with, and it may not be the best topic to tackle, especially if you are a complete beginner and learning from scratch. But suppose you want to scale your already established online business and have a budget for paid advertising; in that case, I recommend Powerhouse Affiliate, as it is a legitimate course.
With this being said, I am giving Powerhouse Affiliate a final rating of 8 out of 10.

An Alternative to Powerhouse Affiliate.
Affiliate marketing has been around since the mid-1990s, but it only boomed dramatically at the turn of the century. Since then, it has been able to help a lot of people gain financial independence without having to leave the comforts of their homes, including yours truly.
And the reasons why the eComm platform is very popular because of several factors, such as the following—
It suits all levels of experiences—it doesn't matter if you're a newbie or a struggling internet marketer. You can succeed in this type of business.
It possesses a shallow risk.
You can basically start the business with a low capital of $500 or less.
The business model is highly cost-effective.
Your direct involvement in inventory management and shipment is not a necessity.
Your potential income in affiliate marketing is unlimited because you can promote as many products or services as you like
Suppose you want to learn more about affiliate marketing, are starting the venture from scratch, and are looking for an alternative; then let me suggest a seven-day free test drive cost-effective method. This top-rated course is my best work-from-home recommendation!

And to show you my gratitude for being here with me, I am also giving away my eBook for absolutely no cost to you to help you jumpstart the business and gain traction right away—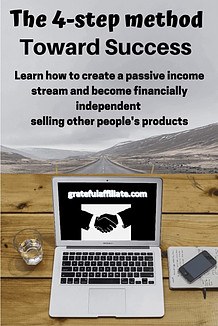 Thank you for taking the time to read my review!
Peace!