In this review, I'll be sharing my thoughts on Anthony Morrison's affiliate marketing program, Partner with Anthony.
If you're looking to build an online business and considering investing in this program, I'll help you determine if it's a good use of your time and money.
Whether you're new to affiliate marketing or a seasoned pro, my review will give you the information you need to make an informed decision about the Partner with Anthony program.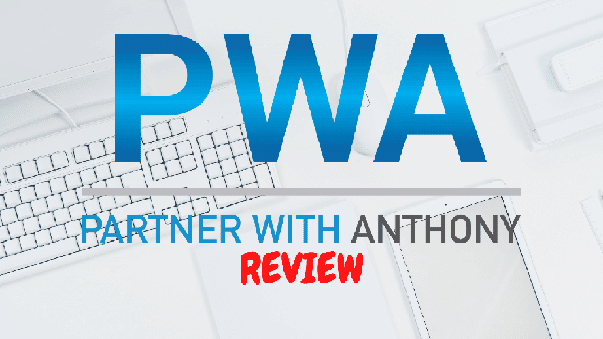 Having the ability to earn a stable income in the comfort of your home is a huge trend in today's generation because you don't necessarily need a college or university diploma or advanced technical skills to become a successful digital entrepreneur.
In fact, the founder of Partner with Anthony has partially completed his medical degree in college. The path Anthony Morrison took is the direction that many people in today's generation are taking when they desire financial independence while pursuing their passion.
If you are a newbie and starting from scratch, like many newbies, you might have to seek the aid of online training courses such as Partner with Anthony.
If you are here today because you would like to know if they're a good investment or if you should continue to search for better alternatives, then the article I prepared will provide you with the answers you need.
But before I begin, I want to let you know that I am NOT affiliated with Partner with Anthony, and I will NOT receive any commissions if you decide to sign up for the program after reading my review.
So without any further delays, let's get right into today's discussion…
Who is Anthony Morrison?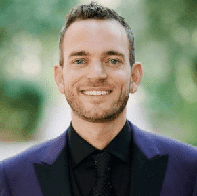 Anthony Morrison is a very prominent and highly respected figure in the digital marketing industry.
I'm sure you might have heard of him or seen him in a video at some point when you were browsing and searching for a legitimate source of income online.
He comes from a well-known business family, which was a car dealership, and, as previously mentioned, he went to medical school in 2004 during the peak of their family's success. However, according to his biography, his studies went to a sudden halt when their company faced legal and financial trouble that took the business down. He had to drop out to help his family financially.
This experience motivated him to turn to entrepreneurship and led him to pursue a career in internet marketing.
His first online business, called "Tutoring Club," was launched in 2005 at the age of 21.
He is also a public speaker and author of several notable books which, includes The Hidden Millionaire, which was published in 2008, and two books in 2009: Advertising Profits from Home and Automated Profits from Home. Both books provide insights and strategies for building a successful online business, but "Automated Profits From Home" focuses more on email marketing while "Advertising Profits From Home" focuses on paid advertising methods.
In addition to his work in internet marketing, Anthony Morrison is also a philanthropist and is actively involved in several charitable organizations. He is the founder of the "Christmas For Kids" program, which provides toys and gifts to underprivileged children during the holiday season.
Are you wondering whether Partner with Anthony program is worth investing in or not?
Stay tuned to find out the pros and cons of this program and make an informed decision for yourself.
What is Partner with Anthony (PWA) program, and how does it work?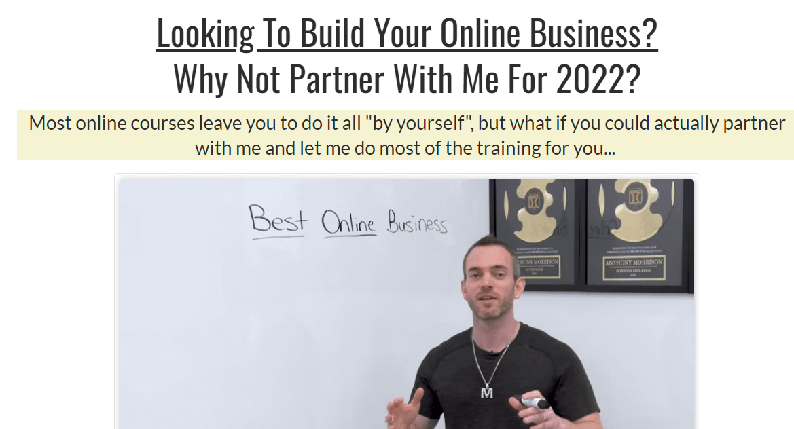 Partner with Anthony is an online program that provides studies on affiliate marketing. The idea of the program is that he'll teach you the essentials of the business and share with you his experiences and personal strategies so you will become his partner. Thus, it is where the name "Partner with Anthony" was derived from.
The great advantage of the program is that it is well-organized, and it shows you a step-by-step process for establishing a profitable affiliate marketing venture from scratch.
With this being said, the Partner with Anthony training is jam-packed with quality lessons on affiliate marketing. It comprises a total of 30 sessions which makes the program an excellent choice and will certainly benefit startups and seasoned digital entrepreneurs alike.
While the promise of partnering with Anthony may seem appealing, the reality of the program doesn't quite live up to its marketing pitch. Upon purchasing the program, users are largely left to navigate it on their own, much like many other online training courses.
The success of the program ultimately rests on your ability to carve your own path towards success, with Anthony offering guidance and expertise on how to run a successful affiliate marketing business with his program.
The 50% commission he mentioned in the product description is from affiliate referrals to the PWA program. That also explains why he is a "partner" of yours because you're essentially his affiliate.
Honestly, I truly believe that the Partner with Anthony program is a great investment for anyone looking to receive top-quality training and access to a variety of additional courses.
However, the program does have a downside: upsells.
Don't worry, I'll go over this more in the next section, but I just want to emphasize that despite this drawback, the training and resources you'll receive make it a worthwhile investment.
Now, suppose you're looking for an affordable affiliate marketing program that can provide quality training and gives you a chance to sign up for a free starter membership to test-drive the platform. In that case, you should check out my work-from-home recommendation!

What's Inside the Partner with Anthony Training Program?
Partner with Anthony comprises 13 total available modules to complete.
However, you have to wait 24 hours before you can go to the next set of training sessions. So you will be with him for about 2 weeks. However, the program doesn't stop with the training lessons.
As a member, you will also gain access to some of his online courses aside from PWA. Additional offers inside the Partner with Anthony training program include the following—
Email Domination – for this program, you'll learn how to write engaging email content that draws attention.
Inbox Inner Circle – this is in relation to the previous course, as it teaches you how to improve the open rate of your emails. Thus, taking both of the programs is complimentary lessons you might need
Morrison Coaching – it is a daily webinar conducted by Anthony's team of experts.
Success Connection – it's a weekly live coaching session from Anthony Morrison himself.
Mastery Funnel Club – his team of experts creates monthly funnels and coaching.
Profit Cycle Blueprint – Anthony shares with you his tactics for creating a profit cycle blueprint, as he describes it.
Funnel Hacks Bootcamp – learn Anthony's six steps in building funnels that generate leads and conversions.
Digital Marketing Mastermind – it is a lesson on how you can operate your business under budget.
Crypto Masterclass – it's undeniable that cryptocurrency has become a huge trend alongside eCommerce. With this being said, Anthony will also provide his thoughts on the essentials of the crypto market.
The courses mentioned above are just a few examples of the additional courses available when you become a member.
This is not the first time I reviewed affiliate marketing programs. Some examples are Affiliate Marketing Mastery, SAS Affiliate and Super Affiliate Systems Pro, to name a few, or you can see the entire list by clicking here.
How Much does Partner with Anthony cost?
I think the most controversial part of the Partner with Anthony training is the pricing.
As you saw in previous sections, it offers quality and advanced training on affiliate marketing. In addition, you'll receive several other benefits like webinars, coaching sessions, and courses.
And you are supposed to get all of these features for a low price of $7?
If you believe you are getting a steal, you have to think again because this isn't quite so.
Although I admire the work of Anthony Morrison, you have to remember that if something is too good to be true, then it's likely not to be true, or there are hidden agendas you don't know about.
When you decide to become a member, you'll soon realize that it is loaded with upsells that you have to purchase in order for you to leverage the training you've taken or apply them in the real world.
Here is the pricing list of PWA:
Partner with Anthony Basic: $7 one-time fee
Includes training videos, access to live weekly coaching sessions, and access to the Partner with Anthony community.
Partner with Anthony Elite: $97 one-time fee
Includes all the features of the Basic package plus additional training videos, access to a private Facebook group, and access to Anthony's personal email for support.
Partner with Anthony VIP: $997 one-time fee
Includes all the features of the Elite package plus a 2-day live workshop with Anthony and his team, a 30-minute one-on-one coaching session with Anthony, and access to a private phone line for VIP members only.
It's important to be aware that there are also 9 upsells included with the program, which is:
First Upsell: ClickFunnels cost $99 to $297 per month
Second Upsell: BuildRedirects cost $19.99 to $99.99 per month
Third Upsell: Anthony's Digital Marketing Mastermind costs $7
Fourth Upsell: Insider Newsletter costs $9.95 per month
Fifth Upsell: Get Response can cost $15 and up to $1,199 per month
Sixth Upsell: Aweber costs $19 to $149 per month
Seventh Upsell: PurchaseYour.com costs $16.99 per year
Eighth Upsell: Mobile Optin (Anthony Morrison's own Email list Building Software) costs a one-time payment of $1,997 or in three payments of $797
Ninth Upsell: Figure Marketing Copy costs a one-time payment of $37
Therefore, the total expenses that you are going to incur are in the thousands, depending on the path you take!
If you are not willing to spend that kind of money but are eager to learn affiliate marketing, then do not lose hope because there are better alternatives around, such as my best work-from-home recommendation!

Is Partner with Anthony a Scam?
No. I can tell you for sure that Partner with Anthony is NOT a scam.
He is a legitimate digital entrepreneur that offers quality training on affiliate marketing and other ways how you can earn a stable income in the comfort of your home.
Below is what other people are saying about their thoughts on the Partner with Anthony online training course:
Regenerate response
What I LIKE About Partner with Anthony
Below are the advantages of taking the Partner with Anthony program:
Legitimate!
First and foremost, this means that Partner with Anthony is not a scam or fake program. Anthony Morrison is a real person who knows about digital marketing and can be trusted.
Quality Training
Partner with Anthony offers quality, detailed and extensive training that teaches you good and useful things about affiliate marketing, so you should learn a lot. And I have seen success stories while reviewing the program.
Commissions
If you sell the Partner with Anthony program or other programs that Anthony Morrison is connected with, you can earn commissions. This means you can make money by promoting the programs to other people.
What I DON'T LIKE About Partner with Anthony
The upsells because $7 won't get you very far.
The thing that I don't particularly like about Partner with Anthony is the misleading price of the program.
The front-end cost of the program is only $7, but as I showed you, once you are in, you will soon realize that there are many additional costs involved for tools such as page builders, trackers, email managers, etc., that you have to purchase in order to apply the lessons you have learned.
Also, some people claim that it's difficult to get a refund if they are not satisfied.
Final Thoughts on Partner with Anthony and Rating
In conclusion, after thoroughly analyzing the Partner with Anthony program, it's evident that it offers valuable insights and training for both newcomers and seasoned digital marketers. It's a promising platform that can help you scale your business and develop the necessary skills to succeed in the competitive online marketing space.
However, some people may not like that the program relies on upsells, which could be a problem for people who don't have a lot of money to spend.
So, as we wrap up our final thoughts on Partner with Anthony, it earns a 7 out of 10 ratings because of all the upsells and the misleading front-end price of $7.

This score reflects its high-quality content and overall effectiveness, with a deduction for the upsells.
If you're looking to invest in your digital marketing skills and can accommodate the additional costs, this program could be a game-changer for your online ventures. So go ahead! But remember that the right tools and guidance can make all the difference in your journey to success.
A Cost-Effective Alternative to Partner with Anthony
Affiliate marketing is a popular way to make money online. You don't need to be an expert in digital marketing to do it. Anyone can start, even if you're just starting out.
All you need is a desire to learn and work hard.
Additional reasons why many people prefer affiliate marketing over any other platforms is because of the following:
It possesses very little risk.
You won't have to invest a crazy amount of money.
Your involvement in inventories and shipment is not a necessity.
Your Potential income is unlimited because you can market as many affiliate partners as you like
If you want to start affiliate marketing but don't know how to get started, I suggest checking out the platform I've been using for 7 years. I have my own successful affiliate marketing business, and I love to help others start their own too.
The platform I use offers a free starter membership that allows you to test drive the platform and see if it's something you could see yourself doing. It's a great way to start building your online business and see if it's suitable for you.
Click on the highlighted text or the button below and start your online business today with your free starter membership. No risk is involved, and no credit card is required; just a username and an email address are needed to get started.
>>HERE'S MY BEST WORK-FROM-HOME RECOMMENDATION!

And to show you my appreciation just by being here today, I am also giving away my eBook for free to help you start your business—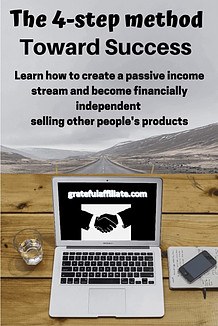 Peace!