If you're looking for the inside scoop on the Rank and Rent Club, you've come to the right place.
In this review, I'll break down everything you need to know about the platform, so you can decide if it's worth your hard-earned cash or not. We'll dive into the nitty-gritty of what Rank and Rent Club is all about, explore its features, and even talk about some alternatives. So, grab a cup of coffee, get comfy, and let's jump into this Rank and Rent Club review together!
Digital marketing goes way beyond just creating quality content.
Generating leads, your website's ability to engage your audience, and converting traffic into sales are the backbone of your business. That's why optimizing your content is super important to make your site profitable, using a method called SEO.
There are also paid methods for getting traffic to a website, but we will not discuss those here and will only concentrate on SEO (search engine optimization).
However, It's not a walk in the park, as you'll need to do a bunch of research to figure out the best ways to optimize your content and website.
That's why a lot of people look for training courses to step up their skills. While doing your research, you might've come across one such program which we are discussing today called Rank and Rent Club.
However, can it genuinely provide the assistance you need? Or does it fall short of expectations? If you're thinking about signing up for the program but have concerns, today's article will give you the insights you need to decide if they're worth your time and money.
Before I dive in, I just want to let you know that I am NOT an affiliate of Rank and Rent Club, and I will NOT gain anything if you decide to go with them in the end.
So, let's get started…
Who are the Founders of Rank and Rent Club?
The Rank and Rent Club program was founded by Herc Magnus and Todd Spears. They are experienced internet marketers who have been involved in the online marketing industry for many years. They have a background in SEO (Search Engine Optimization), local lead generation, and various other aspects of digital marketing.
Herc Magnus is known for his expertise in SEO and has created several successful online businesses. He has a strong reputation in the industry for providing valuable insights and strategies to help businesses improve their search engine rankings.
Todd Spears, on the other hand, has extensive experience in software development and online marketing. He has developed multiple marketing tools and software solutions to help businesses automate their processes and improve their marketing strategies.
Together, they founded Rank and Rent Club to share their knowledge and expertise in ranking and renting websites to local businesses for a recurring income.
The program aims to teach aspiring entrepreneurs how to build, optimize, and rent out websites to clients, leveraging their combined experience in SEO, lead generation, and digital marketing.
What is Rank and Rent Club?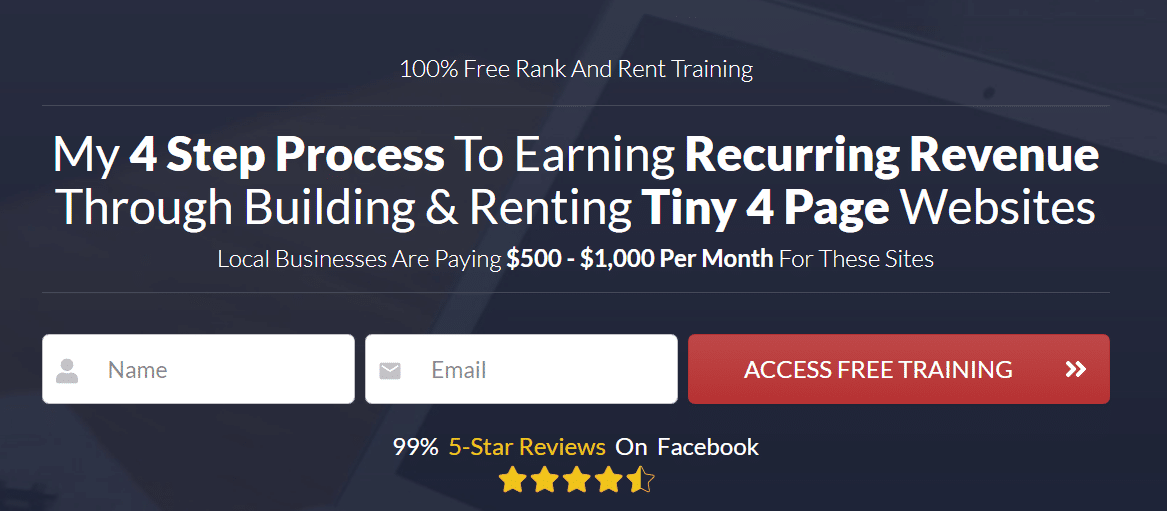 As I briefly mentioned earlier, Rank and Rent Club is an online training course that offers lessons on how to create a website from scratch and optimize them in search engine sites like Google.
But the ultimate purpose of Rank and Rent Club is to rent them to other internet entrepreneurs once the site and content start to improve their online presence and engagement.
The target market of the program is local businesses. And this process is called local SEO because they focus on a smaller group of people.
What makes the program more attractive and competitive is that they offer free membership, which gives you access to four basic lessons. If you want to upgrade and gain access to the full benefits of the program, they also have a premium membership package, which I will explain in the following sections.
This is not the first time I reviewed local SEO training courses. One of the articles I published in the past that discusses the matter is Bossless Forever. Other SEO programs I reviewed are Online Marketing Classroom and SEO That Works, just to name a few.
You can see the full list of reviews other than SEO courses by clicking this highlighted description.
What's Inside the Rank and Rent Club Program?
The Rank and Rent Club is all about teaching you how to make websites that you can then rent out to local businesses. You'll learn how to find money-making niches, build awesome websites, and get them to the top of Google's search results. Plus, you'll be part of a private community of other members who can help and give you advice.
This club is perfect for folks who want to kick off a business that brings in passive income. And if you already know a thing or two about SEO, this is a great way to take that knowledge and turn it into a money-making business.
Here is what you can expect inside the Rank and Rent Club program:
Step 1: Find a Keyword People are Searching for Online
You have to remember that the crucial part of site optimization is the right keywords to use. With this being said—Herc Magnus is sharing the important matters about finding the keywords that generate leads.
Second Step: Build a Website Focused on that Keyword
For the next module, you will learn how to establish a site that is optimized based on the focus keywords you have gathered.
Third Step: Rank that Site #1 to #3 in Google
Now, Herc will go deeper into the topic of optimization and help your site rank in the first—possibly even rank as number 1 to number 3 in Google's search engine.
Fourth Step: Rent that Website to a Business Who Wants the Traffic
The last part of the training is helping you search for clients or businesses in your local area within the niche who desires traffic to their ventures.
Other Features
In addition to the four modules, the program also offers access to tools and software that will be essential in optimizing your site and renting them to other digital entrepreneurs. Some examples of the tools and software are as follows—
SERP Scout
Keyword Supremacy Keyword Tool
Local Supremacy Tycoon Tool
Project Supremacy Management Tool
How Much is the Registration for Rank and Rent Club?
As mentioned, registration for Rank and Rent Club is free. And free membership will give you access to parts of the training courses. But if you want to gain the full benefits of Rank and Rent Club, they offer a three-tier membership package that includes the following—
Three-Month Membership Package: Initial payment of $1,047.90, and then $197 monthly fees afterward
Six-Month Membership Package: Initial payment of $1,397.90, and then $197 monthly fees afterward
12-Month Membership Package: Initial payment of $1,747.90, and then $197 monthly fees afterward
Although they provide you with quality training on local SEO and site rental, it is expensive, and it may not suit especially people who are under a tight budget.
They also have a 7-day refund policy. However, this, to me, is a little short, considering how expensive the required initial payment is.
And if you are looking for a more affordable program that can provide you with equal results, then you should check out my best work-from-home recommendation!

Is Rank and Rent Club a Scam?
No. I am certain Rank and Rent Club is not a scam.
It is a legitimate program that offers quality lessons on local SEO and site rental.
For additional reference about the program, the following is what other people are saying about Rank and Rent Club
What I LIKE About Rank and Rent Club
The following is the list of positive things I have to say about Rank and Rent Club—
Here's the scoop on why Rank and Rent Club is worth checking out—
Top-Notch Training
If you're searching for local SEO training that'll teach you how to flip websites for profit, look no further. Rank and Rent Club has got you covered with in-depth courses that are easy to understand.
Free Access to Some Lessons
You don't have to shell out the big bucks right away. As a free member, you'll get a sneak peek at some of the training courses, so you know what you're getting into.
Amazing Local SEO Tools
Once you decide to go premium, you'll unlock access to a whole suite of awesome tools and software designed to make your local SEO efforts a breeze.
100% Legit
You can trust that Herc Magnus and his Rank and Rent Club program are the real deal. They've got a solid reputation and a track record of helping people succeed in the local SEO game.
Supportive Community
Being part of Rank and Rent Club means you'll also join a community of like-minded folks who are eager to share tips, tricks, and advice. It's a great place to learn, connect, and grow together.
Passive Income Potential
Rank and Rent Club is an excellent choice if you're looking to build a business that generates passive income. Once you've set up and ranked your websites, you can sit back and enjoy the benefits of renting them out to local businesses.
Perfect for SEO Pros and Newbies
Whether you're an SEO veteran or just starting, Rank and Rent Club has something for everyone. The training is comprehensive and tailored to various experience levels, so you'll never feel lost or overwhelmed.
What I DON'T LIKE About Rank and Rent Club
There are a couple of things about Rank & Rent Club that aren't so great:
Pricey Investment
The upfront cost and ongoing monthly fees can really add up, making it an expensive option for those who are just starting out or on a tight budget.
Short Refund Window
Rank and Rent Club only offers a 7-day refund policy, which isn't a lot of time to fully explore the program and decide if it's right for you. This short window might make some folks think twice before committing to the program.
Steep Learning Curve
The training is super detailed, but it could be a bit much for people who are new to SEO and building websites. It might also take some time and effort to learn the ropes and start seeing results. Just remember, you'll want to recover the pricey initial investment before you can start making any profit.
Final Thoughts on My Rank and Rent Club Review and My Personal Rating
I trust my Rank and Rent Club review has given you the info you need to figure out if this program is worth your time and money or if you should keep looking for something better.
If you're ready to drop that kind of cash and want to build an optimized site that you can sell once it starts getting solid traffic, then I'd recommend giving Magnus' program a shot.
With this being said, I am giving Rank and Rent Club a final grade of 8.5 over 10, with a small deduction for the high price.

An Alternative to Rank and Rent Club
Earning money from home is super popular these days, and affiliate marketing is a big part of that. It's a great option for anyone wanting to start an online business, no matter if you're a newbie or a pro.
One of the best things about affiliate marketing is that it works for all skill levels, so it's perfect for beginners and experts alike. Plus, it's low-risk, and you don't need a ton of money to get started – less than $500!
As an affiliate marketer, your main job is to promote products and brands, so you don't have to deal with shipping or handling products. The sky's the limit when it comes to how much you can earn because you can promote as many brands as you want. This means more opportunities to make money and grow your business.
If affiliate marketing interests you and you want to learn more about how it can benefit you financially, then you should try the training course that has been my secret weapon for the past 7 years! This platform has helped me create my own super successful business, and I truly believe it can do the same for you.
By joining this platform, you'll get access to comprehensive training and resources that will guide you through the ins and outs of affiliate marketing. You'll also benefit from a supportive community of like-minded entrepreneurs who are eager to help you succeed.
So, if you're ready to take your affiliate marketing journey to the next level and build a thriving online business, don't hesitate to explore this incredible platform. Your future self will thank you for it!
🚀 Take action now and join the platform that has transformed my life and countless others. Don't miss out on this opportunity to create the successful online business you've always dreamed of. Click the link below and start your journey today! 💼💡🌟
[Click here to get started on your affiliate marketing success story!]

And hey, just to show you how much I appreciate you hanging out with me today, I'm gonna give you my eBook for free! It'll help you kick-start your business and get things rolling in no time.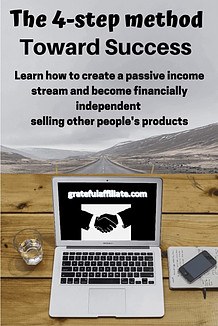 Peace!