The Commission Machine review. Today I'm sharing with you my insights on the training courses' potential and if they could really help you achieve the financial stability you seek.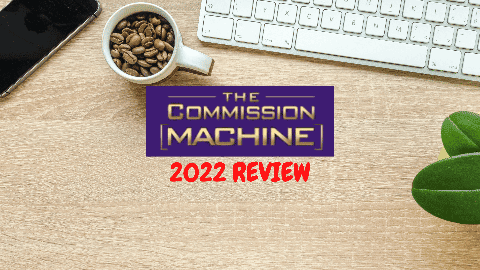 Everybody wants a good life, but not everybody is willing to put in the work that will improve their lives. Sadly, the reason why many people turn to digital marketing is because of the belief that it will give them the financial stability they seek without exerting any significant effort.
Because of this particular belief in many people, it has resulted in the rise in the demand for online training and systems to earn money online.
If you have browsed the web for a legitimate training course to earn money online, then it's likely that you have come across Michael Cheney's affiliate marketing program.
But is it really a legitimate program you can engage in? Or is it a scam?
In today's article, I will provide you with the important specifications of the program and give you my insights on whether it can indeed help you achieve your financial goals.
But before I begin, allow me to share with you that I am NOT an affiliate of The Commission Machine, and I will NOT benefit if you decide to avail them.
So without further delays, let's begin…
Allow Me to Introduce the Founder of The Commission Machine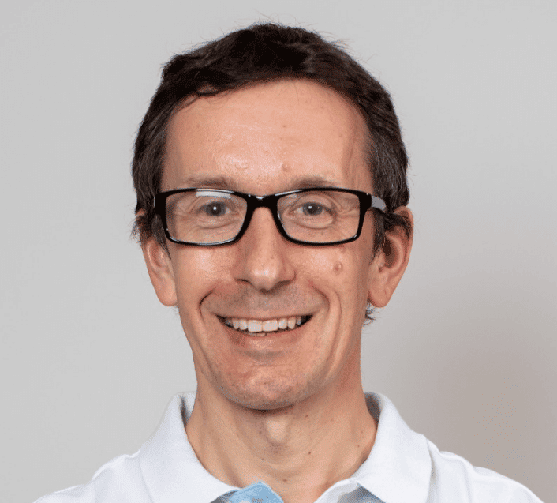 The Commission Machine was founded by Michael Cheney. He is an affiliate marketer from the United Kingdom with years of experience in the industry.
He published several training courses in previous year, but he is more well-known for his email marketing strategy program.
Michael started selling digital marketing courses, particularly Google AdSense training, in 2006. His first programs were a flop, but he worked his way up and began seeing success in the ensuing years.
He also says that he was inspired by another digital marketer named Ben Settle. He is popular for his ability in storytelling and how you can use such skills in email marketing to attract quality leads and convert them to sales.
Although he was inspired by Ben, his skills and ability to persuade people are unique in their own way.
If you have seen his video sales letter, you'll immediately notice his charisma and optimistic marketing pitch.
This may be the case but some people are unappreciative of his style of sales pitches and see them as exaggerated and misleading.
Although he has been in business for many years now, I am unable to find any income disclosure statement to prove his claims. However, I am also not discounting anything from him.
I believe there are still slices of truth in what he is claiming. Besides, he has been in the industry for many years, and I have not found any significant negative reviews about him as well.
So is the program a scam? Or is it legitimate?
Let's continue with The Commission Machine review and learn more about the training courses' features…
What is The Commission Machine?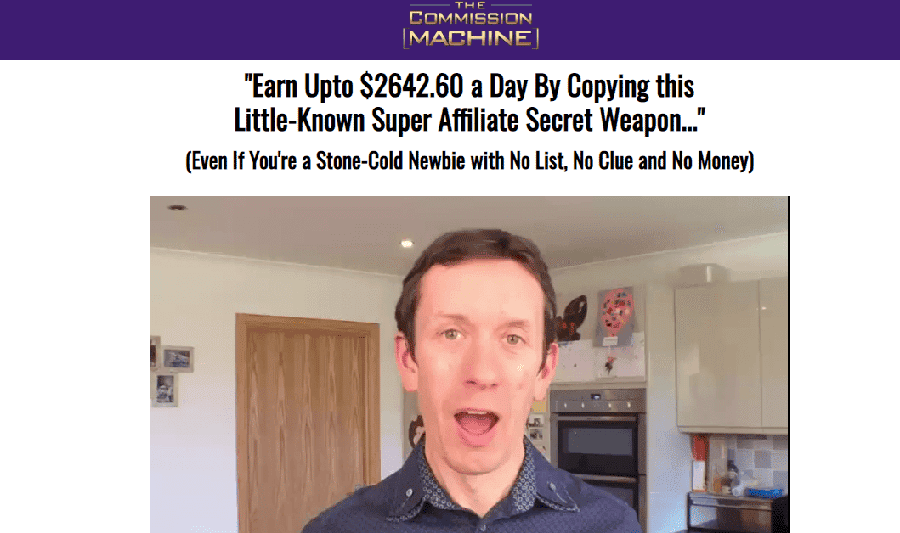 As mentioned, The Commission Machine is an 8-module training course that primarily focuses on affiliate marketing and email marketing strategies.
Also, the main courses are in video format, and the program promises to help you generate over $2,500 a day. I have nothing against Michael Cheney, but I believe this is overhyped because it will require your time and a lot of effort before you get into that amount!
In addition to the video files, he also offers specific tools and software that should help the member understand the business more and scale up.
As you move on with the training, you'll immediately realize the level of trust he puts in the income potential of affiliate marketing and compliment it with email marketing.
And yes, it can really provide you the financial independence you seek if you are able to set up and manage them effectively. In fact, I have been earning reliable income from affiliate marketing in the past years as well.
However, The Commission Machine is not the training course that has helped me with affiliate marketing.
If you want to know the program that I have turned to, then you should check out my best work-from-home recommendation!

What's Included in The Commission Machine Training Program?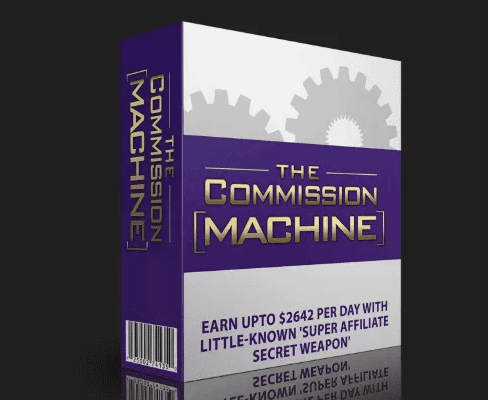 As mentioned, the program offers members 8 modules of affiliate marketing and email marketing strategy training. The content of the modules is presented by Michael Cheney himself.
The summary of the program is as follows—
First Module: Getting Started
The first part of the program is an introduction to Commission Machine and what you can expect with training as you move forward.
Second Module: Research
The second part of the program is the actual training you have to go through. In this section, you'll learn about Cheney's so-called "Commission Gold Mines."
He will also share his insights on researching products that work and could help you generate reliable income.
Third Module: Angle
In this section, Michael will provide you with angles on how to attract traffic and encourage your audience to engage your affiliate links and buy them immediately.
In addition, he'll share a few email examples that have given him results in the past.
Fourth Module: Providing Incentives
As the name suggests, this module will teach you how you can add incentives to your affiliate links so you will be able to reward your audience. The purpose of this act is to encourage your audience to engage in your personalized affiliate links and buy them eventually.
He will also teach you how you can leverage the scarcity tactic, which I am not in agreement with because it is misleading. I honestly believe that we should be providing quality products and content to our audience and not force them into buying products that potentially do not possesses value to them.
Fifth Module: Messages
Now, this is the part of the training where Michael will provide you with how you can utilize your storytelling skills in creating engaging email messages.
In addition, he'll provide illustrations of his previous email campaigns that have generated huge leads and sales conversions.
Aside from Michael Cheney, Ben Settle and Russell Brunson (Co-Founder of click funnels) will be along with him, presenting this module. They are two of the most prominent figures in the digital copywriting business.
Sixth Module: Deploy
This module is all about setting up your email marketing campaigns which include the frequency of email deliveries and how you want to send your emails.
Seventh Module: The No List Method
The lesson teaches you how you can use Facebook for affiliate marketing. In order to do so, he highly recommends publishing SEO-optimized blogs that should rank on search engine sites and social media platforms first.
Eighth Module: Advanced Ninja Tactics
The last part of the training basically provides you with how you can create a bonus page for your audiences that have bought the products you are promoting.
I reviewed several affiliate marketing and copywriting programs in the past as well that you can read about. It includes reviews on Affiliate Escape Plan 2.0, Simple Affiliate System, The Copy Cure, and High Income Copywriter by Dan Lok, just to name a few of them.
Or you can refer to the full list of reviews I have published by clicking here.
How Much is The Commission Machine?
If you are interested in The Commission Machine training program, then you'd be glad to know that the initial cost is only $47.
Apparently, it is not as expensive compared to other popular affiliate marketing programs like John Crestani's Super Affiliate System Pro, which is about $1,000.
They also have a 30-day refund policy if you are not happy with how the program is progressing.
As enticing as the program is, they also have upsells, which include a done-for-you system. The DFY content of the program is expensive and highly impractical.
One of the upsells are called the Commissionology Upsell, which will require you a monthly payment of $27. It also includes another upsell, which will cost you $97.
All in all, the total amount of the upsell of The Commission Machine costs a hefty amount of $1,997!
The upsells were not mentioned at the beginning of the sales pitch. And you'll only learn about them as you move forward with the program. As you see, you'll end up incurring more expenses than saving money.
And if you are particularly searching for an affiliate marketing program that's truly budget-friendly and doesn't have any hidden costs, then you should check out my best work-from-home recommendation!

Is The Commission Machine a Scam?
No. I don't think Commission Machine is a scam. I believe Michael Cheney is a legitimate training program that can teach you affiliate marketing and creating email marketing campaigns.
Now, the following are what other people are saying about Commission Machine—
What I LIKE about The Commission Machine
Below are the things that are noteworthy about the Commission Machine training program—
Cheap Initial Cost
Commission Machine offers an affordable initial cost.
Refund Policy
They have a 30-day refund policy that allows you to get your money back in full if you are unhappy with how the program is progressing.
Michael Cheney is Legit
Michael Cheney is a legitimate digital marketer with years of experience in the industry.
Quality Training
The training is an excellent course for digital marketers that already have an established site and looking to improve the quality engagement of their site.
What I DON'T LIKE about The Commission Machine
Now, I also listed the factors that I believe why the program may be an advantage to some people—
Expensive Upsells
The program offers expensive upsells that will lead you to spend a total amount of about $2,000.
It is Not Suitable for Beginners
The content of the training may not be the best option for people who are just starting from scratch.
It Teaches Sketchy Marketing Campaigns
One of the things that I don't particularly admire about Commission Machine is that it also teaches dishonest marketing strategies like exaggeration and false scarcity.
Final Thoughts on The Commission Machine Review and My Personal Review
I hope my Commission Machine review has provided you the information you need.
Due to how the training is constructed, I honestly believe that it will be useful to digital marketers who already have an established website and wish to improve their traffic and sales.
However, it lacks the basic lessons on affiliate marketing and email marketing which may render it to be not suitable for beginners.
In addition, although it has a cheap initial cost, the prices of the upsells are astronomical! If you are under a tight budget and are not willing to spend that much money, then the Commission Machine is not for you!
The good news is that there are better alternatives to Commission Machine that are more affordable and do not have hidden costs. I will explain them in the next section.
With this being said—I am giving the Commission Machine a 7.5 out of 10 rating—

A Better Alternative to The Commission Machine
If you are looking for a training program that can teach you how you can start affiliate marketing from scratch without requiring you to break the bank, then you should check out my best work-from-home recommendation!
I believe that is just about it in today's Commission Machine review!
And to show you appreciation just by being here, I'm also giving away my book for free to help you kickstart your affiliate marketing endeavor—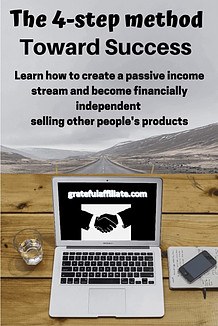 Thank you for your time and for reading my article!
Peace!