Welcome to The Freelance Hustle review! Today's discussion centers on whether Kaily Barth's freelancing course is worth your while or not.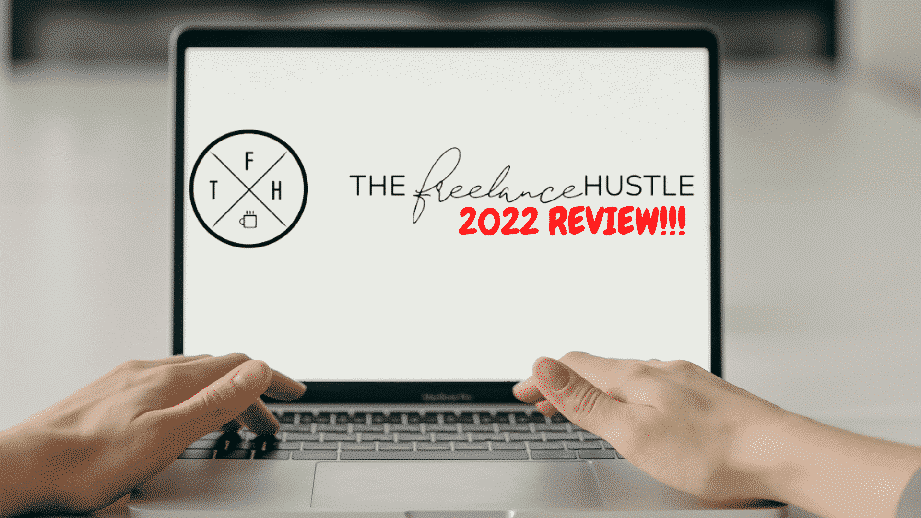 Welcome to The Freelance Hustle Review!
The laptop lifestyle is relatively a new term today that describes a type of living that involves working remotely either at home or in any part of the world.
The idea is especially popular with the younger generation that desires to have the freedom to travel around the globe and make a living at the same time.
If you're like me before, you might have turned to the internet for guidance and have come across a number of sites and training programs claiming that they have the answer to your concerns.
And one of the programs that may have sparked your interest is The Freelance Hustle training course which was created by Kayli Barth.
You might not have heard of her, but if you're curious about her program and whether it could indeed help you become a better freelancer, then the article I've prepared for today is specially written just for you!
But before I start, allow me to have this opportunity to disclose that I'm NOT an affiliate of Ms. Barth, and I will NOT earn any cent if you decide to sign up for her course.
So without any further ado, let's begin…
Let's Meet the Creator of The Freelance Hustle
As mentioned, you might not have heard of Kayli Barth before. But she is a Montreal-based freelance content creator and digital entrepreneur and has been in the industry for several years now.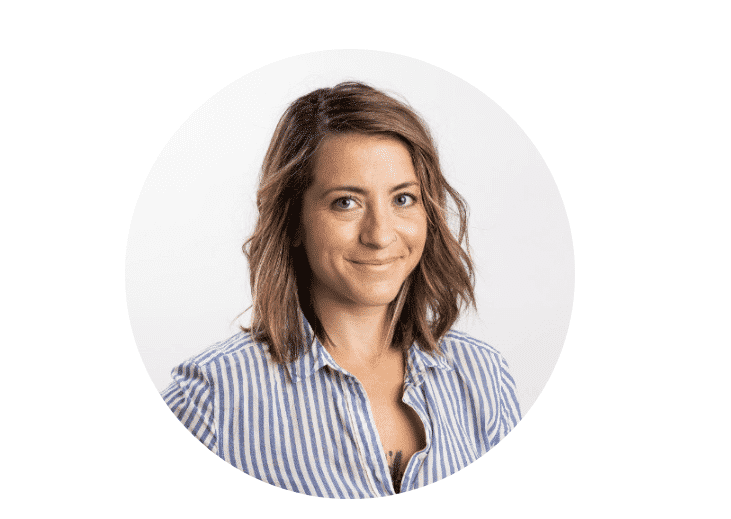 She also appeared in a well-known podcast for freelancers called "The Freelance Podcast." It is a show that especially discusses matters that involve topics and other issues that many freelancers encounter.
Aside from her freelance work, she had begun working with several marketing agencies for a year now, such as ConvertKit and TapClicks as a Product Designer and UX/UI Designer, respectively.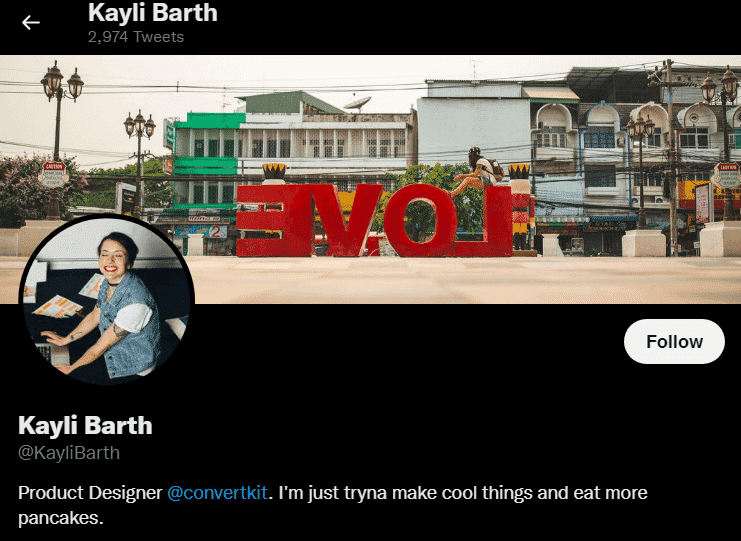 As you see, Kayli is successful in her own field. And if there's one person who can help you with freelancing work, she's the one that can definitely guide you.
However, the question is would her accomplishments translate to the training course she created? Would you get quality training in her program?
In the next section, we will talk about the matter and help you determine if the program is the right one for you.
Let's continue with The Freelance Hustle review and learn more about her program…
What is The Freelance Hustle Training Course?
As you might have already guessed by now, The Freelance Hustle is an online course that provides training on creating a freelancing business.
When we talk about freelancing, it involves a variety of remote works such as content writing, copywriting, virtual assistants, web developers, graphic designers, and the list goes on.

Freelancing has been around for many years now, but its potential as a full-time job has been greatly magnified during the peak of the COVID-19 pandemic.
We are confined in our homes due to health protocol restrictions and left jobless for several months. As a result, most of us turned to income opportunities you can do online.
The advantages of freelancing and what makes them extremely attractive to many people are the freedom they can provide financially and the way of living.
It can give you financial freedom and help you make a living while working comfortably at your home or doing the things you love, like traveling around the world.
The Freelance Hustle can indeed help you with your goals of creating a freelancing business. But the only thing that bothers me about the program is that it seems to be broad.
And what I mean by this is that it doesn't appear to be targeting a specific niche like content writing or web designing, for example.
In any case, I still believe that it's a worthwhile program you can engage in.
I also reviewed several online courses in the past that provide training on how to achieve a laptop lifestyle. You can check them out if you like—Story Sales Machine, The 6-Figure YouTube Academy, Blog Growth Engine, and the Laptop Lifestyle Academy, just to name a few.
What does The Freelance Hustle Offers?
Kayli Barth's The Freelance Hustle can help you in your freelancing endeavor in several ways.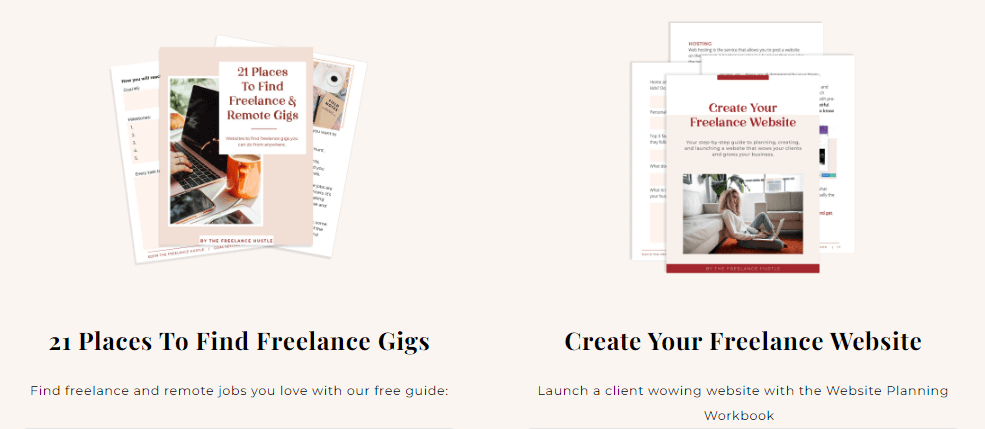 Firstly, when you scroll down the main landing page, you'll see options for the following—
Create Your Freelance Website
21 Places to Find Freelance Gigs
Of course, you'll get the guides for free in exchange for your email address. It might mean not that much to you, but to marketers, they are very important in marketing their products or affiliate products.
When you go to the site's shop, you will be presented with three courses that are offered at different prices. A summary of the modules includes the following—
The Essential Freelance Pitch Package
The package includes how to create a winning pitch that enables you to land a job and start earning money right away.
In addition, the module also comprises Barth's "Must-Know Pitch Writing" and secret training that's complemented by her fillable pitch templates, proposal prompts & swipe copy, and pitch tracking worksheets & mo19.
Freelance Marketing Plan & Goal Setting Workbook
The module is not yet available. However, in this part of the program, Ms. Barth shares with you her strategies and techniques in goal setting and creating a plan to achieve them in order for you to grow your freelancing business.
Digital Planner Bundle
This module is also not yet available for purchase. However, the program includes daily and weekly planners to ensure that you are on track.
If you're looking for a better alternative to online jobs and would rather start your own digital marketing business, then you can check out my best work-from-home recommendation.
How Much is the Cost of the Packages?
Below are the prices of the programs' packages you have to take note of—
The Essential Freelance Pitch Package is $37. However, if you signed up for Kayli's email subscription, you'll get them for only $17
Freelance Marketing Plan & Goal Setting Workbook is at $19. This program is not yet available
Digital Planner Bundle is only $5. This program isn't available as of the moment as well
It also has a 30-day refund policy in any event that you are not satisfied with the results you are getting from the program.
Is The Freelance Hustle a Scam?
No. I am 100% confident that Kayli Barth's The Freelance Hustle is not a scam. It is a legitimate program that aims to help aspiring freelancers establish a stable online business. As a matter of fact, I give it an 8 out of 10 stars!
What I DON'T LIKE about The Freelance Hustle
As quality as the program may seem, it has a disadvantage that you have to bear in mind before purchasing Kayli's digital products.
Just by looking at the modules included in the training course, I feel that it is lacking.
The courses involve the basics of starting a freelancing business which is essential to startups. However, the topic is general and doesn't focus on niches like content writing or other forms of online jobs.
It's not an all-in-one product, so to speak. And I'm sure you will end up searching for other programs that would complement hers.
Some might even lead to the belief that the program is relatively new, considering the modules that are still not available for purchase, and it appears that the site is still a work-in-progress.
However, her webpage was already established in 2014.
If you're looking for a better alternative than freelancing works, then you have to check out my work-from-home recommendation!
What I LIKE about The Freelance Hustle
I also listed the advantages of The Freelance Hustle, which include the following—
Kayli Barth is Legitimate
Kayli has been in the business for a very long time now, and in my honest opinion, she can help you gain traction in the freelancing industry and achieve stability.
Quality Training
She offers quality on starting a freelancing business.
Affordable Rates
The costs of the packages are very flexible.
Outstanding Refund Policy
The Freelance Hustle offers a 30-day money-back guarantee and no-question asks if you are not satisfied with the program.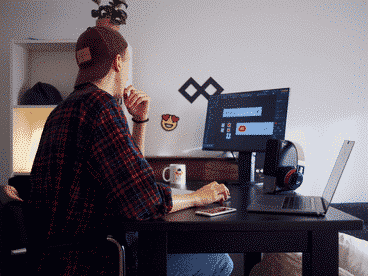 Final Thoughts on The Freelance Hustle Review and Better Alternative
I hope my The Freelance Hustle Review has provided you with the information you need in deciding whether to sign up for the program or not.
In any case, I honestly believe that Kayli's program can assist you if you're planning to start a freelance business.
She has been on the freelance path long enough and has the experience to help you achieve your goals.
The only disadvantage of freelance work is that you are basically working for clients, which means that your income is basically a portion of what they have actually earned.
Imagine if you can gain the full profits that a regular digital marketer would earn?
There are several eComm platforms around that you can turn to, but the most popular is affiliate marketing because it is cost-effective and suits all levels of experiences.
If you're curious or want to know some of the platforms, you can venture into becoming a full-time digital entrepreneur, and then you can check out my best work-from-home recommendation for more information.
I believe that's just about it in today's The Freelance Hustle review!
And to show you my appreciation just by reading the article I've prepared, I'm also giving away my book to help you kickstart with affiliate marketing—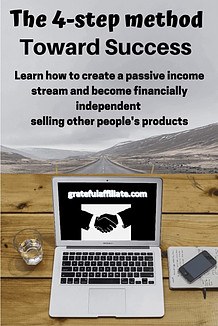 Thank you for the time, and I hope to see you next time!
Peace!