Welcome to my The Infinity App review! For today's topic, I'll help you determine whether this platform is legit or a scam that you should avoid.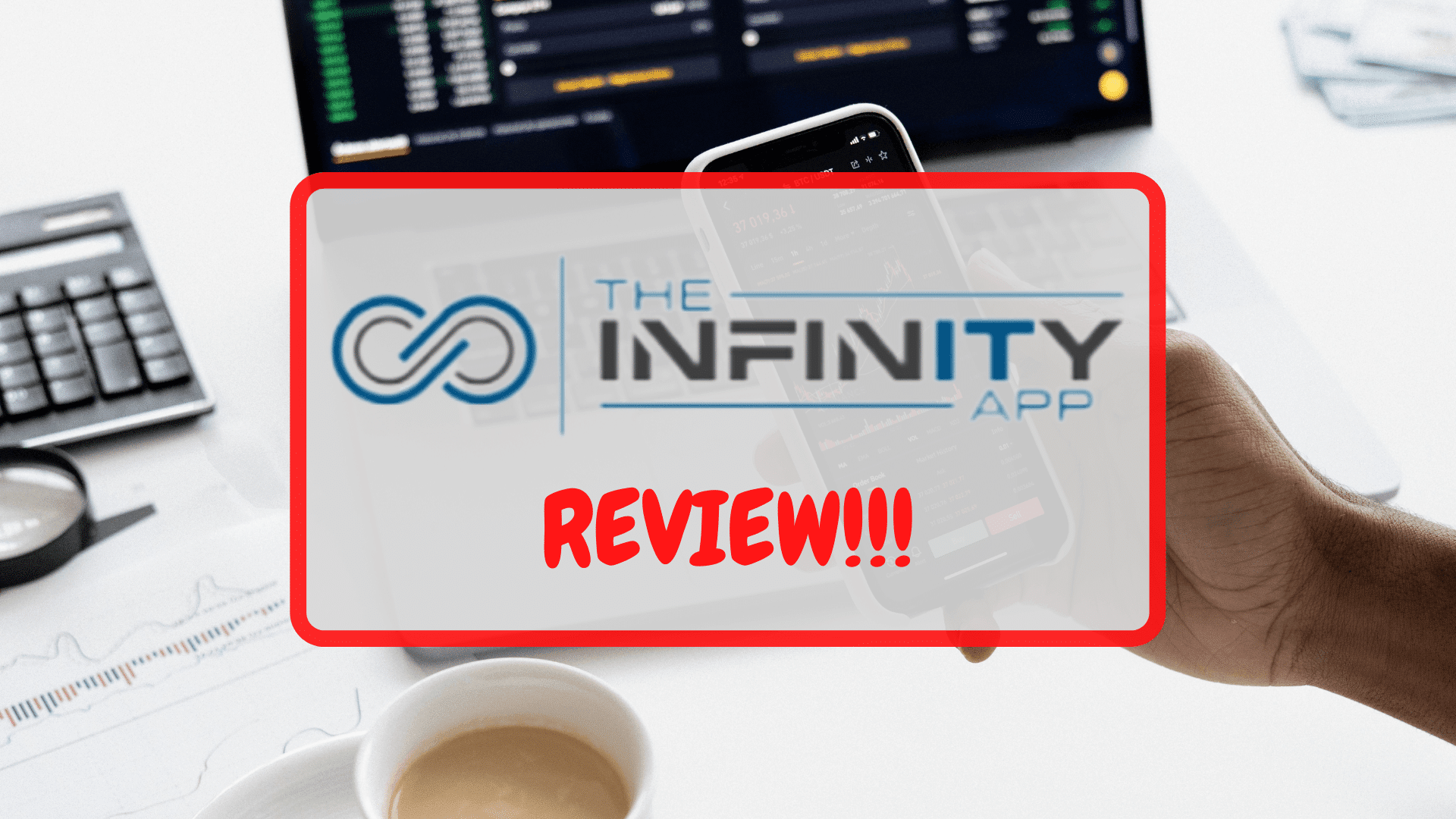 Welcome to My The Infinity App review!
Nowadays, options trading is slowly becoming a popular trend, especially among young people.
In fact, when you look into social media, you will find a lot of influencers promoting their own brand of trading software that claims could help you earn huge profits.
And one of the programs that you might have come across as you browse the web is The Infinity App.
Well, the video presentation might have impressed you. As a result, you want to know more about the program and whether it could truly deliver as promised.
And if this is the case, then this article is what you are looking for!
But before we officially begin today's discussion, allow me to share with you first that I am not an affiliate or representative of Mark Stevenson. I am also in NO way promoting any programs or upsells he is related to.
This article is my honest and unbiased take on the subject matter and whether it is indeed a scam that you should stay away from.
So without any further ado, let's begin…
Who is Mark Stevenson?
At first sight, the program seems to be legit because it's allegedly owned and founded by a former NASA engineer named Mark Stevenson. Plus, there are testimonials that are supposed to back up their claims.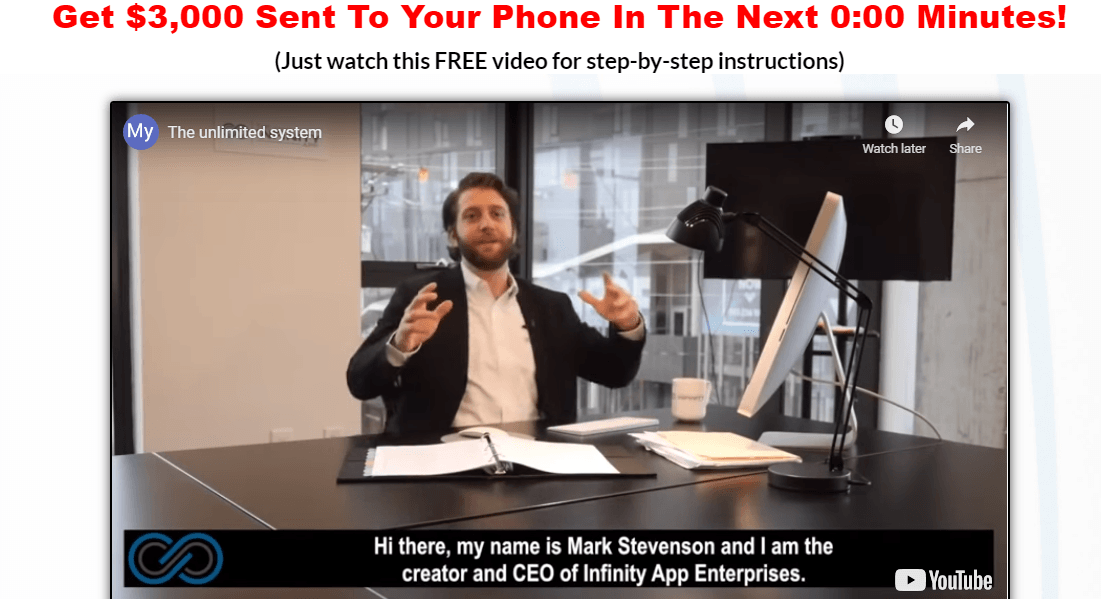 However, you shouldn't fall for this scheme because it's easy to manipulate videos nowadays.
First off, isn't it a little odd that NASA technology is used for trading apps? And Mark Stevenson wasn't able to clearly discuss how is this technology has something to do with trading.
In reality, the program wasn't founded by a NASA engineer at all. And there's no technology from the space agency that was used in developing the program.
The individual posing as the founder and CEO of the Infinity App is a professional con artist. The following are proofs that the person is a paid actor and was involved in several other scams as well—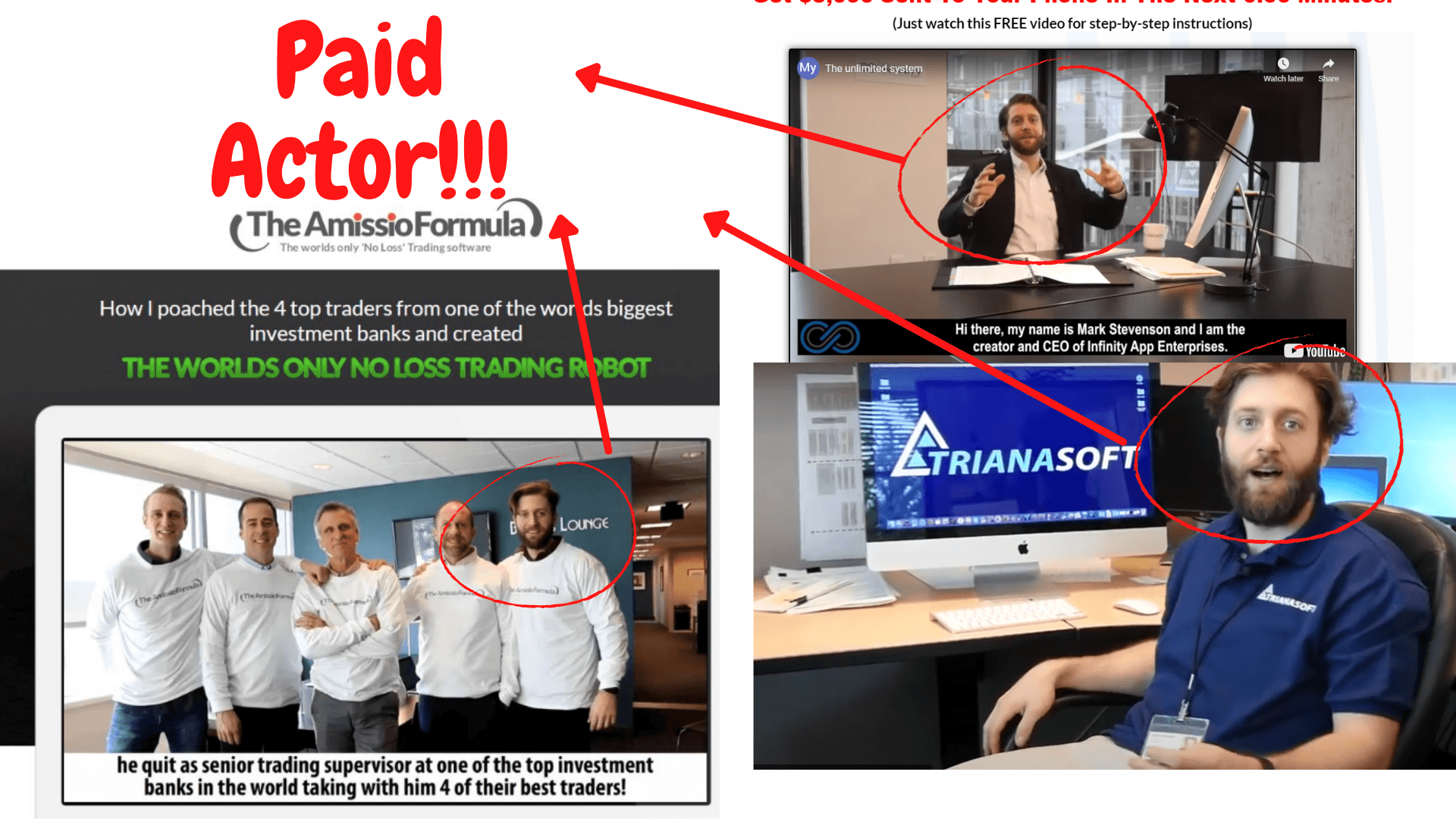 Also, regarding the video presentation with the company logo and everything, you would see that it is poorly photoshopped if you look closely. Just see the image below—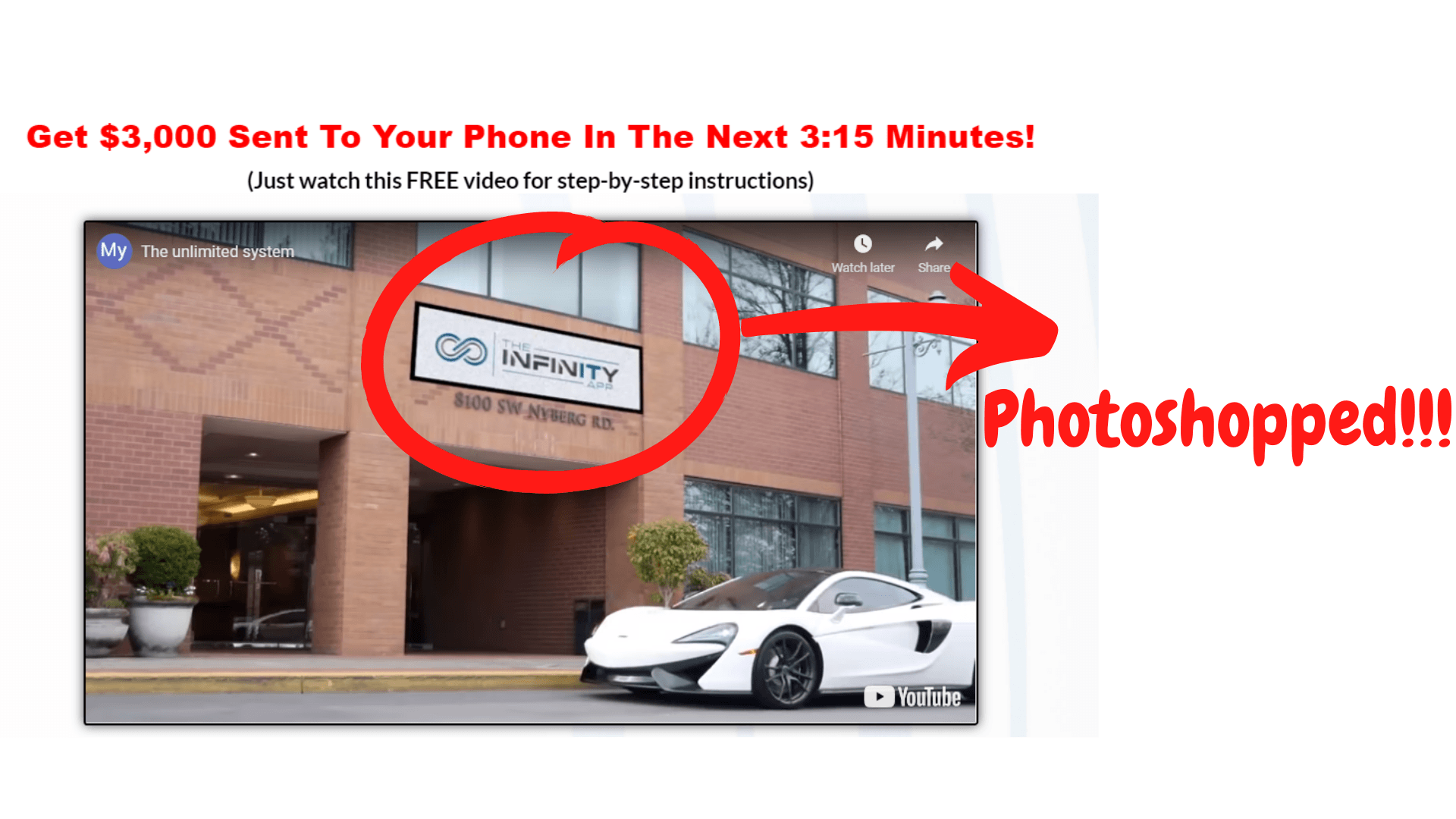 So yes, that is that!
Would you trust anybody who is untruthful right from the start?
If you're looking for a more legitimate source of income that is less risky and doesn't require you a huge investment, then you have to check out my best work-from-home recommendation!
But if you're curious about how the scam works, then let's continue with my The Infinity App review and learn more…
What is The Infinity App? And how it Works?
The Infinity App claims that it can help you earn huge money from trading binary options.
Although options trading is a legit platform to engage in, it doesn't mean the same is true with trading systems that claim to generate accurate predictions.
As the sales video continues, the so-called Mark repeatedly emphasizes that the system is free. However, this is not true, and it is another attempt to lure you into buying the program.
After you have entered your email and other personal information on the landing page, you will be redirected to a broker site called Tixee.
To gain access to The Infinity App, you have to make an initial investment first. The bogus founder did not mention how much you have to deposit. However, the minimum amount for Tixee is at least $250.
Tixee is relatively new, and there are not enough reviews on the internet that you can rely on. But it's indicated that they're under the Pipbull, Ltd., And unlike many potential scams, they're regulated under FSA.
However, being authorized by the FSA doesn't immediately mean that the broker site is legitimate. For example, the agency has gained a bad reputation due to withdrawal issues.
Despite providing essential credentials at the beginning of the registration, they'll still ask you for the same information when you're about to withdraw your earnings.
And there are reports that after complying with the request, there is more documentation that needs to be submitted. Needless to say that such action is highly inconvenient.
You'll find out soon that they're only making it hard for you to hinder you from withdrawing the funds you've earned. Sort of a delaying tactic, if you will.
Therefore, I suggest you stick with more established broker sites like Fidelity Investments, TastyWorks, Interactive Brokers, TD Ameritrade, etc.
Is The Infinity App a Scam?
Although there are no sufficient proofs of Tixee's legitimacy as of yet, it doesn't mean that this is the same case with The Infinity App.
The fact that the developers of The Infinity App provided bogus credentials makes the entire operation highly suspicious and untrustworthy.
Think about it—if they are legitimate, then why do they have to conceal and even fake their true identity?
In other words, The Infinity App is most likely a scam! Stay away from this program! Besides, there are tons of legitimate trading applications out there that are more legitimate and can deliver positive results.
Also, I reviewed similar platforms in the past that are related to options trading. Some of the examples include The Profit Maximizer, Auto Profits, and Bitcoin System, just to name a few of them.
Or, to see our full list of reviews here to check if one of these platforms reached you.
But if you're looking for a more legitimate income opportunity, you have to check out my top work-from-home recommendation!
What I DON'T LIKE about The Infinity App
Below are some of the red flags that you have to consider about The Infinity App—
Fake Business Background
As mentioned, Mark Stevenson is just a pseudo name. And the software isn't developed from a type of NASA technology. It is an outright scam!
Bogus Trading Results
If you pay extra attention to their video sales pitch, you'll notice that there's something wrong with the trading results demonstrated by this so-called Mark Stevenson.
IMAGE4
As you see, the market was opened in 2016 and closed in 2017! You may easily be misled if you are a newbie to binary options. But if you're an experienced trader, such results are just not possible.
Unregulated
Although Tixee is under the FSA, it is unregistered and unregulated by major financial institutions like the FTC (Federal Trade Commission) and FCA (Financial Conduct Authority), which makes both The Infinity App and Tixee untrustworthy.
Fund Withdrawal Issues
Aside from the shady business practice, one of the primary issues with The Infinity App is the fund withdrawal from Tixee.
It appears that the software is making it hard for investors to withdraw their funds by requiring unnecessary documentation.
Such an instance results in delays in the payout process, and it would even result in the investor not being paid at all.
What I LIKE about The Infinity App
I did not find anything positive about the company. As I repeatedly emphasized all throughout the article, it is a scam that you have to avoid.
If you are into binary options trading, there are more credible broker sites you can do business with.
Final Thoughts: The Infinity App Review
I hope my The Infinity App review has provided you with a solid answer on why the program is likely a scam and why you should stay away from it.
If you're going to invest huge sums of money, I highly suggest that you stick with broker sites that are established and have a good reputation.
However, your profitability in options trading relies on the trends, and you have to observe them closely in order to make decisions. Thus, there are risks in investing in options.
If you're looking for an income opportunity that is more affordable and a lot less risky, then let's resume to the last section of the article…
Do You Want to Learn How I Achieve Financial Stability Online?
Affiliate marketing is the most preferred eComm platform by many digital entrepreneurs (including yours truly) because of several apparent factors, which include the following—
100% legitimate
Minimal risks
Cost-effective
It suits all levels of experiences
No need to manage inventories and parcel deliveries
Potential income is unlimited because you can basically promote as many businesses as you like
And as you might have guessed from the last bullet point, your main task is to basically market a brand(s) using your online publications.
And then, you earn commissions every time someone engages your personalized links and use them to avail of the products or services.
But you have to take note that your success in this type of business relies on the quality of lead generation and sales conversion.
If you're new to affiliate marketing, then I have something for you to ease your concerns.
Slightly tickle the description below and discover how you can create posts that are attracting lots of traffic from scratch—
>>HERE'S MY TOP WORK-FROM-HOME RECOMMENDATION!
Also, to help you even further with your endeavor, I'm also giving away my eBook to show my appreciation to you just by being here—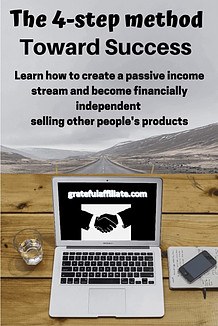 Well, I believe that's just about it!
Thank you for the time and effort in reading my The Infinity App review.
I hope to see you next time!
Peace!