Hey there, aspiring writer! Today, we're going to check out the "Write Your Way to Freedom" program. You might be wondering if it's a legit opportunity or just another scam. Don't worry; I've got your back! I will dive into the nitty-gritty and give you the scoop on what this program is all about.
Stick around to find out if it's the real deal or if you should keep looking for that perfect writing gig.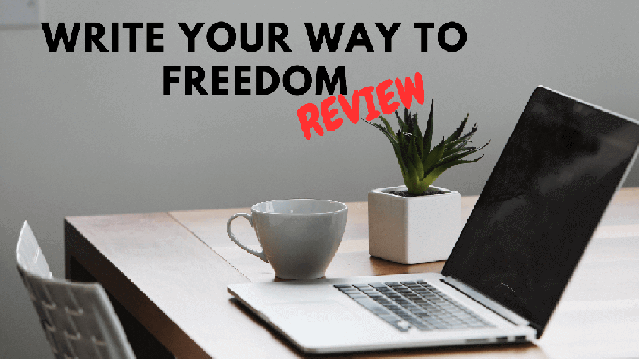 These days, freelancing online is a super popular way to work from home because you can work whenever and wherever you want without having to spend a ton of time or money on building a website or running ads.
Plus, you don't need a lot of cash to start freelancing. All you need is a laptop and the skills for the gig. And you probably know already that you can learn those skills for free on YouTube or by doing a quick search online.
Now, if you're not sure about the free resources out there and you want some professional help, you might've come across "Write Your Way to Freedom." Today, I'm gonna give you the scoop on this program and help you figure out if it's worth your money or just a scam.
But first, let me make it clear—I'm NOT affiliated with Write Your Way to Freedom, and I won't make any money if you sign up for their program.
Alright, now that we've got that out of the way, let's dive into today's topic…
Let's Meet the Creator of Write Your Way to Freedom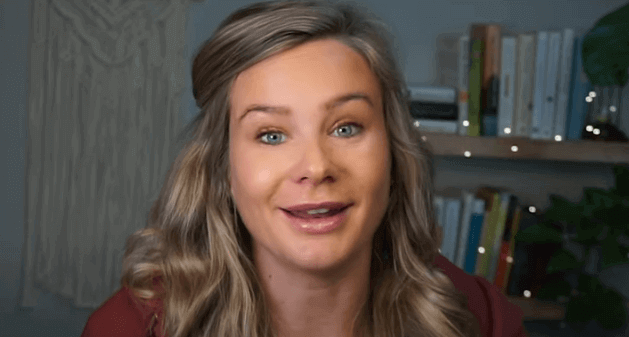 Write Your Way to Freedom is a creation from Sarah Turner. She is a seasoned freelancer providing copywriting services. In Sarah's "About" page, she mentions that her niche and passion is creating content in the health and wellness genre.
The content she is producing is used by doctors and medical experts that are published on their respective sites as well.
I've looked into Sarah's background, and while it's clear she doesn't hold a formal degree in health and wellness, her passion for the subject has undoubtedly driven her to become a successful content creator within the niche. Evidently, her dedication and enthusiasm have paid off.
Sarah's journey is genuinely motivating. The fact that she achieved success without formal training shows that, with determination and hard work, you can also reach similar heights in your own endeavours.
She also has a YouTube channel that you can refer to, which is under the name of Sarah Turner Agency.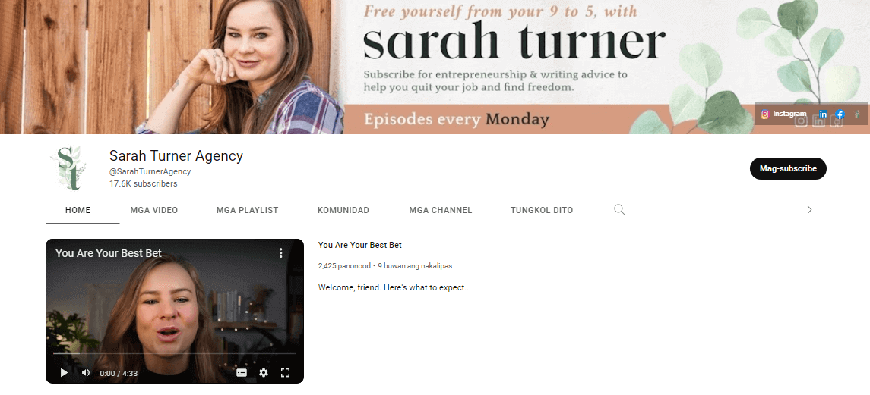 So, does the training course that Sarah provides hold up? Or is it too good to be true?
Let's dive deeper into my Write Your Way to Freedom review to find out more about the program and if it can truly help you achieve financial independence in the freelancing world…
What is Write Your Way to Freedom?
As you've probably guessed by now, Write Your Way to Freedom is an online program designed to teach you how to start a freelance copywriting business, even if you've never done it before.
This comprehensive course covers the basics of copywriting as well as Sarah's personal tips on the industry, from picking the right niche to persuading clients that you're the one for the job. So, you'll not only learn the ins and outs of copywriting but also gain valuable insights into running your own freelancing business.
This is not the first time I reviewed copywriting training courses. Some examples are High Income Copywriter and The Copy Cure. I also published reviews about other freelancing platforms like the Laptop Lifestyle Academy and Location Rebel, just to name a few of them.
Or you can refer to the full list of reviews by clicking this highlighted link and seeing the other options available to you.
What's Inside the Write Your Way to Freedom Program?
Write Your Way to Freedom features eight training modules and a total of 59 training video lessons. As explained earlier, it is an extensive but step-by-step training that will especially benefit aspiring freelancers who are starting from scratch and have no way where to begin.
Below is a summary of the modules included in the freelance copywriting program:
First Module: Cultivating a Business Owner Mindset
Like many training courses, the introductory part of Write Your Way to Freedom also includes a mindset program that should help you get motivated before you begin the actual training.
Second Module: Building a Rock Solid Foundation
The first parts of the program will help you find the ideal niche that suits your passion. In addition, Sarah will also share her insights on the foundations of copywriting and creating powerful content that engages your audience.
Third Module: Getting Started with Copywriting
The training videos you will find in the third module are as follows—
How to Write Engaging Blogs
Posting Your Articles in the WYW2F Facebook Group
How to Price Your Blogs
How to Price Your Different Types of Copy and How to Explain Your Copy to Increase the Value of Your Content
101 Ideas of Places Where to Get Start with Writing
Fourth Module: Look Like a Pro
Now, in the next part of the program, Sarah teaches you how you can put your learnings into action.
Fifth Module: Killer Client Acquisition
Sarah shares her knowledge on acquiring clients from the following platform—
Cold emailing
Facebook groups
LinkedIn
Referral Programs
Sixth Module: Pitching and Onboarding Clients
The focus of the sixth module is to help you pitch your freelancing business to prospective clients.
Seventh Module: Master SEO
Now that you have the clients, you will learn how to optimize your content that fits the specific requirement they are looking for.
Eighth Module: Adding to Your Skillset with Other Types of Copy
The last part of the training involves scaling your freelancing business through email marketing, sales funnels, landing pages, etc.
How Much Does Write Your Way to Freedom Cost?
Here's a breakdown of the pricing for Write Your Way to Freedom that you should be aware of:
Basic Membership Package: $1,997
Premium Membership Package: $5,880
The program also offers a 14-day refund policy, which I think is pretty fair. It gives you enough time to check out the program and decide if it's right for you.
Keep in mind, though, that there will be some additional costs, like domain and website hosting.
As I mentioned earlier, you can find some quality free training resources online, such as on YouTube. If you're looking for a budget-friendly option that still delivers quality, there are other programs out there to consider. It's essential to weigh the benefits of Write Your Way to Freedom against your budget and your learning goals.
Before committing to any program, take the time to research and compare different courses to find the one that best suits your needs and aspirations. Remember, investing in yourself and your freelance writing career is a crucial step to achieving success, but it's also important to be smart about where you spend your hard-earned money.
If Write Your Way to Freedom's price tag seems a bit steep for your budget, don't worry – there are other money-making methods online that you can explore.
One option you might want to consider is my top work-from-home recommendation.
This alternative offers a free starter membership, so you can test the waters without any financial commitment or even providing your credit card information. This way, you can still pursue your online income goals without breaking the bank.
Give it a try and see if it's the right fit for your needs and aspirations. Just click on the button below:

Does Write Your Way to Freedom qualify as a scam?
I can confidently say that Write Your Way to Freedom is NOT a scam.
It's a legitimate training course focusing on freelance copywriting, designed particularly for those who may not have any prior experience in the field.
Check out this review video from someone who has taken the Write Your Way to Freedom course, and see what they have to say about their experience:
What I LIKE About Write Your Way to Freedom
Here are a couple of things that really stand out to me about Write Your Way to Freedom:
It's the Real Deal
First off, Sarah is a legit freelance writer who can help you create a successful online business.
Top-Notch Training
This program gives you some solid, step-by-step guidance to get your business off the ground.
What I'm Not Crazy About with Write Your Way to Freedom
The one thing that bugs me about Write Your Way to Freedom is the price tag.
Sure, the training is great, but you can actually pick up the basics of content writing and copywriting without dropping thousands of dollars on it.
Final Thoughts on My Write Your Way to Freedom.
In conclusion, there's no denying that Sarah is a legit freelance writer who can guide you in building a profitable online business. The Write Your Way to Freedom program does provide valuable, step-by-step training to help you kick off your own venture. However, it's important to weigh the cost against the benefits.
While I have no doubt that the training will be top-notch, the price tag might be hard to swallow for some folks, especially when there are so many free resources out there. But hey, if you've got the cash to spare and you're willing to invest thousands of dollars into this program, then go for it! Give it a shot and see if it works for you.
Ultimately, it's up to you to decide whether Write Your Way to Freedom is the right fit for your needs and budget. Just remember, there's no one-size-fits-all solution, so take the time to explore all your options and make an informed decision.
There are tons of other ways to make some cash online that you might want to look into.
One idea you should definitely think about is my go-to work-from-home suggestion.

The best part? This option comes with a free starter membership, so you can dip your toes in and see if it's for you without spending a dime or giving out your credit card info. That way, you can still chase those online income dreams without emptying your wallet. Give it a shot!
And to finish, I just want to say a huge thank you for spending time with me today. As a token of my heartfelt appreciation, I'm excited to offer you my eBook for free!
It's my way of helping you kickstart your business journey with a little extra support from yours truly. So go ahead, grab your copy, and let's make your dreams a reality together!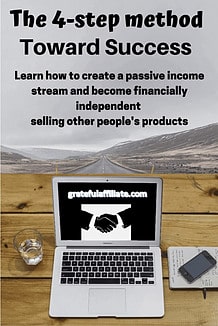 Peace!