In today's Authority Site System review, I will provide you with my analysis of the program and whether they're the best fit for you or not.
Greetings and welcome to my Authority Site System review!
Affiliate marketing is probably the most popular go-to of many startups in digital entrepreneurship. And one of the primary reasons why this is the case is because the platform is cost-effective and suits all levels of experience.
And if you have searched the web for the most reliable affiliate marketing training program, then the Authority Site System is likely among the top results in your searches.
And this is the case because of the reputation they have built over the years, which is mostly positive.
However, if you're still hesitant about whether the training is indeed the real deal or another one of those over-hyped programs that provide nothing but empty promises, then the article I have prepared for today is specially written just for you!
But before I officially begin, allow me to disclose to you that I am NOT an affiliate of neither Gael Brenton nor Mark Webster, and I will NOT earn any commissions if you decide to buy the program.
So without any further ado, let's begin and learn more about the training program…
Let's Meet the Founders of Authority Site System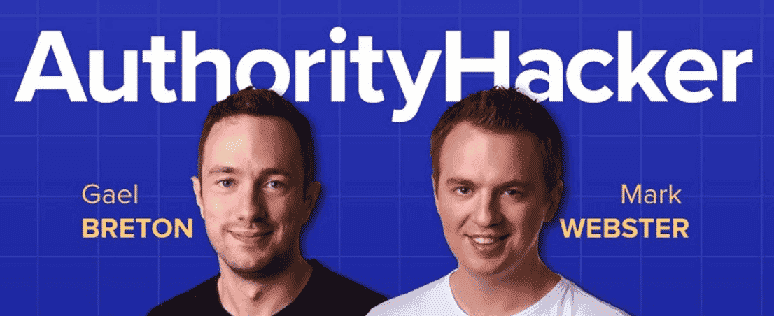 If you have been in the industry for quite some time now, you might have somehow heard of the names Gael Brenton and Mark Webster. They are two of the most well-known personalities in internet marketing, especially on the topic of affiliate marketing and optimizing your content, so it improves your online presence.
They started the Authority Site System training program way back in 2013, which has garnered millions in profit as they have claimed. Although they are legitimate and popular marketers, I didn't find any information to back up any of their claims.
Anyway, the two co-founders share their own areas of expertise. For instance, Gael Brenton is in charge of the company's content, branding, ensuring the courses' are up-to-date, and basically all other creative processes.
On the other hand, Mark Webster brings in his knowledge and skillset in the basics of establishing a site, customer support, backlink creation, outsourcing, and other technical aspects of the business.
Aside from their quality programs, they also offer insightful blog publications on their website.
So does this mean that the program is legitimate? Or are they a scam after all?
Let's continue with my Authority Site System review and discuss its advantages and disadvantages to help you determine if they're the right fit for you…
What is Authority Site System?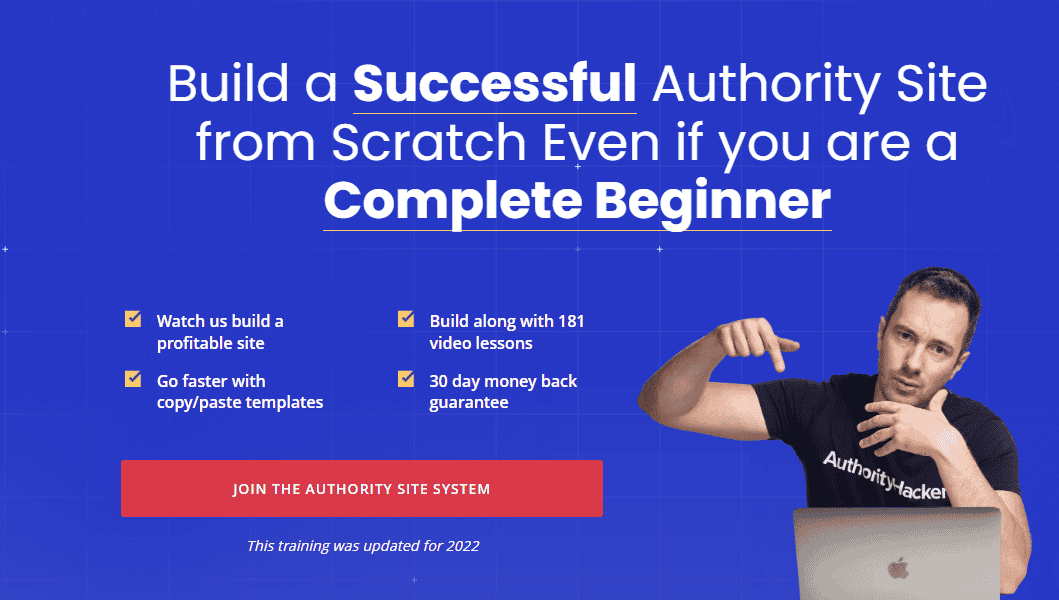 Authority Site System is an online program that specifically offers training on affiliate marketing. Plus, it also provides techniques and step-by-step guidelines on how you can optimize your content and make it more SEO-friendly.
SEO (Search Engine Optimization) is an essential (free) tool for improving your online presence by ranking higher in search results. In simpler terms, the programs help you boost your "authority" specifically to focus keyword you are working with.
The modules inside the training are comprised of 15 modules which range from target market research to site monetization. I will explain the modules in a little more in detail in the next sections.
I also have reviewed several affiliate marketing training programs that you can check out, such as the following—Super Affiliate System Pro 3.0, Affiliate Marketing Mastery by Ivan Mana, SAS Affiliate,  and Simple Affiliate System, just to name a few of the reviews I have published previously.
Or you can refer to the full list of articles and see whether you have been acquainted with any of the programs I have reviewed by clicking this highlighted link.
Also, if you're interested, you can check out my best work-from-home recommendation that is more affordable and can deliver equal or even far better results.
Not to Be Confused with Authority Hacker
Although Authority Site System is offered under the Authority Hacker landing page and apparently owned by the same founders, the two are different entities that have different purposes.
Authority Hacker is a Gael Brenton and Mark Webster's community which includes their YouTube channel and official website.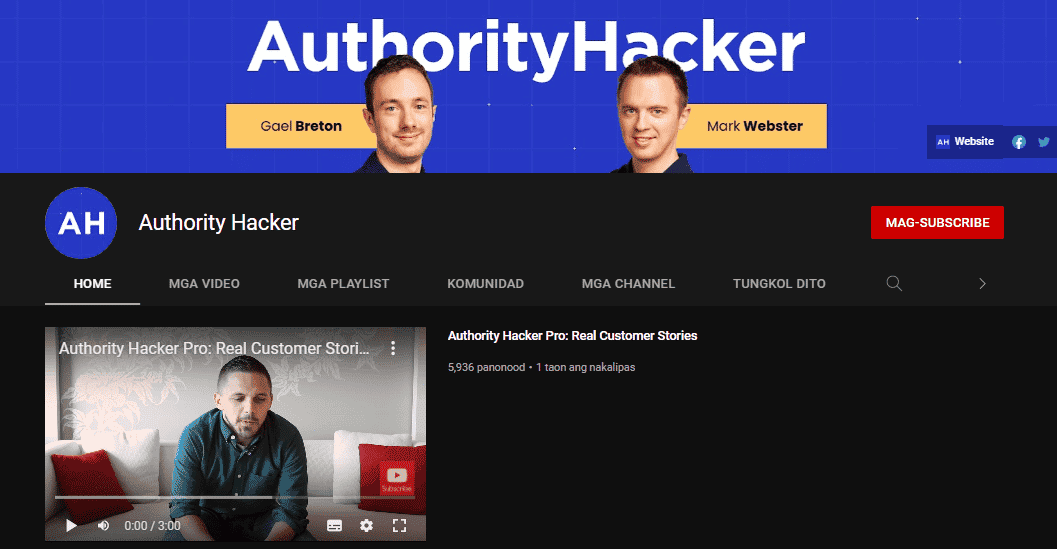 On the other hand, Authority Site System is the owners' training program offered under the Authority Hacker brand.
What's Inside the Training Program?
Authority Site System is composed of several modules that are organized to help its student comprehend the foundations of affiliate marketing and content optimization.
Before you go through the lessons, you will be introduced first to the program and what you can expect as you progress.
Below is the summary of 15 lessons inside the training program—
Internet Marketing 101
Brainstorming Niches
Qualifying Niches
Planning Your Site
Setting Up Your Site
Branding Your Site
Setting Up Posts and Pages
Preparing Info Content
Writing Content
Uploading and Optimizing Content
Initial Link Building
Affiliate Monetization Setup
Commercial Content
Advanced Tactics
Becoming an Authority
In addition to the main training courses, the member will also receive the following—
Exclusive Facebook Community Group
Case Studies
Content Templates
Live Question and Answer Sessions
A To-Do Checklist File
As you see, the program is pretty extensive and offers most of the essentials that aspiring digital marketers need to build a business.
However, the training course may not be exactly for everybody, considering how expensive the program is. Let's continue to the next section of my Authority Site System review and talk about their pricing matrix.
How Much is the Program?
The program will cost you $599 if you are interested in availing of the training course. They also offer an installment package of $149.60 for six months if you are not comfortable paying the full price at the moment.
Also, they have a 30-day refund policy if you are not happy with how the program is progressing.
Another thing here to consider is that the cost doesn't cover the expenses you have to incur in establishing an affiliate marketing site which includes site hosting, domain name, site tools, and outsourcing.
All in all, you should prepare at least an extra amount of $500. Even though you are able to establish your site, it doesn't guarantee success, especially under this budget. You should spend over $500 in order to fully optimize your site and boost leads and sales.
You can check out my best work-from-home recommendation if you are searching for a budget-friendly alternative that can deliver equal or even far better results.
Is Authority Site System a Scam?
No. Authority Site System is not a scam.
It is a legitimate program that can help you build a profitable website. However, you may still have to manage your expectations, considering how expensive the training program is.
Also, you have to take note that experiences with the program vary from person to person—the success of others may not be the same as yours, which may lead some of their members to conclude that they might be a scam.
What I DON'T LIKE about Authority Site System
Although the Authority Site System is legitimate, there are some disadvantages you have to bear in mind before engaging in their training program, which includes the following—
Expensive
First and foremost, Authority Site System is expensive, which may not be suitable for people who are under a tight budget.
No Free Trial
Again, I like to point out the cost of the program here. Considering how pricey the program is, I guess it would be appropriate to give your prospective clients a taste of what to expect, so to speak.
It May Not Be for Beginners
Although the program is aimed at newbies, this may not be exactly the case due to the amount of information they have to digest. It could overwhelm them, which may result in missing some of the important aspects of the lesson.
Lacks Customer Support
The program has to improve its customer support. This is especially crucial in the early stages of the program, where you will have to build your site from the ground up.
What I LIKE about Authority Site System
Now, below are the things admirable about the Authority Site System—
Legitimate Owners
Gael Brenton and Mark Webster are legitimate and successful digital entrepreneurs who can help you achieve your goals in the industry.
Comprehensive Training
Authority Site System offers 15 comprehensive training that would be advantageous in helping you establish your website and monetize it eventually.
Facebook Group
Each member of the Authority Site System has exclusive access to their Facebook community group. It should enable them to exchange thoughts and share ideas that are aimed at helping each other.
Tons of Resources and Templates
In addition to the main training programs, you will also get resources and templates that should make your life a lot easier, so to speak.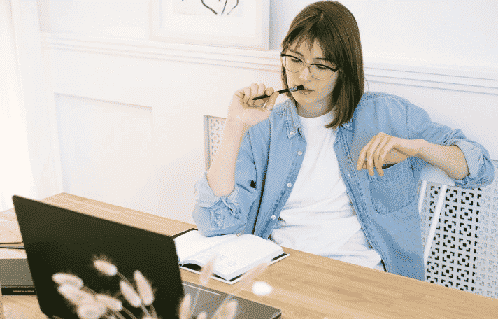 Final Thoughts on My Authority Site System Review and A Better Alternative
I hope my Authority Site System review has provided you with the insights you need about the program and whether they're right for you or should you continue searching for more legitimate programs.
Yes, they do have quality training courses, but it is expensive and may not be suitable for everybody. Also, the tools and other essentials like web hosting, marketing tools, etc., are not included, which will definitely lead you to incur higher expenses.
If what you're after is an affiliate marketing program that is way more budget-friendly yet delivers high-quality training on the subject matter, then you can try my best work-from-home recommendation instead!
I believe we have covered sufficient grounds here!
And to show you appreciation just by reading my Authority Site System review, I'm also giving away my book that will help you to kickstart your digital marketing endeavor—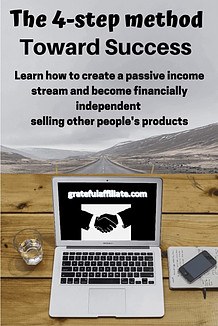 That's just about it!
I hope to see you in the next topics!
Peace!