In the ever-evolving world of online rewards and loyalty programs, it's crucial to find a platform that truly values your time and effort. That's why our in-depth Flash Rewards review is a must-read for anyone considering joining this GPT (Get-Paid-To) site.
With a clear and honest assessment of its features, benefits, and potential drawbacks, our analysis aims to help you make an informed decision about whether Flash Rewards is the right fit for you. So, why not invest a few minutes in exploring our insights and determining if Flash Rewards could be the key to unlocking a more rewarding shopping experience?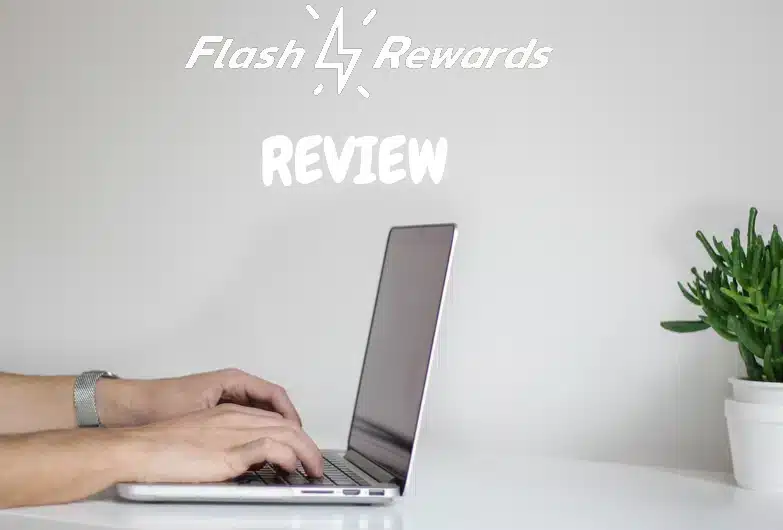 In the past, making steady money with your computer or smartphone seemed like a crazy idea. But today, it's very doable, and anyone who's ready to work hard and stick with it can become financially independent online. That said, earning easy side money while relaxing at home or on the go has become a popular trend in our tech-savvy world.
However, It's not as simple as it seems because you first need to find a suitable online platform, like affiliate marketing or dropshipping. After finding the right platform, it's crucial to develop the skills and patience required for success.
Luckily, there are less demanding options that offer income for completing small tasks, like taking surveys or watching videos. However, these options are not the most profitable.
If you don't mind the lower earnings and just want some extra passive income, you may have come across Flash Rewards, a GPT (Get-Paid-To) website.
Today, we'll go over the key details of Flash Rewards and its pros and cons. By the end of this article, you'll be able to decide if it's worth your time or if you should look for better alternatives.
But before I begin, allow me to reiterate that I am NOT an affiliate of Flash Rewards, and I will NOT earn referral commissions if you decide to sign up for their program.
So without further delays, let's get right into today's discussion…
Who Developed Flash Rewards?
Flash Rewards was created by an eCommerce and online advertising company called Main Source Media, LLC. The Opencorporates.com website states that the company was officially formed on August 2, 2016. Its main headquarters is in Delaware, with branches in New York and Indiana.
Unfortunately, there isn't any more information about Flash Rewards, like the key people involved in its founding and the company's current leadership.
But this is not the first time I have encountered a GPT (get-paid-to) and PTC (paid-to-click) site not disclosing full information about their developers. And this doesn't immediately mean that they are a scam.
However, it would be nice to know basic corporate information to check their backgrounds and check the sites' legitimacy.
So, is the site legit or just another scam? Let's dive deeper into my Flash Rewards review to learn more about the specifics and find out if it's worth your time or not.
What are Flash Rewards?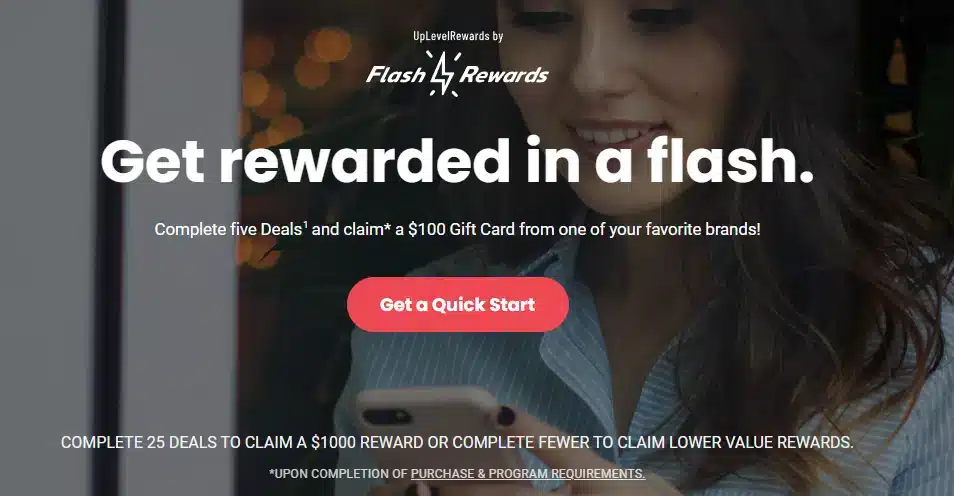 As you might already know by now, Flash Rewards is a GPT site that compensates people for doing simple tasks such as paid surveys, product testing, playing beta games, and signing up for websites and memberships.
You might also have seen the marketing pitch that you would earn thousands through the website's program. But this is very misleading and overhyped because GPT tasks are not that lucrative, and it is usually difficult to even reach $10 per week.
So if you are thinking of quitting your regular job to become a full-time GPT entrepreneur, then you are making a huge mistake, my friend.
In addition, there is no guarantee that the tasks will be readily available whenever you are able to find time to take on the tasks at hand.

The promise of Flash Rewards is that they also provide you with the rewards in a "flash." However, this isn't exactly true either because you will have to complete each of the tasks and wait for a couple of days before you receive your deserved small amount of compensation.
There are more legitimate GPT sites that can truly deliver the rewards in a "flash," so to speak. Two of the best and most popular examples are Swagbucks and Fusion Cash.
I also reviewed several GPT and PTC task sites in the past. And you can check them out if you are interested. Some examples are Timebucks.com, Write Apps, Freecash.com, and Surveytime.io, just to name a few of them.
Or you can see the full list of reviews by clicking this highlighted description.
Ready to explore a more profitable and sustainable platform for working from home?
Don't miss out on my top recommendation! Click here to discover a fantastic alternative that could be your key to financial success. If Flash Rewards isn't quite what you're looking for, this option might be the perfect fit for you!

How Flash Rewards Work?
In general, the mechanics for GPT and PTC sites is relatively easy and straightforward. The following are the points you have to bear in mind if you are considering Flash Rewards.
First and foremost, you have to create an account before you are redirected to your personal dashboard, where the tasks available are shown.
The registration process involves the following—
Provide them with your personal information, such as name, email address, and other essential data about you
You will also need to answer a quick survey in order for them to categorize you to a specific target audience. It is in this case that they will know which paid survey is the right one for you
And then, you have to determine the gift card payment method
In addition, you have to take note that there is an age restriction, and you have to be at least 18 years of age to qualify for their program. Plus, you need to present them with a valid identification card to verify your identity.
You also have to take note that Flash Rewards is available to select countries such as the United States, Canada, and the United Kingdom.
Before you can receive your rewards and have them withdrawn as gift cards or cash, you have to complete the tasks that are required of you to accomplish them, first and foremost.
A great disadvantage of Flash Rewards is that it would usually take about 30 to 60 days before you can complete a task.
How Much to Join Flash Rewards?
Like any other GPT site, registration for Flash Rewards is free. All they require is your personal information. In addition, there is a possibility that your personal information could be sold to third-party entities to be used for marketing purposes which would result in spam and other unwanted marketing pitches in your inbox.
Is Flash Rewards a Scam?
Although they are not willing to disclose the important personalities behind the site, Flash Rewards is NOT a scam.
And this is evident by their credibility rating in Trustpilot. 4.1 stars out of 2,672 ratings is quite good!
In addition, they are receiving a lot of positive comments as well: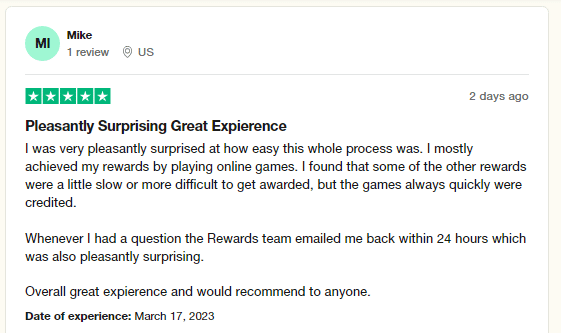 However, it also garnered a few negative comments that you have to take note of as well—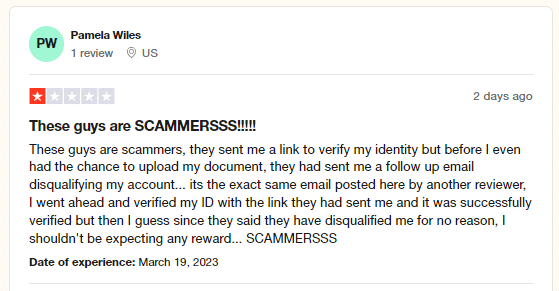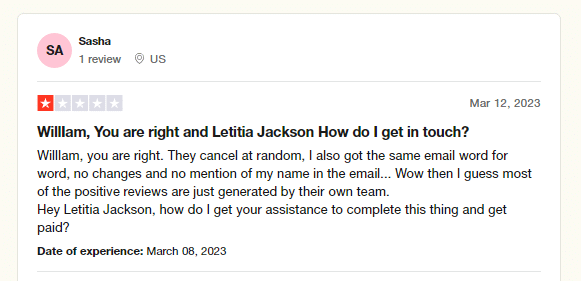 The following is what other people are saying about Flash Rewards—
What I LIKE About Flash Rewards
The following are the things I particularly like about Flash Rewards—
Becoming a member of Flash Rewards is free
They offer a Flash Reward app that allows you to take on the task on the go
A decent positive rating from Trustpilot
What I DON'T LIKE About Flash Rewards
Below are the factors I don't admire about Flash Rewards—
It takes 30 to 60 days to accomplish a set of task
Misleading and overhyped claims
You have to share your personal information, which could lead to spamming.
In addition to the months of doing GPT tasks, payout usually takes 4 to 7 days for the payment transaction to complete
Final Thoughts on My Flash Rewards Review and My Personal Ratings
While Flash Rewards is a legitimate website, it can be complicated and time-consuming to use, and the rewards may not be significant enough to justify the effort.
As mentioned, I don't believe that they are out trying to scam you. However, you may have to be prepared for the spam that you might be receiving in your inbox on a regular basis.
Also, it is to be noted that the completion of a task isn't as flashy as they advertised. As I explained earlier, it usually takes about 30 to 60 days to finish a set of tasks.
You will not experience this amount of waiting period with other legitimate GPT programs like Fusion Cash and Swagbucks. And you only have to reach the withdrawal ceiling to get your hard-earned money.
So with this being said, I am giving Flash Rewards a final rating of 6 out of 10, with a deduction for the negative reviews and the long wait period to get paid.

A Better and Steadier Option Compared to Flash Rewards and Other "Get Paid To" Websites
Since 2016, I've been using a training platform that has helped me build a highly successful online business, earning money even while I sleep. When searching the internet for a legitimate and profitable way to make money online, affiliate marketing often comes up as a top choice. It's a great option for people with any level of experience, and you can start your business with just $500. Plus, there's no need to handle inventory or shipping, and it's very low-risk.
The potential income in this type of business is unlimited because you can market as many brands as you like. If you're interested in learning more about affiliate marketing and achieving financial independence from the comfort of your home, I highly recommend checking out the training platform I've been using.
This platform offers a free test-drive membership that lets you try the program to see if it fits your needs. If you decide to commit fully, the premium packages include comprehensive training, multiple personal websites, a keyword research tool, and unlimited support. Don't miss this opportunity to start your affiliate marketing journey – click on the highlighted text or button below to learn more and get started today!
>>HERE'S MY BEST WORK-FROM-HOME RECOMMENDATION!

And to show my gratitude for being here with me today, I am also giving away my eBook for free to help you jumpstart your business—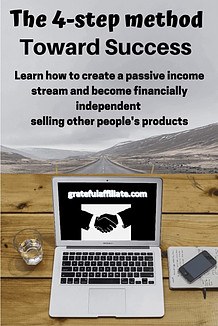 Peace!