In today's discussion of the Insta Cash Secret review, I'll share my insights on whether signing up for this paid survey site is worth your time.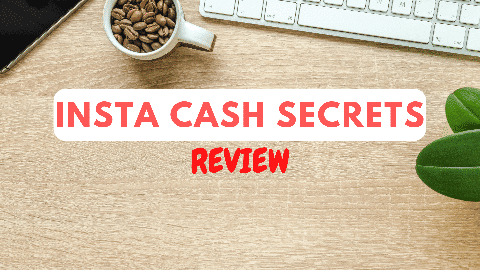 If you are looking for a quick way to earn money online, I am sure that you have come across paid surveys or GPT (get-paid-to) sites when you consult the internet for answers.
And among the GPT sites, you have become acquainted with as you search for the best paid survey sites is Insta Cash Secret. In this article, I will give you the features and specific advantages and disadvantages you must consider before signing up for the site.
But before I begin, let me share with you that I am NOT an affiliate of Insta Cash Secret, and I will NOT earn referral commissions if you sign up for the site.
So without further ado, let's begin today's discussion.
Who are the Owners of the Insta Cash Secret Site?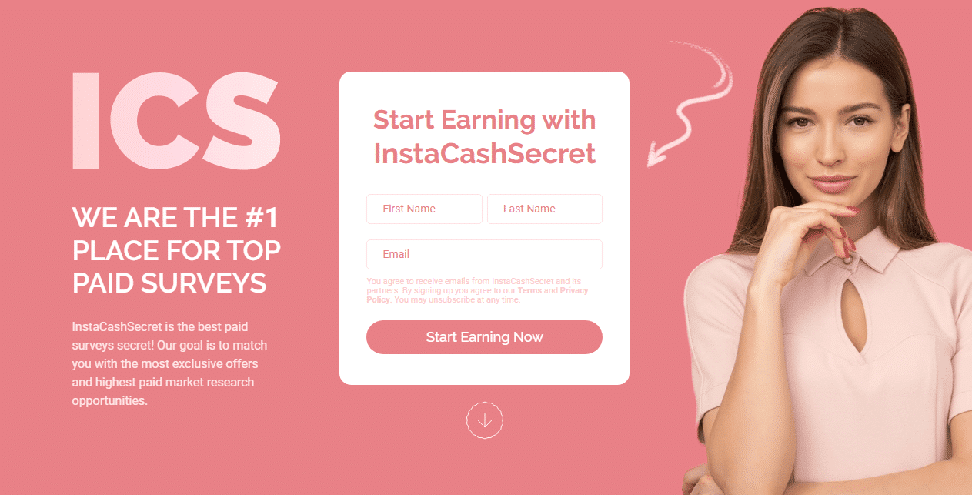 The owners and developers of the Insta Cash Secret Site are not disclosed.
I am not surprised by such a gesture because it is a common practice observed by many GPT (get-paid-to) and PTC (paid-to-click) sites.
However, it doesn't mean that they are a scam. In fact, most of them are legitimate and indeed provide cash out when you have reached a particular milestone.
Unfortunately, this isn't exactly the case with Insta Cash Secret, and there are no actual payouts that each member is receiving.
They have a different agenda which I will explain later.
Anyway, let's determine the identity before we move forward. Let's consider the following information to give you some details about the sites' operation. First and foremost, it appears they are an established site and celebrated their 5th anniversary over a week ago.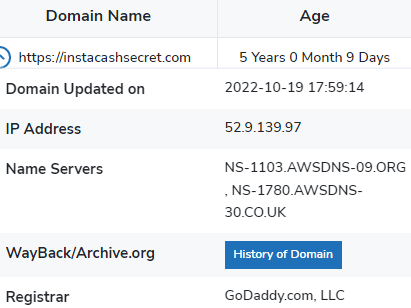 And it shows that their main servers are located in the United Kingdom base on the site server info above. And this isn't precisely the case based on the data I have gathered, which puts their place of business in San Jose, California, as you see below: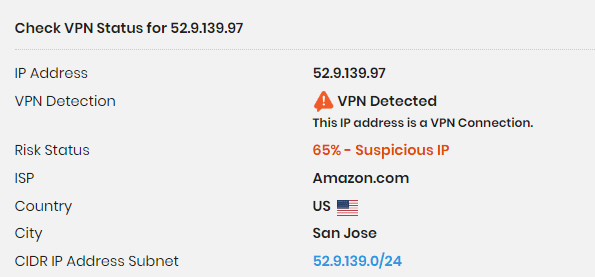 Also, the site is using a VPN, which confirms that they are indeed concealing some parts of their business information.
With the site's secrecy and all—does this mean the paid survey site is a scam? Or is it legitimate, after all? Let's continue with Insta Cash Secret review and learn more about the mechanics of the site…
What is Insta Cash Secret? And How Does it Work?
As you might have already surmised, Insta Cash Secret is supposed to be a paid survey site. Suppose you have prior experience with GPT sites, especially with paid surveys. In that case, the platform basically works as its name suggests—you will initially earn points that you can convert to cash afterward.
But as mentioned earlier, it's not really a paid survey site because they have different agendas. The program's developers promise a GPT program that will provide you with $100 per survey here. If there's anything I've learned in business school is that if "something is too good to be true, then it's likely not to be true."
If you decide to try the program, they will only present you with GPT site recommendations. As you see, they do not have a GPT program to offer. Their true intention is to collect data from you in order for them to grow their sales market to market their other programs.
Yes, that is just how the program works. Once you have provided them with your money, you will soon realize that it is a scam and the promise of $100 per survey pretty much goes out of the window.
There are many more legitimate GPT and PTC sites around that you can turn to if you want to take advantage of the earning potential of this online platform. Some of the most popular GPT and PT sites that you can consider are Swagbucks and Fusion Cash.
I also reviewed several related programs in the past that you can refer to, such as GPT Hub, CashCrate, Download Dollars, and ISay, just to name a few of them.
However, if you're looking for a higher and more stable source of income, you should check out my best work-from-home recommendation!

Registration Process and Signup Cost
Before registering with Insta Cash Secret, you must be at least 18 years of age and currently residing in the United States. Once you have met this specific condition, you can proceed with signing up.

Like many typical GPT sites, the initial registration cost is free. However, you will be bombarded with upsells and marketing promotions since you have provided them with your personal information.
Is Insta Cash Secret a Scam?
Insta Cash Secret is very likely some sort of scam, or should I call it a scheme? Because of the statements they provide and what they claim to be, which is very misleading!
And probably the most prominent of those statements is the promise of a $100 survey, but all they'll provide you is a list of other GPT and PTC sites where you will be redirected. That is far from getting $100!
Also, as I have repeatedly emphasized, the true intention of the program is to collect information from their audience to promote their scammy programs that do nothing to improve any aspect of your financial status.
What I LIKE About Insta Cash Secret
There's nothing praiseworthy about the offerings of Insta Cash Secret.
It is just trying to collect your personal information, which they can profit from by marketing digital products they are connected with.
It will be better for you to refrain from engaging in this program to prevent any inconveniences due to spam emails flooding your email or social media accounts.
What I DON'T LIKE About Insta Cash Secret
Where do I begin with the red flags of the GPT and PTC income opportunity the Insta Cash Secret program offers? Anyway, the following are the cons of the site that you have to consider and help you determine why they're not a good option for you.
No Developer's Information Was Disclosed
As you see, the founders and current CEOs or owners of the Insta Cash Secret were not disclosed. Although it is common in many GPT and PTC sites, not all of these programs are legitimate and can genuinely give you the income opportunity you seek.
Unfortunately, Insta Cash Secret is a program/system you must avoid participating in. The platform's claims are misleading and highly exaggerated without any proof of income.
No Real Online Paid Survey is Available
Insta Cash Secret advertised its program as an online paid survey site. However, you will soon realize that this site is not what they claim to be. Their intentions are not really to help you make money from paid surveys. What they really want is your contact information to enable them to fatten their sales/spam funnel.
Tons of Spam Emails
As a result of sharing your contact info, your email inbox will receive a large volume of spam emails regularly. Unless you want to receive senseless email marketing content, I highly suggest you turn away and continue searching for more legitimate income opportunities.
And if you are indeed looking for a source of income that yields high and stable profits online, then you should check out my best work-from-home recommendation!

They are the Ones Really Profiting
A potential new member might initially believe that they are saving money from the program since it is free to register. However, this isn't exactly the case; they are really earning money off of you because once you have shared your personal information with them, it allows them to sell your personal information to other schemers and bombard you with spam emails.
Misleading and Exaggerated Claims
Again, the program's $100 per survey guarantee is not genuine.
It is just a dirty attempt to phish you of your contact info. The list of the programs that you'll be redirected to has unique, and various features and the reason I brought this up is because your ability to reach the $100 may not be the same as the other.
Also, I have been reviewing and using GPT and PTC sites for many years, and I can tell you that the earnings from these platforms are extremely challenging to reach even $10.
This is true even with legitimate GPT sites such as Swagbucks and Fusion Cash.
Final Thoughts on My Insta Cash Secret Review and My Rating
I hope my Insta Cash Secret review has provided you with the critical information you seek on why the platform is not a good option for you. I have pretty much relayed to you every angle on the subject matter, and I am confident that it is a scam.
With this being said—I am giving Insta Cash Secret a rating of 0 out of 10 stars.

A Better Alternative to Insta Cash Secret
A much better alternative to online paid survey sites, in general, is affiliate marketing.
In fact, this method has enabled me to earn a solid income, even without leaving my home's comfort.
And some of the reasons why many aspiring digital entrepreneurs turn to affiliate marketing are because of several apparent factors, which include the following:
● It is cost-effective
● You can start the business even with a small capital investment of $500 or less
● It possesses minimal risks
● You are not directly involved with any inventory management or shipments
● Best of all—the potential income is essentially unlimited because the number of brands you can advertise is limitless
Suppose you ask me about the best programs I believe will give you the best chance of succeeding in the business; that has taken me from a complete newbie to a seasoned affiliate marketer and taught me to become financially independent.
Just click on the button below and find out how I do it!

>>HERE'S MY BEST WORK-FROM-HOME RECOMMENDATION!
And to show you my appreciation for being here, I am also giving away my eBook for free to help you kickstart your affiliate marketing venture: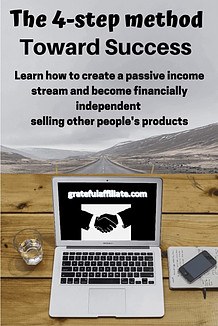 Thank you for your time in reading today's article!
Peace!