Are you looking for an SEO Blueprint that can provide your business with an immediate and more profitable edge? The right SEO strategy can transform your digital presence and make an incredible impact on your bottom line.
Today's review, however, is about more than just SEO; it's about taking a comprehensive approach to creating a long-term income stream and establishing a website that can stand the test of time. Through this article, I will explore the course's structure and core topics, explain what you can learn and assess the overall value of this online training course. I will also provide an in-depth analysis of the quality of the course and the effectiveness of the material. So read on if you're looking for an insider's opinion on the SEO Blueprint program.
I'm sure you are at one point annoyed by the interruptions of ads as you're watching a YouTube video. But a YouTube ad might have brought you here. Am I right? And the ad I am talking about is Glen Allsopp's SEO Blueprint.
You might have been testing the waters of digital marketing for quite some time now but with no success. And as you saw Glen's marketing pitch, it had somehow given you the motivation to continue or start the endeavour. However, with so many fake gurus around, you are not sure if he's the real deal or if he's another con artist.
And now, this is where I come in. For today's discussion, I will be reviewing Glen's SEO Blueprint—I will give you my insights about the program's features and its pros and cons to help you decide in the end if they're a good value for money or not.
But before I begin, allow me to disclose first that I am NOT an affiliate of Glen. And I will NOT earn any sort of commission if you purchased the program anyway.
So without any further ado, let's begin…
Who is Glen Allsopp?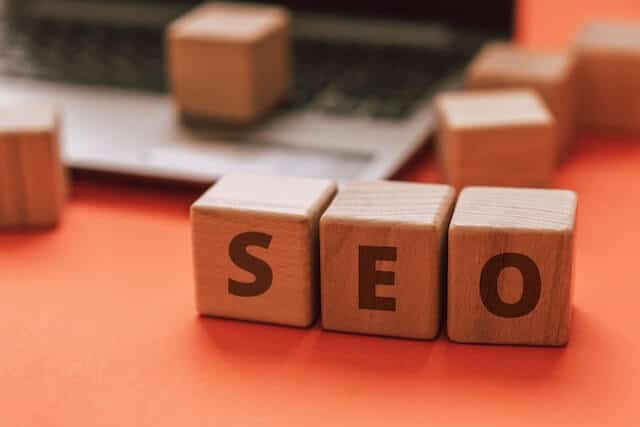 Some of you might already know who Glen Allsopp is. But if it wasn't for the YouTube ad, most of us may not have been introduced to the man behind the SEO Blueprint program.
Teenagers dropping out of school and attempting to find sources of income online is a common theme that we are hearing all over the internet. And Glen Allsopp's background story goes in the same direction as a typical young tycoon. He claims that he has been an SEO specialist since he was 16 years old.
He added that at the age of 19, he was already working with the social media accounts of top brands in the market, such as Land Rover and Hewlett-Packard. And then, at age 20, he was already earning five figures, all thanks to his personal development blog.
A year later, he developed a plugin generator for WordPress that turned out to be a massive success. His success propelled him to establish his own digital marketing agency that's producing six figures.
Again, becoming a big shot at a very young age is something that we hear over and over again. As impressive as his resume looks, any facts to back it up are undisclosed, and it's really challenging to do so because there's insufficient information when you try and consult the web for answers.
However, this doesn't mean that SEO Blueprint is a scam. The program is receiving a large number of positive reviews, which could mean that it is a quality program that you can try.
So is Glen Allsopp's program legit or a scam?
Let's continue with my SEO Blueprint review and learn more about how the program works…
What is SEO Blueprint?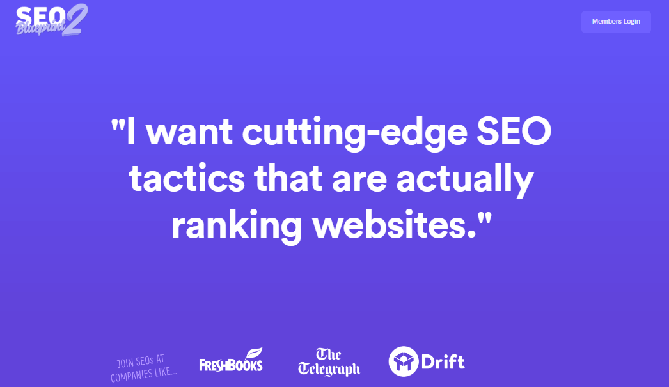 The name of the program says it all—SEO Blueprint provides lessons on creating quality content that generates leads and engagement.
Also, the current offering of SEO Blueprint is the second edition of the first one. And it contains updates from the industry to help its members gain more advantages in the industry.
Another benefit of the program, as far as I am concerned, is that Glen is providing insights on doing business that is unique and innovative.
However, the program is more focused on creating SEO-friendly content rather than starting from scratch. So with this being said—the program is not really for beginners, and it will be beneficial for more advanced online marketers who are struggling to drive traffic to their content.
SEO or Search Engine Optimization is a process of improving the quality of content or website to abide by certain guidelines provided by a particular search engine platform or social media site.
And complying with these standards allows the content to rank higher in search engines which increases the potential of generating more leads. Again, you need to know how to create engaging content that's useful to your audience.
If you are looking for a program that has the complete package, then you should also check out my best work-from-home recommendation!
I reviewed several SEO programs in the past that you can check out if you are interested in reading about them—SEO for Bloggers, Elite Blog Academy, Ecom Babe, and Savage University, to name a few of them.
Or you can see the full list if you like by clicking this highlighted description.
What's Inside SEO Blueprint?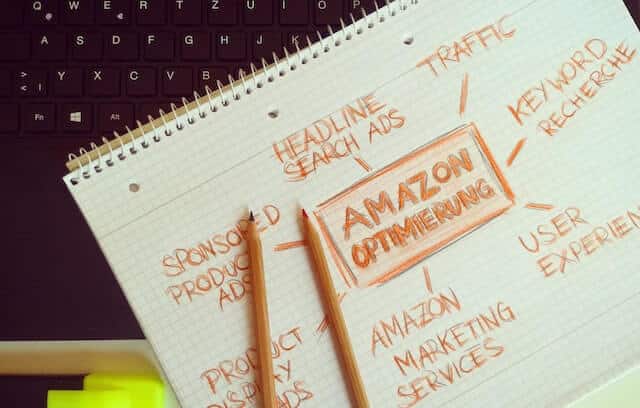 SEO Blueprint offers 6 of Glen's personal blueprints, a community forum, and 15 lessons that are taught by 7 different instructors and lasts for a total of 25 hours.
Digital marketers can benefit from the advanced training courses provided by SEO Blueprint. The following is the summary of what you are getting if you avail of this training course—
On-Site Blueprint
The first part of the program provides lessons on the basics of on-page optimization. You will also receive updated tools and software that will help you achieve your goals.
Link Building Blueprint
For the next section of the program, you'll learn how to develop quality links and how you can obtain quality backlinks.
Keyword Blueprint
Now, you'll learn the most basic and important part of the SEO process, which is to find the right focus keyword and supplementary keywords that drive traffic.
Content Blueprint
There's a motto in digital marketing that goes, "Content is King." And in this part, you will learn Glen's strategies for creating SEO-friendly content that ranks high in Google searches.
Local SEO Blueprint
Several instructors in this section of the program will teach you how you can generate traffic in a localized setting.
Experts Blueprint
Now, there are also several instructors in the last of the training. Each of the instructors will give you unique insights about SEO and how to create engaging content.
Extra Blueprint: Audits
There's additional content about the previous lesson. Each member will be given 10 examples of websites where they'll have the chance to audit these websites.
Community Support
It is an online forum where the program connects like-minded people to help their fellow members achieve a common goal.
How Much Will It Cost You to Join SEO Blueprint?
SEO Blueprint might be expensive for people who are under a tight budget.
Below is the cost of SEO Blueprints—
First Pricing Option
It is a one-time payment of $597, which includes the following
Full training and community support
Access to a private community
Lifetime access to the program's features
14-money back guarantee
Access to future updates
Second Pricing Option
It will incur your expenses of a whopping cost of $4,597! Aside from the basic features, it also includes an NDA (non-disclosure agreement) and the following perks—
One-on-one support
Full-time access to its features and updates
90-day unlimited access to their coaching program and the panel of experts from the Detailed.com team
If you are not willing to spend that much, the good news is that there are alternatives that won't cause you to break the bank, such as my best work-from-home recommendation!

Is SEO Blueprint a Scam?
I am 100% certain Glen Allsopp's SEO Blueprint is NOT a scam. It is a legitimate program that gives lessons on lead generation and sales conversion.
Below is what other people are saying about SEO Blueprint—
What I LIKE About SEO Blueprint
Below are the things I particularly like about SEO Blueprint and why it may be a good training program for you—
High-Quality SEO Training
SEO Blueprint gives you quality training on both a wider and localized scale.
Innovative SEO Tactics
Glen Allsopp shares his unique insights on increasing leads and engagement.
Excellent for Seasoned Marketers
SEO Blueprint is the perfect option for people who are looking to improve their online business.
Great Community
The program is composed of experts and like-minded people who are willing to help each other out to achieve a common goal.
What I DON'T LIKE About SEO Blueprint
Now, the following are the things I don't particularly like about SEO Blueprint—
Expensive
SEO Blueprint is expensive! Especially the second option of $4,597.00
Not For Beginners
The program lacks the basics of creating quality from scratch. Thus, it is not the best option for beginners.
Final Thoughts on My SEO Blueprint Review and My Personal Rating
By the end of this article, it's clear that the SEO Blueprint is an excellent resource for business owners and digital marketers who are trying to create more effective SEO strategies.
The downside is that the course's comprehensive approach provides advanced strategies for those with more technical knowledge and is also geared toward people with a hefty budget.
The course includes practical activities, case studies, and an active community forum that will help ensure a successful implementation of the strategies. As SEO becomes increasingly important for businesses and digital marketers, the SEO Blueprint can provide them with the knowledge and confidence to create long-term success. For those looking to create a comprehensive and effective strategy, the SEO Blueprint can help them stay ahead of the competition and be successful in their endeavours.
With this being said—I am giving SEO Blueprint a final rating of 9 out of 10—

An Alternative to SEO Blueprint that Won't Break the Bank
If you're looking for a program that can help you become a successful digital marketer even without any prior experience and earn a reliable income through affiliate marketing, look no further than the platform I use every day.
With easy-to-follow modules and practical activities, the platform I use provides comprehensive guides to mastering the ins and outs of SEO, digital marketing and affiliate marketing.
Plus, with much more affordable pricing options, it offers a cost-effective alternative to more expensive courses like SEO Blueprint.
So if you're ready to take your digital marketing skills to the next level and start earning a reliable income through affiliate marketing, sign up for a free starter membership today!
>>HERE'S MY BEST WORK-FROM-HOME RECOMMENDATION!

And to show you my appreciation for being here, I am also sharing with you my eBook for free to help you get started in the industry.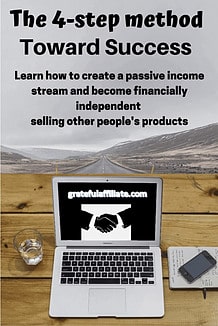 Peace!