Are you looking for a way to make money from the comfort of your own home? Have you been considering using Remotasks to do so? If so, you might wonder if Remotasks is a scam or a legitimate GPT site. In this article, we'll answer that question and provide the facts you need to make an informed decision. Read on to determine if Remotasks is a scam or a legitimate GPT platform.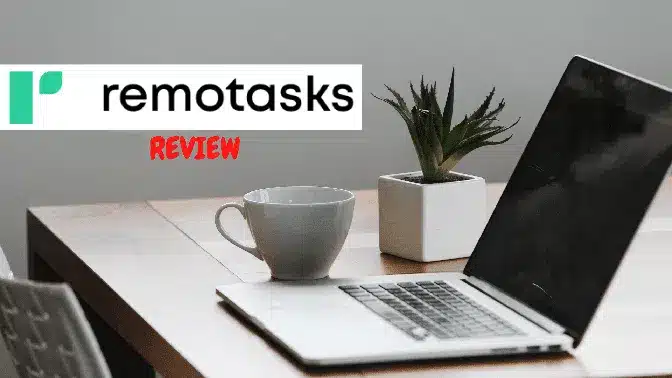 Is Remotasks a scam? If you have these concerns in mind, you'd be glad to know that the article I have prepared for today will especially take on the subject matter.
Get-Paid-To and Paid-To-Click platforms provide an easy source of money by doing minor tasks such as paid surveys, CAPTCHAs, watching video clips, signups, etc.
However, although the assignments are relatively straightforward, don't expect to earn any reliable income from them. In addition, not all GPT sites are legitimate, and some are scams trying to steal information from you.
So is Remotasks a program that has the same purpose as some GPT scams around? Or is it a good source of small amounts of income after all?
But before I begin, allow me to have this moment, first and foremost, that I am NOT connected with Remotasks in any way, and I will NOT earn any referral commissions if you decide to sign up.
So without any further ado, let's get right into today's review…
Who is the Founder of Remotasks?
Remotasks was developed by Smart Ecosystem in 2017. I have not found information about the essential personalities behind the company. Still, I know they are an IT solutions agency, and its main headquarters is in San Francisco, California, US.
With so little information to work with, it is challenging to verify the identity and credibility of the site. However, not disclosing basic corporate information is not an uncommon practice for sites offering GPT tasks for rewards. It doesn't also immediately suggest that most of them are a scam.
This is the same case with legitimate and popular GPT sites like Swagbucks, Fusion Cash, and Timebucks.
So is Remotasks among the legitimate ones?
Let's continue with the review and learn more about the features of the program…
What is Remotasks?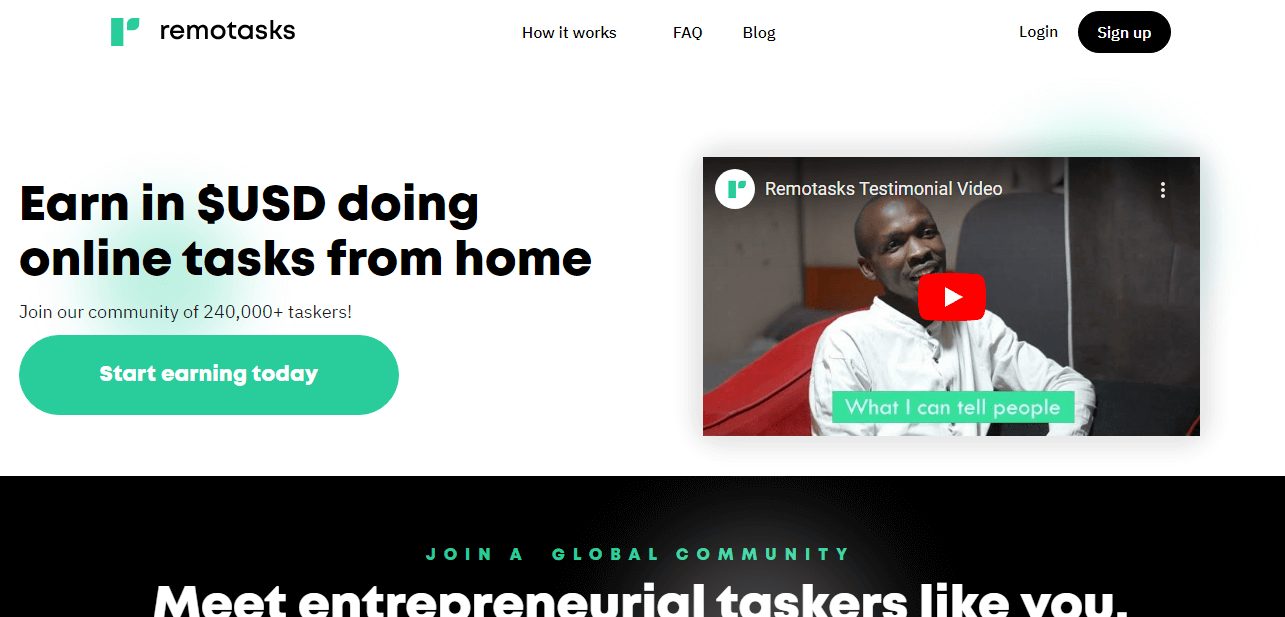 Remotasks is a GPT platform that rewards its member for accomplishing tasks such as—
Image transcription
Audio transcription
Data collection
Image annotation
Categorization
LiDAR assignments
I will explain each of them in the next section. And I am sure that you are particularly curious about the LiDAR assignments. Also, the tasks they offer are unusual and not the typical GPT features I am used to, which include paid surveys, CAPTCHAs, watching video ads, etc.
In general, this kind of platform pays very little. But what makes Remotasks unique and a bit advantageous is that they provide better incentives in comparison to the more popular ones, especially the LiDAR tasks.
I also have reviewed several GPT and PTC sites in the past. And if you are interested in reading more about them, then the following are just some examples of the reviews I have published—Freecash.com, Crowdtap, Surveytime.io, and Click Home Income, to name a few of them.
Or you can see the full list of reviews by clicking this highlighted link.
But if you are searching for a better alternative that can give you a higher and more stable income, you have to check out my best work-from-home recommendation!

How Remotasks Work?
As mentioned, your primary task with Remotasks is to accomplish a specific assignment of your choosing that's available in your dashboard. It is not your typical GPT site, and some of the main tasks you will find in their program are as follows—
Image Transcription
You will be provided with a set of images; your job is to take notes and describe their vital features.
Audio Transcription
As the name of the task suggests, it involves transcribing an audio file into a text file that can be used for subtitles, commentaries, and the like.
Image Annotation
Image annotation is probably the most straightforward task available in Remotasks. All you have to do is to trace an image accurately.
Data Collection
Data collection may take time to finish because it involves researching and gathering data over the internet.
Categorization
Again, it is straightforward and only requires you to categorize and label a group of objects.
LiDAR
LiDAR is the acronym for Light Detection and Ranging. This particular task is the most significant advantage of Remotasks over others. Each LiDAR will take about 20 hours, but before you can take on this type of task, you need to undergo unpaid training.
This may be the case—LiDAR tasks can generate high income.
Referral Commissions
Another way Remotasks reward its members is through referral commissions. Each member is provided with a unique referral link, and they earn commission every time they successfully invite someone using their links.
How to Join Remotasks?
It is entirely free to join Remotasks. However, there are several conditions you have to fulfill first before they admit you to their program. In addition, it appears that Remotasks is available to most regions around the globe.
There's no clear indication of what countries are not qualified to join the program. But based on people's experience with the registration process, you may eventually find that your region is not qualified halfway through the process.
In any case, the registration to Remotasks is relatively straightforward. Firstly, you can use your Facebook or Google account to sign up. And then, you have to share with their other basic information like your mobile phone number.
And once you move through the next section, you will receive a text message containing a verification code to verify your phone number.
After the initial process, they will give you the option to sign up for the Remotasks Bootcamp for you to gain access to all of the program's available tasks. However, the training will take you about 10 to 14 days to complete.
As mentioned, the training is essential for LiDAR tasks.
If you're looking for a platform that can generate a higher source of income and can provide you with financial stability, then you should check out my best work-from-home recommendation!

Is Remotasks a Scam?
No. I don't believe that Remotasks is a scam. It is a legitimate GPT site where you can earn money with.
Now, the following are what other people are saying about the potential of Remotasks—
What I LIKE About Remotasks
The following are some of the things I particularly like about Remotasks' features—
Legitimate
Remotasks provides legitimate GPT tasks so you can earn money.
A Little Better than Other GPT Sites
As I repeatedly emphasized, Remotasks provides better income opportunities compared to other GPT sites around.
Average Rating in Trustpilot
Remotasks has gained a decent rating of 2.8 over 5 stars on Trustpilot.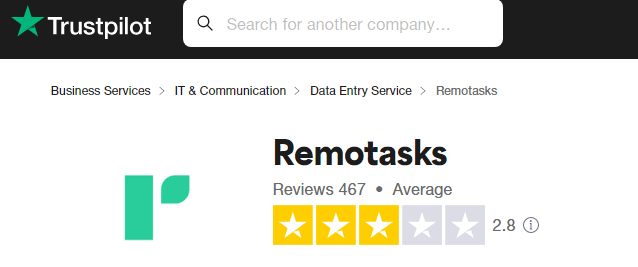 Free to Join
It is entirely free to join Remotasks.
No Minimum Withdrawal Ceiling
Another benefit of joining Remotasks is that they do not have a minimum withdrawal ceiling which means that you can transfer your earnings to your PayPal account immediately.
What I DON'T LIKE About Remotasks
Now, below are the disadvantages of Remotasks that you have to take note of before you join their program—
Not Many Tasks Are Available
There are not many tasks available to their users.
A Test Is Required For Certain Tasks
As mentioned, you will need to register for the Remotasks Bootcamp training before you can take on the LiDAR tasks.
A Lot of Negative Ratings
The program has a lot of negative comments from its previous members, as shown below—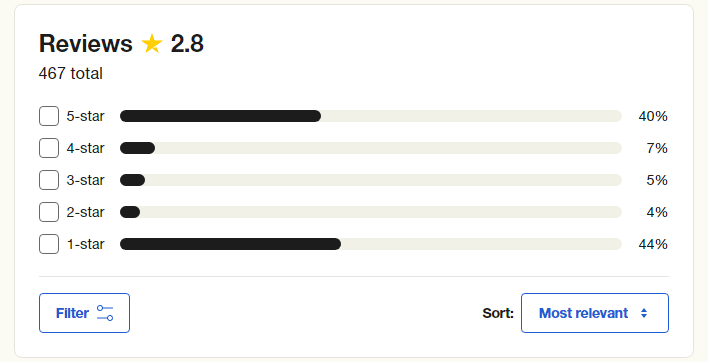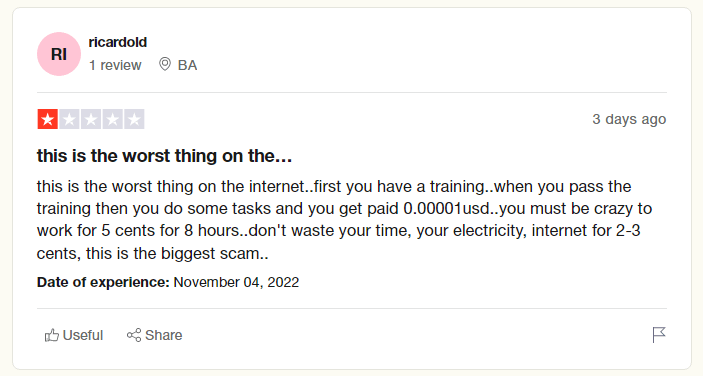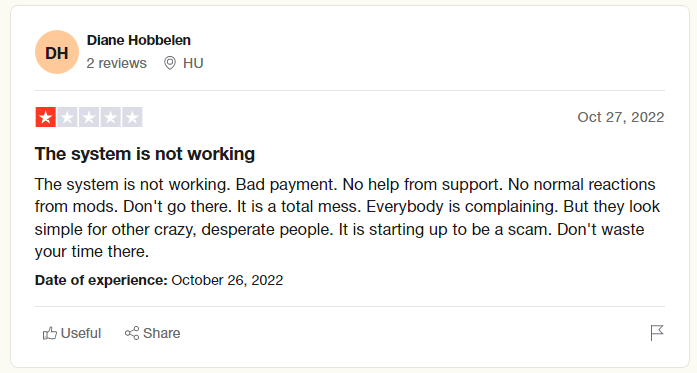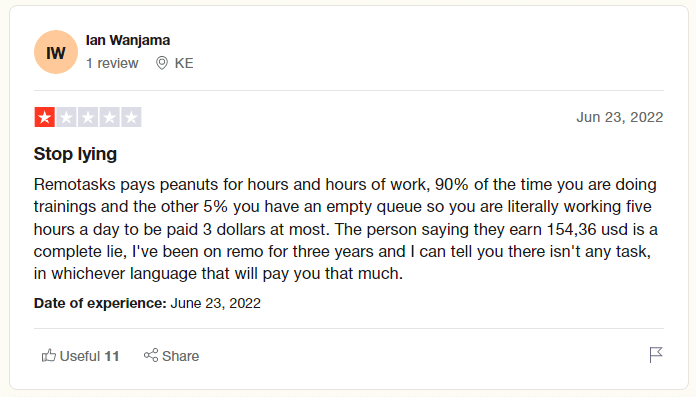 Final Thoughts and My Personal Rating
I hope my "Is Remotasks a scam?" review has provided you with the answer you need to help you determine if the program is the right one for you or not.
Although the Remotasks appear to be legitimate, they are receiving many negative comments from their previous members, which is a drawback if you ask my opinion.
But if you're willing to take the risk of the possibility of inconvenience, then, by all means, you can try the program for yourself.
With this being said—I am giving Remotasks a rating of 5 over 10 stars, which is about what Trust Pilot gives them.
A Better Alternative to Remotasks and GPT Sites in General
Are you tired of spending hours on Remotasks and other GPT sites for such little pay? If you're looking for a better way to make money online, affiliate marketing is the answer you've been looking for!
In fact, it's the very same platform I have been using to generate a stable and reliable passive income for the past 7 years. Here's why affiliate marketing is a great option for anyone looking to succeed in online entrepreneurship:
It's suitable for all levels of experience, so you don't need any special skills or knowledge to get started.
It's a low-risk investment with very little startup costs – you can start with less than $500.
You don't have to worry about managing inventory or shipping products – that's all taken care of by the companies you're promoting.
Your income potential is unlimited because you can promote as many products or services as you want!
If you're ready to learn more about affiliate marketing and start building your own successful online business, just click on the button below.
It's time to take control of your financial future and start making real money online!
>>HERE'S MY BEST WORK-FROM-HOME RECOMMENDATION!

I believe that is just about in today's review, and I hope it has provided you with the all-important you are seeking to the question is Remotasks a scam?
And to show you my deep gratitude for being here with me, I am also giving away my eBook for free to help you jumpstart your affiliate marketing venture and gain traction—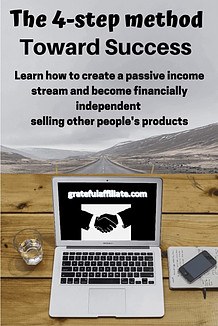 Thank you for the time in reading today's review!
Peace!