In today's Rapid Commission Sites review, I will provide you with my analysis of the program and give you my insights on whether the training is the right one for you or not.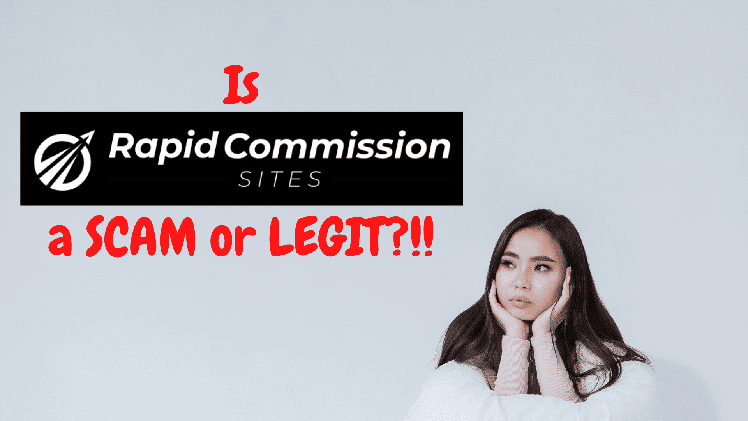 Shawn Josiah is one of those internet personalities that you might have come across as you browse the internet for ways to earn some money online.
Yes, he's sort of a prominent online personality, and one reason why this is the case is that he has been among the top seller on Clickbank for the past few years.
However, being enlisted among the best sellers in the said Clickbank doesn't immediately indicate that he's offering a quality digital product. The truth s that although Clickbank is legit, not all of the products they offer are legit or worth their price.
I've reviewed several of Josiah's programs in the past, and I have not given them a positive rating.
In today's discussion, I'll provide you with my analysis of Rapid Commission Sites and give you my verdict on whether it's a good program to invest in or if is it just another worthless program you should avoid.
But before I officially start, allow me to have this moment to share with you, first and foremost, that I'm NOT an affiliate of Shawn and Rapid Commission Sites, and I will NOT earn commissions if you decide to buy the program.
So without further ado, let's begin…
Allow Me to Introduce Shawn Josiah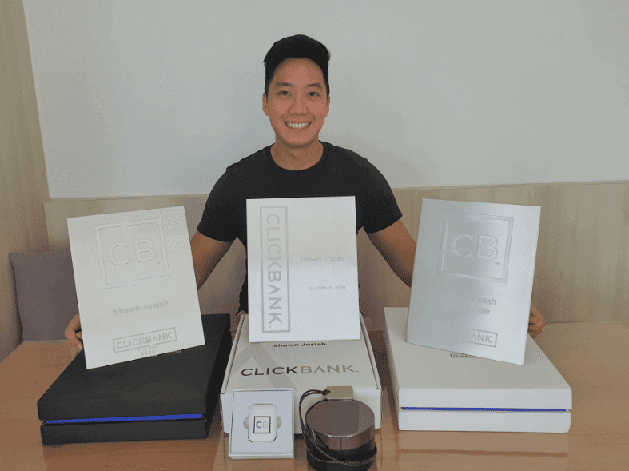 As I said, I have reviewed several of Shawn Josiah's programs in the past, such as Download Dollars, Perpetual Income 365, and Click Home Income System, including an update I published just recently.



Anyway, Shawn Josiah is a digital entrepreneur with years of experience in the industry. He is primarily known for producing DFY (done-for-you) systems. In fact, all three of the articles I have mentioned are DFY systems.
He is an affiliate marketer and mainly sells products through Clickbank and Warrior Plus. One notable thing about him is that he is an award-winning seller on both the affiliate marketplace I have mentioned.
Some of the accolades he received from the platform are as follows—
Clickbank Platinum Affiliate recipient in 2019
Clickbank Platinum Affiliate and Vendor recipient in 2019, 2020, and 2021
Clickbank #1 eComm Business for Perpetual Income 365 in 2020
Warrior Plus' Top Five Sellers from 2020 to present
He also claims to be a seven-figure seller through affiliate marketing. Although he is among the best sellers in Clickbank and Warrior Plus, we have no way of verifying his claims since there is no proof of income to back them up.
We are not even sure if the name "Shawn Josiah" is his real name or just a pen name, which is a common practice in the digital marketing business.
You also have to take into account his fondness for DFY systems which has a low potential income and poor lead generation due to the restriction of sites like Google and Facebook are implementing against spam content.
Let's continue with my Rapid Commission Sites review and learn more about the program…
What is Rapid Commission Sites?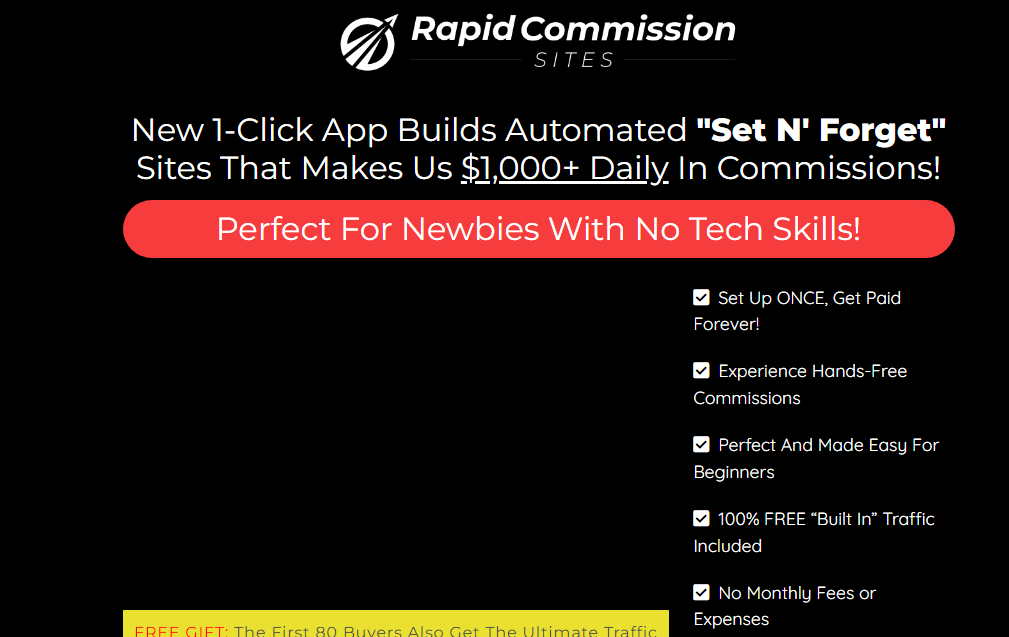 Just like any DFY systems and other Shawn Josiah's digital products, Rapid Commission Sites is just another typical DFY scheme—it is low quality, and it won't be that much of a help to you financially.
Also, it is extremely overhyped considering how low the potential traffic it could produce.
Shawn Josiah promises to deliver high passive income and talks about the DFY scheme as the magic formula for all your money troubles.
The reality is that a DFY system like Rapid Commission Sites only provides the member with premade digital materials like domain names, web hosting, sales funnels, and other paraphernalia.
They claim that you don't have to do anything with their system. Just give them your money, sit back, and then relax. Well, let me tell you that it just doesn't work that way!
You have to take note that prominent sites like Google, Facebook, and YouTube have high restrictions on spam and duplicate content and the websites that their systems see as potentially dangerous to their users. This is exactly what you are going to get with pretty much any DFY system!
DFY content is repeating or spam content because you are basically receiving the same materials as other members.
With this being said—their promise of high lead generation and sales conversion essentially goes out the window!
Other than the ones mentioned already, I also have reviewed several DFY systems in the past. You can read about the articles I have published if you like—Automated Commission Enterprise, Miraculous Manifestation, Social Media Lead Machine, and 98 Unlimited, just to name a few of them.
Or you can check out the entire list of my review database by clicking this highlighted description.
But if you are searching for a better alternative that can give you a high and reliable income, then you better try my best work-from-home recommendation!

How Do Rapid Commission Sites Works?
DFY sites, in general, are very easy to use. According to their site, their procedure includes the following straightforward steps—
Choose the niche you are comfortable working with
Enter your personalized links
And then, you have to apparently activate your software
As you see, they make appear earning income online easy. However, you must note that becoming financially independent in the comfort of your home requires time and capital to succeed in the business.
Although it will generate some money, it will not give you that much earnings. Plus, you'll even wind up spending more than saving money.
How Much is the Program?
Rapid Commission Sites has an initial cost of $17 for the registration fee. They also said that it's only a one-time payment, but this is obviously ONLY an introduction fee and is only the tip of the iceberg.
The $17 may seem affordable, but if you read my previous article about Shawn Josiah, his programs offer expensive upsells.
Let's take a look at some of the pricing of the upsells—
Rapid Commission Sites Unlimited costs $67 – This upsell will "unlock" the basic system so that you can post more than 3 articles on the "done-for-you" website that they provide.
Rapid Commission Sites cost $97 – This is actually where the "Done-for-you" part is, so the basic system is not what it pretends it is!
High Ticket Maximizer costs $47 – A "plug-n-play" method to sell high ticket items. I suppose that this is where they calculate the $1,000 per day claim. The only forgot to mention that you have to pay another upsell to get there…
Automation Sleep Technology costs $67 – This is where you are supposed to automate everything and schedule posts to Facebook and your email autoresponder
Passive Income Masterclass costs $47 – Now here you are supposed to be able to generate income from 7 income streams that they will divulge. Don't forget that these are given to everyone who buys the product
Rapid Commission Traffic Booster costs $67 – This is the part where they want you to use FaceBook ads to generate traffic.
Rapid Commission Sites Reseller License costs $127 – And last but not least, they charge you to become an "affiliate" and sell the product as your own and keep all the commissions…
Now, these upsell were not disclosed in the sales video letter. They will only show you the initial cost, that's under $20, to make it appear that their product is cheap (in a way, it is!).
As you see, you will end up buying a subpar product for far more than what they have advertised.
The total cost is more than $500.
Is Rapid Commission Sites a Scam?
I won't go as far as saying that Rapid Commission Sites is a scam, but I do not recommend it either, especially if you are aiming for a stable source of income.
Even though Shawn Josiah is apparently a multi-awarded seller, the fact he is selling low-quality and overhyped DFY schemes makes his products undesirable.
Now, the following is what other people are saying about Rapid Commission Sites—
What I LIKE about Rapid Commission Sites
There's nothing praiseworthy about this DFY system. They claim that there is no work involved, but the poor quality of the pages you will post on your website won't help you generate any traffic and convert any sales. Why? Because everyone who buys this product will post the same content on their websites, making it plagiarized and useless. This is NOT how affiliate marketing works
You would be better off opting for alternatives that can truly help you achieve your financial goals.
If you are interested in learning more about how affiliate marketing works, then you should check out my best work-from-home recommendation!

What I DON'T LIKE about Rapid Commission Sites
The following are the disadvantages of Rapid Commission Sites that you have to take note of—
Expensive Upsells
The total upsell of the program is expensive, especially when considering how it won't provide significant help.
Misleading and Exaggerated Claims
The marketing pitch of Rapid Commission Sites is (like every other Shawn Josiah product) full of overhyped claims and misleading marketing pitches.
For example, they won't show you the full cost you are expected to spend until you have signed up and paid the first $17. Also, it promises $1,000.00 per day in commissions all on auto-pilot, which is ridiculous! There is no DFY system that can generate that kind of income. Period.
Low Potential Income
Done-for-you schemes are a poor source of traffic. Due to the strong regulation of Google, Facebook, and YouTube, it will be very difficult for DFY marketers to generate leads and earn any money.
What this means is that the potential income for this kind of income opportunity is extremely low.
Final Thoughts on My Rapid Commission Sites Review and My Personal Rating
I hope my Rapid Commission Sites review has provided you with the information you need to determine why this program is not a good value for your money.
In reality, you are only making Shawn Josiah earn more money if, by any chance, you decide to purchase this subpar DFY system.
You may find some positive review articles about Rapid Commission Sites, but I honestly believe that whoever wrote them is an associate of the site and a reseller.
If you take a closer look at the articles, it is just a reiteration of the marketing pitch from the sales page of Rapid Commission Sites. It is likely that they are affiliates of Shawn Josiah, and they will earn commissions whenever you use their links to buy his program.
With this being said—I am giving Rapid Commission Sites only a 2 out of 10 rating—

A Better Alternative to Rapid Commission Sites
Affiliate marketing has been helping people around the globe earn money online since the late 90s. But it has suddenly boomed during the peak of the COVID-19 pandemic.
Since we are confined in our homes, many people turned to alternative income sources that would keep them afloat during these trying times.
And affiliate marketing has become a popular alternative because of the following factors—
It is cost-effective, and you can start the business with basically just a budget of $500
It possesses very low risk since the required capital is not that much
It suits all levels of experiences
Direct involvement with inventory management and parcel delivery is not a necessity
Your potential profits are limitless since you can promote as many businesses as you like
If you are interested in learning more about the potential of affiliate marketing and how it can help you with your finances, then you have to check out the highlighted description below—
>>HERE'S MY BEST WORK-FROM-HOME RECOMMENDATION!
I believe that's just about it in today's Rapid Commission Sites review!
And to show you my appreciation just by reading my article and being with me today, I am also giving away my book for free to help you jumpstart your affiliate marketing venture—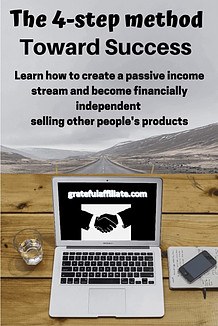 Thank you for your time, and I hope to see you soon!
Peace!